Mary C. (Minard) Mayle
(1850-1933)

Mary Minard Mayle
Mary C. (Minard) Mayle was born on March 27, 1850 (or 1848), presumably in Monongalia County, WV, the daughter of Jacob and Ruth (Adams) Minerd, Sr. of the very same Fayette/Somerset County border region of southwestern Pennsylvania where our Minerds were pioneers in the 1790s.
Mary's mother was a Native American, and Mary and her siblings thus were considered of mixed race (or "mulatto" in the language of the mid-1800s).
Little is known of her life, and we are grateful to Male-Mayle-Mayhle family researcher, the late Bernard Mayhle, for sharing his findings based upon extensive research.
In 1870, in Barbour County, Mary married Richard Z. Mayle (1815-1901). He was the son of Aaron and Mary "Polly" (Newman) Male, and was some 30 to 33 years older than his bride. The marriage, one of the first between the Minard and Mayle-Male families, is mentioned in a 1979 thesis report by Dorothy J. Cox of Marshall University, entitled A Marginal Group in West Virginia: An Historical and Cultural Study.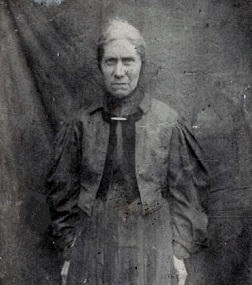 Mary Mayle
Barbour County records show that Richard's father owned a large tract of land land in the county and sold 30 acres to Richard's brother, Franklin Mayle, in a verbal agreement. Franklin then built a house, outbuildings and an orchard on the property. After the father died on Dec. 17, 1864, Richard and his siblings refused to officially and legally transfer the land to Franklin via a deed. When Franklin filed a legal complaint in Barbour County Court of Common Pleas, trying to force his siblings to honor the agreement, Richard was named in the suit, along with his brothers and sisters -- Hiram Mayle, William Mayle, Clarissa Norris, Hezekiah Mayle, Emeline (Mayle) Mayle, Melvina Mayle, Elisha Mayle, Elibie Jane Pritchard and Stephen Alpheus Mayle. The outcome of the case is not known.
Richard and Mary produced nine children -- Jefferson Davis Mayle, Alphus Steven "Alphus" Mayle, Warner Alvin Mayle, Jacob Charles Mayle, Hezekiah Ezekiel Mayle, Ulysses Grant Mayle, Phoebe Mayle and Hiram Maylee and one who died very young.
They spent their lives as farmers.
While they began married life in Barbour County, the Mayles are thought to have lived on and off in Avon, Doddridge County. Their son Alpheus claimed to have been born in Avon in 1874, even though when the federal census was taken in 1880, the family was still in Barbour County. At that time, in 1880, four of their sons had been born.
In November 1883, Richard purchased a 50-acre tract in Avon for $500. Their new home was in the south east section of Doddridge County, located on Double Camp Run, a branch of the Meathouse Fork of Middle Island Creek. Their hilly farm was covered in pine, jack oak, hickory, chestnut oak, maple and gum. It also sat above a deposit of coal, oil and gas resources.
As he reached his 80s, Richard suffered from stomach trouble and general decline. He passed away on March 3, 1901 in Doddridge County, at age 85. His remains were laid to rest at the Kinney Graveyard, and his death recorded in the Doddridge County Courthouse in West Union. His passing, unfortunately, was not noted in any sort of obituary in the county-wide newspaper, the West Union Record.
Old covered bridge in Doddridge County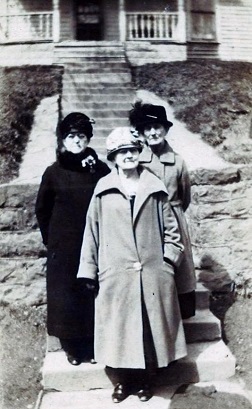 Mary Mayle, right, with unidenfied friends
Courtesy Tonia Griffin
At the time of Richard's death, four of their children were under the age of 21 -- Hezekiah, Ulysses, Phoebe and Hiram. The Common Pleas Court of Doddridge County appointed J.M. Pratt as their guardian on Nov. 22, 1901.
Sadly, son Ulysses died just after his 21st birthday, on June 1, 1904. The cause was perforation of the bowels. He was buried at the Pleasant Hill Cemetery near Avon, with funeral arrangements by Harvey Morris.
The following year, on April 7, 1902, widow Mary and her sons Alpheus, Warner and Jacob sold mineral rights of their farm to J.Q. Van Swearingen of Uniontown, Fayette County, PA. Son Hezekiah sold his rights in 1904. In 1905, Mary and her sons sold the farm in its entirety to D.E. Cox, with daughter Phoebe selling her share a year later.
In June 1906, Mary purchased a 101-acre farm from son Jacob, located on the waters of Long Run of Buckeye Fork of Middle Island Creek, "in consideration of natural love and affection" and also a promissory note of $400. Mary sold a one-acre parcel of this farm to son Alpheus in November 1926, though she retained the rights to any coal, oil or gas found on the property.
Mary outlived her husband by more than a quarter of a century, and apparently remained on the large family farm. She was a housekeeper for many years, residing with her unmarried son Hezekiah. She was afflicted with heart disease, and died as she neared her 83rd birthday, on Jan. 19, 1933. Mary was buried at the Stanley Avenue Cemetery, on Buckeye Creek, with funeral arrangements handled by C.L. Spurgeon.
Son Warner, providing information for the death certificate, listed his mother's parents and their respective birthplaces as "Jacob Miner - Dunbar, PA" and "Ruth Adams, PA."
Research done in 2004 of the West Union Record newspaper, in the West Virginia and Regional History Collection of West Virginia University, failed to locate a news obituary for Mary. However, as the Collection apparently has the Doddridge County Republican covering the year 1933, which has not yet been examined, this will be investigated further. More will be reported here when learned.
~ Daughter Phoebe Mayle ~
Daughter Phoebe Mayle (1885- ? ) was born in about 1885 or 1888.
In 1920, at the age of 32, she was unmarried and lived at home with her widowed mother and bachelor brothers Warner and Hezekiah.
She may have given birth to a daughter Alice L. Mayle in 1910. Her story will be reported here when learned.
~ More ~
Click here to view a chart listing the several score of known marriages between the Minerd-Minard-Miner and Mayle-Male families before World War II.
Be sure to visit Mary's page on the TribalPages.com website compiled by Barb Nelson with significant excerpts from our research and website.
Copyright © 2005-2008, 2010, 2017, 2021 Mark A. Miner