As a boy, in about 1884, he and his parents and siblings settled for good in Long Run near West Union, Doddridge County.
Hez never married.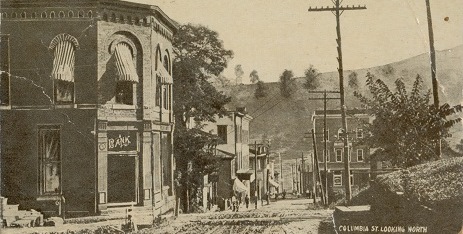 Columbia Street looking north in West Union. Note the unpaved streets.
Obituary, 1959
He was employed for many years as a trackman for the Baltimore & Ohio Railroad. He is known to have bought a large farm along Long Run in December 1908.
Circa 1910, his unmarried brothers Warner and Hiram, unmarried sister Phoebe, widowed mother Mary and niece Alice resided in his home.
In 1918, Hez sold a 15-acre parcel to his brother Jacob, along the B&O line. Jacob apparently sold it back to Hez at some point in time.
In November 1926, Hez sold a 59-acre parcel to his brother Alphus. He also purchased two tracts containing 95 acres in June 1941.
Sadly, he died in Long Run at age 77 on March 4, 1959 from the effects of stomach cancer. He was buried at Pleasant Hill Methodist Protestant Church Cemetery. His obituary was printed in the Herald.
In his will, Hez left his property to brother Warner, not including a 14-acre tract which he bequeathed to niece Mayme Pratt, and 95-acres bequeathed to nephew Wallace Mayle.
Copyright © 2005-2008, 2021 Mark A. Miner