Warner Alvin Mayle
(1874-1950)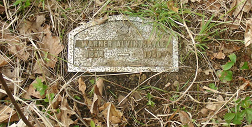 Stanley No. 1 Cemetery
Warner Alvin Mayle was born on Sept. 24, 1874 in Barbour County, WV, the son of Richard Z. and Mary (Minard) Mayle.
As a boy, in about 1884, he and his parents and siblings settled for good in or near Avon/Long Run near West Union, Doddridge County, WV.
Warner never married, preferring the life of a bachelor. He was tall and slender, with brown eyes and black hair.
For many years, Warner was employed by the Baltimore & Ohio Railroad. He also made a living as a teamster driving wagon loads of material.

Obituary, 1950
Circa 1917, when he registered for the federal military draft during World War I, Warner was employed as a coal miner for the Robinson and Davis Coal Company of Flemington, Taylor County, though maintaining his permanent address in Long Run. On the draft card, he listed his race as white.
Warner resided for many years with his bachelor brother Hezekiah on the old farm on Long Run.
At the age of 75 on Jan. 28, 1950, Warner died of a heart attack.
He was buried in Stanley No. 1 Cemetery on Buckeye, and his obituary was published in the West Union Herald. Only a small rusted metal plaque marks his final resting place today.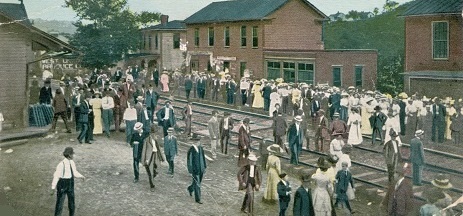 Waiting for the train in West Union, Doddridge County
Copyright © 2005-2008, 2014-2015, 2021 Mark A. Miner
Grave marker photograph courtesy Howard L. Mayle