Helen (Mills) Benistone
Cooper Emerson
(1890-1962)

Helen
Helen (Mills) Beniston Cooper Emerson was born in 1890 in Fayette County, PA, the daughter of Joseph Henry and Flora (Minerd) Mills Sr.
Circa 1906, when she would have been age 16, Helen was first married to John Benistone (or "Benstone").
They had one son, Joseph James Benistone, born in May 1906 within a few months of the marriage.
Sadly, the marriage did not last long, and ended with John's death on Dec. 14, 1908. The cause of death is not known. As a widow, she made her home in coal mining patch town of Helen, Fayette County.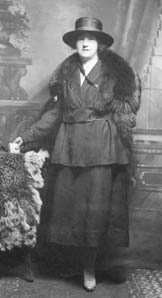 Helen, date unknown
Later, on Nov. 16, 1909, Helen married married again, to painter Earl Cooper (1889- ? ), the son of Robert and Virtue Cooper. Rev. F.W. Perkins officiated at the ceremony held at Dunbar, Fayette County. She was age 21 at the time, and he 20.
They made their home in another patch town, Republic, near Brownsville, Fayette County, in 1913. The fate of Earl is not known.
Later, sometime before 1930, Helen married again, to Charles Emerson (1889- ? ), who was a coal miner.
When the federal census was taken in 1930, Helen and Charles resided in Fallowfield Township, Washington County, PA. Her world was shattered in the late spring of 1935, when she lived in Jordan, Marion County, WV. Her only son Joseph, married and the father of twin daughters, was killed in a coal mining accident at the Monongah Mine.
Circa 1938- 1943, when she was mentioned in the Uniontown Morning Herald obituaries of family members, they lived in nearby Clarksville, Greene County, PA.
In her second and third marriages, Helen did not bear any other children.
Helen's final years were spent living in the home of her brother James Mills in Republic, Fayette County. Stricken with heart disease and cysts on her ovaries, she died in Brownsville General Hospital at the age of 72 on Feb. 16, 1962. The Connellsville Daily Courier noted in a short obituary that she was survived by two grandchildren. Burial was in Brier Hill Cemetery.

J.J. Benistone
~ Son Joseph James Benistone ~
Son Joseph James Benistone (1906-1935) was born on May 13, 1906 at Helen, Fayette County.
He married Gladys (?) on March 10, 1923, when he was 17 years of age.
They produced twin daughters -- Helen E. Benistone and Josephine E. Benistone -- born in 1926 in West Virginia.
The Benistones resided in Monongah, near Fairmont, Marion County, WV, when the federal census was taken in 1930. They were members of the Methodist Episcopal Church, and he belonged to the Junior Order of United American Mechanics.
Circa 1935, the Benistones lived in the coal mining town of Jordan, Marion County, in house 43. That year, Joseph was a motorman in the local coal mine.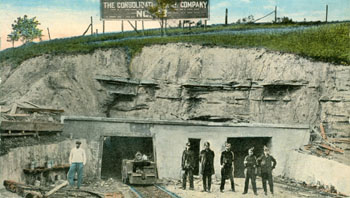 Monongah mine of Consolidation Coal near Fairmont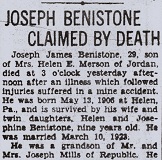 Fairmont West Virginian
Tragedy struck the family on June 4, 1935. Joseph, age 29, was killed at work when he was caught under a motor, crushing his head and body. His skull was punctured, his shoulder and hip fractured and his abdomen lacerated.
In an obituary, the Fairmont West Virginian headline apparently downplayed the nature of the incident, stating that Joseph had been "claimed by death" and that his demise was due to "an illness which followed injuries suffered in a mine accident."
He was buried at Beverly Hills, WV, following a funeral led by Rev. R. Lee Harr. His pallbearers included Ross Johnson, John Vegaro, Harry Turner, Foster Turner, Earl Tender and Fay Radcliff. Joseph is one of an alarming number of extended cousins in the Minerd-Minard-Miner-Minor to lose his life in a coal, coke or steel accident.
As a widow, Gladys married again within a few years, to truck driver Woodrow B. Brown (1913- ? ). He provided a home for her and the twins in Fairmont. They are shown together in the federal census of 1940.
Copyright © 2001-2002, 2005, 2008, 2010, 2014, 2020 Mark A. Miner