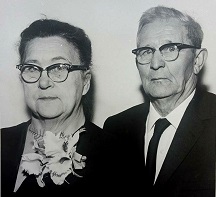 Raymond and Rebecca (Rugg) Miner
Raymond Miner was born on March 18, 1891 in or near Wilmerding, Westmoreland County, PA, the son of William Henry "Squire" and Sara Jane (Basinger) Minerd.
He grew up in his parents' home village of Mill Run, Fayette County, PA.
When he was about 26 years of age, on Oct. 21, 1917, Raymond was united in holy matrimony with 23-year-old Rebecca Jane Rugg (1894-1986), the daughter of Curtis and Amanda Jane (Shipley) Rugg. News of their marriage license was published in the Connellsville Daily Courier.
The Miners produced eight children – Rachel Helen Peck, Violet Jane Bottomley, Cora Ruth Hyatt, Ina Marie Nicholson, Raymond "Dale" Miner, Cosey Mae Brothers, Sybil June Beck and Edwin Theodore Miner.
When the federal census enumeration was made in 1920, Raymond, Rebecca and their two eldest daughters resided in Mill Run. There, he earned a living as a coal mine laborer. Living just six houses away was the family of a distant cousin, Albert "Ward" and Ada (Whipkey) Minerd.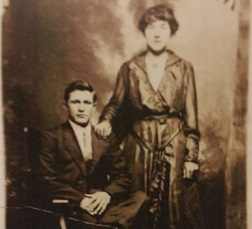 Raymond and Rebecca
In an interesting twist, Rebecca's grandparents Aaron and Caroline (Linderman) Rugg along with Christine Rugg attended the Minerd-Miner reunion on Aug. 9, 1924, held at Lincoln's Grove, near the Western Maryland Railroad Station in Confluence, Somerset County, PA.
The U.S. Census of 1930 shows the family continuing to dwell near Mill Run in Springfield Township, next-door to future brother-in-law Irvin Romanus Dull and two houses away from Raymond's parents. Raymond's occupation was listed as coal miner.
The iron grip of the Great Depression wreaked havoc on work prospects for coal miners. By October 1933, when they were mentioned in the gossip columns of the Daily Courier for having visited Raymond's brother Wesley, the family lived in the Frogtown village. Frogtown is believed to have been in Westmoreland County, PA, and the homeplace of coke oven workers who labored at the Salem Mine and Coke Works along the New Alexandria branch of the Pennsylvania Railroad.
By 1934, and for the rest of their lives, the family made a home in Indian Head, Fayette County, where Raymond obtained employment as a coal digger. There, they joined the Indian Head Church of God.
Raymond spent the balance of his work at the Leisenring No. 1 coal mine and coke works of H.C. Frick Coke Company, part of United States Steel Corporation. Leisenring No. 1 was located in Dunbar Township, near Connellsville. He was a member of the United Mine Workers of America.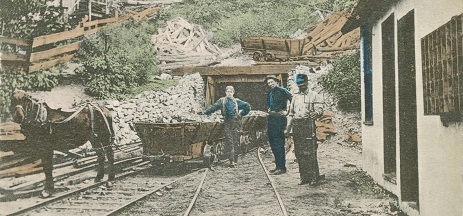 Mining operations in the Connellsville coal field
Raymond, age 27
In a memoir, one of their grandsons wrote that Raymond:
... was a remarkable man. He was short of stature and quiet, like Enoch of the Bible he was close to God and walked with him daily. A man of faith, he gave of his strength, his wealth, and himself to his family and to his church. His life was one of constant activity. During the daylight hours he managed to work a farm and to get some sleep, because at night he worked a shift in the coal mines of western Pennsylvania. The farm always had chickens, two pigs, a bull for meat, and two cows that he milked for milk, cream, and butter. His milk cows were always Guernsey. He said they gave the milk richest in butterfat.
When she attended a May 1956 mother-daughter banquet of Sunday School classes of the Indian Creek Baptist Church, Rebecca received a prize for having the most buttons on her clothing. In August 1967, the Miners are known to have been among 86 relatives who attended the annual Curtis and Amanda Rugg Reunion held at the residence of George Rugg in Mill Run. Raymond and Rose Shipley were named the "Oldest in Attendance" and were named in a related story in the Daily Courier.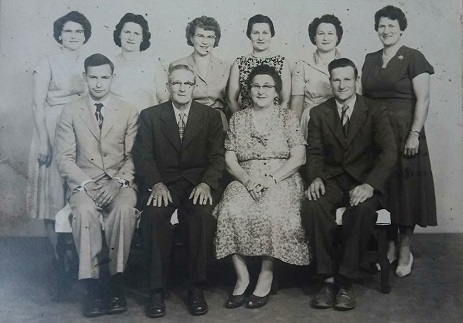 Back, L-R: Sybil Beck, Cosey Brothers, Ina Nicholson, Cora Hyatt, Violet Bottomley, Rachel Peck. Front, L-R: Teddy, Raymond and Rebecca, Dale. Courtesy Thomas Beck
Raymond and Rebecca celebrated their golden wedding anniversary on Oct. 21, 1967. In all, their marriage endured for 54 years until the separation of death.
Raymond passed away at the age of 80 on Jan. 9, 1972. He is buried in the Indian Creek Baptist Church Cemetery, following funeral services conducted by Rev. Dr. G. Marion Smith. An obituary in the Daily Courier noted that his survivors included 27 grandchildren and 19 great-grandchildren.
Rebecca outlived her husband by 14 years. She died on Dec. 4, 1986, and was laid to rest beside him.
See "Tales of the Raymond and Rebecca (Rugg) Miner Family," a memoir by their grandson Thomas Ray Beck.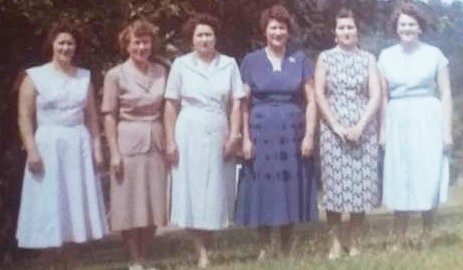 Raymond and Rebecca Miner family in later years
~ Daughter Rachel (Miner) Peck ~

Rachel Peck
Daughter Rachel Miner (1918-2000) was born in 1918.
She married Francis Howard Peck (June 23, 1909-1985), the son of John P. and Mary Elizabeth (Pletcher) Peck of Somerset County, PA. Rachel was nine years younger than her husband.
The couple had eight known children -- John Raymond Peck, Doris Jean Grimm, Jerald Francis Peck, Nancy Lee Williams, Rose Ella Coffman, James Edwin Peck, Rebecca Arlene Ritenour and Brenda Kay Peck.
Said the Somerset (PA) Daily American, she was "a loving homemaker and was a demonstrator for Dutchmaid Clothing for 20 years. She was a member of the Indian Head Church of God and was also a member of the Fayette Mountain Craft Club."
Francis was a longtime coal miner, employed for many years by U.S. Steel Corporation, from which he retired. He pased away on Aug. 23, 1985.
Rachel survived her husband by 15 years. She died in 2000 at the age of 82.

Bird's eye view of Indian Head
Son John Raymond Peck (1938- ? ) was born on June 17, 1938. On Feb. 10, 1960, when he was 21 years of age, John was joined in wedlock with Nancy Joanne Geary (March 2, 1940- ? ). Their children were Terri Joanne Spaugar, Judith Rae Johnson, John Raymond Peck Jr., Barbara Dianne Ritenour and Michael Geary Peck.
Granddaughter

Terri Joanne Peck married Gary Spauger on Nov. 27, 1979. Their two children are Casey Lee Spaugar and Katie Elizabeth Spaugar

.
Granddaughter Judith Rae Peck

wedded David Johnson on Jan. 14, 1978. They are the parents of Jeremy David Johnson, Jamie Rae Johnson and Jason Dewayne Johnson.
Grandson

John Raymond Peck Jr.

was united in matrimony with Lori Ansell on May 3, 1986. Their one known son is John Tyler Peck.
Granddaughter

Barbara Dianne Peck was joined in wedlock with Kenneth Ritenour on June 9, 1984. They have two children, Jessica Diane Ritenour and Eric Michael Ritenour.
Grandson Michael Geary Peck
Daughter Doris Jean Peck (1940- ? ) was born on March 6, 1940 in Indian Head. She married Samuel E. Grimm Sr. (1935-1989). Samuel served with the U.S. Army during the Korean War, and was a carpenter and welder for Local 2274 of Pittsburgh. Their four sons were Samuel Edgar Grimm Jr., Gregory N. Grimm, Timothy Gene Grimm and Scott Howard Grimm. Sadly, Samuel Sr. died on Dec. 6, 1989 at the age of 54. Burial was in Normalville Cemetery.
Grandson

Samuel Edgar Grimm Jr.

was twice married. His first spouse was Marie Ann Cain, with their nuptials held on Aug. 8, 1987. Then, on Nov. 22, 1991, he married his second wife, Michele Elaine Sanner. Samuel and Michele are the parents of Brittney Anne Sanner Grimm.
Timothy Gene Grimm

married Victoria Lynn Fulton on Oct. 5, 1991.
Son Jerald Francis Peck (1942- ? ) was born in about 1942. On April 29, 1962, when he was about 20 year of age, Jerald was wedded to Minnie Lou Pritts (April 29, 1939-2018), daughter of Frank B. and Sarah E. (Fulton) Pritts. Their three daughters are Shari Renae Bukovac, Tammy Lynn Cramer and Deborah Sue Craig. They were longtime residents of White, Fayette County, and Minnie belonged to the Millerstown Community Church. Later in life, Minnie resided in Normalville. She was admitted as a resident of the Upton Country Care Home. Minnie passed away on Aug. 24, 2018 at the age of 79. Burial was in Tinkey Cemetery, with Rev. Timothy Beatty leading the funeral service. An obituary was printed in the Connellsville Daily Courier.
Granddaughter

Shari Renae Peck married Edward John Bukovac

Jr. on April 3, 1982. They make their home in White.
Granddaughter Tammy Lynn Peck wedded David Frank Cramer

on July 9, 1983. They dwell in Indian Head and have two sons, Jarold and Nikolas.
Granddaughter Deborah Sue Peck married Bradley David Craig

on June 7, 1986. They have one known son, Bradley Jacob Craig. Later, she was joined in marriage with Donald Jahoda. They live in Hubbard, OH.
Daughter Nancy Lee Peck (1944- ? ) was born in about 1944. On Oct. 25, 1970, when she was about 26 years of age, she was united in holy matrimony with John Alan Williams (1946- ? ), son of Thomas H. Williams of London, England. They had two children, Trisha Lee Williams and John Thomas Williams. Circa 1977, their home was in Champion, Fayette County.
Daughter Rose Ella Peck (1947- ? ) was born in about 1947. She was joined in wedlock with Wendell Coffman (193- ? ) on Feb. 28, 1969. They are the parents of Jason Peck Coffman, Mark Coffman and Leslie Coffman.
Son James Edwin Peck (1949- ? ) was born in about 1949. He wedded Norma Jane Hess (1948- ? ) on May 4, 1968. Their three daughters are Kristine Frances Peck, Michele Sandra Mowry and Sharon Leslie Peck.
Granddaughter

Kristine Frances Peck
Granddaughter Michele Sandra Peck was married to Keith Mowry on April 6, 1991.
Granddaughter Sharon Leslie Peck
Daughter Rebecca Arlene Peck (1954- ? ) was born in about 1954. She married Dennis James Ritenour (1957- ? ) on Dec. 30, 1976. Their four children were Jennifer Renee Ritenour, Nicole Dawn Ritenour, Curt David Ritenour and Rusty James Ritenour. Sadly, son Curt died at birth on Dec. 1, 1985.
Daughter Brenda Kay Peck (1959- ? ) was born in about 1959.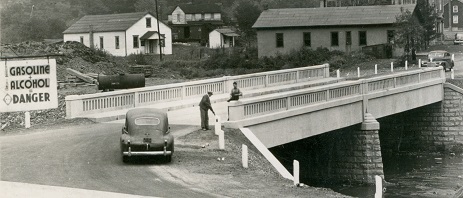 Rare view of Indian Head
~ Daughter Violet (Miner) Bottomley ~

Violet Bottomley
Daughter Violet Miner (1919-2000) was born in 1919.
She married a distant cousin, Charles Edward Bottomley Jr. (1919-1994), the son of Charles E. and Margaret (Miner) Bottomley. They had three sons -- Alan D. Bottomley, R. Dewayne Bottomley and William H. Bottomley.
Violet was a Sunday School teacher for more than 30 years at the Indian Creek Baptist Church. "She also was a member of Mill Run Grange and the Mountain Crafts Club, was involved with 4-H and had been a Den Mother for the Cub Scouts," said the Connellsville (PA) Daily Courier.
Charles passed away in 1994.
She died in 2000 at the age of 81.
Son Alan D. Bottomley married Gloria and lived in Mill Run.
Son R. Dewayne Bottomley wed Linda and resided in Rockwood, Somerset County.
Son William H. Bottomley was united in married with Linda and called Mill Run their home.
~ Daughter Cora Ruth (Miner) Hyatt ~

Cora Hyatt
Daughter Cora Ruth Miner (1921-2003) was born on Feb. 17, 1921 in Mill Run.
On Sept. 6, 1941, in Sheridan, LaSalle County, IL, the 20-year-old Cora was united in marriage with Frederick William Hyatt (Dec. 4, 1910-1977). The groom was 11 years older than the bride.
They settled in Sheridan and had a family of four children -- Frederick W. Hyatt, Sarah Jane "Sally" Drieshmire, Peggy Louise Bermel and Richard Alan "Rick" Hyatt.
Cora spent 23 years working for Western Electric Manufacturing Company, a position from which she retired. She is said to have enjoyed growing flowers and arranging them at the family place of worship, the Sheridan United Methodist Church. She also was an avid bowler.
Heartache rocked the family on Dec. 4, 1968 when son Frederick died at the age of 24. The cause of his untimely death is not yet known. Interment was in the Sheridan Cemetery.
Sadly, Frederick passed awayon Sept. 4, 1977, ending a marital union of 36 years.
Cora survived him by more than a quarter of a century and maintained her home in Sheridan. Apparently afflicted with Alzheimer's Disease, she succumbed in Provena McAuley Manor in Aurora, Kane County, IL at the age of 81 on Jan. 30, 2003. She rests beside her husband in Sheridan Cemetery.
Daughter Sarah Jane "Sally" Hyatt (1943- ? ) was born in about 1943. On Sept. 5, 1964, she married David Drieshmire (1942 - ? ) and they resided in Plano, IL. Their two children are Lisa Anne Drieshmire and Greg David Drieshmire.
Daughter Peggy Louise Hyatt (1945- ? ) was born in about 1945. At the age of 22, on Aug. 26, 1967, she was joined in marriage with Paul Bermel (1940- ? ). The Bermels made their home in Sheridan and had two daughters -- Dawn Renee Osborne and Becki Rae Ballard.
Granddaughter

Dawn Renee Bermel married Steve John Osborne on Sept. 30, 1989. They ae the parents of

Jacqueline Nadeen Osborne.
Granddaughter

Becki Rae Bermel was wed to David Allan Ballard

Sr. in June 1992. They have a son, David Alan Ballard Jr.
Son Richard Hyatt married Mary McLaughlin on July 25, 1980. The Hyatts have lived in St. Charles, IL.
~ Daughter Ina Marie (Miner) Nicholson ~
Ina Nicholson
Daughter Ina Marie Miner (1922-1999) was born on March 18, 1922 in Mill Run.
At the age of 19, on June 20, 1941, Ina married 22-year-old Oliver Homer Nicholson (Jan. 18, 1919-1991), son of John O. Nicholson of Connellsville. The ceremony was held at the home of Oliver's parents, with Rev. Elmer A. Schultz of the First United Brethren Church officiating. The wedding was headline news in the social columns of the Connellsville Daily Courier. At the time, Oliver was serving as a corporal with the Antitank Company, 110th Infantry Regiment, 28th Division of the United States Army, stationed at Indiantown Gap, PA. When commissioned a second lieutenant in 1943, following officer candidate training at Fort Benning, GA, Oliver was pictured in the Courier.
After the end of World War II, Oliver returned home and purchased the Mort Porterfield property.
They produced four children -- Ina Carole Bateman, Barbara Elaine Lowe, Oliver Homer Nicholson Jr. and Elizabeth Ann Moore.
The Nicholsons made their residence along the Springfield Pike in Fayette County and later relocated to Ohio, settling in Groveport near Columbus.
Oliver passed away five days before Christmas 1991 in Ohio.
Ina Marie lived for another eight years as a widow. She entered eternity on April 5, 1999, just a few weeks after her 77th birthday.
Daughter Ina "Carole" Nicholson (1942- ? ) was born in about 1942. On May 5, 1961, when she was 19 years of age, she married 21-year-old Bernard Earl "Baney" Bateman (June 11, 1939-2012). He was a native of Logan, OH and the son of Earl A. and Bernice C. Bateman. The marriage lasted for 51 years until the separation of death. They were the parents of David Scott Bateman and Debra Sue Bateman. Bernard was employed for many years with Signal Delivery Service and was a member of the Teamsters Local 413. He also enjoyed antiquing. Said the Columbus (OH) Dispatch, he "enjoyed collecting and restoring antique furniture, going fishing, reading mystery novels, and loved red roses. He always enjoyed the Tuesday morning Signal Delivery drivers' breakfast club at Bob Evans." Bernard was admitted to Ohio State University's Ross Heart Hospital where he succumbed at the age of 73 on Dec. 28, 2012. Interment was in Nelsonville, OH, with an obituary published in the Dispatch.
Grandson

David Scott Bateman

lives in Pickerington, OH.
Granddaughter Debra Sue Bateman

resides in Powell, OH.
Daughter Barbara Elaine Nicholson (1946- ? ) was born in about 1946. On Dec. 5, 1964, at the age of 18, she was joined in wedlock with Lawrence Lowe (1941- ? ). Their children are Stephanie Elaine Lowe and Eric Alexander Lowe.
Son Oliver Homer Nicholson Jr. (1948-1969) was born in about 1948. At the age of 19, in June 1967, he was united in matrimony with Rita S. Barnes (Oct. 7, 1948- ? ). They had one son, Brett Stewart Nicholson. Sadly, Oliver died on Nov. 7, 1969 at the age of 31. His remains were lowered into repose in Millersport Cemetery in Fairfield County, OH. Rita's fate after that is not yet learned.
Grandson Brett Stewart Nicholson married Julie Covert on May 20, 1989.
Daughter Elizabeth Ann Nicholson (1949- ? ) was born in about 1949. She wedded Stanley Ray Moore (1955- ? ) on July 31, 1987. Their only known child was Sean Ryan Moore.
~ Son Raymond "Dale" Miner ~

Dale Miner
Son Raymond Dale Miner (1924-1994) was born in 1924.
As a young man, he was attacked by assailtants and badly injured and never fully recovered.
In about 1952, when he was age 28, Dale married Myrtle Jean Lewis ( ? - ? ). They produced three sons who ultimately were raised by his sister Violet Bottomley.
Dale "was a former lumber worker for the Mastowski Lumber Co. of Normalville for many years," said the Daily Courier. "He was a veteran of the U.S. Marine Corps, having served during World War II."
In a memoir, a nephew wrote that Dale suffered from a "lack of responsibility when it came to work ethic. He had a very uncaring spirit. This attitude flowed into the rest of his life. His marriage ended shortly after he had sired three sons. His wife was as neglectful and uncaring as he was with their family, home, and appearance. The children were always dirty. It wasn't unusual for her to open a can of food, heat it, and then sit the pot in the middle of their bed to eat. She would give each child a spoon and let them feed themselves. Eventually they got a divorce, she was interned in a mental facility, and the three boys were adopted to another aunt and uncle. He died a lonely man in a small trailer my mom and dad set up for him near the back of their property, because he had no place to stay, couldn't afford anything else, and no one else would help him."
After the divorce, Dale's sons were adopted by his sister and her husband.
Dale died on July 20, 1994, at the age of 70. Burial was in Indian Creek Baptist Church Cemetery in Mill Run.
~ Daughter Cosey Mae (Miner) Brothers ~

Cosey Brothers
Daughter Cosey Mae Miner (1925-2013) was born on Oct. 28, 1925 in Mill Run.
At the age of 23, she married 25-year-old Clyde Elwood Brothers Sr. (1923-2015) on June 6, 1948. He was the son of Clyde and Gladys (Hoover) Brothers.
They had six children -- Clyde Elwood Brothers Jr., David A. Brothers, Wayne E. Brothers, Linda A. Davis, Debra M. Brothers and Ellen K. Brown.
Cosey and Clyde were employed for may years at the Anchor Hocking glass plant in South Connellsville. Clyde was a member of the local chapter of the AFL-CIO (American Federation of Labor and Congress of Industrial Organizations).
The family belonged to the Uniontown Church of Christ. One of their favorite charities was Camp Concern of Pittsburgh.
Cosey passed away two days after Christmas 2013 at the age of 88. Interment was private. The Connellsville Daily Courier noted that she was survived by 11 grandchildren and 12 great-grandchildren, and was the last of her siblings to pass.
Clyde survived her by a little more than a year. He died in Connellsville's Highlands Hospital on Feb. 10, 2015, at the age of 91.
Son Clyde Brothers Jr. made his home in Connellsville.
Son David A. Brothers married Debra Woodmancy on July 27, 1972. They lived in Athens, Athens County, OH. They have one known daughgter, Donna Brothers.
Daughter Linda Brothers married Roy Davis on June 10, 1978. They have resided in Beaver and New Brighton, Beaver County, PA. Their two daughters are Annett Davis and Elizabeth Davis.
Daughter Debra Brothers lived in Connellsville.
Daughter Ellen K. Brothers married Norman P. Brown IV, grandson of Norman P. and Evelyn (Ruth) Richter Brown Jr. The wedding was held on July 8, 1977. Their home has been in Connellsville. Their three children are Norman P. Brown V, Amanda Brown and Zachary Brown.
Daughter Darla Brothers married Robert Coldren on July 18, 1987. They have made their home in Connellsville. They are the parents of Brittany Nicole Coldren.
~ Daughter Sybil June (Miner) Beck ~

Sybil Beck
Daughter Sybil June Miner (1929-2006) was born in 1929.
She married Edson "Carl" Beck (1923-2013), son of Edison T. and Anna Nichol (Kalp) Beck.
They resided in Indian Head and had three children -- Thomas Beck, Kenneth Beck and Kathy Basinger.
(In an interesting twist, Carl's sister Estella married a distant cousin of Sybil's, Melvin (Miner) Strawderman (1910-1977), birth son of William "Lincoln" and Alice Pearl (Ohler) Miner and adopted stepson of John Strawderman.
Sybil and Carl were members of the Indian Head Church of God. She had a background in finance and tax, and worked in this capacity during her lifetime. Said the Daily Courier:
She had worked in the payroll department of Seven Springs Mountain Resort and as a cashier at the First National Bank at both the Indian Head and Donegal branches. She also worked as a bookkeeper for Kern Brothers Lumber Co., the John Steyer Lumber Co., and Ritenour Lumber Co. She also did personal taxes for many people in the area for many years. Sybil had also served for a time as Justice of the Peace in Springfield Township. Sybil was a member of the Indian Head Church of God. Earlier in her life, she was a member of the Clinton Church of God, where she had served as a Sunday school teacher and board member. She also served as treasurer for the 14th District Sunday School of the Church of God for many years.
Carl served in the U.S. Army during World War II, seeing service in Australia, Japan and the Philippines. He worked at the Melcroft coal mine and for 29 years was in the employ of Walworth in Greensburg. He joined the Robertshaw Company in New Stanton at the age of 58, and upon retiring was employed as a shuttle bus driver at Seven Springs Mountain Resort. He was a volunteer firefighter and ambulance driver with the departments in Normalville and Saltlick Township.
Sybil endured the untimely death of her daughter-in-law Cynthia (Morrison) Beck on March 24, 2003. In a twist of irony, she passed into eternity three years later to the day on March 24, 2006 at the age of 87.
Carl outlived his wife by seven years. He died at Eicher's Family Home in Normalville, at the age of 90, on Sept. 4, 2013. Burial was in Indian Creek Baptist Church Cemetery.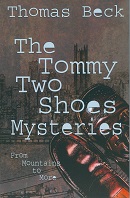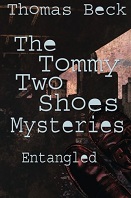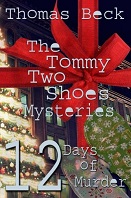 Thomas Beck's books featuring fictional detective Tommy "Two Shoes" Minerd

Author Thomas Beck
Son Thomas Ray Beck ( ? -living) was born on (?). He married Cynthia Louise Morrison (June 13, 1954-2003) on May 22, 1976. They have lived in Acme, Fayette County, and their three children are Amanda Dawn Beck, Andrew Thomas Beck and Anna Elizabeth Beck. Sadly, Cynthia passed away at the age of 48 on March 24, 2003. Thomas has survived his wife by many years. He is an author and has produced a multi-volume detective novel series, The Tommy Two Shoes Mysteries, published by Laurel Highlands Publishing. The books feature a fictional Pittsburgh detective, named appropriately enough Tommy "Two Shoes" Minerd. The premise of the series, according to the publisher, is that "Tommy Two Shoes steps into a tangled web of extortion and corruption." He "vows to find the men responsible for assaulting him, his friends, his family and the woman he loves." Our Thomas' profile on Amazon.com reports that he is a "father, grandfather, and nursing supervisor, [who] has lived in Southwest Pennsylvania his entire life, except for a stint as a naval corpsman. Writing from his home in the mountains near Acme, he draws on past experiences and creative thoughts to weave together baskets of tales for the reader."
Son Kenneth Carl "Kenny" Beck married Laurie Ann Daniels on July 28, 1978. They have resided in Indian Head and are the parents of Kenneth Carl Beck Jr.
Daughter Kathy Beck was united in marriage on Jan. 17, 1975 with Douglas Keith Basinger. They have made their home in Indian Head and have one known daughter, Rebecca Ann Basinger.

Teddy Miner
~ Son Edwin Theodore "Teddy" Miner ~
Son Edwin Theodore Miner (1933-1981) was born on Sept. 9, 1933.
He was badly beaten in childhood by assailants and apparently suffered brain trauma. He never fully recovered and never married.
He died on Oct. 29, 1981.
His remains were placed into eternal repose in Indian Creek Baptist Church Cemetery.
Copyright © 2004, 2006, 2008, 2011, 2013, 2015-2017 Mark A. Miner