Barbara Eleanor
'Nellie' (Minerd) Walsh
(1896-1973)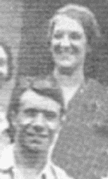 Nellie and Martin
Barbara Eleanor "Nellie" (Minerd) Walsh was born on Jan. 7, 1896 in Fayette County, PA, the daughter of Charles A. and Sarah (Kincell) Minerd.
On June 12, 1918, when she was 22, Nellie married Martin Joseph Walsh Sr. (1893-1981), the son of Edward G. and Mary Ellen (Cosgrove) Walsh of Lonaconing, Allegany County, MD. The wedding took place in Clarksburg, Harrison County, WV, and was performed by Rev. P.H. McDermott of the Catholic Church.
The Walshes were married for at least half a century.
They went on to produce seven children -- Martin Joseph Walsh Jr., Barbara E. Callahan, Rose Ann Walsh, Charles "Edward" Walsh, John T. Walsh, Mary Jane Hamilton and Catherine Reeves.
Sadly, daughter Rose Ann Walsh died at age 15 months.
Martin served in the US Army Corps of Engineers in World War I. Later, he and Nellie moved to West Virginia, where he worked as a storekeeper at the M&H Zinc Company in Spelter, near Clarksburg, Harrison County. Barbara's sister, Winifred (Minerd) Downs and her husband Harry also were residents of Clarksburg.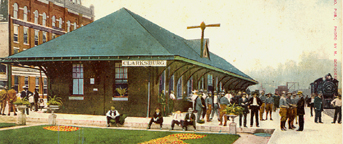 Clarksburg's old railroad depot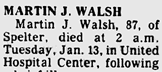 Obituary, 1981
The Walshes were members of the Holy Family Parish of Spelter.
Nellie suffered a stroke, and died in Clarksburg on Dec. 28, 1973 at the age of 77.
Martin outlived her by eight years, and endured ongoing heart trouble. He passed away in United Hospital Center of Clarksburg on Jan. 13, 1981.
~ Son Martin J. Walsh Jr. ~
Son Martin J. Walsh Jr. (1919-1973) was born in 1919.
He served in the U.S. Army infantry during World War II.
At the age of 28, on July 19, 1947, he married Marybelle White (1922- ? ), the daughter of Verne J. and Anna Lorado (McCullough) white, in Clarksburg.
Tragically, in 1973, he was killed in a freak automobile accident in East Providence, PA, "when a boulder crashed through the windshield of the car in which he was riding," said the Clarksburg Exponent.
~ Daughter Mary Jane (Walsh) Hamilton ~
Daughter Mary Jane Walsh ( ? - ? ) was born in (?).
She was joined in wedlock with Monroe Lazelle Hamilton ( ? - ? ).
They resided in Lexington, KY, where he was a salesman for the Pillsbury Company.
~ Daughter Barbara (Walsh) Callahan ~
Daughter Barbara Walsh ( ? - ? ) was born in ()?0.
She wedded Charles Patrick Callahan ( ? - ? ).
The Callahans have lived in Wheaton, MD, a suburb of Washington, DC.
~ Daughter Catherine (Walsh) Reeves ~
Daughter Catherine Walsh (1936- ? ) was born in 1936.
She married William Burton Reeves (1934- ? ) on Sept. 1, 1956, in Clarksburg. He was the son of Cleo Barnard and Virginia Lee Reeves.
Copyright © 2001-2002, 2006, 2008, 2021 Mark A. Miner