Barbara Eleanor
'Nellie' (Minerd) Walsh
(1896-1973)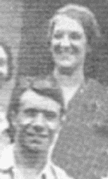 Nellie and Martin
Barbara Eleanor "Nellie" (Minerd) Walsh was born on Jan. 7, 1896 in Connellsville, PA, the daughter of Charles A. and Sarah (Kincell) Minerd.
On June 12, 1918, when she was 22, Nellie married Martin Joseph Walsh Sr. (1893-1981), the son of Edward G. and Mary Ellen (Cosgrove) Walsh of Lonaconing, Allegany County, MD. The wedding took place in Clarksburg, Harrison County, WV, and was performed by Rev. Fr. P.H. McDermott of the Catholic Church.
The Walshes were married for at least half a century.
They went on to produce seven children -- Martin Joseph Walsh Jr., Barbara E. Callahan, Rose Ann Walsh, Charles "Edward" Walsh, John Thomas Walsh Sr., Mary Jane Hamilton and Catherine Reeves.
Sadly, daughter Rose Ann Walsh died at age one year, nine months, on July 21, 1930, caused by a combination of bronchial pneumonia and "ileocolitis," inflammation of the small intestine.
Martin served in the U.S. Army Corps of Engineers in World War I.
Later, he and Nellie moved to West Virginia, where he worked as a storekeeper at the M&H Zinc Company in Spelter, near Clarksburg, Harrison County. Barbara's sister, Winifred (Minerd) Downs and her husband Harry also were residents of Clarksburg.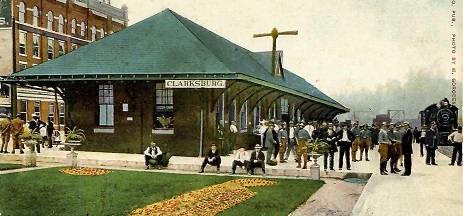 Clarksburg's old railroad station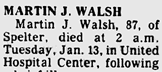 Obituary, 1981
The Walshes were members of the Holy Family Parish of Spelter.
Nellie suffered a stroke, and died in Clarksburg on Dec. 28, 1973 at the age of 77.
Martin outlived her by eight years, and endured ongoing heart trouble. He passed away in United Hospital Center of Clarksburg on Jan. 13, 1981.
~ Son Martin Joseph Walsh Jr. ~
Son Martin Joseph Walsh Jr. (1919-1973) was born on March 18 1919 in Clarksburg.
He served in the U.S. Army infantry during World War II.
The couple b
The couple bore two offspring -- John R. Walsh and Nancy A. Walsh.
Tragically, at the age of 53, on Feb. 20, 1973, he was a passenger in a small foreign automobile traveling east on U.S. Route 30. During that trip, he was "killed in a freak automobile accident near East Providence, PA, "when a boulder crashed through the windshield of the car in which he was riding," said the Clarksburg Exponent. He was rushed to Bedford (PA) Hospital where he was pronounced dead on arrival. The driver of the small car appears to have survived.
Son John R. Walsh ( ? - ? )
Daughter Nancy A. Walsh ( ? - ? )
~ Son John Thomas Walsh Sr. ~
Son John Thomas Walsh Sr. (1924-1996) was born on Jan. 25, 1924 in Spelter, Harrison County, a small town previously known as "Ziesing."
Circa 1942, when he was 18 years of age, he worked for the E.I DuPont smelter in Spelter. He stood 6 feet tall and weighed 138 lbs.
During World War II, he served as a technical sergeant in the U.S. Army Air Corps.
After the war's end, on Oct. 21, 1946, John entered into marriage with Ruth Ellen Callahan (Sept. 25, 1925-2016), daughter of Charles Patrick and Mary Virginia (Mulvaney) Callahan of Clarksburg. Their union survived the ups and downs of half a century.
The pair together bore a family of eight offspring. They included John "Tom" Walsh, Jr., Richard Walsh, Charles Walsh, Martin Walsh, James Michael Walsh, Sarah Anagnos, Patricia Powell and Marianne Strugarek.
Ruth Ellen was an alumna of St. Mark's High School of Clarksburg. She earned a living at one time as a telephone operator with the Chesapeake and Potomac Telephone Company and as a receptionist for H&R Block. Active in the Holy Family Catholic Church of Spelter, she served a term as president of the Holy Family Altar Society.
Death swept him away at age 72 on Nov. 21, 1996.
She surrendered to the angel of death at age 91 on Dec. 8, 2016. Fr. Thomas Dagle led the funeral mass in St. Ann's Catholic Church, Shinnston, with burial in Holy Cross Cemetery.
Their remains lie in eternal repose in Clarksburg's Holy Cross Cemetery.
Son John "Tom" Walsh, Jr. married Deb. They moved to Frederickburg, VA.
Son Richard Walsh wed Deb. They have made a home in Elkins, WV.
Son Charles Walsh entered into marriage with Anna. The pair put down roots in Clarksburg, WV.
Son Martin Walsh was joined in wedlock with Joan. They have dwelled in Fairfield, OH.
Son James Michael Walsh was deceased by 2016.
Daughter Sarah Walsh was wed to George Anagnos. They relocated to St. Charles, MO.
Daughter Patricia Walsh married (?) Powell. Her home in 2016 was in Bridgeport, WV.
Daughter Marianne Walsh was joined in matrimony with William "Bill" Strugarek. The couple in 2016 was in Spelter.
~ Daughter Mary Jane (Walsh) Hamilton ~
Daughter Mary Jane Walsh (1922-1995) was born on Oct. 25, 1922 in Spelter.
She was joined in wedlock with Monroe Lazelle Hamilton (1922-1982) of Fairview, Kanawha County, WV. They may have tied the knot in Oakland, MD.
The Hamiltons resided in Lexington, KY, where he was a salesman for the Pillsbury Company.
Monroe passed away in Morristown, TN on Sept. 14, 1982.
Mary Jane reputedly lived for a baker's dozen years longer, remaining in Lexington. She died two days after Christmas 1995, possibly in Wilmington, DC.
Nothing more is known.
~ Daughter Barbara Eleanor (Walsh) Callahan ~
Daughter Barbara Eleanor Walsh (1925-1970) was born on June 30, 1925 (or 1926) in Spelter.
When she was 24 years of age, on Aug. 20, 1949, she wed 27-year-old Charles Patrick Callahan Jr. (Oct. 10, 1922- ? ), son of Charles Patrick and Mary V. (Mulvaney) Callahan Sr.. Their wedding was held in Shinnston by Fr. James Egan, a Catholic priest.
The Callahans made their residence in Wheaton, MD, a suburb of Washington, DC.
Sadly, Barbara passed away in Wheaton on Jan. 29, 1970.
Charles' fate is not yet known.
~ Daughter Catherine (Walsh) Reeves ~
Daughter Catherine Walsh (1936- ? ) was born on June 13, 1936 in Spelter, Harrison County, WV.
On Sept. 1, 1956, in Clarksburg, when she was 20 years of age, she married William Burton Reeves (1934-2019), the son of Cleo Barnard and Virginia Lee Reeves of Shinnston.
Four children borne by this couple were Barbara "Bobbie" Burke, Michael Reeves, Laura Ann Richards and Randy William Reeves.
The familyr esidence in the early 1960s was Greene County, OH.
William spent 22 years in the U.S. Air Force followed by work as electric superintendent of a glass manufacturing firm. He liked to golf and follow girls' basketball.
Catherine helped earn income for the family through her work as a clerk for the West Virginia Department of Highways. Her career there lasted for 19 years. She was a member of Christ United Methodist Church of Adamston and through the Paris Foundation helped prepare meals for the homeless.
The couple's final place of residence was in North East, MD. There, Catherine attended services at the Haven Community Church.
They died about a year-and-a-half apart. William surrendered to death first on June 11, 2019.
Catherine passed into the embrace of the angels at age 84 on Jan. 14, 2021. Her remains lie in repose in West Virginia National Cemetery in Pruntytown near Grafton, WV. In an obituary in the Clarksburg Exponent, the family asked that any memorial donations be made to the Alzheimer's Association.
Daughter Barbara "Bobbie" Reeves ( ? - ? ) married (?) Burke ( ? - ? ).
Son Michael Reeves ( ? - ? ) wed Yovanka ( ? - ? ).
Daughter Laura Ann Reeves (1963-2020) was born on Jan. 20, 1963 in Greene County, OH. She was united in holy matrimony with Kenneth Olen Richards ( ? - ? ). The pair stayed together for 36 years. They became the parents of two -- Corey Richards and Samantha Crews. They migrated to North Carolina and settled in Thomasville, Davidson County, NC. For 35 years, she was employed by High Point Regional Hospital as a radiologic technologist. She enjoyed following the fortunes of the Pittsburgh Steelers and West Virginia University Mountaineers sports teams. Reported a newspaper, Laura liked to "read, play Candy Crush, and work on the computer." Sadly, at age 57, she passed away in Thomasville on Dec. 3, 2020. The body was transported to New Martinsville, WV for burial in Greenlawn Memorial Park.
Grandson Corey Richards ( ? - ? ) was joined in wedlock with Manda ( ? - ? ).
Granddaughter Samantha Richards ( ? - ? ) entered into marriage with (?) Crews ( ? - ? ).
Son Randy William Reeves ( ? - ? ) was deceased by 2021.
Copyright © 2001-2002, 2006, 2008, 2021-2022 Mark A. Miner