Charles A. Minerd
(1858-1938)

Charles A. Minerd
Charles A. Minerd was born on April Fool's Day 1858 in Fayette County, PA, the son of Isaac and Catherine (Smiley) Minerd.
He is the first known cousin to found his own coal company, albeit unsuccessfully. He's also the first known cousin to receive a United States patent for his invention of a railroad tie.
Charles married Sarah "Sadie" J. Kincell (1862-1915).
Their seven children were Edna Madison, Lizzie Gertrude "Girtie" Minerd, Alfred Mason Minerd Sr., Winifred Winona Downs, Eva Kate Allen-Twyman, Barbara Eleanor "Nellie" Walsh and Margaret Alice Bailey.
Sadie's gold wedding band
Charles began working as a coal miner in 1878, when he was age 20. He and Sadie lived at Dunbar and Wheeler, in South Connellsville, Fayette County.
Charles faced a lifetime of heartache, outliving three adult daughters and at least one son in law. In 1892, daughter Girtie died, just shy of her 10th birthday. In 1902, married daughter Edna died of the effects of childbirth, leaving a husband and at least two sons, one of whom died shortly afterward. In 1915, son in law Russell Allen died suddenly of a heart attack at age 26. Daughter Margaret underwent an operation for gallstones in Detroit in 1927, developed peritonitis, and died while her father was en route to Detroit. All are buried at Hill Grove Cemetery in Connellsville.
The family lived in Smithfield in 1902 and the following year moved to Uniontown. In June 1904, a telephone was installed in their home, an event that made news in the Uniontown Daily News Standard. Later, they moved to Wheeler.
As with his cousins Levi Springer Minerd and Robert Walker Minerd, who had migrated to Kansas in 1886 and held coal mining and farming technology patents, Charles too had an inventor's mind. While we do not yet know Charles' connection to the railroads, excerpt perhaps in connection with mining, it is fact that on Feb. 21, 1905, he submitted a patent application for a new type of rail-joint.
In his submission, he wrote: "This invention relates to certain new and useful improvements in rail fasteners; and the invention has for its object to dispense with the use of nuts and bolts and employ novel means for securing the ends of two rail-sections together. The invention aims to provide a novel form of chair adapted to be supported upon a suitable road-bed."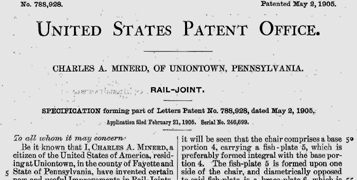 Charles' 1905 patent for a rail joint, with a sketch below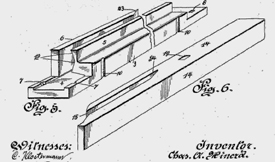 Charles' patented railroad tie
Not satisfied with holding just the one patent, and perhaps with several more ideas in his mind, he successfully pursued a second railroad device. On May 29, 1906, the United States Patent and Trademark Office issued Charles his second patent. Numbered 822, 217, the patent was for a new type of railroad tie. He said his invention "has for its primary object to provide a strong and durable metallic tie to which rails may be safely and quickly secured." His invention was cited in a patent as recently as 1994 for use in a rail transit system in California.
Daughter Winifred Minerd married Harry R. Downs, an early lawyer in our family. He established a law practice in Clarksburg, Harrison County, WV. The Dec. 17, 1910 Connellsville Daily Courier reported that Sarah "was called to Clarksburg ... this morning by the serious illness of a small son of Attorney and Mrs. Harry Downs. The child is suffering from meningitis and no hopes are entertained for his recovery. Mrs. Downs is a daughter of Mrs. Minerd."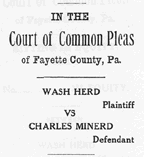 Lawsuit, 1913
In 1913, with 35 years of experience mining at nearby Herd's Hill, Charles and friend Wash Herd launched an entrepreneurial venture, becoming partners in "Herd & Minerd." Some others in the Minerd company may have included J.A. Guiler and Harry A. Downs. Their objective was to open a coal mine at a 325-acre site known as the Guiler lease, near Wheeler.
They hoped to mine coal from beneath the Wheeler school building, but the Dunbar Township school directors objected and sought redress in court. The judge issued a temporary injunction to stop any mining, and the parties reached what the Daily Courier called an "amicable agreement." Yet the same year, Charles and his partners disagreed over wages and management issues, and he was sued to dissolve the partnership and sell the assets. L.S. Mellinger was named receiver of the property.
Circa 1911, Sarah is believed to have operated a grocery store in Wheeler under her name, "S.J. Minerd." An advertisement in the Connellsville Courier (Sept. 27, 1911) said she gave valuable "S&H Green Trading Stamps."
Sarah suffered from gall stones and in 1915 underwent an operation at Pittsburgh's South Side Hospital. She seemed to be recovering -- but then suddenly died, before Charles and the children could arrive. She is buried at Hill Grove Cemetery near her grandchildren -- Alfred M., Charles A., Thomas A. and Jean W. Minerd. Her wedding band has been passed down many generations of the family.
Charles never remarried. He is thought to have been a volunteer fireman with the New Haven (South Connellsville) Fire Company.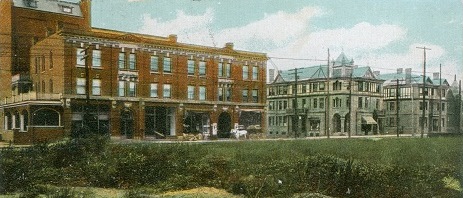 Connellsville, Pennsylvania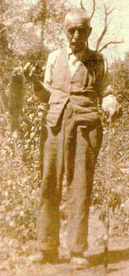 Charles in older years
On Nov. 1, 1915, Charles' large frame residence at Wheeler was destroyed by a fire, although a heroic effort by the local fire department saved the Minerd store a few feet away from the house. In a top-headline story, the Courier reported:
The fire was discovered about 9 o'clock this morning by neighbors who rushed in and told the family, who were seated in a downstairs room unaware that the upper stories were in flames. By the time the fire was discovered the flames had gained such headway that there was no possibility of checking them. A call was sent in to the Connellsville fire department and the truck was soon on the scene. Seeing that there was no chance to save the residence, the firemen assisted the family and neighbors to carry out the downstairs furniture and by means of chemicals kept the store building from being consumed. The family lost practically all of its upstairs furniture and a quantity of clothing... the Connellsville firemen worked for an hour and a half at the fire. They were handicapped, however, by lack of water, there being no fire plugs in Wheeler. The store, which was saved, had been closed for some time.
Fortunately for Charles, while his loss was nearly $5,000, he had homeowners' insurance which helped cover the enormous cost.
In May 1919, the Fairmont West Virginian reported that Charles had sued his employer, the Jamison Coal and Coke Co., to recover $25 which he claimed had been deducted erroneously from his paycheck. The company countered that he owed the amount for boarding under the apparently company-owned roof of a "Mrs. Crowe." Charles admitted that he owned Mrs. Crowe $20 but not $25. Justice Musgrove dismissed the case and ordered Charles to pay court costs.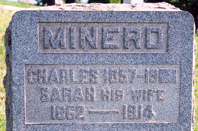 Hill Grove Cemetery, Connellsville
Records of the West Virginia Office of Miners' Health Safety and Training show that the firm of "Minerd & Talbott Coal Co." operated the Horner Mine in Lewis County, WV during the years 1924-1926. The mine produced 1,320 tons of coal in the first year, 5,736 tons in year two and 1,479 in the third year before ceasing operations. It's thought -- but not proven -- that Charles was a principal in the company. Nothing else about this venture is known.
Tragically, Charles was badly hurt in an accident in Connellsville in late November 1928. The Daily Courier reported that:
... [the] former coal operator of Wheeler underwent an operation for a compound fracture of the left leg at the Connellsville State Hospital... He was injured Monday evening when struck by a hit and run automobile driver in Carnegie Avenue, near Apple Street. The man was found about 7 o'clock by Patrolman V. Bert Ritchie. He was lying exposed to the rain and his condition indicated he had been there about an hour. Minerd was in a semi-conscious state when removed to the hospital.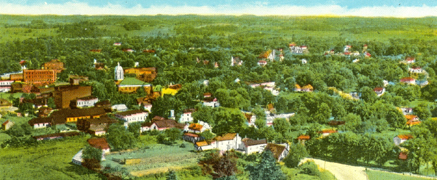 Bird's-eye view of Buckhannon, early 1900s
Buckhannon Record, 1938
Charles fortunately recovered his health. In about 1931, he relocated to West Virginia to live with his grandson, Charles Madison, in Buckhannon, Upshur County. Their home was located on North Kanawha Street, and he remained there for the final seven years of his life.
While in Buckhannon, Charles enjoyed fishing. He once caught a bass measuring 23¾ inches.
After 23 years as a widower, Charles died of a stroke at his grandon's home at 10:55 p.m. on Nov. 26, 1938 in Buckannon, as he approached his 81st birthday.
His remains were returned to Connellsville and were was laid to rest in the family plot at Hill Grove Cemetery. His obituary was published in the Buckhannon Record and Connellsville Daily Courier newspapers.
Copyright © 2000-2001, 2006, 2008, 2010, 2015, 2021 Mark A. Miner