Margaret (Minerd) Bailey
(1902-1927)

Margaret Alice (Minerd) Bailey was born on Sept. 24, 1902 at Smithfield, Fayette County, PA, the daughter of Charles A. and Sarah Jane (Kincell) Minerd Sr. Her early death left a young son and daughter motherless.
When Margaret was a year old, the family moved to Uniontown, Fayette County, where she grew up.
Margaret married Chauncey Alston Bailey Sr. (1898-1950), a native of Thornton, Taylor County, WV, who was born on a Friday the 13th. Chauncey had served in World War I, and received two Purple Heart medals. He went to college to be a preacher but never practiced in ministry. His portrait is seen at right.
The Baileys resided in Clarksburg, Harrison County, WV, and had two children -- Chauncey Alston Bailey Jr. (born in 1921) and June Bailey (born in 1924).
In the 1920s, the Baileys moved to Detroit, Wayne County, MI.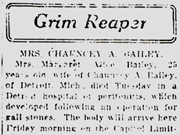 As an adult, Margaret suffered from gall stones. In the summer of 1927, she underwent surgery in a Detroit hospital to correct the problem. Tragically, during the operation, she had an attack of peritonitis. Word was sent to her father that she was gravely ill. Margaret died the first week of August, 1927, before her father could arrive. She was but the tender age of 25.
Margaret's remains were sent by rail back to Connellsville, Fayette County, PA for her funeral and then her burial at Hill Grove Cemetery. The Connellsville Daily Courier published a lengthy obituary.
Their five-year-old son, and three-year-old daughter, were taken into the household of Chauncey's mother, Sally Bailey, who raised them.
Chauncey worked during the Depression as a part-time minister, and "during the Depression collected scrap metal from abandoned cars to support his family," said the Pittsburgh Tribune-Review. The family later "moved to the Christy Park neighborhood of McKeesport."
Chauncey passed away at age 50 in 1948 in Detroit. He was laid to rest in the National Cemetery in Grafton, Taylor County, WV.

A local landmark, the Allegheny County Airport near McKeesport, in the 1940s

~ Son Chauncey Bailey Jr. ~
Son Chauncey Bailey Jr. (seen at right) served during World War II in the Pacific Theatre. After the war, he "worked for the former Columbia Radiator Co. in Christy Park, operated a tavern in McKeesport and was appointed street commissioner for Eden Park Borough before it was merged with the City of McKeesport," said the Pittsburgh Gribune-Review. "Eventually Mr. Bailey became a member of the City of McKeesport Fire Department, where he remained until he retired in 1973."
He was married twice, and had six children in total. He served as president of the McKeesport Optimist Club. He also started an excavating and hauling company now operated by a son.
At his death in 2005, Chauncey was survived by five children, four stepchildren, 24 grandchildren, 22 great-grandchildren and a great-great granddaughter.

~ Daughter June Alice (Bailey) Wilt ~
Daughter June Alice Bailey ( ? -1996) married Baxter Wilt of Grafton, Taylor County, WV.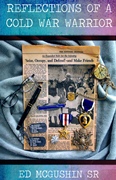 They resided in Fairmont, Marion County, WV and had two daughters, Sandra McGushin and Barbara Kasa.
Her photographic portrait is seen at left. More will be added here about her life when learned.
Daughter Sandra Wilt married Edward McGushin Sr. He was a decorated veteran of the U.S. Army, serving in the 82nd Airborne Division. He authored a memoir of his military service experiences, entitled Reflections of a Cold War Warrior.
Copyright © 2001-2002, 2005-2006, 2012 Mark A. Miner