Home

Catherine 'Kate'
(Richards) Singer
(1871- ? )
Catherine "Kate" (Richards) Singer was born in 1871, most likely in Allen County, IN, to a Swiss-immigrant father and Ohio native mother. Her birth surname appears to have been "Richards."
As a very young girl, Kate was orphaned or abandoned and brought into the home of James and Martha Jane (Sheehan) Minerd of near Monroeville, Allen County.
She appears on the 1880 federal census as a nine-year-old girl in the Minerd household. Her name was not changed to Minerd.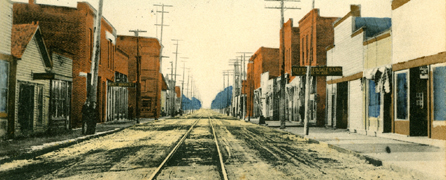 Monroeville's unpaved, dirt South Street
On May 12, 1889, at the age of 18, Kate was united in the bonds of wedlock with William E. Singer (Oct. 13, 1863-1935), son of John and Martha Singer. The nuptials were held at the Minerd home, a mile and a half north of Dixon, and were announced in the Monroeville Breeze newspaper. Kate's adoptive father James Minerd signed his consent to the wedding, spelling his name "James Miner." Rev. L.H. Lindsey officiated.
At the time of their marriage, William earned a living as a storekeeper in Dixon, OH. He had built his business in part by driving a huckster wagon throughout the county and purchasing farmers' produce, including potatoes and corn, and then shipping it via railroad to eastern markets. He also sold dry goods, groceries, boots and shoes.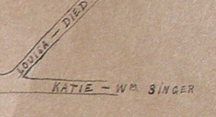 Manuscript family tree naming Katie
Together, the young couple bore a daughter, Goldie (Singer Morgan) Smith, born in March 1890. In announcing the birth, the Breeze said that the father had "caused quite a commotion among our citizens ... by the appearance of a big nine pound 'dish-washer' at his house. Of course Will set 'em up to the boys freely."
Grief blanketed the family when Kate contracted a deadly case of typhoid fever. She passed away at the age of 19 on Aug. 19, 1890. Burial of the remains was in the Monroeville Memorial Cemetery. The Monroeville (IN) Breeze said that her funeral "was one of the largest that has occured [sic] in this section for sometime. To know the deceased was a friend for life."
William appears to have plunged himself into his work to overcome his grief. He placed a notice in the Breeze at Christmas 1890, stating that "The highest prices will be paid for Butter and Eggs. Now all we ask of you is to come and see for your self, and if we haven't clerks enough to wait on you we will get more help."
In late June 1891, William wedded a second time to Anna Belle Taylor (1871-1949). The second marriage resulted in these children -- Grace W. Battenberg, Lila Myers and John "Earl" Singer.
William made news in the Breeze in February 1894 when his golden setter bird dog was struck and killed by a westbound passenger train. He and his wife are known to have attended a lecture by Robert Ingersoll in Fort Wayne in January 1896.
William took a leave of absence from his store in August 1897. During that time, his brother-in-law John "Reuben" Minerd filled in as a clerk. He is believed to have sold the store, moved to Van Wert, OH, and then returned to re-acquire the store.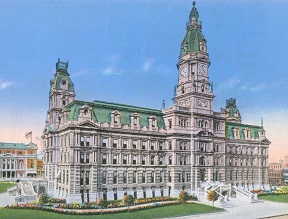 Marion County courthouse, Indianapolis, where William was employed the last years of his life
Once again, now in the spring of 1907, William sold his store and relocated to Decatur. It "caused a great surprise and universal regret to reign among his many friends and we might say the entire community as his friends extended far and near in this section," reported the Breeze.
These he has won all through life and once a friend always such as he so lived and acted in all his daily walks and business relations from boyhood up to the present time were such as one can "bet" on Billy Singer, in friendship, acts, words and deeds as being the same day in and day out the year round. Honest and upright has been his motto and has so been expressed by many the past week and while it is with deep regret all hail his going there is one sentiment on the lips of all to his credit and what is "our loss is the city of Decatur and the citizens gain." He for a number of years with his brother conducted a general store and dealt in the purchase of hay and grain at Dixon and although adversities were their lot in having their elevators and store destroyed entirely by fire two or three times he with his brother kept in good chear built up and battled onward and upward... While mingling with the busy cares of life in relation to his own business the people placed such explicit confidence in him as a man to conduct public affairs that he was chosen to serve them in the capacity of Justice of the Peace of Tully township, Van Wert county, Ohio for a term of six years; president of the school board of his town for six years; Notary Public sixteen years and other offices. For years has been one among the leading members of the church and Sunday School, also a member in good standing of the order of Odd Fellows and other secret societies.
When their daughter Goldie was married in 1911, William was working as a miller in Allen County. He earned his living in 1935 as a custodian and night watchman at the Marion County Courthouse in Indianapolis. He held memberships in the Methodist Church as well as the lodges of the Masons and Odd Fellows.
On the fateful day of Aug. 27, 1935, John at the age of 72 was crossing the street at the corner of Alabama and East Washington in Indianapolis when he was struck by a streetcar. His skull was crushed, and combined with internal injuries, he died instantly. An obituary in the Indianapolis Star reported that he "had been a resident of Indianapolis since 1917 and had been employed at the Courthouse the last four years. He was a salesman in Indianapolis several years and before he came to this city was engaged in the grain business in Monroeville. He was active in the Democratic party and was a precinct committeeman."
Their names appear on a family tree chart drawn on a large sheet of brown paper in black ink many years later by their niece, Goldie (Minerd) Moennig.
Daughter Goldie Singer (1890- ? ) was born on March 8, 1890 in Dixon, Van Wert County, OH. She entered life with the surname "Singer" but apparently was raised by Dr. J.D. Morgan under the "Morgan" surname. When she was 21 years of age, on Oct. 25, 1911, she entered into marriage with Alvin Odel Smith (Feb. 29, 1884-1944), a native of Fort Wayne and the son of Willard and Jennie (Miller) Smith. The wedding was presided over by Rev. Hanson C. Smith At the time, Alvin was employed as an insurance agent. One known daughter born to this marriage was Josephine Eleanor Crates. The couple divorced, and Alvin relocated to Denver, where he died in about June 1944. Later, Goldie wed again to Joseph Dewey Balliet (Feb. 16, 1898-1953), of Van Wert County, OH. They were the parents of Betty Jean Balliet and Forrest Balliet. Goldie was a member of the Unity Church. The family made its home in Miami, Dade County, FL. They grieved when daughter Betty Jean, born with spina bifida, died in Miami at the age of just a few weeks on Jan. 5, 1926. The couple eventually relocated to Arizona. Joseph passed away in 1953 with interment in Mountain View Cemetery in Mesa. Goldie lived for another five years and died in Mesa at the age of 67 in Aug. 1958.
Granddaughter Josephine Eleanor Smith (1913-1996) was born on March 13, 1913 in Dixon, Van Wert County. She was joined in matrimony with Chester Ward Crates (1914-1990)

. The Crateses

dwelled for years in

Monroeville. Their offspring were Gloria A. Small, Jon Byron Crates, Steven Kent Crates, Jane Koch and three who died as infants in 1939, 1940 and 1942. Sadly, she died at the age of 83 on May 9, 1996. They sleep for all eternity in Monroeville Memorial Cemetery.
Great-granddaughter Gloria A. Crates (1934-2011) was born on Nov. 17, 1934. She entered into marriage with (?) Small. The couple were the parents of Brad Small, Chris Small and Greg Small. The family made its home in Monroeville. Gloria was employed at one time by General Electric in Fort Wayne. Toward the end, Gloria went to live in the Village of Heritage in Monroeville. Sadly, she died there at the age of 76 on May 12, 2011. Her funeral service was preached by Rev. William Smith, with burial of the remains in Monroeville Memorial Cemetery.
Great-granddaughter Jane Crates ( ? - ? ) wedded David Koch. They have lived in Monroeville.
Great-grandson Jon Byron Crates (1945-2007) was born on March 11, 1945 in Adams County, IN. He was a member of the 1964 graduating class at Monroeville High School. On April 17, 1965, he was united in matrimony with Jean A. Foster (1945- ? ). Their nuptials were held at St. Mark's Lutheran Church, Monroeville. The offspring born into this family were Jason A. Crates and Tessa J. Roussey. Jon was a farmer in young manhood. Then in 1977 he joined Phelps Dodge Magent Wire, working for 19 years there as a forklift operator. Upon retirement in 2006, he went to work for Rea Magnet Wire. Jon in his free time liked to golf and ride his motorcycle. He was a coach for little league and pony league baseball and a member of the church in which he was married. At the age of 62, he died in Fort Wayne on June 4, 2007. His pastor Rev. William Smith led the funeral service.
Great-grandson Steven Kent Crates (1949-2000) was born on March 6, 1949 in Decatur, Adams County, IN. He served in the U.S. Marine Corps during the Vietnam War. In 1974, at the age of about 25, he married Sheila Kay Cotterman (Aug. 9, 1952-2008), daughter of David F. and Alberta E. (Nichols) Cotterman of Bowling Green, OH. Together, the couple produced five children -- Mary Crates, Steven Crates, David Crates, Michelle Watson and Maria Rivera. Sadness cascaded over the family when the 51-year-old Steven died in Defiance, OH on May 15, 2000. His remains were brought back to Monroeville for interment. Sheila endured as a widow for eight years. Death swept her away in Fort Wayne on Sept. 4, 2008. An obituary gave the count of her survivors as 14 grandchildren. She sleeps for all time in Hedges Cemetery in Paulding, Paulding County, OH.
Copyright © 2010, 2021 Mark A. Miner
Monroeville South Street postcard originally published by W.O. Sweany