Catherine 'Kate'
(Minerd) Singer
(1871- ? )
Catherine "Kate" (Minerd) Singer was born in 1871, most likely in Allen County, IN, to a Swiss-immigrant father and Ohio native mother.
As a very young girl, she was orphaned or abandoned and was brought into the home of James and Martha Jane (Sheehan) Minerd of near Monroeville, Allen County.
She appears on the 1880 federal census as a nine-year-old girl in the Minerd household.
Kate married William Singer ( ? - ? ). The supposition is that she died young.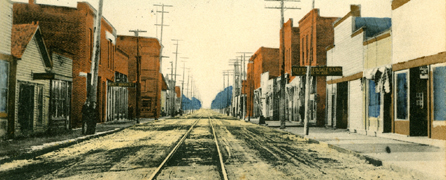 Monroeville's unpaved, dirt South Street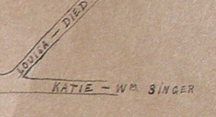 It is unknown if they had any children.
Their names appear on a family tree chart (seen here) drawn on a large sheet of brown paper in black ink many years later by their niece, Goldie (Minerd) Moennig.
The details of their lives are shrouded by the misty haze of history.
Copyright © 2010 Mark A. Miner.
Monroeville South Street postcard originally published by W.O. Sweany