Henry Daniel Minerd
(1899-1959)
Henry Daniel Minerd was born on April 19, 1899 in Coalbrook, Fayette County, PA, the son of James Calvin and Suvina (Yauger) Minerd Sr.
On May 22, 1920, when he was 21 years of age, Henry married 22-year-old Nellie Walls (1898-1962), the daughter of Samuel B. and Rosa (McArdle) Walls of Fairchance. They had four children -- Harold Edward "Mose" Minerd, Genevieve I. Boord, Milton W. Minerd and Thelma Jean Leichliter.
Nellie's mother had died when Nellie was only 11. Later, Nellie's widowed father married Mary Belle (Minerd) Beggs, the daughter of Andrew and Sarah (Devan) Minerd.
Henry held various jobs over the years. In 1921, he was a coal miner for the H.C. Frick Coke Co. in Revere, near Uniontown. He also was a sheet metal worker and furnace installer. They also resided in the coal mining town of Uledi near Uniontown, and circa 1928 in Somerfield, Somerset County, PA.

Bird's eye view of Uniontown's manufacturing district, early 1900s

Uniontown newspaper, 1959
Circa 1942, during the World War II era, the family address was 439 Evans Street, Uniontown. They did not have a telephone in their residence at the time.
Henry died of cancer in Uniontown on March 4, 1959. He is buried at LaFayette Memorial Park at Brief Hill near Uniontown.
Nellie spent several years as a widow, living in the coal mining patch town of Lamberton (or Lambert). She wedded again, on June 15, 1962, to John Dick ( ? - ? ), also a resident of Lamberton. The ceremony was held in the Christian Church of Oakland, MD, led by Rev. Rittenhouse.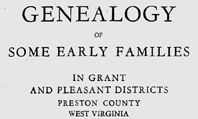 Uniontown newspaper, 1959
Sadly, their lives together only lasted a few months. Nellie suffered a heart attack and was rushed to Uniontown Hospital, where she was dead on arrival on Aug. 24, 1962, at the age of 64. Her obituary in the Uniontown Morning Herald named her surviving siblings: Arthur Walls of Uniontown, Elizabeth Miller of Uniontown, Margaret Fogle of Akron, OH and Mrs. Bill Kelley of Terra Alta, WV. She was interred in Salem View Cemetery in Menallen Township.
Henry and Nellie are mentioned in the 1977 book, Some Early Families in Grant and Pleasant Districts, Preston County, West Virginia, subtitled "Also the Thorpe Family of Fayette County, PA and the Cunningham Family of Somerset County, PA," by Edward Thorp King (Marshalltown, IA, 1933) and reprinted in 1977 by the Genealogical Publishing Co. of Baltimore. Among the other cousins mentioned in this rare volume are Clyde B. Minerd, Marshall Falkenstine, Ida (Gribble) Groves King and Reuben H. Leonard.
~ Son Harold Edward "Mose" Minerd ~
Son Harold Edward "Mose" Minerd (1921-1977) was born on March 13, 1921 in Revere, Fayette County.
He stood 5 feet, inches tall and weighed 153 lbs. in young manhood, with a scar on his upper lip. At the age of 20, in 1942, he was required to register for the military draft during World War II. At the time, he dwelled with his parents at 439 Evans Street, Uniontown, and was employed by A.R. Boyer at a sheet metal works on Angel Street in Connellsville.
He married Anna Mae McCartney ( ? - ? ), daughter of Patrick B. Cartney of Millview Street. The couple resided at 20 Carlisle Street, Uniontown.
They bore two sons -- Gary "Mose" Minerd and Scott "Moe" Minerd.
A truck driver, Harold "was a lifelong resident of this area, and was employed with the City of Uniontown where he was associated with the Street Department for 34 years," said the Uniontown Morning Herald. At the time of marriage, Anna Mae was employed by Francis Restaurant.
Harold died at the age of 55, after a "prolonged illness," on Jan. 22, 1977, in the Uniontown Hospital. He was laid to rest in Sylvan Heights Cemetery.
Circa 1977, son Gary "Mose" Minerd made his home in Glassport, near Pittsburgh.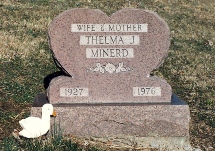 Laurel Hill Presbyterian Church
~ Daughter Thelma Jean (Minerd) Everett Leichliter ~
Daughter Thelma Jean Minerd (1925-1975) was born on March 29, 1925 (or 1927) in Uniontown.
She was twice married. Her first spouse was James Howard Everett (1918- ? ), a 28-year-old, divorced millwright residing in Star Junction, Fayette County. To tie the knot, they eloped to Cumberland, Allegany County, MD with the ceremony performed on Jan. 29, 1945 by the hand of Rev. G.E. Baughman of the Methodist Church.
The Everetts' marriage did not last. Thelma Jean wed a second time to Harold W. Leichliter ( ? - ? ). They made their home in Footedale, near New Salem, Fayette County and Lamberton in German Township, Fayette County.
Their two known children Edward "Oscar" Leichliter and Barbara Jean Leichliter.
Sadly, daughter Barbara Jean was afflicted with cancer of the spine and passed away at the age of 11 on Oct. 7, 1958. She was interred in Lafayette Memorial Park.
Adding to the family's enduring heartache, Thelma was killed at the age of 50, on Aug. 31, 1975, in a one-car crash on a rain-slicked Route 40, about one mile west of the Hopwood Post Office. She is buried in the Laurel Hill Presbyterian Church Cemetery in Dunbar Township near Uniontown.
Son Edward "Oscar" Leichliter resided circa 1981 in Cleveland.
~ Son Milton W. Minerd ~
Son Milton W. Minerd (1933-1989) was born on Dec. 10, 1933, in Uniontown.
He married Rose Marie Dlugopolski and they had three children -- David Wayne Minerd, Bernice Marie Bilinovic and Linda Jean Rusnak.

Beaver County Times
The Minerds moved to Conway, Beaver County in about 1971. They were members of Our Lady of Peace Roman Catholic Church in Conway, and Milton belonged to the American Legion Post in nearby Baden.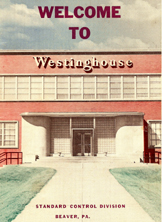 Westinghouse Vanport plant
He served with the U.S. Army during the Korean War. Later, for two decades, he was employed as an assembler for Westinghouse Electric's plant in Vanport, Beaver County.
Suffering from cancer, Milton passed away at the age of 55 on Nov. 21, 1989, at Sewickley Valley Hospital. He was laid to rest at Sylvania Hills Memorial Park in Daughery Township, near New Brighton, Beaver County. His obituary was printed in the Beaver County Times and an original copy is preserved today in our family archives.
Daughter Bernice Marie Minerd married Robert Bilinovic on May 16, 1981. The wedding took place in the Our Lady of Peace Catholic Church in Conway. She was employed by the Westinghouse plant in Vanport, and her husband by General Alloy Casting Company in Rochester, Beaver County. By 1989, they lived in Richfield, OH.
Daughter Linda Jean Minerd married John Rusnak and lived in Baden.
~ Daughter Genevieve Irene (Minerd) Boord ~
Daughter Genevieve Irene Minerd (1931-2015) was born on Aug. 30, 1931 in Uniontown.
On June 25, 1949, when she was 17 years of age, Genevieve eloped with 22-year-old Edgar Chester Boord (1927-2006), the son of Robert C. and Leona Boord. They traveled to Cumberland, Allegany County, MD to be wed. At the time, Edgar was a steelworker living at Lamberton, Fayette County.
The Boords had six children: Janet Kolar, Thomas Boord, James Boord, Nancy James, Ronald Boord and Lawrence Boord.
They resided in Freedom, Beaver County, where he "was a machinist for 20 years at Conrail when he retired in 1987," said the Beaver County Times. He was a "decorated Navy veteran of World War II, serving in the Pacific Campaign with Star Victory and the American Campaign." Tragically, Edgar's brother Harry was killed in military service in the Korean War.
Genevieve is said to have been "sharp as a tack and quick with her wit. She knew exactly what, when and how to say something to leave you in stitches," said the Times. "She had an infectious smile and an inviting personality." She also was a reader of medical books.
Edgar died of Parkinson's Disease on April 23, 2006, at the age of 78.
Genevieve survived her husband by nine years. She died at the age of 83 on Feb. 10, 2015. Her remains were placed into eternity rest at Sylvania Hills Memorial Park Mausoleum following funeral services led by Rev. Donald MacNeil. A lengthy obituary and her photograph were published in the Times.
Daughter Janet Boord wed (?) Kolar and resided in Baden.
Son Thomas Boord (1954?-2017) was born in about 1954. He dwelled in New Brighton and enjoyed playing the guitar and listening to music. Sadly, Thomas died at the age of 63 on May 19, 2017. A short obituary was printed in the Times.
Son James Boord was united in marriage with Ronda and lived in Rochester.
Daughter Nancy Boord married Ralf James and made their home in Freedom.
Son Ronald Board married Sharon and lived in Freedom.
Son Lawrence Boord wed Lori and lived in Freedom.