Ida (Gribble) Groves King
(1865-1941)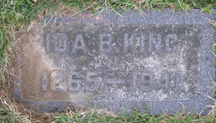 Fairview Cemetery
Ida (Gribble) Groves King was born on Nov. 25, 1865 in Merrittstown, Fayette County, PA, the daughter of Henry Harrison and Mary Catherine (Fawcett) Gribble. Her second husband was a veteran of the Civil War.
As a baby, Ida later wrote, she moved with her family back to their ancestral home region, "to a farm near Pisgah, Grant District, Preston County," where she grew to womanhood. "I lived with them until the death of my father when I was a young woman. My mother, brothers and sisters lived on the farm until my [first] marriage..."
Ida was married twice. Her first husband was Ira F. Groves (1868-1942), the son of Gene and Senith Ann (Everly) Groves. They resided at Pisgah, Preston County. The Clarksburg (WV) Telegram said Ira was "an early teacher." They had three known children -- Victor Lloyd Groves, Marie G. Menear and Pearl Freeman.
After a few years of marriage, Ira sued for divorce on grounds that Ida had been unfaithful. After reviewing the evidence, the Preston County Circuit Court agreed and granted the divorce on Dec. 17, 1898. Ida then went back to using her maiden name for several years.
On March 14, 1901, at the age of 36, Ida married her second husband, 58-year-old widower Eugenus B. King (1843-1933). He was a native of Pisgah and the son of Thomas and Jane (Brandon) King. Rev. E.P. Idleman performed the ceremony at Bruceton Mills, Preston County.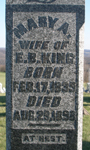 Eugenus' 1st wife
Eugenus had been married once before, in 1867, to Mary Smith (1839-1898), the daughter of Josiah and Jane (McLean) Smith. They had no children. Mary died at age 59 on Aug. 29, 1898, and was buried at Fairview Cemetery, two miles east of the village of Pisgah, near Bruceton Mills, Preston County. Among those known to have attended the funeral were Lorene Benson and C.R. Michael of Bruceton Mills. Her tall, upright grave marker -- seen here -- was easy to find when photographed in April 2007. Today, the small community of Pisgah abuts the eastern edge of what is now Coopers Rock State Forest.
Eugenus stood five feet, six inches high, weighed 165 lbs., and had a fair complexion, blue eyes and dark hair. During the Civil War, on Feb. 14, 1865, Eugenus enlisted in the U.S. Army, as a member of the 17th West Virginia Infantry, Company I. Two of his brothers -- Albert and William King -- were soldiers who starved to death as Confederate prisoners of war in the notorious Andersonville Prison, and another brother George King served in the First West Virginia Cavalry. Eugenus served with the 17th WV for four and a half months. In late February or early March 1865, he contracted a case of the mumps while on duty at Wheeling, WV. He remained with his regiment during the duration of the war and was discharged at Wheeling, WV on June 30, 1865, after the Confederate Army had surrendered.
The Kings were farmers in and around Preston County, including at Pisgah, Bruceton Mills and Rockville. . Ida was a housewife, but little is known about her. Over the years, Eugenus wartime ailments caused him increasing physical discomfort, primarily rheumatism, heart disease and hemorrhoids, as well as failing eyesight as he aged. In 1889, he also developed problems with his spine. When the federal government began awarding pensions to Civil War veterans circa 1890, he submitted paperwork and was awarded monthly payments of $8.

Bruceton Mills, WV, along the Cheat River, early 1900s
Eugenus often worked together in farming with neighbors such as Evan King and W.M. Gibson, who "very often" heard him complain of his heart and hemorrhoids. Recalled Gibson, "I have often seen him when it was impossible for him to do any kind of manual labor on account [of his disabilities]. I knew him to try to work when it seemed he would drop over at any time from heart trouble."
The pension payments were increased from time to time. As an 87-year old some decades later, his payment was raised from $72 to $90 per month. Government field representative William H. Wentz interviewed him at home in June 1930 and reported the following:
When I called to see the claimant he was out in his yard and had in his hand a cane which he was using to feel his way and his actions were just as is common for any blind man. He told me he could see my body when I moved but could not make out my features or to tell a man from a woman. In the house I picked up a soap bob with late letters some 2 inches high and he could not read them at all at any distance and could not count my fingers but can tell day from night... He says that up to within the last few weeks he considered that his vision was useful for he could see well enough to aid him in getting about the house and about eating his meals but for one month his vision has almost -- he has only been able to tell day from night.
To fulfill his obligations as a pensioner, Eugenus underwent an annual physical examination led by a board of examining surgeons. One physician reported in 1928 that Eugenus' eyes "are gradually failing. He is unable to read, or recognize faces or small objects. He is also subject to dizzy attacks on arising. A regular attendant is required to prepare meals, aid in walking during dizzy attacks, also in aiding patient in recognizing small objects." In his examination in January 1929, he was found to have "no natural teeth" left. His pulse rate was 84, respiration 24, and with blood pressure of 160/80.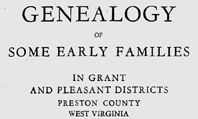 Book naming the Kings
In 1933, Eugenus and Ida were mentioned in a book published about his family, Genealogy of Some Early Families in Grant and Pleasant Districts, Preston County, West Virginia, authored by Edward Thorp King, of Marshalltown, Iowa. Ida obtained her own copy following publication. Eugenus and his parents and siblings are mentioned in a profile of a nephew Thomas Winfield King in The History of West Virginia, Old and New, published in 1923 by the American Historical Society, Inc. (page 387). The latter volume has been reprinted on RootsWeb, with an original copy in the West Virginia and Regional History Collection at West Virginia University.
Eugenus died just a few weeks shy of his 90th birthday on May 6, 1933, in Preston County. He was buried at Fairview Cemetery, near his first wife, and beside where his second wife would eventually rest. Ted Groves was the informant for his official death certificate.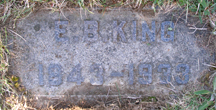 Eugenus' grave, Fairview Cemetery
Today, Eugenus's flat grave marker is in danger of being obscured by moss and overgrown grass. It had to be cleared before it could be photographed. A separate plaque at the cemetery identifies Eugenus -- named as "E.B. King" -- among U.S. military veterans buried there.
Ida successfully petitioned the U.S. Veterans Bureau to receive Eugenus' pension payments. Among the friends who provided supporting testimony on her behalf were Emma C. Bowermaster of Bruceton Mills, Pearl Spiker of Bruceton Mills, As of 1936, she received $30 per month in payments.
In March 1934, Ida was living or visiting with "K. King" in Sacramento, CA, at 826 17th Street, but later returned to West Virginia. In March 1937, she was notified that her monthly pension payments would increase to $40, retroactive to November 1935. Thus she would have obtained a lump sum payment for the accrued amount around that time. In late 1940, Ida went to live in the home of her married daughter, Pearl Freeman, at 115 Willison Street in Clarksburg, Harrison County, WV.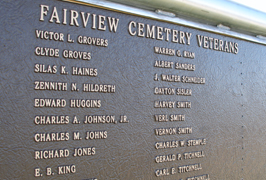 Eugenus's name, lower left, on a modern plaque the Fairview Cemetery near Pisgah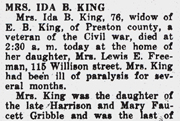 Obituary, 1941
At the time of her death in 1941, she was the last of 13 brothers and sisters, and had lost her sister Emma Shaw and brother Arley to death within the previous six months.
Ida passed away of chronic myocarditis and hardening of the arteries just eight days after her 76th birthday, on Dec. 3, 1941, and just four days before our nation was attacked at Pearl Harbor and plunged into World War II. She was buried at the Fairview Cemetery, following a funeral service at the Bruceton Mills Methodist Church. Ida's parents, brother Arley Gribble and sister Jennie Christopher also rest for eternity at Fairview.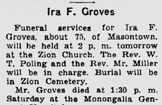 Morgantown Post, 1942
In the early 2000s, efforts to find Eugenus' Civil War pension records at the National Archives were unsuccessful. Family researchers were told that the files were not in the possession of the Archives but rather the U.S. Department of Veterans Affairs. In June 2009, the records were requested under the Freedom of Information Act and were thus located in the VA Regional Office in Baltimore. The VA provided this website's founder with a full set of copies in September 2009, and they now are a permanent part of the Minerd.com Archives.
[Note -- Ida's first husband, Ira F. Groves, went on to remarry Grace First. They made their home in Masontown, Preston County. He died in Monongalia County, WV on June 6, 1942, with burial at Zion Cemetery. His obituary was printed in the Morgantown Post.]
~ Daughter Marie (Groves) Menear ~
Daughter Marie Groves (1896-1969) was born in 1896.
She married Nacy Perry Menear ( ? - ? ). They had one son, James Gordon Menear.
Obituary, 1969
Nacy is thought to have served in World War I prior to marriage. The Menears resided at 314 Elm Street in Clarksburg circa 1941-1967.
Marie was a Republican committee woman in Clarksburg for several years. She also was a member of the First United Methodist Church and the Queen Esther OES of the Ladies Auxiliary of Roy E. Parrish Post 13, Lucinda Rose Auxiliary of the Veterans of Foreign Wars.
She suffered with hypertension for many years. On Jan. 7, 1969, Marie passed away at the age of 73. She was laid to rest in the Sunset Cemetery in Mt. Clare, WV.
Son James Gordon Menear (1928-1967) was born in 1928. He was married but later divorced. Circa 1967, he was employed as a band instructor and teacher in Clarksburg. Tragically, he died at the age of 38 on June 6, 1967, involving some sort of accident with fatal brain and facial injuries. His remains were laid to rest in Clarksburg's Sunset Memorial Park.
~ Son Victor L. Groves ~
Son Victor L. Groves (1891-1957 ) was born in 1891.
He served for six and a half months in the U.S. Army during World War I. He was a member of Company A, 2nd Development Battalion, 155 Depot Brigade, and was discharged following the Armistice on Dec. 12, 1918. After his return home, he lived in Bruceton Mills circa 1933 and later moved to 804 Locust Avenue in Clarksburg.
He died in Berkeley County, WV on May 9, 1957.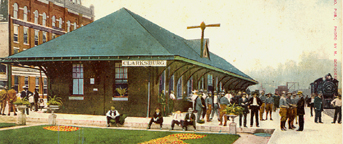 Railroad station in Clarksburg
~ Daughter Pearl (Groves) Freeman ~
Daughter Pearl Groves ( ? - ? ) ws born in (?).
She married Lewis Emmett Freeman (1896-1962), the son of Charles F. and Mary (Moffett) Freeman.
They resided at 407 Roosevelt Road in Grafton, Taylor County.
They produced at least one son, Renick Freeman.
Lewis was a machinist in Clarksburg for many years. He suffered from heart disease and died at the age of 66 on Dec. 11, 1962. Burial was in Sunset Memorial Park in Clarksburg.
Son Renick Freeman ( ? - ? ) was the father of Michael Freeman.
Copyright © 2006-2010, 2016, 2018, 2021 Mark A. Miner
We are grateful to the Department of Veterans Affairs in Baltimore for providing a copy of Eugenus B. King's Civil War pension file.