Arley Overton Gribble
(1868-1941)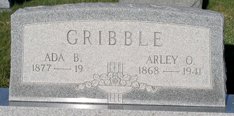 Fairview Cemetery
Arley Overton Gribble was born in 1868 in Preston County, WV, the son of Henry Harrison and Mary Catherine (Fawcett) Gribble.
Arley married Ada Bell (Michael) Harmon (1877- ? ). He was nine years older than his bride.
The four children born to the Gribbles were Mary Cleo Gribble, Bernard D. Gribble, Mrs. David Watkins and Mrs. Fred H. Stump.
Arley was a longtime "lumberman," residing in or near Pisgah, Preston County. Today, the small community of Pisgah abuts the eastern edge of what is now Coopers Rock State Forest.

Fairview Cemetery
Later, in about 1907, the family moved to nearby Morgantown, Monongalia County, WV. Their address in Morgantown was 459 Union Street.
Sadness rocked the Gribbles on Oct. 30, 1918, when 15-year-old daughter Mary Cleo suffered and died "after ten days of illness from influenza, which developed into pneumonia," reported the Morgantown Post. Her remains were brought from Morgantown to Pisgah, where she was laid to rest at Fairview Cemetery, two miles east of the village. Her prominent grave marker is seen here, as photographed in the brilliant sunlight of an April 2007 afternoon.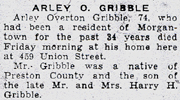 Obituary, 1941
Arley suffered from prostate cancer for two years. In March 1941, after a fall from a tree at home, fracturing his right arm, his health began to decline further.
Two and a half months later, he died at age 74 on June 13, 1941. His obituary was published in the Morgantown Dominion-Post. He is buried at the Fairview Cemetery.
Ada's fate is unknown. No date of death for her is inscribed on their grave marker. Arley's parents and sisters Ida Groves King and Jennie Christopher also are interred at Fairview.
~ Son Bernard D. Gribble ~
Son Bernard D. Gribble (1900-1989) was born in 1900.
He married Ruby Rogers (1908-1996). They resided in Steubenville, Jefferson County, OH circa 1939-1941, and in Morgantown on Dallas Street in 1955.
They watched proudly as daughter Berna Lee was president of her home room at Morgantown High School and a member of the Student Council, Rainbow Girls, Girls' Recreation Association and Spruce Street Methodist Church.
Tragedy struck on Nov. 23, 1955, right around Thanksgiving, when daughter Berna Lee, age 16, was killed in an automobile accident near Uffington, Monongalia County. She was laid to rest at Fairview.
Bernard died in 1989, at the age of 89.
Ruby passed away in 1996, at the age of 88. They, too, rest for eternity at Fairview.
~ Daughter (?) (Gribble) Watkins ~
One of their daughters married David Watkins and in 1941 lived in Fairmont, Marion County, WV.
~ Daughter (?) (Gribble) Stump ~
Another daughter married Fred H. Stump and resided circa 1941 in Morgantown.
Copyright © 2006-2007, 2018 Mark A. Miner