Arley Overton Gribble
(1868-1941)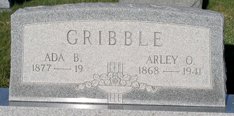 Fairview Cemetery
Arley Overton Gribble was born in 1868 in Preston County, WV, the son of Henry Harrison and Mary Catherine (Fawcett) Gribble.
Arley married Ada Bell (Michael) Harmon (1877-1952?). He was nine years older than his bride.
The four children born to the Gribbles were Mary Cleo Gribble, Bernard D. Gribble, Anna Merle Watkins and Juanita Virginia Stump.
Arley was a longtime "lumberman," residing in or near Pisgah, Preston County. Today, the small community of Pisgah abuts the eastern edge of what is now Coopers Rock State Forest.

Fairview Cemetery
Later, in about 1907, the family moved to nearby Morgantown, Monongalia County, WV. Their address in Morgantown was 459 Union Street.
Sadness rocked the Gribbles on Oct. 30, 1918, when 15-year-old daughter Mary Cleo suffered and died "after ten days of illness from influenza, which developed into pneumonia," reported the Morgantown Post. Her remains were brought from Morgantown to Pisgah, where she was laid to rest at Fairview Cemetery, two miles east of the village. Her prominent grave marker is seen here, as photographed in the brilliant sunlight of an April 2007 afternoon.
The federal census enumeration of 1920 shows the family in Morgantown, with Arley working in a local factory as a fireman.
Arley suffered from prostate cancer for two years. In March 1941, after a fall from a tree at home, fracturing his right arm, his health began to decline further.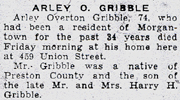 Obituary, 1941

Two and a half months later, he died at age 74 on June 13, 1941. His obituary was published in the Morgantown Dominion-Post. He is buried at the Fairview Cemetery.

As a widow, Ada relocated to Florida with her married daughter Juanita Stump. She is shown there in Miami, Dade County in the 1950 United States Census.

Ada is believed to have died in 1952 in Dade County. If her remains were brought back to West Virginia, no date of death is inscribed on their grave marker.

~ Son Bernard D. Gribble ~

Son Bernard D. Gribble (1900-1989) was born in 1900.

At the age of 19, in 1920, he lived with his parents in Morgantown and earned a living as a "cupper" in a glass factory. Within a few years he migrated to Wheeling, WV.

On Sept. 25, 1924, when he was age 24, he married step-cousin Ruby Rogers (1908-1996), also of Morgantown and the daughter of Jasper Newton and Rosa Lee (Walls) Rogers and stepdaughter of William G. Miner. Their wedding was held at Elm Grove near Wheeling.

Together, the pair bore three children -- Berna Lee, Terry D. Gribble and Michael B. Gribble.

The couple resided in Steubenville, Jefferson County, OH circa 1939-1941, and in Morgantown at 459 Dallas Street in 1955-1969.

When the federal census was made in 1950, the Gribbles made a home in Morgantown. Bernard earned a living at that time as a machine mechanic in a chemical plant.

They watched proudly as daughter Berna Lee was president of her home room at Morgantown High School and a member of the Student Council, Rainbow Girls, Girls' Recreation Association and Spruce Street Methodist Church. Tragedy struck on Nov. 23, 1955, right around Thanksgiving, when daughter Berna Lee, age 16, was killed in an automobile accident near Uffington, Monongalia County. She was laid to rest at Fairview.

Bernard died in 1989, at the age of 89.

Ruby passed away in 1996, at the age of 88. They, too, rest for eternity at Fairview.

Son Terry D. Gribble (1932- ? ) was born in about 1932 in Ohio.

Son Michael B. Gribble (1937- ? ) was born in about 1937 in West Virginia. During the Vietnam War, he joined the U.S. Air Force. He trained at Beagle Air Force Base in California and in August 1969 was named "Outstanding Airman of the Month."

~ Daughter Anna Merle (Gribble) Watkins ~

Daughter Anna Merle Gribble (1903- ? ) was born in about 1903 in Preston County. She grew up in Morgantown.

On July 12, 1926, at the age of 24, she entered into marriage with 24-year-old David Ashby Watkins Sr. ( ? - ? ), a student of Buckhannon, Upshur County, WV, and the son of A.K. and May (Overfield) Watkins. Their wedding ceremony was held in Morgantown by the hand of Rev. W.E. Lowther of the Methodist Episcopal Church.

Three known offspring of the Watkinses were Betty Jane Watkins, Dolores Jean Sidaras and David Ashby Watkins Jr.

The pair in 1940 lived in Fairmont, Marion County, WV. At that time, David was enrolled as a medical student.

Daughter Betty Jane Watkins (1928- ? ) was born in about 1928.

Daughter Dolores Jean Watkins (1928- ? ) was born on Sept. 10, 1928. On Aug. 12, 1950, when she was age 21, she was joined in wedlock with 24-year-old Edward George Sidaras (Feb. 12, 1926- ? ), a native of Elizabeth, NJ and the son of George and Anna (Valinskus) Sidaras. Their wedding was held in Buckhannon, Upshur County, WV, officiated by Rev. Ralph C. Brown of the Methodist Church. Edward was a veteran of World War II. Evidence suggests that they relocated to New York and put down roots in Cazenovia. There, in 1975, Edward was employed as a guidance counselor in the local junior-senior high school. Sadly, he passed away on St. Patrick's Day 1999. Burial was in Evergreen Cemetery in Cazenovia.

Son David Ashby Watkins Jr. (1936- ? ) was born in about 1936. He dwelled in Fairmont in young manhood. At age 23, on Aug. 31, 1958, he wed 21-year-old Shirley Elizabeth Lewis ( ? - ? ) of Terra Alta, Preston County, WV and the daughter of Vaughn and Dolly (Calhoun) Lewis. They were joined in marriage in the Terra Alta Methodist Church, led by Rev. Edward J. Seibert.

~ Daughter Juanita Virginia (Gribble) Stump ~

Daughter Juanita Virginia Gribble (1912- ? ) was born in about 1912 in Monongalia County, WV.

When she was 29 years of age, on Feb. 17, 1941, Juanita was united in the bonds of matrimony with 33-year-old Fred H. Stump (1907- ? ), son of Frank and Joan (Williams) Stump of Webster County, WV. Officiating at the nuptials was Rev. Arthur E. Beckett, of the Methodist Church in Morgantown.

Fred was divorced from his first wife.

In 1941, the newlyweds resided in Morgantown. They do not appear to have reproduced.

Then in about 1948, the Stumps had relocated to Florida. The 1950 federal census enumeration shows them in Miami, Dade County, with Fred at age 43 having no occupation. Juanita's widowed, 73-year-old mother dwelled under their roof that year.

At some point, Fred obtained employment with the Seaboard Coastline Railroad as an electrician.

Fred passed away on July 31, 1970 in Dade. The Miami Herald reported in an obituary that he had been "a resident of Miami for the past 22 years."

Juanita outlived her husband, but details are not known.

Copyright © 2006-2007, 2018 Mark A. Miner