Mary (Fawcett) Gribble
(1833-1911)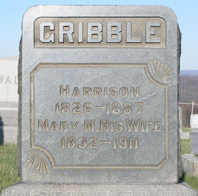 Fairview Cemetery
Mary Catherine (Fawcett) Gribble was born in 1833 (or 1832) in Preston County, WV, the daughter of Charles B. and Phoebe (Miner) Fawcett.
Mary married Henry Harrison Gribble (1826-1886), a farmer, who was the son of Archibald and Delilah (Joseph) Gribble of Pisgah, Preston County. Henry's mother also has been named as "Margaret."
As evidence that the two families were close, Mary's cousin Susan Murdock married Henry's cousin James Erwin Gribble.
The Gribbles produced a brood of 13 children, with 11 maturing to adulthood -- Eugenus C. Gribble, Emma Shaw, Deborah Jane "Jennie" Christopher, Alice "Ally" M. Friend, Ida B. Groves King, Arley Overton Gribble, Timber "Lake" Gribble, Anawalt Gribble, Anna M. Greathouse, Charles I. Gribble, Ira Gribble, Vasie R. Gribble and one whose identity is not known.
The names of the children were inscribed in a family Bible, published in New York in 1829 by the American Bible Society. Circa 1937, when it was needed to establish proof of one of their now-elderly daughters, the book was in the possession of granddaughter Effie Smith of Pisgah, but could not be located.
Vasie's grave, 1879
Sadly, son Ira is said to have "died in youth," and daughter Vasie passed away in 1879, at the age of four. Vasie was laid to rest in Fairview Cemetery located two miles east of Pisgah, just a few years after the burying ground opened. Her badly eroding grave marker was barely legible when photographed in April 2007.
Henry is mentioned in Wiley's 1882 History of Preston County for having served as proprietor of a store on the site of the old Corbin's store room, succeeding E.T. Brandon. In 1867, he turned over the business to J.M. Godwin, "when the house burnt down."
Circa 1865, the Gribbles lived in Merrittstown, near Uniontown, Fayette County, PA, where their daughters Ida and Anna were born. By 1869, they had moved to Pisgah, Preston County, and in 1872 were residing in nearby Bruceton Mills, Preston County. When the federal census of Preston County was taken in 1880, they lived in the Grant District.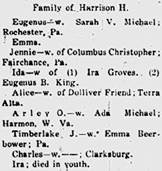 Preston County Journal, 1908
Today, the small community of Pisgah abuts the eastern edge of what is now Coopers Rock State Forest.
During 1878-1879, when a new house of worship was being planned and erected for the Kingwood Methodist Episcopal Church, Harrison contributed funds for the work. The dedication service was held on May 25, 1879. Several cousins also made financial contributions to the effort, including his brother in law John "Allen" Fawcett, uncle John S. Murdock and cousins James Eyster Murdock Sr., Marcellus Hugh Murdock and James Miner Carroll.
On Feb. 13, 1887, Henry died at the age of 61 at Pisgah. He had suffered from pneumonia, which led to his passing. His remains were laid to rest in the Fairview Cemetery in Pisgah.
Mary outlived her husband by a quarter of a century. She died in 1911, and was buried beside her husband.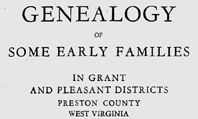 Book naming the Gribbles
Apparently Henry had possession of the old Gribble family Bible, mentioned in the 1933 book, Genealogy of Some Early Families in Grant and Pleasant Districts, Preston County, West Virginia, authored by Edward Thorp King, of Marshalltown, Iowa. The book states that the Bible was "stereotyped for the American Bible Society by D. & G. Bruce, New York, 1829, and now owned by a granddaughter Mrs. Effie Smith, Pisgah, West Virginia."
The Gribble genealogy is spelled out in the July 30, 1908 edition of the Preston County Journal, one of a series of articles that year on the "Pioneers of Preston." Henry, Mary and the children are named. A copy of this article is in the Minerd-Miner-Minor Archives.
Their burial information is included in the book, In Remembrance: Tombstone Readings of Preston County, West Virginia, Volume III, authored by Janice Cale Sisler. In later years, the Gribbles' adult children Arley Overton Gribble, Jennie Christopher and Ida King also would be laid to rest at Fairview with their respective spouses.

Fairview Cemetery near Pisgah, 2007
~ Daughter Anna M. (Gribble) Greathouse ~
Daughter Anna M. Gribble (1865- ? ) was born in 1865 in Merrittstown, near Uniontown, Fayette County, PA.
At the age of 23, on or about Feb. 18, 1888, she married 29-year-old Rolly William ("Rolley" or "Rawley") Greathouse (March 7, 1858-1917), a native of West Virginia, and the son of Sylvester and Nicy Ann (Barker) Greathouse. At the time of marriage, he was employed as a laborer in Dunbar Township, Fayette County. He could not write his own name, and signed his marriage license with an "X." The marriage took place in Uniontown, Fayette County.
Anna's paper trail ends here. Nothing more is known.
On July 25, 1900, when he was 41 years of age, Roley entered into marriage again with 27-year-old Cora V. Rogers ( ? - ? ). They dwelled in Masontown, Preston County, WV, and raised a large family. Roley earned a living as a coal miner.
Sadly, in the summer of 1917, Roley contracted cholera. He suffered for a month and surrendered to the angel of death at age 58 on Sept. 2, 1917. Interment was in Masontown, and Cora signed the death certificate.
Copyright © 2000, 2002-2003, 2006-2008, 2018, 2021-2022 Mark A. Miner