Alice (Gribble) Friend
(1862-1916)
Alice (Gribble) Friend was born in about 1862 in Preston County, WV, the daughter of Henry Harrison and Mary Catherine (Fawcett) Gribble.
Clarksburg Telegram, 1941
Alice married James Dolliver Friend (1862-1941), a native of Deer Park, MD, and the son of Samuel and Sarah Friend.
They had two children -- Lacy G. Friend and Alta Mae Parrish.
The Friendses resided in Terra Alta, Preston County, circa 1908, and later resided in Keyser, Mineral County, WV. In about 1913, they relocated again, to Clarksburg, Harrison County, WV.
Said the Clarksburg Telegram, James "was a sawmill worker but after coming here 28 years ago worked for the Monongahela-West Penn company for a number of years."
Sadly, Alice suffered from liver problems, and died at age 54 on June 20, 1916, in Mineral County.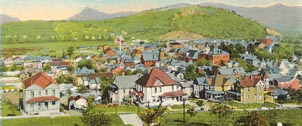 Bird's-eye view of Keyser's Queens Point
In later years, James resided with his son Lacy at 5 Trolley Terrace in Clarksburg, Harrison County, WV. He passed away there at age 78, on Aug. 20, 1941, several days after suffering a cerebral hemorrhage. His remains were shipped to Deer Park for burial, following "short funeral services ... held with the Rev. L.E. Bee, pastor of the Methodist Temple," said the Telegram.
~ Son Lacy G. Friend ~
Son Lacy G. Friend ( ? - ? ) was born in (?).
Lacy made a home in Clarksburg at No. 5 Trolley Terrace in 1941.
He resided in Columbus, Franklin County, OH circa 1961.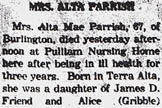 Obituary, 1961
~ Daughter Alta May (Friend) Parrish ~
Daughter Alta Mae (1894-1961) was born in 1894.
She married Walter E. Parrish. They resided in Keyser, and had one son, Walter E. Parrish Jr.
In her mid-60s, Alta began suffering from hardening of the arteries. After three years of sickness, and residing at the Pulliam Nursing Home of Burlington, Mineral County, Alta died on April 9, 1961, at age 67. She was buried at Deer Park Cemetery in Deer Park, Garrett County, MD, following a funeral led by Rev. Millard Floyd. Her obituary was published in the Mineral Daily News-Tribune in Keyser.
Copyright © 2006, 2018 Mark A. Miner