Timberlake 'Lake' Gribble
(1869-1928)
Timberlake "Lake" Gribble -- also known as "T.L." -- was born on Dec. 20 or 22, 1869/1870 in Pisgah, Preston County, WV, the son of Henry Harrison and Mary Catherine (Fawcett) Gribble. In West Virginia birth records, his mother's first name is written as "Lake."
On the Fourth of July 1891, when he was about age 22, Lake was united in matrimony with 17-year-old Emma Alice Beerbower (March 3, 1874-1950), also of Preston County, and the daughter of George Stough and Sarah Salome (Laub) Beerbower.
Together, the couple produced a brood of five children -- Claude/Charles "Lee" Gribble, Maude Beatrice Jordan, Selma "Edith" Wiltrout, James McNeal Gribble and Clifford Charles Gribble.
Circa 1900, they resided in Pennsylvania. By about 1903, they had migrated south to Clarksburg, Harrison County, WV, where Lake was employed as a meat cutter. They made their residence at 281 Monticello Avenue.
By 1915, they had returned to Pennsylvania, where Lake and Emma lived in New Salem, Fayette County, with Lake continuing his work as a butcher.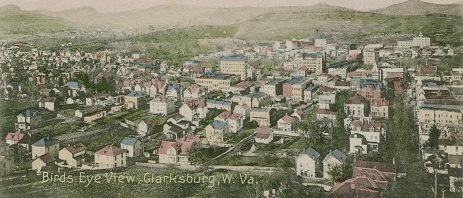 Clarksburg in the early 1900s

Obituary, 1924
Said the Clarksburg Telegram, Lake was "engaged in meat cutting, in which he was highly skilled, and worked at various markets, including the Chicago dairy until [late in 1926]... He spent the first half of his life [in Pisgah]. Soon after he came [to Clarksburg] he was associated with his brother, Charles I. Gribble, in the business of the Chicago dairy in its first years here."
The 1920 census shows Lake and Emma living on Monticello Avenue in Clarksburg, with 22-year-old widowed son James and nine-year-old son Clifford in the residence. Lake's occupation was listed as "clerk - grocery store."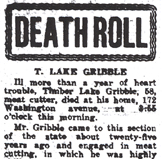 Obituary, 1928
Tragically, on Feb. 1, 1924, their son Clifford died at age 13 of "acute post-operative shock" following a ruptured appendix. His remains were buried at Elkview Masonic Cemetery in Clarksburg. Said the Telegram, "He was a pupil in the junior high school and by his pleasant disposition had created a wide circle of friends who were deeply shocked to hear of his passing."
Lake suffered from stomach cancer, and retired from the Chicago Dairy business in late 1926. He spent his remaining time receiving "special treatment" at Huntington, WV. He died just two weeks after his 58th birthday on Jan. 5, 1928. He was laid to rest at Elkview, with Rev. Dr. Charles G. Slater of the First Methodist Episcopal Church officiating.
Emma survived her husband by a number of years. Circa 1930, when the federal census was taken, she lived on Weekley Street in Clarksburg, with her widowed son James (age 33) and grandson James Jr. (13) in the household. Also in the household were her married daughter and son-in-law, Maude and Jarrett Jordan, and their two young children.
In 1942, this family was profiled in the book House of Bierbauer: Two Hundred Years Of Family History 1742-1942, compiled by James Culver Bierbower and Charles William Bierbower.
Emma succumbed to the angel of death in 1950.
~ Son Claude "Lee" Gribble ~
Son Claude "Lee" Gribble (1891-1960) was born on Dec. 12, 1891 in Pisgah, Preston County, WV. The year of his birth also has been given as 1887.
He migrated to Freedom, Beaver County, PA, near where his uncle Eugenus C. Gribble had earlier relocated. Lee obtained employment there as a railroader.
On Sept. 11, 1911, at the age of 23, Lee wedded 22-year-old Charlot Susan Love (1888- ? ), age 22, daughter of Marion and Sarah Love. Rev. W.J. Jackson performed the nuptials in the county seat of Beaver. He used the name "Charles Lee Gribble" on his marriage license. At the time, of marriage, Charlot lived in Homewood, PA.
The marriage did not last, and the pair divorced within a few years.
When he was 26 years of age, Lee was joined in matrimony a second time, on March 31, 1918, with 24-year-old Jeanette Alice Moore (1894- ? ), daughter of James H. and Minnie M. Moore of Taylor County, WV. Their wedding was held in Clarksburg, with Rev. William B. King officiating. On their marriage license, the couple asked that the news of their union not be published.
The couple were the parents of a daughter, Carol Angelia Edwards.
Lee joined the U.S. Army during World War I, and was placed in Battery A of the 21st Field Artillery.
Returning to Clarksburg after the war's end, Lee earned a living through his work on the state road.
When the federal census enumeration was made in 1940, the family lived in the Coal District of Harrison County, with Jeanette's widowed mother in their household. Lee earned a living at that time as a truck driver for a public service company.
Their address in the 1940s through 1960 was 292 Monticello Avenue.
Suffering from angina pectoris (chest pain), Lee died in their Clarksburg home at the age of 69 on Jan. 12, 1960. Burial was in Bridgeport Cemetery in Harrison County.
Jeanette's fate is not known.
Daughter Carol Angelia Gribble (1921-1994) was born on Feb. 28, 1921 in or near Clarksburg in the Coal District of Harrison County, WV. Single at the age of 19, in 1940, she lived at home. When she was 26 years of age, on June 16, 1946, she entered into marriage with 29-year-old World War II veteran Raymond Edward Edwards (Dec. 19, 1916-1985), son of John and Edith (Pritchard) Edwards of Clarksburg. The nuptials were performed by Rev. Charles W. Ambrose in Clarksburg's Methodist Temple. The couple bore at least one son, Raymond Lee Edwards. But the family was plunged into grieving when the baby was stillborn, the victim of toxic kidney issues in the mother's pregnancy. Whether or not thee were other children is not yet known. Raymond passed away five days before Christmas in 1985, and one day after his 69th birthday. His remains were lowered into honored rest in Bridgeport Cemetery. Carol lived for another nine years in Clarksburg. She died on Oct. 2, 1994.
~ Daughter Maude Beatrice (Gribble) Jordan ~
Daughter Maude Beatrice Gribble (1893-1946) was on March 21, 1893 in Preston County, WV.
At the age of 22, on July 5, 1915, she married 32-year-old Jarrett Andrew Jordan (March 20, 1883-1952), a widower and the son of Jarrett Andrew and Christina (Garrett) Jordan Sr. of Uniontown, Fayette County, PA.They were wed in Uniontown. Jarrett's first wife had died two years earlier in May 1913.
At the time of marriage, Jarrett was a brick layer and lived in New Salem. The couple asked that the news of their wedding not be published in the local newspaper.
They resided in Uniontown, Fayette County, circa 1928.
The couple produced a daughter, Madelon Alice Leimbach and a son, Jarrett Timberlake "Lake" Jordan. Both children were born in Pennsylvania.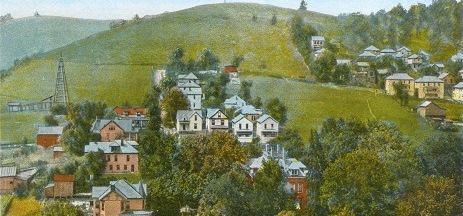 Hillside Clarksburg neighborhoods
Sometime in the 1928-1930 timeframe, after the death of Maude's father, the family migrated to West Virginia and shared a home with Maude's widowed mother in Clarksburg, Harrison County, WV.
The federal census enumeration of 1930 shows the family in Clarksburg, with Jarrett continuing to earn income as a bricklayer for building projects. They shared a residence that year with Maude's widowed mother and widowed brother James.
During the early 1930s, the Jordans again relocated, this time to the District of Columbia. There, Jarrett maintained his labor as a bricklayer working for a building contractor. Their home was located at 1311 11th Street.
Maude passed into eternity in Clarksburg on July 8, 1946. Her remains are in eternal repose in Elkview Masonic Cemetery in Clarksburg.
Jarrett survived his bride by six years. He died in 1952.
Daughter Madelon Jordan (1926-2009) was born on April 19, 1926 in Pennsylvania. She entered into blessed matrimony with Gordon Eugene Carl Leimbach Sr. (Oct. 31, 1924-2005), a native of Collingswood, NJ. Together they produced two children -- Gordon E. Leimbach Jr. and Susan Davis. Gordon served in the U.S. Navy during World War II. The Leimbachs spent most of their postwar lives in Silver Spring, MD. There, Gordon owned a plumbing company for more than half a decade. He held memberships in the Masons and Maryland Travel Trailer Club, and was affiliated with the Methodist Church. Then in about 2003, they relocated to Florida and dwelled in the town of Lakeland, Polk County. As a patient in Lakeland Regional Medical Center, Gordon died at the age of 80 on April 16, 2005. A brief death notice appeared in the Tampa Tribune. Madelon survived her spouse by four years. She passed away at the age of 82 on Aug. 22, 2009. Interment of the remains was in Crestlawn Memorial Gardens in Marriottsville, MD. Her obituary in the Washington Post asked that any memorial donations be made to the American Heart Association.
Grandson

Gordon Eugene Leimbach Jr.

married Edna. They made their home in 2005-2009 in Germantown, MD.
Granddaughter Susan Leimbach wedded Robert Davis

. Her home in 2005-2009 was in Wethersfield, CT.
Son Jarrett Timberlake "Lake" Jordan (1929-2015) -- who went by the nickname "Lucky" -- was born on Jan. 5, 1929 in Uniontown, Fayette County. On July 17, 1957, he was joined in wedlock with Karel Mari Kleinheksel (June 7, 1932-2018), a native of Grand Rapids, MI and the daughter of J. Harvey and Ethel (Dykstra) Kleinheksel. Their marriage endured for a remarkable 58 years until cleaved apart by death. The couple's three offspring were Jarrett Dirk Jordan, Jo-Llyn J. Copp and Krista Marie Trimmer. The Gribbles relocated in about 1957 to Fort Lauderdale, FL, where they spent four decades of their lives. Jarrett was in the used car business at the time of marriage, and Karel-Mari a store manager. He then was employed for three decades with the City of Fort Lauderdale, beginning his career there as a lifeguard on Fort Lauderdale Beach. The June 8, 1958 edition of the Fort Lauderdale News includes a photograph of him practicing life-saving methods at the beach. He moved up in the city's system and eventually became Assistant Utilities Director, retiring in 1989. He was the author of seven books. Their address in 1980 was 1517 Southwest 24th Street. Karel-Mari was an educator and in 1963 taught social studies and journalism at New Rivers Junior High School. She also served as an officer of Theta Sigma Phi. Then in 1997 they moved to Titusville, FL. Sadly, Timberlake died on June 13, 2015, at the age of 86. His obituary was printed in Cocoa (FL) Florida Today. Instead of a funeral service, the family held a celebration of life event at Ocean City, MD. Karel survived for another two-and-a-half years. At the age of 85, she was spirited away by the angel of death on Jan. 4, 2018. Her remains were placed next to her husband's in the Pilgrim Home Cemetery in Holland, Ottawa County, MI.
Grandson

Jarrett Dirk Jordan

( ? - ? ) married Nancy A. ( ? - ? ). They are believed to be the parents of Mikaela Mari Jordan and Cortney Llyn Jordan. In 1980, Jarrett graduated from the U.S. Air Force Academy in Colorado Springs and was commissioned a second lieutenant. The news was announced in the Fort Lauderdale News.
Granddaughter Jo-Llyn Jordan ( ? - ? ) wedded (?) Copp

( ? - ? ). Evidence hints that she was the mother of KyLlyn D. Copp.
Granddaughter Krista Marie Jordan ( ? - ? ) attended the University of Mississippi in Oxford. She was joined in wedlock with David A. Trimmer

( ? - ? ). Children born to this union were John Dalton Trimmer and Kari Marie Trimmer.
~ Daughter Selma "Edith" (Gribble) Wiltrout ~
Daughter Selma "Edith" Gribble (1895-1975) was born on July 10, 1895 in West Virginia.
Circa 1913, when she was age 18, Edith entered into matrimony with 23-year-old Charles R. Wiltrout (Jan. 14, 1890-1962), son of Jacob J. and Jemima (Geary) Wiltrout of Bullskin Township, Connellsville, of the family of Adam and Elizabeth (Younkin) Wiltrout. At the time, Charles was residing in Clarksburg, Harrison County, WV.
Prior to marriage, in 1910, census records show Charles working as a bratticeman in the mines of Redstone Township, Fayette County -- building and adjusting equipment for air flow -- with his father Jacob employed as a stable boss and brother Harry as a helper in the stables.
Charles served in the U.S. Army during World War I, as a member of Company A, 326th Infantry, 82nd Division. He attained the rank of sergeant.
When the federal census again was enumerated in 1920, the Wiltrouts resided in the coal mining town of Continental No. 2 near Uniontown.
The pair bore three sons -- Charles "Paul" Wiltrout, Glen Ward Wiltrout and Jack Timberlake Wiltrout. Sadly, son Paul died stillborn on Oct. 24, 1924, and was buried at the Elkview Masonic Cemetery.
By 1930, the family had relocated back to Clarksburg, with Charles at the age of 40 earning a living as an electrician in a glass factory.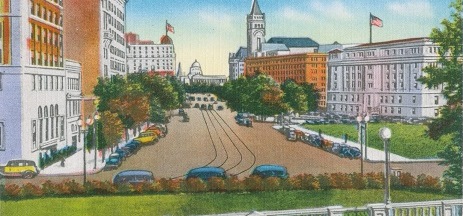 District of Columbia, home of Edith Wiltrout and children after a divorce
The marriage ended in divorce during the 1930s. Edith and her sons relocated during the latter half of the 1930s to the District of Columbia, where she took over management of a lodging house. She is shown in this capacity in the 1940 census.
Charles, on the other hand, moved cross-country and in 1940 continued his skill as an electrician for a coal mine in Navajo, McKinley County, NM.
In September 1941, Edith and her sister Maude Jordan and family traveled to Cumberland, MD to visit with their brother J.M. Gribble in the town of Harmonsville. The news was reported in the gossip columns of the Cumberland (MD) Evening Times.
Charles eventually made his way to Oklahoma, settling in the city of Tulsa.
He died there unexpectedly at the age of 72 on Feb. 12, 1962. A short obituary was printed in the Connellsville Daily Courier. Interment of the remains was in Rose Hill Memorial Park in Tulsa.
Edith apparently never remarried. She passed away in 1975. She was lowered into eternal sleep in Clarksburg's Elkview Masonic Cemetery.
Son Glen Ward Wiltrout (1912-2005) was born on May 6, 1912 in Marguerite, Westmoreland County, PA. During the 1930s, after his parents' marriage broke apart, he moved with his mother and brother to the District of Columbia. In 1937, at the age of about 25, he married Frances A. Higgs (Jan. 11, 1912-1987), a native of Medley's Neck, St. Mary's County, MD and the daughter of Thomas Manley and Florine Lucretia (Bowles) Higgs. Their marriage endured for half a century. Two daughters were born to this couple -- Patricia Joan Wiltrout and one other. Frances had migrated into Washington in 1929 when enrolling in Georgetown University's school of nursing. Evidence suggests they remained in the District vicinity for good. Glen was employed by the federal government for four decades. Circa 1967, he held the title of assistant director for administration in the Division of Military Application. In this role, he gave testimony before the Joint Committee on Atomic Energy regarding housing costs in the transfer of government ownership and operation of the Los Alamos community in New Mexico. Frances was a nurse during her 47-year career in Washington. Reported the Washington Post, she "retired in 1979 after having worked 15 years as a nurse at Federal Employe Health units at various federal buildings in Washington. She also did private duty nursing and worked at most hospitals in Washington and at the oncology unit of the National Institutes of Health." Frances held a membership in the Sacred Heart Catholic Church. Sadly, stricken with cancer, Frances was admitted to the Washington Hospital Center where at the age of 75 she entered into the realm of death on July 22, 1987. Glen survived for another 18 years and maintained a home in Chevy Chase. At the age of 93, he passed away in Washington, DC on June 8, 2005. A mass of Christian burial was sung at the Shrine of the Most Blessed Sacrament in Washington. In a Washington Post obituary, the family asked that memorial donations be made to the Bethesda-Chevy Chase Rescue Squad.
Granddaughter Patricia Joan Wiltrout (1941- ? ) was born on June 20, 1941. She wedded (?) McClung ( ? - ? ). Circa 1987, she dwelled in Nashville.
Son Jack Timberlake Wiltrout (1920-1991) was born on July 13, 1920 in Clarksburg, Harrison County. He relocated to the District of Columbia with his mother and brother during the 1930s after his parents' marriage broke apart. In 1942, a bachelor, he was employed with the War Department in Washington, DC. Death swept him away at the age of 71, in Winchester, VA, on Dec. 2, 1991. The body was brought back to Clarksburg for interment in Elkview Masonic Cemetery.
~ Son James McNeal Gribble ~
Son James McNeal Gribble (1897-1956) was born on June 19, 1897 in Terra Alta, Preston County, WV.
In 1916, he was married at the age of 18 to 22-year-old Cora Marie Heath (1894-1918).
During their brief marriage, they together bore a son, James McNeil Gribble Jr.
The Gribbles lived in Clarksburg, Harrison County, WV, at the address of 281 Monticello.
Sadly, Cora became stricken with pneumonia and Spanish influenza within a year of giving birth to their son, and succumbed to her illness on Nov. 30, 1918, at the age of 25. Her remains were transported to Pennsylvania and lowered into the soil of Monongahela Cemetery in Monongahela, Washington County.
In 1920, he worked as a craneman in a tin plate mill. By 1930, he was employed in a less hazardous occupation, as a baker in a bakery, and lived with his mother and son in Clarksburg. James belonged to the Keyser Lodge of the Moose and the Elk Garden Knights of Pythias.
After 22 years alone in widowerhood, on May 21, 1940, James entered into wedlock a second time with Vera Edith McIntire (1905-1984), daughter of Ellis Rymer and Margaret (Lynch) McIntire. Their ceremony took place in Arlington, VA.
The second marriage may have borne a daughter, Carol Gribble, but this is not confirmed.
In 1942, this family made their home in Mt. Storm, Grant County, WV.
Death swept James away at the age of 59 on July 28, 1956 in a hospital believed to have been in the District of Columbia. The body was shipped to Clarksburg for funeral services and interment in the Elkview Masonic Cemetery. An obituary was published in the Cumberland (MD) News.
Vera lived for another 27 years as a widow. She died in Clarksburg at the age of 78 in January 1984. Burial was in Elkview.
Son James McNeal Gribble Jr. (1917- ? ) was born in about 1917. He was joined in the bonds of marriage with Lucille Mary (Runyan) Morris (Sept. 25, 1918- ? ), also spelled "Runion." She was a native of Cootes Store, VA and the daughter of Cleveland and Julia (Mathias) Runion, and had been married previously to Everett Ellwood Morris. Their only known son, James McNeal Gribble III, died at birth on April 7, 1941. Whether more offspring were part of this family has not yet been discovered. James died at the age of 67, in Arlington, VA, on July 9, 1984. Lucille survived him by 18 years. She succumbed to death on July 30, 2002. In death they sleep side by side in Parklwn Memorial Park in Rockville, MD.
Copyright © 2006, 2009, 2018, 2021 Mark A. Miner
Some of the facts for this biography have been provided by BergerGirls.com and the 1942 book House of Bierbauer: Two Hundred Years Of Family History 1742-1942, compiled by James Culver Bierbower and Charles William Bierbower.