Charles I. Gribble
(1871-1934)
Charles I. Gribble was born in Aug. 1871 in Bruceton Mills, Preston County, WV, the son of Henry Harrison and Mary Catherine (Fawcett) Gribble.
When he was age 28, in 1897, he was united in holy matrimony with 21-year-old Stella May Franz (July 26, 1879-1932), daughter of Joseph F. and Louise (Browning) France. She was a native of Maryland and seven years younger than her husband.
They produced a daughter, Hallie "Ethel" Watters.
The Gribbles resided in Oakland, MD in 1897. Then, by 1900, federal census records show the family in the Portland District of Preston County, WV, with Charles earning a living as a well driller.
Later, they relocated to Clarksburg, Harrison County, WV, where Charles worked with his brother Lake in a meat cutting business, the Chicago Dairy.
As they aged and their health began to decline, Charles and May moved into the home of their married daughter in Huntington, Cabell County, WV. Their address was 2973 Merrell Avenue.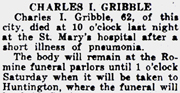 Obituary, 1934
May was burdened witha combination of influenza, acute kidney and heart disease in the late spring of 1929. She succumbed in Kessler-Hatfield Hospital at the age of 49 on June 8, 1929. Interment was in Huntington's Woodmere Cemetery.
Charles survived his wife by five years.
He contracted a deadly case of flu-like pneumonia in late November 1934, and was admitted to St. Mary's Hospital in Clarksburg. Sadly, he died only four days later, on Nov. 29, 1934, at the age of 62. His remains were shipped for burial to Huntington, Cabell County at the Woodmere Cemetery. His sole surviving brother Arley was the informant for Charles' official certificate of death.
~ Daughter Hallie "Ethel" (Gribble) Watters ~
Daughter Hallie "Ethel" Gribble (1897-1932) was born on March 30, 1897 in Oakland, MD.
She married Hugh Mack Watters (Feb. 6, 1894-1962), son of Henry and Sophia (Kyle) Watters of Procterville, OH.
Hugh was a veteran of World War I. He earned a living as an insurance salesman.
The couple made their home in Huntington, Cabell County, WV, with an address of 2973 Merrell Avenue. Ethel's parents lived in the household as they aged.
At the age of 34, suffering from influenza, Ethel was stricken with a pulmonary embolism and was admitted to Memorial Hospital in Huntington. She died there on May 4, 1932. Her remains were placed into repose in Woodmere Cemetery in Huntington.
Hugh lived for another three decades after his wife's untimely death. He made a home in the rear of 2536 Collis Avenue. Deeply depressed while at home at the age of 68, on June 12, 1962, he pointed a shotgun at his chest and fired. Death was instantaneous. Ercel Watters of Huntington was the informant for the West Virginia certificate of death. Interment was in Woodmere Cemetery.
Copyright © 2006, 2011, 2018 Mark A. Miner