Home

Jacob W. "Tug" Minerd
(1883-1958)
Jacob W. "Tug" Minerd, also known as "Miner," was born on Feb. 22, 1883 at Hiram near Philippi, Barbour County, WV, the son of John and Martha (Male) Minerd. He is one of far too many cousins to have been killed in railroad or streetcar accidents.
Jacob was of medium build and height, and had dark hair and brown eyes. He carried various nicknames during his lifetime, including "Tug," "Timothy" and "Old Man." He resided in the Grafton area and was a self-employed general farm laborer.
Circa 1910, when he was age 17, Jacob resided with his cousin Jennie (Minerd) Collins in the Philippi area and was a next-door neighbor to his uncle and aunt, Henry C. and Catherine Minerd. During World War I, in 1918, the 35-year-old registered for the military draft, and was marked by the draft board as a "Negro."

The spectacular scenery seen from Mt. Morris Cemetery, where Appilona Minard rests for eternity in an unmarked grave
Jacob married Appalona "Lona" Harshbarger (1874-1931), the daughter of Jonas and Rebecca (Roger) Harshbarger. The bride was nine years older than the groom. (Her name also has been spelled "Appilona Minard.") They made their home at Cove Run, Barbour County.
During their married life, Jacob is known to have provided exemplary care for his in-laws, as well as for Appalona during her final illness. Father in law Jonas Harshbarger died in March 1914, and mother in law Rebecca Harshbarger passed away on April 26, 1915.
At the death of her mother, Appalona sued her brothers and sisters in the Circuit Court of Barbour County. In her complaint, she asked the court to partition the family's 180-acre farm so that she could obtain her rightful one-third share, as had been promised to her by her late parents. The siblings named as defendants were Jonas R. Harshbarger, G.L. Harshbarger, Sarah E. Durst, Tena Osborne, Dessie Moats, Minda Broadwater, W.E. Harshbarger; and nephews A.J. and Chester Broadwater and nieces Myrtle and Elsie Broadwater (children of Tempa Broadwater). In the court papers, Jacob signed a document stating that many of his wife's siblings lived out of state, and since he was unable to write or sign his name, marked his signature with an "X."
Heartache further rocked Jacob's life when Appalona died on Sept. 20, 1931, of "pneumonia fever," at the age of 57. The informant on her death certificate was Lena Osborn of Grafton, WV, relationship unknown. She was buried at the Mt. Morris Cemetery about 11 miles north of Belington, with her grave marker recorded in the booklet, Barbour County, West Virginia Cemetery Headstone Readings. Unfortunately, a search of the Mt. Morris Cemetery in May 2007 failed to locate Appilona's grave stone.

Embarrassing headline naming Jacob in connection with "Carrie Miner" and a male companion. She may have been his sister in law, married to Stephen Minard.
During the late 1930s, Jacob lived in Sandy Creek near Grafton, Taylor County, WV. He was named in an embarrassing news headline involving a "Carrie Miner" at the end of August 1939 when she and a male companion, 40-year-old Early Kisner of the Cove district, were arrested for "appearing outside their homes without any clothing." Said the Philippi Republican, "Residents of Sandy Creek, in Barbour county, near the Taylor county line complained to local officers, and the two were taken into custody by state and county officers a few days ago. They were arrested at the home of Jacob Minor, of that community." Carrie and Kisner were "each fined $50 and costs and Kisner given a jail sentence of ninety days and the Miner woman a jail sentence of sixty days, when given a hearing Friday before Magistrate Ben Wilson... The Miner woman is supposed to visit on Sandy Creek during the week ends."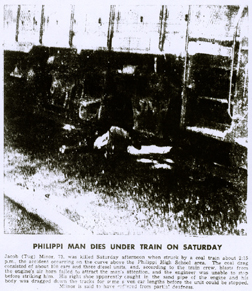 The decades of the 1930s, '40s and '50s apparently were otherwise quiet for Jacob.
Tragically, at the age of 75, on March 1, 1958, Jacob was struck and his skull fractured by an eastbound Baltimore & Ohio Railroad freight train near Philippi. In a front-page story, the Barbour Democrat said he was hit "by a coal train about 2:15 p.m., the accident occurring on the curve above the Philippi High School area. The coal drag consisted of about 100 cars and three diesel units, and according to the train crew, blasts from the engine's air horn failed to attract the man's attention, and the engineer was unable to stop before striking him. His right shoe apparently caught in the sand pipe of the engine and his body was dragged down the tracks for some seven car lengths before the unit could be stopped. Minor is said to have suffered from partial deafness." His mangled remains were laid to rest in the Norris Cemetery. Brother Vernie Miner was the informant on his death certificate, with the last name spelled "Miner." There is no marker at his grave today.
Writing in the March 13, 1958 issue of the Barbour Democrat, correspondent Rhoda Duckworth of the Martin-Beulah community wrote this short eulogy:
We were very sorry to hear of the death of Jacob (Tug) Minard, who was killed by train, Saturday... Tug has done some really good things in his life. He cared for and waited on Mr. and Mrs. Jonas R. Harshberger, Sr., in their sickness until death relieved their pain. He also did a fine job taking care of his wife, Lona Harshberger Minard, in her helplessness until death. He also helped to care for my father-in-law, the late Allen Duckworth, Sr., in his last days. He was easy, careful and handy in handling any sick person.
Copyright © 2005-2010 Mark A. Miner