Lawrence Earl Minerd
(1887-1972)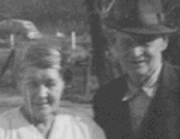 Lawrence and Isabelle
Lawrence Earl Minerd was born on March 15, 1887 in Bullskin Township near Connellsville, Fayette County, PA, the son of Calvin and Mary (Means) Minerd Sr.
Lawrence married Isabelle W. Coughenour (1892-1956 ), the daughter of Henry and Martha (Swink) Coughenour.
They had seven children -- Anna May Nelson, M. Ruth Burns, Bertha Marie Minerd, Viola Gertrude Nicholson, Earl Calvin Minerd Sr., Verna Belle Walker and Lawrence "Larry" Minerd.
Lawrence and Isabelle were lifelong farmers in the Cross Roads section of Bullskin Township. The Feb. 27, 1942 Connellsville Daily Courier reported that Isabelle was injured when she fell "while on her way to the barn to do milking, suffering a dislocated elbow."
Lawrence is said to have furnished flagstone for the patios of the famed house Fallingwater in the 1930s, and later provided flagstone for the terrace of the Dunbar (PA) War Memorial. He is mentioned in Tilden H. Kern's 1960 Kern Family History and in the 1983 book, Dunbar: The Furnace Town.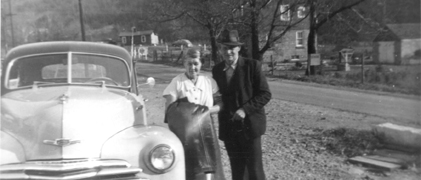 Lawrence and Isabelle, 1950s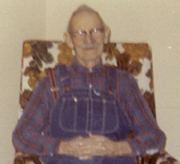 Lawrence, circa 1972
When the federal census was taken in 1930, the Minerds and their six children were enumerated in their home in Bullskin Township. Lawrence's occupation was listed as a general farmer. They continued to farm through the 1930s and into the '40s as shown on the census enumeration.
Tragically, daughter Bertha suffered severe head injuries as a teenager in 1929 when attacked by two intruders in the family barn. She lived another two decades, and passed away at age 37 on Jan. 13, 1949.
Isabelle suffered her final illness for six months and passed away at the age of 64 on Dec. 12, 1956. The Connellsville Daily Courier said she had "lived in the area all of her life." Following a funeral service at the Mount Olive Evangelical United Brethren Church, she was was buried at Mt. Olive Cemetery in Bullskin. She was survived by a sister Mrs. Edwin Butler and half brother Simon May.
Lawrence outlived Isabelle by 16 years. He is seen here in a photograph taken shortly before his death.
He passed away on March 23, 1972, at the age of 85. An obituary in the Daily Courier noted that he was "a lifelong resident of Bullskin Twp. and was a retired farmer." At his death, the Courier said he was survived by 19 grandchildren and 17 great-grandchildren.
He was buried beside his wife.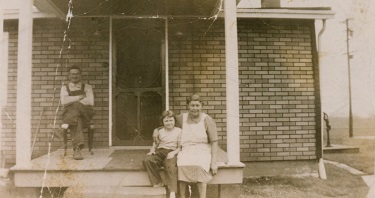 Lawrence and Isabelle with granddaughter Lorraine Nicholson
~ Daughter Anna Mae (Minerd) Nelson ~
Daughter Anna Mae Minerd (1914-2014) was born on Sept. 26, 1914 in Breakneck, Bullskin Township.
She married S. Allen Nelson (1913-1993), son of William H. and Anna P. (Harper) Nelson of Breakneck Road. They were wed on March 27, 1935, when Anna Mae was age 21 and Allen 20. The ceremony was held at the parsonage of the First Methodist Protestant Church, "after prayer meeting," by Rev. A.R. Mansberger. In reporting on the wedding, the Connellsville Daily Courier said Anna Mae and Allen were "very well known. The bride was an employee of the Capstan Glass Company at South Connellsville prior to her marriage. The bridegroom is employed by the Connellsville Paint and Glass Company."
They had one son, William A. Nelson.
Circa 1972, the Nelsons lived in Connellsville. Their home was on 419 Eliza Street. Said the Daily Courier, Allen was "employed by The Knights Life Insurance Co. and The M. Rom Co. of Connellsville, and was a self-employed wholesaler for over 30 years. He graduated from Connellsville High School in 1932, and was a member of The Church of God of Connellsville on Breakneck Avenue, where he was an usher and greeter."
Allen passed away at the age of 80 on July 6, 1993. Interment was in Green Ridge Memorial Park.
Anna Mae survived her husband by more than two decades. In her final years, she resided in Hillside Manor in Uniontown. She died there on July 18, 2014, just two months and eight days shy of her 100th birthday. Pastor Nelson Confer led her funeral service, with burial in Green Ridge Memorial Park.
Son William A. Nelson (1941-2000) was born on Dec. 28, 1941, in Connellsville. He married Marjorie (?) and resided in Youngwood. They had two sons -- Curt Nelson and Christopher Nelson. After obtaining a bachelor's degree from Waynesburg College and a master's degree from California State College, he spent 35 years as an educator and administrator in the Southmoreland School District in Westmoreland County, PA. Said the Greensburg Tribune-Review, William "served as a teacher, guidance counselor, assistant principal, principal, acting superintendent and administrative assistant. Following retirement, Bill began working as a counselor at the Westmoreland County Community College. He was a member of the Harrold Zion Lutheran Church, a past board member and treasurer of the Youngwood Park and Pool and spent six years as a Youngwood Little League coach. He also was a member of the Philanthropy Lodge 225 F&AM, Greensburg. Bill was a supporter of Ohio State football and a member of the Buckeye Boosters." William died in Westmoreland Regional Hospital in Greensburg at the age of 58 on Dec. 3, 2000.
Grandson Christopher Allen Nelson married Christine Marie Naylor (1965-2013) of Greensburg, Westmoreland County, the daughter of William R. and Mary D. (Driscoll) Naylor of the family of

Mary Belle (Minerd) Riley

. They resided in Myersville, MD and had three children. Christine was an alumna of Point Park University in Pittsburgh and employed as public relations manager with Schiavone Construction in Seacaucus, NJ. Sadly, she died at the age of 47 on April 29, 2013. A mass of Christian burial was held at their church, Holy Family Catholic Community Church, in Middletown, MD.
~ Daughter M. Ruth (Minerd) Burns ~
Daughter M. Ruth Minerd (1916-1986) was born on Feb. 20, 1916 in Bullskin Township.
As a young adult, Ruth attended Franklin Commercial College in Uniontown. Upon graduation, she worked at Rush Pharmacy on East Crawford Avenue.
On Thanksgiving morning 1941, at the age of 25, Ruth married Robert Burns ( ? - ? ). He was the son of Agnes Burns of Coolspring Street in Uniontown. Rev. Michael F. Bonfield officiated at the ceremony held at the Immaculate Conception Church. Following the nuptials, the family held a special wedding breakfast at the Francis Restaurant in Uniontown. At the time of marriage, Robert earned a living working for the Ward Baking Company.
Their home in 1972 was in Uniontown.
Ruth died in November 1986 in Uniontown.
~ Daughter Viola Gertrude (Minerd) Nicholson ~
Daughter Viola Gertrude Minerd (1918-2014) was born on Feb. 26, 1918 in Bullskin Township.
She married Boyd C. Nicholson (1914-1970), the son of Samuel A. and Florence (Mason) Nicholson.
They had six children -- Florence "Lorraine" Overton, Nancy LuHellier, Ronald B. Nicholson, Larry F. Nicholson and Sharon L. Kessler.
The Nicholsons resided in Dunbar and were members of the Mount Pleasant Church of God. Boyd joined the U.S. Armed Forces and served during World War II and the Korean War.
After the war, Boyd was employed as a carpenter at the Christy Park Works of United States Steel Corporation. He was a member of the Carpenters Local Heavy Construction and of the United Steelworkers of America.
Tragedy rocked the family on Aug. 4, 1970, when Boyd was at work. He suffered a "severe leg injury," reported the Daily Courier, and was hospitalized at McKeesport Hospital. Unable to recover, he lingered for a month and died at the age of 55 on Sept. 4, 1970. He is one of too many cousins in the extended Minerd-Minard-Miner-Minor clan to lose their lives at work in the mining and metals industries.
Viola survived him by an astounding 44 years. She began attending the Cherry Tree Alliance Church of Uniontown. In later life she relocated to Durand, MI.
She died in Durand at the age of 96 on April 22, 2014. Her remains were returned to Connellsville for interment at Green Ridge Memorial Park.
Son Ronald B. Nicholson was a tech sergeant during the Vietnam War, stationed at McGuire Air Force Base in New Jersey.
Son Larry F. Nicholson lived in Flint, MI in 1970.
Daughter Nancy Lu wed Harry G. Brinker and made their home in South Connellsville.
Daughter Lorraine Nicholson married Harry R. Minerd and in 1970 lived in Middletown, PA.
Daughter Sharon Lynn Nicholson was at home in 1970.
~ Daughter Verna Belle (Minerd) Walker ~
Daughter Verna Belle Minerd (1925-1999) was born on April 12, 1925. As a schoolgirl of 11, while at play on the grounds of Pleasant Valley School, she was pushed to the ground and fractured her elbow, resulting in a news story in the Daily Courier.
She wed Richard D. Walker Jr. ( ? - ? ) and initially resided in Connellsville. During World War II, he served in the U.S. Navy as a seaman first class. An article in the Daily Courier noted that he had made made two round trips to Japan and had spent 16 months at sea.
The couple had at least two children, Richard D. Walker III and Cheryl A. Miller.
By 1956, the Walkers had relocated to Linden, MI. Verna later returned to Connellsville by the early 1970s.
In June 1976, at the age of 50, Verna attended a reunion of students of Pleasant Valley School in Bullskin Township. She won an award at the event for having the most grandchildren.
Verna died on Oct. 9, 1999, at the age of 74.
~ Son Earl Calvin Minerd Sr. ~
Son Earl Calvin Minerd Sr. (1921-1976) was born in 1921.
He married Emma Jean Shultz (1930-2006), daughter of John W. and Martha (Miller) Shultz of South Connellsville.
They had four sons -- Earl Calvin Minerd Jr., James L. Minerd, Joseph B. Minerd and Mark A. Minerd.
Emma was a charter member of the Greenwood Heights Church of God.
A veteran of the U.S. Army, Earl was employed by Commercial Stone Company and Marsolino Construction Company as an operating engineer. He belonged to the Operating Engineers local union in Connellsville.
Earl died in 1976, at the age of 55, and was buried in Normalville Cemetery.
Emma Jean survived her husband by three decades, maintaining a home in Mt. Pleasant (Bullskin Township). She died at the age of 75, in Excela Health Westmoreland Hospital in Greensburg, on March 4, 2006.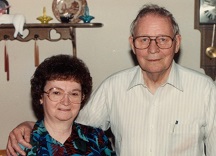 Larry and Norma Minerd, 1992
~ Son Lawrence "Larry" Minerd ~
Son Lawrence "Larry" Minerd (1927-1996) was born on Sept. 2, 1927.
After World War II broke out, Larry enlisted, serving with the U.S. Army for a year and a half.
Upon receiving his honorable discharge, he returned to Connellsville and obtained employment with Pitt and Penn Construction Company of McKeesport.
When Larry was age 21, he married Norma Elaine Guard ( ? -living), daughter of Walter Guard of 108 Robbins Street. Their wedding was held in the parsonage of the First Baptist Church, with Rev. Robert L. Smith officiating. Prior to marriage, Norma worked for G.C. Murphy Company.
They had three children, Judith Giobbi, Debra Lynn Kemp and Scott Minerd.

Fisher Body plant of General Motors near Pittsburgh. From a painting by Howard Fogg for the Pittsburgh & Lake Erie Railroad Co., of the New York Central System.
During the Korean War, Larry served in the Armed Forces and was stationed in Germany. He was employed for 33 years with the Fisher Body plant of General Motors in West Mifflin, near Pittsburgh. Following retirement, he was active with the Lions Club and Odd Fellows lodge, and delivered Meals on Wheels to shut-ins.
Norma was an active volunteer and devotions leader with the First Baptist Church Women's Mission Society. In March 1992, they graciously opened their home and hosted a visit from the founder of this website, sharing important photographs and information about this branch of the family.
Lawrence passed away on April 18, 1996, at the age of 69.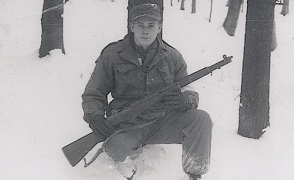 Lawrence in Germany, 1951
Copyright © 2001-2002, 2008, 2014, 2017 Mark A. Miner