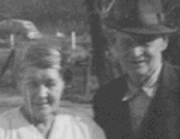 Lawrence and Isabelle
Lawrence Earl Minerd was born on March 15, 1887 in Bullskin Township near Connellsville, Fayette County, PA, the son of Calvin and Mary (Means) Minerd Sr.
In 1910, at the age of 22, Lawrence was single and living in the home of his parents in Bullskin. At that time, he and his older brothers Larmer and Calvin all were employed as laborers in a local brickyard.
In December 1911, Lawrence was united in the bonds of matrimony with Isabelle W. "Belle' Coughenour (May 12, 1892-1956 ), the daughter of Henry and Martha (Swink) Coughenour of Bullskin, and stepdaughter of Simon May. Their wedding was held in Cumberland, MD, where there was no waiting period for couples after obtaining their marriage license. The news was printed in the Pittsburgh Post-Gazette among a list of other couples marrying in Cumberland at that time.
Isabelle's maiden name also has been given erroneously as "May," as she grew up in her stepfather's household and is known to have had a half-brother, Simon May Jr.
Together, the pair produced a family of seven children -- Anna May Nelson, Mary "Ruth" Burns, Bertha Marie Minerd, Viola Gertrude Nicholson, Earl Calvin Minerd Sr., Verna Belle Walker and Lawrence "Larry" Minerd.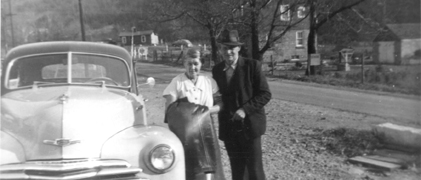 Lawrence and Isabelle, 1950s. Below, the Dunbar War Memorial for which he helped furnish flagstone for the terrace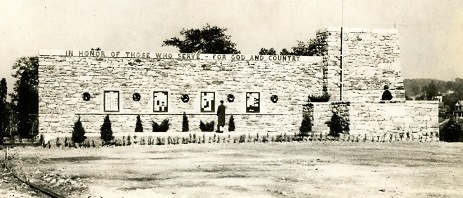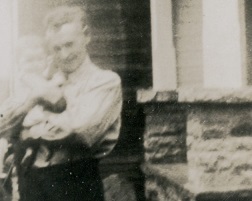 Lawrence and granddaughter Patty Walker

Lawrence and Isabelle were lifelong farmers in the Cross Roads section of Bullskin Township. He inherited his parents' 50-acre farm at Richhill in Bullskin Township which he cultivated and also quarried for stone.

The Feb. 27, 1942 edition of the Connellsville Daily Courier reported that Isabelle was injured when she fell "while on her way to the barn to do milking, suffering a dislocated elbow."

Lawrence is said to have furnished flagstones for the patios of the famed house Fallingwater in the 1930s, although they apparently were rejected or the owners did not pay.

He also provided stone for the terrace of the Dunbar (PA) War Memorial and is mentioned in this capacity in the 1983 book, Dunbar: The Furnace Town.

When the federal census was taken in 1930, the Minerds and their six children were enumerated in their home in Bullskin Township. Lawrence's occupation was listed as a general farmer. They continued to farm through the 1930s and into the '40s as shown on the census enumerations.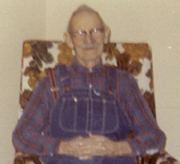 Lawrence, circa 1972

They added to their income in 1937 by leasing the oil and gas rights to their 50¼-acre farm in Bullskin to the Harold F. French Company, a tract considered part of the "Uniontown Dome."


Tragically, daughter Bertha suffered severe head injuries as a teenager in 1929 when attacked by two intruders in the family barn. She lived another two decades, frequently suffering seizures, and passed away at age 37 on Jan. 13, 1949.

Lawrence, said one of their sons, was not religious and "would rather have a beer or two." He owned a shotgun for which he carved an elaborate design on the wooden butt.

Isabelle suffered a heart attack in mid-1956 and lingered for six months. She passed away at the age of 64 on Dec. 12, 1956. The Connellsville Daily Courier said she had "lived in the area all of her life." Following a funeral service at the Mount Olive Evangelical United Brethren Church, she was was buried at Mt. Olive Cemetery in Bullskin. She was survived by a sister Mrs. Edwin Butler of Lapeer, MI and half brother Simon May of Apollo, PA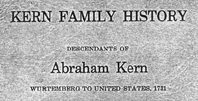 Book naming the Minerds

Lawrence outlived Isabelle by 16 years. His son Larry once drove him out into the country, past the Wharton Furnace site, to a section known as Shinebone where relatives named "McManus" lived close to the West Virginia state line.

In 1960, Lawrence and Isabelle and their offspring were named in the book Kern Family History: Descendants of Abraham Kern, authored by Tilden H. Kern. Also mentioned in the Kern book were Lawrence's distant cousins, Nelson G. and Agnes (Murray) Kern of Scottdale and New Salem, PA.

He passed away on March 23, 1972, at the age of 85. An obituary in the Daily Courier noted that he was "a lifelong resident of Bullskin Twp. and was a retired farmer." At his death, the Courier said he was survived by 19 grandchildren and 17 great-grandchildren. He was buried beside his wife.

Their farm eventually was purchased by Commercial Stone Company and used as a quarry.
Lawrence and Isabelle with granddaughter Lorraine Nicholson
~ Daughter Anna Mae (Minerd) Nelson ~
Daughter Anna Mae Minerd (1914-2014) was born on Sept. 26, 1914 in Breakneck, Bullskin Township.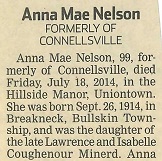 Obituary, 2014

She married Samuel Allen Nelson (1913-1993), son of William H. and Anna P. (Harper) Nelson of Breakneck Road. They were wed on March 27, 1935, when Anna Mae was age 21 and Allen 20. The ceremony was held at the parsonage of the First Methodist Protestant Church, "after prayer meeting," by Rev. A.R. Mansberger. In reporting on the wedding, the Connellsville Daily Courier said Anna Mae and Allen were "very well known. The bride was an employee of the Capstan Glass Company at South Connellsville prior to her marriage. The bridegroom is employed by the Connellsville Paint and Glass Company."

They together produced one son, William A. Nelson.

Circa 1972, the Nelsons lived in Connellsville. Their home was on 419 Eliza Street. Said the Daily Courier, Allen was "employed by The Knights Life Insurance Co. and The M. Rom Co. of Connellsville, and was a self-employed wholesaler for over 30 years. He graduated from Connellsville High School in 1932, and was a member of The Church of God of Connellsville on Breakneck Avenue, where he was an usher and greeter."

Allen passed away at the age of 80 on July 6, 1993. Interment was in Green Ridge Memorial Park.

Anna Mae survived her husband by more than two decades. She bore the heartache of the deaths of her son and granddaughter-in-law, Christine Marie (Naylor) Nelson,

In her final years, she resided in Hillside Manor in Uniontown. She died there on July 18, 2014, just two months and eight days shy of her 100th birthday. Pastor Nelson Confer led her funeral service, with burial in Green Ridge Memorial Park.

William Nelson's obituary, Greensburg Tribune-Review
Son William A. Nelson (1941-2000) was born on Dec. 28, 1941, in Connellsville. He married Marjorie (?) and resided in Youngwood. They had two sons -- Curt Nelson and Christopher Nelson. After obtaining a bachelor's degree from Waynesburg College and a master's degree from California State College, he spent 35 years as an educator and administrator in the Southmoreland School District in Westmoreland County, PA. Said the Greensburg Tribune-Review, William "served as a teacher, guidance counselor, assistant principal, principal, acting superintendent and administrative assistant. Following retirement, Bill began working as a counselor at the Westmoreland County Community College. He was a member of the Harrold Zion Lutheran Church, a past board member and treasurer of the Youngwood Park and Pool and spent six years as a Youngwood Little League coach. He also was a member of the Philanthropy Lodge 225 F&AM, Greensburg. Bill was a supporter of Ohio State football and a member of the Buckeye Boosters." At retirement, he was quoted in the Uniontown Herald-Standard, saying "Greater numbers of people, youth in particular, don't perceive that anyone cares for them, therefore, if they don't value themselves, they value no one." William died in Westmoreland Regional Hospital in Greensburg at the age of 58 on Dec. 3, 2000.
Grandson Christopher Allen Nelson married Christine Marie Naylor (1965-2013) of Greensburg, Westmoreland County, the daughter of William R. and Mary D. (Driscoll) Naylor of the family of

Mary Belle (Minerd) Riley

. They resided in Myersville, MD and had three children. Christine was an alumna of Point Park University in Pittsburgh and employed as public relations manager with Schiavone Construction in Seacaucus, NJ. Sadly, she died at the age of 47 on April 29, 2013. A mass of Christian burial was held at their church, Holy Family Catholic Community Church, in Middletown, MD.
~ Daughter Mary "Ruth" (Minerd) Burns ~
Daughter Mary "Ruth" Minerd (1916-1986) was born on Feb. 20, 1916 in Bullskin Township.
As a young adult, Ruth attended Franklin Commercial College in Uniontown. Upon graduation, she worked at Rush Pharmacy on East Crawford Avenue.
On Thanksgiving morning 1941, at the age of 25, Ruth married Robert B. Burns Sr. ( ? - ? ), the son of Agnes Burns of Coolspring Street in Uniontown. Rev. Michael F. Bonfield officiated at the ceremony held at the Immaculate Conception Church. Following the nuptials, the family held a special wedding breakfast at the Francis Restaurant in Uniontown. News of the union was published in the Connellsville Daily Courier. At the time of marriage, Robert earned a living working for the Ward Baking Company.
The couple went on to bear three offspring -- Mary "Kathleen" Burns, Carolyn Ann Bohna Kostalnick and Robert B. Burns Jr.
Their home in 1964-1972 was in Uniontown, with an address of 42 Pershing Avenue.
Ruth died in November 1986 in Uniontown.
Daughter Mary "Kathleen" Burns (1948-2021) was born on Feb. 12, 1948 in Uniontown. Upon graduation in 1966 from St. John High School, she received a bachelor of science degree in 1970 from West Virginia University and a master's degree in education in 1974 from the University of Pittsburgh. She spent her career as a teacher of business education for 38 years with Laurel Highlands High School. As well, she was employed for 14 years with Penn State University's continuing education department, and from 1978 to 1986 as a legal assistant in the law office of Simon B. John. She belonged to St. John the Evangelist Church and the Jefferson Club. Her home circa 1992 was on Pershing Avenue, in Uniontown. At the age of 73, in Uniontown, Kathleen passed into eternity on April 12, 2021. A funeral mass was sung in her church, followed by burial in Sylvan Heights Cemetery. In an obituary in the Uniontown Herald-Standard, the family asked that any memorial donations be made to the Laurel Highlands Academic Foundation to enhance learning opportunities for teachers and students.
Daughter Carolyn Ann Burns ( ? -living) was born in (?). She was a 1960 graduate of St. John's High School and obtained employment as a secretary with the Fayette County Medical Society. Her name and photo occasionally were printed in the Uniontown newspapers in connection with Medical Society activities, such as polio clinics. She was twice-wed. Her first husband was Bernard Michael Bohna ( ? - ? ), son of Frank and Helen (Simon) Bohna of East Millsboro, PA. They were united in matrimony on the Fourth of July 1964, in St. John's Roman Catholic Church, officiated by Rev. James O'Hanlon. Reported the Uniontown Morning Herald, the "bride wore a two-piece street-length dress of white linen with a lace bodice and jewel neckline. It featured a lace overjacket with long tapered sleeves. Her headpiece was a triple bow of silk organza and she carried a cascade of stephanotis centered with a purple throated orchid." At the time, Bernard had completed three years in Germany with the U.S. Army and recently left the Reserve Life Insurance Company in Pittsburgh for a new position as an agent with Banker's Life and Casualty Company in Greensburg. Carolyn is known to have modeled fashions on film for publication in the Uniontown Evening Standard. By 1969, the couple had relocated to Parma Heights, OH and dwelled on Valley Forge Drive. The pair eventually divorced. Later, she was joined in wedlock with (?) Kostalnick ( ? - ? ). Her home in 2021 was in Middleburg Heights, OH.
Son Robert B. Burns Jr. (1956-living) was born in about 1956. He has been twice-wed, including to Marta ( ? - ? ). He is the father of Ursula Burns. In the early 1990s, he was a chiropractor in Morgantown, WV and is known to have owned Mountaineer Chiropractic Clinic and West Virginia Health Care Management. Circa 2002, he resided overseas in Ireland. In February 2002, Robert and three others were "charged with conspiracy to commit mail and health care fraud, according to a 30-count federal indictment," reported the Associated Press in a story published in the Greensburg Tribune-Review. "The indictment alleges that the four conspired between September 1993 and May 1997 to commit mail and health care fraud in connection with Priority One, a clinic employing both chiropractors and medical doctors... Burns [is] charged with one count of money-laundering conspiracy for transferring money from Priority One to Health Care Management, a company Burns owned that controlled Priority One through management contracts and lease agreements." He also faced charges on 13 counts of money-laundering involving transfer of funds to offshore bank accounts. He remained in Ireland and as of 2017 was still a fugitive, with a story in the Clarksburg (WV) Exponent-Telegram saying that "it's unlikely that he ever will be extradited or return to the United States to stand trial."
Granddaughter Ursula Burns ( ? - ? )

Bertha Minerd
Courtesy Debbie Kemp

~ Daughter Bertha Marie Minerd ~
Daughter Bertha Marie Minerd (1912-1949) was born on Nov. 6, 1912 near Pennsville in Bullskin Township, Fayette County.
Tragically, Bertha suffered severe head injuries as a teenager in mid-April 1929 when she and her uncle Calvin were attacked by two intruders in the family barn. Said a newspapeer, "Using a pitchfork as a weapon, Clvin ... defended himself and a niece ... from two Negroes. Minerd and his niece went to the barn to feed stock about 7 o'clock in the evening. As they stepped into the building the two men, hidden there, attacked them with blackjacks. The girl was rendered unconscious with blows on the head, but the farmer grasped a pitchfork and ran the prongsinto the neck of one assailant. The men ran."
Bertha fortunately regained consciousness and lived another two decades but was never the same. She suffered epileptic-type seizures at times which the family tried to hide from the young nephews and nieces.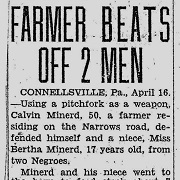 News story, 1929

When the federal census enumeration was made in 1930, Bertha at age 17 lived in Bullskin with her bachelor uncles Larmer and Calvin Jr. and a widowed aunt, Mariah (Minerd) Whetzel.

Bertha nonetheless maintained a membership in the First Baptist Church of Connellsville. She made her residence in the 1940s along Rich Hill Road near the Pleasant Valley School building in Bullskin.

Burdened with the convulsive seizures, Bertha passed away at the age of 36 on New Year's Day 1949.

A prayer service was held in the family home followed by a longer funeral service in the Mount Olive Evangelical United Brethren Church, led by Rev. Robert L. Smith. Her remains were laid to the sleep of the ages in Mount Olive Cemetery, with an obituary appearing in the Connellsville Daily Courier.

~ Daughter Viola Gertrude (Minerd) Nicholson ~

Daughter Viola Gertrude Minerd (1918-2014) was born on Feb. 26, 1918 in Bullskin Township.

She entered into marriage with Boyd C. Nicholson (1914-1970), the son of Samuel A. and Florence (Mason) Nicholson.

They boore six children -- Florence "Lorraine" Overton, Nancy LuHellier, Ronald Boyd Nicholson, Larry F. Nicholson and Sharon L. Kessler.

The Nicholsons resided in Dunbar and were members of the Mount Pleasant Church of God. Boyd joined the U.S. Armed Forces and served during World War II and the Korean War.

After the war, Boyd was employed as a carpenter at the Christy Park Works of United States Steel Corporation. He was a member of the Carpenters Local Heavy Construction and of the United Steelworkers of America.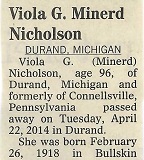 Obituary, 2014

Tragedy rocked the family on Aug. 4, 1970, when Boyd was at work. He suffered a "severe leg injury," reported the Daily Courier, and was hospitalized at McKeesport Hospital. Unable to recover, he lingered for a month and died at the age of 55 on Sept. 4, 1970. He is one of too many cousins in the extended Minerd-Minard-Miner-Minor clan to lose their lives at work in the mining and metals industries.

Viola survived him by an astounding 44 years. She began attending the Cherry Tree Alliance Church of Uniontown. In later life she relocated to Hawthorne, FL and Durand, MI. In 2001, she endured the death of her son Ronald.

She died in Durand at the age of 96 on April 22, 2014. Her remains were returned to Connellsville for interment at Green Ridge Memorial Park, with Pastor R.W. Ellenberger officiating the funeral service. Survivors included 19 grandchildren and many great-grandchildren.

Daughter Nancy Nicholson (1938-2011) was born on Dec. 10, 1938 in Connellsville. She wed Harry G. Brinker ( ? - ? ) and at one time made home in South Connellsville. She married again to Russell D. LuHellier (March 18, 1940- ? ). She resided in 2001 in Hawthorne, FL. She was diagnosed with cancer which required that her nose and upper palate of her mouth be removed. Heartbroken, she agreed when experts with the University of Florida's College of Dentistry Maxillofacial Prosthetics Service offered to fashion a new nose made of silicone which she wore attached to her glasses. They also created an upper denture to fill the mouth space so that she could eat and speak. She was pictured and quoted in a related article in the Spring 2005 edition of a U of F research publication. Later in life, she was in Flint, Genesee County, MI. Nancy died in Flint at the age of 72 on July 20, 2011. The remains were interred in Evergreen Cemetery in Grand Blanc, Genesee County, MI. Inscribed on their grave marker are the words "We'll miss you."

Son Ronald Boyd Nicholson (1939-2001) was born on Nov. 1939. He was a tech sergeant during the Vietnam War, stationed at McGuire Air Force Base in New Jersey. He remained in military service for 21 years and attained the rank of master sergeant. A Baptist by faith, he was a graduate of Southern Florida Bible College. Ronald appears to have been married twice. Circa 1972, he was joined in holy matrimony with Sheila ( ? - ? ). They remained together for 29 years until the separation of death. All told, Ronald was the father of Pamela Wilding, Dawn Dame, Traci Nicholson, Ronald B. Nicholson and Michael Fox.The Nicholsons spent much of their lives in Florida and in 1996 were in Kissimmee, FL. They relocated in 1999 from Davenport to Fanning Springs, FL. Sadly, Ronald died at home at the age of 61 on Oct. 18, 2001. The remains were laid to rest in the National Cemetery, with an obituary appearing in his hometown newspaper, the Connellsville Daily Courier.
Granddaughter Pamela Wilding resided in 2001 in Pensacola, FL.
Granddaughter Dawn Dame dwelled in Westminster, SC in 2001.
Granddaughter Traci Nicholson has lived in Old Town, FL.
Grandson Ronald B. Nicholson made a home in 2001 in Birmingham, AL.
Grandson Michael Fox has made his residence in St. Cloud, FL.
Son Larry F. Nicholson ( ? - ? ) wed Diane ( ? - ? ). The couple has a son and daughter. They lived in Flint, MI in 1970, Kissimmee, FL in 1996 and in Jacksonville, FL in 2001. At his mother's passing in 2014, he remained in Florida.
Daughter Florence "Lorraine" Nicholson (1941-1996) was born on July 23, 1941. She reputedly was married four times, once to (?) Walker ( ? - ? ). She and Walker became the parents of two -- Nancy Huffman and Brian K. Walker. Circa 1970, Lorraine lived in Middletown, PA. By 1992, she had relocated to Kentucky. At one point she made a home in Monroe, MI where she held a membership in the Bethany Baptist Church. She eventually wed Bobby Overton ( ? - ? ). He brought two stepdaughters into the marriage with Lorraine -- Kimberly Overton and Krystal Overton. The Overtons resided in Knoxville, TN in the mid-1990s. Lorraine died at home at the age of 54 on March 23, 1996. Rev. Bill Stooksbury led the funeral service, with interment of the remains in Sherwood Mausoleum. An obituary was printed in the Uniontown (PA) Herald-Standard.
Granddaughter Nancy Walker ( ? - ? ) married Howard Huffman Sr. They produced a family of three -- Alan Huffman, Latasha Huffman and Clint Huffman. He also had a son from an earlier marriage, Howard Huffman Jr. She was in LaSalle, MI in 1996.
Grandson Brian K. Walker ( ? - ? ) made his residence in 1996 in Dunbar, PA. His two known sons are Derek Walker and Joshua Walker.
Daughter Sharon Lynn Nicholson (1960- ? ) was born in about 1960. She is said to have been twice-wed. Her home in 1992 was in Covington, KY and in 2001 in Naples, FL. She wed Robert Kessler ( ? - ? ) and in 2014 lived in Kentucky.
~ Daughter Verna Belle (Minerd) Walker ~
Daughter Verna Belle Minerd (1925-1999) was born on April 12, 1925.
As a schoolgirl of 11, while at play on the grounds of Pleasant Valley School, she was pushed to the ground and fractured her elbow, resulting in a news story in the Daily Courier.
She wed Richard D. Walker Jr. ( ? - ? ) and initially resided in Connellsville. During World War II, he served in the U.S. Navy as a seaman first class. An article in the Daily Courier noted that he had made made two round trips to Japan and had spent 16 months at sea.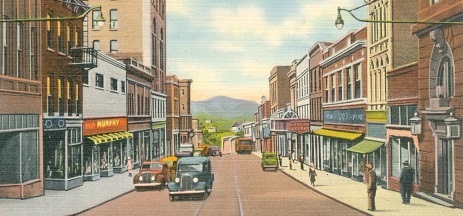 Connellsville, Pennsylvania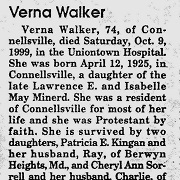 Obituary, 1999

The couple were the parents of three offspring -- Richard D. Walker III, Patricia Kingan and Cheryl A. Miller.

By 1956, the Walkers had relocated to Linden, MI. After a divorce, Verna returned to Connellsville by the early 1970s, while Richard dwelled in Cleveland, OH.

In June 1976, at the age of 50, Verna attended a reunion of students of Pleasant Valley School in Bullskin Township. She won an award at the event for having the most grandchildren.

Verna spent her final years in Connellsville. She died on Oct. 9, 1999, as a patient in Uniontown Hospital at the age of 74.

Son Richard D. Walker III ( ? - ? )

Daughter Patricia Walker ( ? - ? ) was joined in wedlock with Raymond Arthur "Ray" Kingan (Sept. 21, 1939-2017), a native of Smithton, PA and the son of Arthur Raymond and Mildred (Bateman) Kingan. Raymond attended Connellsville's Crawford School in childhood and served in the U.S. Army during the Vietnam War, from 1962 to 1964. Two daughters born to this union were Lisa Rae Baker and Brenda Eileen Pockey. The couple established a longtime home in Berwyn Heights, MD, with Raymond employed in Washington, DC. Raymond is said to have spent his life helping others. Once retired, the family relocated back to Connellsville. Raymond died in Pittsburgh's UPMC Presbyterian Hospital on April 26, 2017. As per his wishes, his remains were utilized for organ and skin tissue donation.
Granddaughter Lisa Rae Kingan was joined in matrimony with David Baker. The children of this family are Jared Kingan Baker and Adam Kingan Baker. They lived in Melbourne, FL in 2017.
Granddaughter Brenda Eileen Kingan was united in wedlock with Joseph Pockey. Their two offspring are Noah Kingan Pockey and Noel Kingan Pockey. The pair dwelled in 2017 in St. Leonard, MD.
Daughter Cheryl A. Walker ( ? - ? ) is said to have been twice-wed. One of her husbands was (?) Miller. As of 1999, she was married to Charles Sorrell ( ? - ? ) and lived in Cleveland, OH. She was the mother of two.
~ Son Earl Calvin Minerd Sr. ~
Son Earl Calvin Minerd Sr. (1921-1976) was born in 1921.
He married Emma Jean Shultz (1930-2006), daughter of John W. and Martha (Miller) Shultz of South Connellsville.
They together produced a family of four sons -- Earl Calvin Minerd Jr., James L. Minerd, Joseph Paul Minerd and Mark Allen Minerd.
Emma was a charter member of the Greenwood Heights Church of God.
A veteran of the U.S. Army, Earl was employed by Commercial Stone Company and Marsolino Construction Company as an operating engineer. He belonged to the Operating Engineers local union in Connellsville.
Earl died in 1976, at the age of 55, and was buried in Normalville Cemetery.
Emma Jean survived her husband by three decades, maintaining a home in Mt. Pleasant (Bullskin Township). She surrendered to the angel of death at the age of 75, in Excela Health Westmoreland Hospital in Greensburg, on March 4, 2006. Rev. Evelyn Stillwagon and Rev. Dr. Marvin Watson jointly led the funeral service, with an obituary appearing in the Greensburg Tribune-Review.
Son Earl Calvin Minerd Jr. ( ? -living) is a bachelor.
Son James L. Minerd ( ? -living) is married to Carol ( ? -living). They have a family of two -- James Minerd and April Golden Wiltrout.
Grandson James Minerd ( ? -living) was united in marriage with Theresa.
Granddaughter April Minerd ( ? -living) first wed Lanny K. Golden ( ? - ? ). She is the mother of twin sons, Ashton Golden and Austin Golden. Today she is married to Jason Wiltrout ( ? -living).
Son Joseph Paul Minerd ( ? -living) at one time was employed by the Elliott Company in Jeanette, PA. He is unmarried.
Son Mark Allen Minerd ( ? -living) attended Penn State University. He has never wed.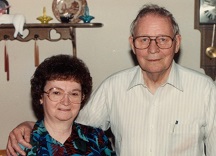 Larry and Norma Minerd, 1992
~ Son Lawrence "Larry" Minerd ~
Son Lawrence "Larry" Minerd (1927-1996) was born on Sept. 2, 1927.
After World War II broke out, Larry enlisted, serving with the U.S. Army for a year and a half as a member of the 28th Division, 110th Infantry, Medical Corps.
Upon receiving his honorable discharge, he returned to Connellsville and obtained employment with Pitt and Penn Construction Company of McKeesport.
When Larry was age 21, on Jan. 17, 1948, he was united in matrimony with Norma Elaine Guard (Feb. 21, 1929-2022), daughter of Walter and Mildred (London) Guard of 108 Robbins Street, and the stepdaughter of William J. Cunningham. Their wedding was held in the parsonage of the First Baptist Church, with Rev. Robert L. Smith officiating. The Connellsville Daily Courier announced the marriage and said the bride "wore a blue suit, white accessories and a corsage of pink rosebuds and baby breath tied with pink ribbon."
Norma was a 1947 graduate of Connellsville High School. Prior to marriage, she worked for G.C. Murphy Company.
The couple together produced three children, Judith Giobbi, Debra Lynn Kemp and Scott Minerd.

Fisher Body plant of General Motors near Pittsburgh. From a painting by Howard Fogg for the Pittsburgh & Lake Erie Railroad Co., of the New York Central System.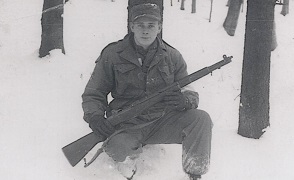 Lawrence Minerd in Germany, 1951

During the Korean War, Larry served in the Armed Forces and was stationed in Ulm, Germany. Later, he was employed for 33 years with the Fisher Body plant of General Motors in West Mifflin, near Pittsburgh. Following retirement, he was active with the Lions Club and Odd Fellows lodge, and delivered Meals on Wheels to shut-ins.

Norma was an active volunteer and devotions leader with the First Baptist Church and its Women's Mission Society. She received a certificate from the church in June 2021 as having attended for 80 years, the longest of any of its members. She is known to have volunteered her time for more than four decades with the gift shop of Highlands Hospital.

In March 1992, they graciously opened their home and hosted a visit from the founder of this website, sharing important photographs and information about this branch of the family.

Lawrence passed away on April 18, 1996, at the age of 69.

Norma outlived her husband by more than a quarter of a century. She died in her sleep at the age of 93 on Nov. 26, 2022. Rev. Larry Hellein led the funeral service at the family church, with an obituary appearing in the Connellsville Daily Courier.

Daughter Judith Minerd (1948-living) was born in 1948. She was a longtime music and elementary school teacher in the Mount Pleasant School District. In 1972, she wed Alex Giobbi ( ? -living). Alex was a graduate of the West Virginia University School of Pharmacy and made a living as a pharmacist. Their one son is Ryan Giobbi. The Giobbis make a home in Connellsville. In December 2022, they celebrated their golden wedding anniversary.
Grandson Ryan Giobbi (1977-living)
Daughter Debra Minerd (1954- ? ) was born in 1954. She was among scores of Minerd cousins in the class of 1972 of Connellsville High School. She entered into marriage with Curtis Kemp ( ? -living). Their three children are Allison Kemp, Heidi Kemp and Trevor Kemp. They have resided for decades in Bullskin Township near Connellsville. Curtis was employed for 44 years by the railroad, a career from which he retired. The Kemps graciously hosted the founder of this website for a visit in their home in January 2023.
Granddaughter Allison Kemp (1977-living)
Granddaughter Heidi Kemp (1982-living)
Grandson Trevor Kemp (1985-living)
Son Scott Allen Minerd ( ? -living) married Linda (Miller) Oaks ( ? -living). They have resided in Lavale, MD.
Copyright © 2001-2002, 2008, 2014, 2017, 2021-2023 Mark A. Miner