Calvin Minerd Sr.
(1851-1927)
Calvin Minerd Sr. was born on Jan. 2, 1851 at Wharton Furnace, Fayette County, PA, the son of James and Sarah (Walters) Minerd Sr. He was a longtime farmer of Bullskin Township, Fayette County, and is seen here with his wife Mary.
As a boy, Calvin helped his father and brothers drive six-mule teams hauling pig iron from Wharton Furnace to the river town of Brownsville, PA, where the iron was shipped (presumably) to Pittsburgh's steel mills. When the Civil War broke out, he wanted to enlist with his brothers James Jr., William and Isaac, but he was too young, and could not go.
In 1873, when Calvin was 22, he married Mary Means (1853-1932), the 19-year-old daughter of Rev. James H. and Sophia (Murphy) Means.
Their children were Walter Edgar Minerd, Larmer Arthur Minerd, Gertrude S. Ullery, Calvin Minerd Jr. and Lawrence Earl Minerd. The children are known to have enjoyed visiting their cousins, Tamzon (Inks) Grimm and Marinda (Rankin) King.
For many years, they resided on a 50-acre farm in the Narrows section of Richhill, north of Connellsville, Fayette County. Calvin made a living on the farm clearing timber and quarrying stone. Their home farm area was famed as the site of a historic French and Indian War camp during General Braddock's march toward Pittsburgh in 1755, where English military forces cut a passage through the high bluff known as the Narrows. A newspaper once reported that Calvin "was always a farmer, and was actively in it to almost the time of his death.... [He] had lived on the [old John White] farm for 14 years, and practically his entire life was spent in this vicinity."

The Narrows north of Connellsville, from the "Braddock Road Series" of postcards produced by John Kennedy Lacock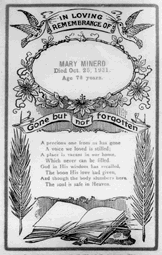 Calvin also built a house on East Main Street in Connellsville in 1901 which he rented out for many years.
The Minerds celebrated their golden wedding anniversary on Feb. 17, 1923 with a party for family and friends in their home at the Narrows. Said the Connellsville Courier, "The affair was planned by their sons at home and was a complete surprise to Mrs. Minerd. A feature of the occasion was an oyster supper. A color scheme of yellow yellow and white, with chrysanthemums, framing the decorations, prevailed."
Calvin died at age 77 on Sept. 9, 1927, having "been ill for almost a year." His furst cousin, Rev. David E. Minerd, conducted the funeral service. (A clipping of Calvin's newspaper obituary later was found in Rev. Minerd's prayer book.) Pallbearers were J.C. Myers, Judson Echard, Clarence King, Wilson workman, Edward Boyd and William Ganier.
Mary died on Oct. 25, 1932. Her funeral card is seen here. She and Calvin are buried together at the Mt. Olive Cemetery in Bullskin near Connellsville.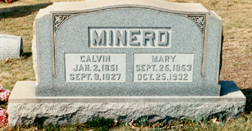 Son Lawrence Minerd is said to have furnished flagstone for the patios of the famed house Fallingwater in the 1930s, and later provided flagstone for the terrace of the Dunbar (PA) War Memorial. Lawrence is mentioned in Tilden H. Kern's 1960 Kern Family History.
Grandson Wilbert Minerd, an Army private, made headlines during World War II when he stayed on duty for two days to care for an injured comrade despite being wounded himself.
Copyright © 2000, 2003, 2008 Mark A. Miner