Morris Minerd
(1861-1886)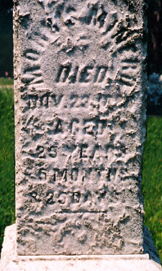 Hopwood Cemetery

Morris Minerd was born in 1861 in Wharton Township, Fayette County, PA, the son of James and Sarah (Walters) Minerd Sr.
Morris married Harriet Marshall (1866-1951), a native of Virginia, in February 1882. The ceremony was performed by Rev. R..C. Morgan, with the news apparently published in the Connellsville Keystone Courier.
She never learned to read, and only signed her name with a signature neither cursive or printing, but with the letters not connecting. At the age of 14, Harriet had been put to work as a cook in a lumber camp. She enjoyed playing in the sawdust when she was not working, and passed these stories along to a grandson much later in life.
The Minerds had two known daughters, Mary Susan Russell and Nevada Frances Rice, plus an infant who died young.
In June 1883, Morris acquired an 88-acre tract in Bullskin Township, Fayette County. Just two years later, he and Harriet sold the tract to George H. Swearingen.
The Minerds then resided in Dunbar, where Morris was a member of the Fayette Assembly, No. 7,450, of the Knights of Labor of Dunbar, Fayette County. The Knights were considered one of the most important labor organizations in the country during the late 1800s. They stood for a cooperative employer-employee ownership of mines and factories.
Tragedy struck the young family when Morris died on Nov. 22, 1886, at the age of 25 years, six months and 25 days. He is buried at the Hopwood Cemetery near Uniontown, PA. His grave marker, seen above, is still barely legible. An inscription was carved into the base of the monument, which is too faded to read.
Morris's lodge brothers, led by Fred G. Smith, Joseph Wilson and William Goff, mourned their "devoted member and Brother," by publishing a Memoriam in the Dec. 9, 1886 Uniontown Genius of Liberty. It stated that "although we mourn the death of a Brother, yet we own and acknowledge the sovereign hand of a righteous God in the dispensation of His providence, who has a right to do as he will with his own. Therefore we sorrow not as those who have no hope, but believe that though clinging to life, to be with Christ is far better. Therefore we commend the bereaved friends, wife and children, to the love and compassion of a tender and sympathizing Savior, who heareth even the ravens when they cry."

Nelson Whetzel
Harriet was thus widowed at age 22. She moved to Brownsville, Fayette County, where two years later she married Nelson A. Whetzel (1855-1927). Nelson, born on March 3, 1855, was the son of Stephen and Jane Whetsel. The Minerds and Whetzels were especially closely knit. Nelson's brothers Homer Whetzel and Delmar Whetzel had married Morris' sisters Mary Minerd and Mariah Minerd, respectively.
Harriet and Nelson They went on to have six children -- Ada Newcomer, John Whetzel, Nelson A. Whetzel, Bella Walsh and Howard Whetzel. Harriet was a member of the First Presbyterian Church of Brownsville.
They suffered the death of married daughter Nevada Rice died in 1910.
Nelson died at home at 424 Cross Street in Brownsville on Oct. 12, 1927.
Harriet outlived Nelson by 24 years. In later life, a grandson would read to her from a book of Bible stories at night. She died at the home of her son Nelson in Brownsville on June 21, 1951, at the age of 85. Following a funeral at the Kisinger Funeral Home, led by Rev. William H. Strohm of the First Presbyterian Church of Brownsville, she was laid to rest beside her husband in the family plot at the Redstone Cemetery in Brownsville.
The marriage of Morris and Harriet was remembered in a "Looking Back" column in the Connellsville Daily Courier on Feb. 13, 1932.

Mill Street in snowy New Salem in the early 1900s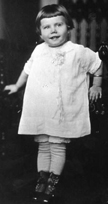 Mary Susan

~ Daughter Mary Susan (Minerd) Russell ~
Daughter Mary Susan Minerd (1885-1977?), from the first marriage, was born in 1885.
She married George Murtaugh Russell (1875-1955), the son of Joseph T. and Mary Catherine (Spellman) Russell. She was age 27, and he 37, at the time of marriage.
They resided on Wood Street in Uniontown in 1913 and bore one known daughter, a stillbirth on July 24, 1913 -- Helen Jean Russell. The baby's tender remains were buried in the Presbyterian Church Cemetery.
George was a bookkeeper of New Salem, near Uniontown. The Russells lived on Wood Street in Uniontown in 1920 when the federal census was taken. That year, George worked as a bookkeeper for a building supply company, and Mary as a merchant in a millinery store. Cora Baskins and Carry Stronko boarded in their residence in 1920. They resided in McKeesport, near Pittsburgh in 1927 and in Uniontown in 1951.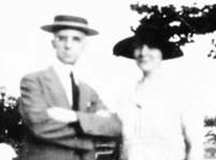 Murtaugh and Mary Susan
When the federal census was taken in 1930, the Russells made their home on First Street in Duquesne, near Pittsburgh, where George was employed as a bookkeeper in a plumbing shop, and Mary was a bookkeeper at a fuel company. That year, brush salesman Neal B. Cook was a lodger in their home. Mary and George lived at New Salem in their later years.
George passed away at the age of 80 at Uniontown Hospital on June 7, 1955, with his obituary published in the Connellsville Daily Courier.
Mary is thought to have died in December 1977, but this needs to be confirmed.


~ Daughter Nevada Frances (Minerd) Rice ~
Daughter Nevada Frances Minerd (1883-1911) was born in 1883. Her father died when she was age three.
She resided in Brownsville, Fayette County, where as a young woman she worked as a tailoress.
On Nov. 9, 1907, at Beaver, Beaver County, PA, Nevada wed laundry man Charles E. Rice (1875- ? ). He was the son of Nathan E. and Sarah (Jackson) Rice of Cadwalader, PA. Rev. John N. Langdale, a local minister, performed the nuptials. She was age 24, and he 32, at the time.
The couple produced one son, Jackson Marshall Rice.
The Rices first lived in South Brownsville, Fayette County, where Charles was proprietor of a steam laundry.
Heartbreak shook this family on Dec. 8, 1908 when their newborn son Jackson died just four days into his new life, due to cerebral convulsions. Interment of the remains was in South Brownsville.
Tragedy compounded on this family on Jan. 9, 1911, when Nevada passed away, after just three years of marriage. Details are not known, and neither a death certificate nor obituary has been located.
On Nov. 25, 1914, Charles entered into marriage with his second bride, Mary R. "Mayme" Holfelder (1878- ? ). At age 35, she was the daughter of John A. and Christine K. (Schaub) Holfelder, a native of Buffalo, NY and at the time of marriage a nurse in Uniontown. The nuptials were conducted in South Brownsville, by the hand of Rev. Charles R. Harman.
The federal census of 1920 shows that Charles continued to operate a laundry in South Brownsville.
Copyright © 2000, 2008, 2012, 2022 Mark A. Miner