Mary (Minerd) Whetzel
(1853-1926)

Mary Whetzel
Mary (Minerd) Whetzel was born on May 24, 1853 in Wharton Township, Fayette County, PA, the daughter of James and Sarah (Walters) Minerd Sr. She and her sister and brother married three Whetzel siblings.
In 1880, when the federal census was taken, Mary's future husband Homer boarded in the household of Mary's brother and sister in law, Isaac F. and Frances Minerd, in Dunbar Township, Fayette County. The occupation of 28-year-old Homer that year was blacksmith.
Also residing in the neighborhood in 1880 were Mary's first cousin, Emma Minerd, who was a servant in the household of coal works superintendent N.F. Sanford; and Mary's future sister in law, Harriet Marshall, a servant in the residence of machinist James Percy, who went on to marry Mary's brother Morris Minerd.
Mary married John "Homer" Whetzel (1850-1900), a native of Belle Vernon, Fayette County, and the son of Civil War veteran Stephen Whetzel. Their children were William Whetzel, Elmer Maurice Whetzel and one other child who died young and has not yet been identified.
The Minerd and Whetzel families were close. Mary's sister Mariah married Homer's brother, Delmar Whetzel. And Mary's widowed sister in law, Harriet (Marshall) Minerd, married Homer's brother Nelson.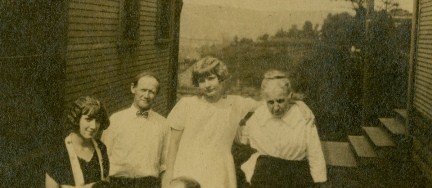 Mary Whetzel, right, next to her granddaughter Hazel Elizabeth Whetzel, and John Lee. The woman at far left is unknown.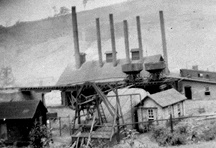 Leisenring No. 2 coal mine
Mary and Homer lived at Dunbar, Leisenring and Brownsville, Fayette County, where he worked as a blacksmith, likely in local coal mines. Seen here is a rare photograph of the nearby Leisenring No. 2 Mine.
Homer and his brother in law Isaac F. Minerd made news one day in 1889 when they both resided in Dunbar. The Connellsville Keystone Courier reported that they:
...engaged in a lively fracas.... They had visited Connellsville during the day, and cheered their spirits with Hungarian whisky. They took a quantity with them to keep up their cheer on the way home. When they reached home a dispute arose over money and property. To settle it the men went to the street. Whetzel was in front. e turned suddenly and dealt Minard a blow over the head with a bottle of the whisky, knocking him senseless. Whetzel, thinking he had killed Minard, disappeared.
On Jan. 18, 1900, Homer died of pneumonia at age 49, after an illness of only nine days' duration. He was buried at Laurel Hill Cemetery.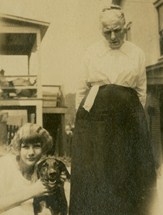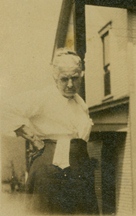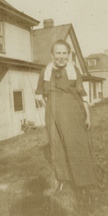 Three views of Mary, circa 1925-1926. The young girl and dog are unknown.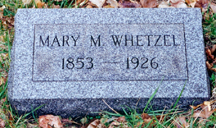 Redstone Cemetery
Tragedy and heartache struck again in 1913-1914, when son and daughter in law Elmer and Hazel both died within a few months of each other. Their passing left five young children alone, all under the age of eight. One of the orphans, Edith, was adopted by cousin Albert and Etta Inks, son of Mary's sister Minerva (Minerd) Inks, while Gertrude was adopted in 1917 by Percy D. and Laura H. Hagan of Uniontown, Fayette County.
Mary lived out her remaining years with her son and daughter in law, William and Kathryn (Brooks) Whetzel, in Brownsville. Also in the home were two of Mary's orphaned granddaughters who were being raised by William and Kathryn -- Elizabeth Rowe and Bertha Mae Tarleton.
On Nov. 17, 1926, Mary died in South Brownsville at the age of 73, having suffered from myocarditis (heart failure). She was buried at nearby Redstone Cemetery. Her sister Mariah also is buried at Redstone, but the latter grave is unmarked.
For more information on this line, contact Marilyn (Jenkins) Prinzing.
Copyright © 2000, 2002, 2007-2008, 2011, 2019 Mark A. Miner