Mariah (Minerd) Whetzel
(1855-1933)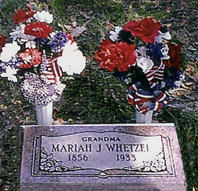 Redstone Cemetery
Mariah Jane (Minerd) Whetzel was born in 1855 in Wharton Township, Fayette County, PA, the daughter of James and Sarah (Walters) Minerd Sr.
When Mariah was unmarried and about age 26, in February 1882, she gave birth to a daughter, whom she named Hazel. The father of the child, according to old family Bible inscriptions and other official records, was Peter "Clark" Stillwagon, the son of George W. and Mary Stillwagon.
Within a year or two of the birth, Mariah filed a legal complaint against Clark and his father in the Court of Common Pleas of Fayette County. The record of the case is still on file at the county courthouse. It does not state when the complaint was filed, or the nature of the case. But the two Stillwagon men were found guilty, and fined $89.99. Because they apparently were unable to pay this amount, a lien was levied against their mortgaged town lot in Connellsville, located along the Clay Pike (State Road) at the corner beside the "school house." This would have thus entitled Mariah to receive any rents or profits generated by the property.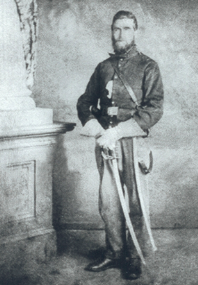 Mariah's father in law, Civil War
veteran Stephen Whetsel
On June 8, 1889, when she was age 34, Mariah married 21-year-old Leisenring resident Delmar R. Whetzel (1868-1949), the son of Civil War veteran Stephen and Mary Whetsel. Mariah was 13 years older than her husband. They united themselves in marriage, with their ceremony witnessed by John B. Miller and George W. Acklin.
On the marriage license, Mariah described her occupation as "dress maker" and Delmar as "blacksmith."
The marriage was one of several between the Minerds and Whetzels. Mariah's sister Mary Minerd married Delmar's brother, John "Homer" Whetzel, and Mariah's widowed sister in law, Harriet (Marshall) Minerd, married Delmar's brother Nelson.
The Whetzels went on to have four children -- John "Homer" Whetzel, Edna Josephine Howard, Robert Whetzel and Leota Swift. Delmar also became the step-father of Mariah's daughter Hazel.
When the U.S. census was enumerated in 1900, Delmar and Mariah Jane (mis-named "Sarah Jane" in the record) made their home in Lower Tyrone Township, Fayette County. That year, Delmar's occupation was blacksmith, and Mariah had just given birth to their youngest child Leota.
In the early 1900s, daughter Hazel married her first cousin, Elmer Maurice Whetzel, the son of Mary and Homer Whetzel.
The Whetzels eventually moved to Brownsville, Fayette County, a town divided in half by the Monongahela River. Delmar labored in local coal mines. It's said that at times, the German language was spoken in their home.
Mariah and Delmar separated later in life. In June 1917, at the time his mother died, he was living in Hagerstown, MD, while she was still in Brownsville. His fate is unknown, though it's thought he had died by 1920.
When the federal census was taken in 1930, Mariah resided in the household of her widowed sister in law Mary (Means) Minerd and unmarried nephews Larmer Arthur Minerd and Calvin Minerd in Bullskin Township, north of Connellsville. Living just a few doors away were Mariah's cousin Hershell Minerd and his mother, Anna (Kissinger) Minerd Collins, who were farmers.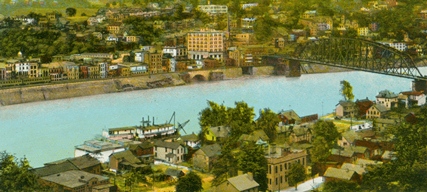 Bird's eye view of Brownsville, early 1900s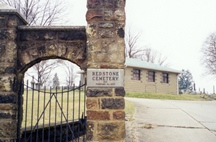 Entrance to Redstone Cemetery
In her last years, Mariah made her home with her married daughter Leota Swift at Nemacolin, Greene County, PA. She died there on April 11, 1933.
Delmar eventually went to live in the Fayette County Home. He died there on Aug. 31, 1949, at the age of 81, followed by burial in the home cemetery.
Mariah's grave at Redstone Cemetery near Brownsville went unmarked for many years. This all changed in 2004, when two sets of her grandchildren met for the first time in their lives, at the national Minerd- Miner- Minor Reunion. They pooled their resources, and set plans into motion that resulted in a beautiful, simple marker being installed later that year. At the top is the single word, "Grandma."
Mariah's sister Mary also is buried at Redstone, as are some of her offspring.
~ Daughter Edna (Whetzel) Howard ~
Daughter Edna Whetzel (1894-1923) was born on June 14, 1894.
She married (?) Howard and lived at 321 Baltimore Street in Brownsville.
She suffered from epilepsy, which led to her demise.
On April 19, 1923, at the age of 28, Edna died from her ailment. She was laid to rest in the Redstone Cemetery. Robert Whetzel of Brownsville signed her certificate of death.
~ More Info ~
For more information on this line, contact great-granddaughter Marilyn (Jenkins) Prinzing.
Copyright © 2000-2004, 2008, 2011, 2014, 2019 Mark A. Miner