Mannasses J. Rhoads
(1849-1904)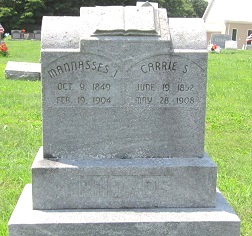 Wills St. Johns Evangelical Lutheran Cemetery
Manasseh J. "Mannasses" Rhoads -- also spelled "Rhodes" -- was born on Oct. 9, 1849 in Somerset Township, Somerset County, PA, the son of Joseph A. and Mary (Weyand) Rhoads.
His birth name of Manasseh is of Old Testament vintage. But after the famous Civil War battle in Manassas, VA, when he was a teen, his name may have evolved to a closer version of that usage.
At the age of 16, he was confirmed by Rev. John Tomlinson and joined the Wills Evangelical Lutheran Church. A newspaper once said he "was a faithful christian until his death."
Manasses was twice wed. In 1869, he was joined in marriage with his first bride, Lucinda Long (1843-1882).
The children born to this union were Nannie G. Hensell and Nelle Jane Will.
Sadly, Lucinda died on June 25, 1882, at the age of 39, bringing their marriage of 13 years to a close. A brief death notice appeared in the Somerset Herald.
Then in November 1887, Manasses was united in matrimony with his second wife, Caroline "Carrie" Stoy (June 19, 1852-1908) of Shade Township. She was the daughter of German immigrant Conrad Stoy and his wife Mary Bouzer. News of their marriage was printed in the Herald. The couple spent their lives living near Wills St. Johns Evangelical Lutheran Church, Somerset Township.
In September 1897, Manasses is known to have sold wheat from his farm to the Somerset County Directors of the Poor, a service for which he was paid $5.00.
At the age of 54, in the dead of winter in 1904, he went to dig some coal at a mine owned by Oran Beachley. Said the Somerset Daily American, "As he and his neighbors were loading coal, it was noticed that he was sick. As he was in the act of falling, some one caught him and assisted him to the house of Mr. Beachley. There he spoke a few times, then lapsed into unconsciousness. He passed peacefully away Friday morning [Feb. 19, 1904]. A paralytic stroke was the cause of death." Funeral services were held in the family church, officiated Rev. Robert L. Patterson of Somerset, followed by burial in nearby Wills Church Cemetery. Said the Daily American, "A large gathering of friends followed him to the grave."
Carrie outlived her spouse by four years. Stricken with cancer of the colon and right ovary she died just a few weeks before her 56th birthday, on May 28, 1908. John Stoy of Husband, PA was the informant for her Pennsylvania certificate of death. Manassas and Carrie rest together in Wills St. Johns Cemetery.
~ Daughter Nannie G. (Rhoads) Hensell ~
Daughter Nannie G. Rhoads (1874-1965) was born on Oct. 21, 1874.
She wedded Simon Wesley Hensell (Feb. 8, 1868-1949), a native of Indiana County, PA and the son of John and Elizabeth (Stoy) Hensell.
The couple bore one daughter, Katharine Tomb.
They dwelled for many years on 820 Ferndale Avenue in Johnstown, Cambria County, PA. Simon earned a living with his work for Kolb Baking Company, retiring in 1941. He was a member of St. Paul's Evangelical and Reformed Church of Johnstown and belonged to the Woodmen of the World.
Burdened with an enlarged prostate, emphysema and diabetes, Simon was admitted to Conemaugh Valley Memorial Hospital in Johnstown. He succumbed there at the age of 81 on Sept. 27, 1949. Rev. Albert M. Wright officiated at the funeral service, with burial in Johnstown's Grandview Cemetery. His death was reported in the Somerset Daily American and Pittsburgh Post-Gazette.
Nannie outlived him by 15-plus years. Her home in the 1960s was at 1587 Reamer Street in Pittsburgh. On Feb. 24, 1965, at the age of 90, Nannie died at home from the effects of coronary artery disease. Daughter Katharine Tomb of the home signed the death certificate. Her remains were tranported to Johnstown to rest in Grandview Cemetery. Katharine was married to James Tomb and resided at 1587 Reamer Street in Pittsburgh.
~ Daughter Nelle Jane (Rhoads) Will ~
Daughter Nelle Jane Rhoads (1879-1961) was born on Dec. 15, 1879.
She married Harvey Sylvester Will (Dec. 1 or 10, 1879-1948), son of William and Mary (Fox) Will of Somerset.
They are believed to have been the parents of Ralph William Will, Harold R. Will and Clyde E. Will.
Over many years, the Wills lived in the rural Wills Church community east of Somerset and were longtime farmers. When the Wills Grange was formed circa 1916, Harvey was elected secretary of the organization. Nelle also was active in the community and served as treasurer of the Wills Missionary Society.
Then in mid-October 1948, stricken with widespread cancer, Harvey was hospitalized at Presbyterian Hospital in Pittsburgh's Oakland section. He died there on Oct. 25, 1948, at the age of 67.
As a widow in 1961, Nelle lived with her son Ralph at 1747 Jamestown Place in the Penn Hills suburb of Pittsburgh. Having borne hardening of the arteries for the last five years of her life, she contracted influenza and died at home at the age of 81 on Jan. 8, 1961. Burial was in Wills St. John's Evangelical Lutheran Cemetery in Somerset Township.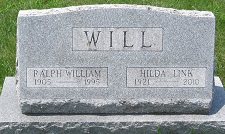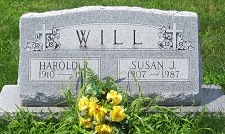 Brothers and their wives, Wills St. Johns Cemetery
Son Ralph William Will Sr. (1905-1995) was born on Nov. 20, 1905 in Somerset. He married Hilda Link (Nov. 2, 1921-2010). He served in the U.S. Army Signal Corps during World War II. They lived in Pittsburgh in 1947 and were the parents of Ralph William Will Jr., Margaret "Peg" Stanford and Betty Miller Griffith. Ralph and Hilda moved to Florida and lived in Jacksonville, where he was a sales manager for RCA Distributors and a member of St. Matthews Lutheran Church, West Jacksonville Rotary Club and Armed Forces Communication Association. He died in Baptist Medical Center in Jacksonville at the age of 89 on Jan. 6, 1995. His remains were transported back to his hometown to rest in Wills Cemetery, with Rev. Lynn M. Sanner preaching the funeral service. An obituary was printed in the Somerset Daily American, which noted that he was survived by 11 grandchildren, 21 great-grandchildren and one great-great grandchild. Hilda survived her husband by 15 years. She succumbed in Pittsburgh on May 9, 2010.
Granddaughter Margaret "Peg" Will was a 1948 graduate of Carnegie Institute of Technology in Pittsburgh and married Lester F. Stanford ( ? - ? ). Circa 1947, the Stanfords lived in New York City, where Lester, a fellow Carnegie Tech graduate and World War II Air Force veteran, was employed as assistant producer with Christopher Smith II Productions.
Son Harold R. Will (1910-1971) was born in 1910. He was united in marriage with his cousin, Susan Jane Zarefoss (1907-1987), daughter of Harrison and Hattie (Rhoads) Zarefoss of the family of William Michael and Susan (Gumbert) Rhoads. See the Rhoads biography for more.
Son Clyde E. Will ( ? - ? ).
Copyright © 2002, 2009, 2012, 2014-2015, 2017, 2019 Mark A. Miner