Sarah Ann (Ullom) Mitchell
(1843-1919)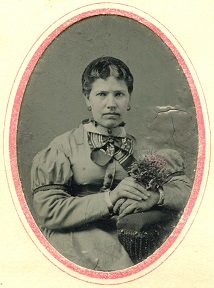 Sarah and Blair Mitchell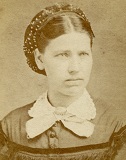 Sarah (Ullom) Mitchell
Sarah Ann (Ullom) Mitchell was born on May 11, 1842 in Aleppo, Greene County, PA, the daughter of Peter and Hannah "Matilda" (Kinney) Ullom.
She waited longer than many women of the era to become married.
On Feb. 10, 1875, when she would have been 31 years of age, Sarah was united in holy matrimony with 24-year-old Blair Mitchell (Jan. 21, 1850-1935), the son of John W. and Elizabeth (Hunt) Mitchell of Pursely Creek near Oak Forest, Greene County, with ties also to Jackson County, WV. Elder W.B. Long officiated at the wedding. The bride was seven years older than the groom.
The couple bore a family of five known children, Florence Weimer, Roscoe C. Mitchell, Bertha Shough, Carrie Mitchell and Stanley Mitchell.
Their youngest, Stanley, was born with birth defects affecting his mental abilities.
The Mitchells resided in a large, two-story, L-shaped farmhouse on 258 acres of land about a mile east of the village of Aleppo, Greene County. Their house was in the valley, sandwiched between two large hillsides.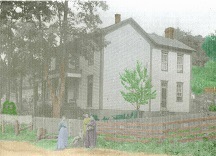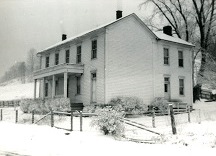 Above: the Mitchell farmhouse, years apart
Sarah and Blair were members of the Centennial Church of God for decades, and to the congregation they "gave their constant support throughout the remainder of their lives," reported a newspaper.
Federal census enumeration records for the years 1900 and 1910 show Sarah and Blair on their Aleppo farm.
In 1900, all of their children were still at home. Then by 1910, one of the daughters had moved out, with the other four adult offspring remaining under the roof, ranging in age from 26 to 32.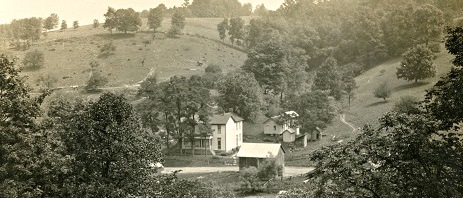 Above and below: the Mitchell farm circa 1933.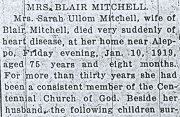 Waynesburg newspaper
For the last three years of her life, Sarah was burdened with heart valve problems. She died from their effects on Jan. 10, 1919, at home, at the age of 75. A newspaper obituary said she "died very suddenly of heart disease." She was laid to rest in the Centennial Church cemetery.
The widowed Blair outlived his wife by 16 years and remained in Aleppo. Daughter Carrie was with him at that time as was son Stanley.
In his elder years he became senile and was stricken with prostatitis, an inflammation and swelling of the prostate gland. He contracted bronchial pneumonia in the autumn of 1935 and died three days later, at the age of 85, on Oct. 31, 1935.
~ Daughter Florence (Mitchell) Weimer ~
Daughter Florence Mitchell (1876-1965) was born on Jan. 16, 1876 in Aleppo Township. She did not marry until her early 40s, pursuing a teaching career.
She began teaching at age 17 in the Aleppo Schools, and in 1900, she obtained a degree from California State Normal School. She taught at Aleppo for five years; spent five years at Charleroi, Washington County; and a dozen years in Pittsburgh. She was a member of the Smithfield Methodist Church.
At the age of 41, on June 30, 1917, she married Hubbs Weimer (July 16, 1867-1934), the son of William and Harriet (Putman) Weimer of Donegal, Westmoreland County, PA. Officiating at the wedding ceremony was Rev. Dr. Daniel L. Marsh, pastor of the Smithfield Street Methodist Episcopal Church of Pittsburgh.
Hubbs had come to Steel City in 1888 and been married before, and brought a son to the marriage. He was employed as an auditor of disbursements by the Pittsburgh & Lake Erie Railroad, working there for 25 years. He resigned to become a founding shareholder and secretary-treasurer of the Duquesne Heights Savings and Loan Association.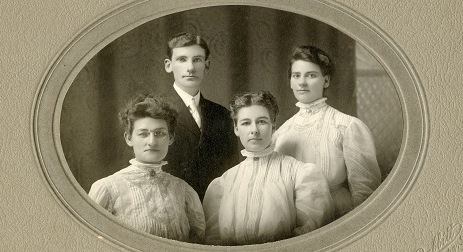 Mitchell siblings, L-R: Carrie (?), Roscoe, Florence (?), Bertha
He also helped to organize the Allegheny County League of Building and Loan Associations. The couple's address in the 1930s was 824 Grandview Avenue in Pittsburgh's Mount Washington neighborhood. They were members of the Smithfield Methodist Episcopal Church, and Hubbs belonged to the Dallas Lodge of the Masons, Knights Templar, Syria Templar, Cinosam Club and Rotary Club of Pittsburgh.
Sadly, burdened with organic heart disease, inflammation of the heart area and hardening of the arteries, Hubbs passed away on New Year's Eve 1934. Interment of the remains was in Homewood Cemetery. News of his death generated headlines in Pittsburgh newspaper and the trade publication American Building Association News.
Florence outlived him by more than 30 years. She returned to Waynesburg in 1956.

Waynesburg newspaper
As a family historian, she spent her later years gathering valuable Ullom and Mitchell information, beautifully hand-writing lists of the branches, and then distributing copies to the extended family of cousins. One recipient was Odger "Wayne" Miner, father of the founder of this website.
Evidence also suggests that she was a member of the Tourists Club of Pittsburgh, and made several presentations to the group over the years in meetings held at the Roosevelt Hotel. In November 1939, she spoke on "Bolivar, the Liberator, vs. Gomez, the Tyrant." Then in February 1941 presented to the group on "Literary Voices of the Old South." As she aged, Florence went to live in the Fisher-Fazio Convalescent Home in Markleysburg, Fayette County, PA.
She died there on March 15, 1965, at the age of 89, with burial in Centennial Cemetery. She was survived by two step-grandsons, David Blair Weimer and Donald W. Weimer. After her passing, her brother Roscoe deposited her material in the Waynesburg Library where it was available to the public.
Stepson D. Graham Weimer was married and the father of two sons, David Blair Weimer and Donald W. Weimer.
~ Daughter Carrie Mitchell ~
Daughter Carrie Mitchell (1878-1941) was born on Jan. 5, 1878 in Aleppo, Greene County. She did not marry over the course of her 63 years of life.
At the age of 22, in 1900, and then again at 32 in 1910, she resided at home with her parents in Aleppo. After their deaths, she continued to dwell on the home farm with her unmarried adult siblings and was their housekeeper.
In early 1941, she was diagnosed with cancer of the gallbladder and bile duct. She suffered for six months and was admitted to Greene County Memorial Hospital in Waynesburg, where she spent her final 33 days on earth. She succumbed to death on Oct. 21, 1941.
Interment was in Centennial Church Cemetery, with Carrie's married sister Florence Weimer serving as the informant for the official Pennsylvania certificate of death.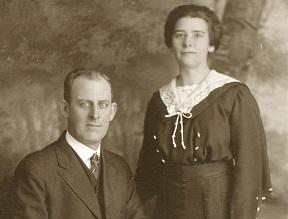 Lot and Bertha Shough
~ Daughter Bertha (Mitchell) Shough ~
Daughter Bertha Mitchell (1879-1973) was born on Aug. 4, 1879 in Aleppo, Greene County.
When she was 37 years of age, on Nov. 8, 1916, she was joined in wedlock with 35-year-old oil driller Lot Bowen Shough (Sept. 4, 1881-1969), of Sand Rock, Greene County. Rev. Grafton T. Reynolds, of the Jefferson Avenue Methodist Episcopal Church in Washington, Washington County, officiated at the wedding ceremony, held in Washington.
Lot was a native of Gilmore Township, Greene County and the son of George Wellington and Martha "Jane" (Gidley) Shough.
The Shoughs resided in the same house in Aleppo for their entire married lives.
They were the parents of one known daughter, Madolyn Lemmon.
For reasons that are not clear, Bertha was listed by the 1920 federal census-taker as single at the age of 40 and living at her with her widowed father and unmarried siblings. Perhaps Lot was away working.
Lot earned a living as a driller and tool dresser in the oilfields of the county. After the wells tapped out eventually, he farmed and raised livestock. For two terms, on the Republican ticket, he served as an Aleppo Township school board director.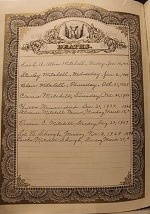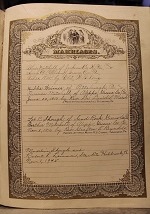 Above: the Mitchell/Shough Bible -- births, deaths, marriages. Below: Bertha Shough and her chickens, Nov. 1947.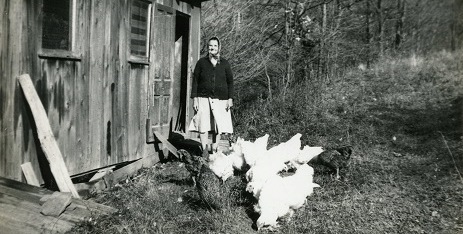 The Shoughs were members of the Centennial Church, where Lot was a founding member of its cemetery association.
The federal census enumeration for the year 1940 shows the Shoughs residing in Aleppo, with daughter Madolyn and Bertha's unmarried, 62-year-old sister Carrie living in the household. The Shoughs' next-door neighbor in 1940 was the family of Bertha's cousin Benson C. and Ethel (Morris) Moninger, of the family of Harrison and Rebecca Jane (Yates) Ullom.
Sadly, at the age of 88, Lot was admitted to Greene County Memorial Hospital. He died there on Nov. 3, 1969.
Bertha outlived her spouse by four years. Toward the end, she went to live with her married daughter in Holbrook, and remained three years until carried away by the Angel of Death. She passed into eternity at the age of 93 on March 30, 1973 while a patient in Greene County Memorial Hospital in Waynesburg. Interment of the remains was in the cemetery of her beloved church. An obituary was published in the Waynesburg Republican, which reported that Bertha "was the last of her immediate family."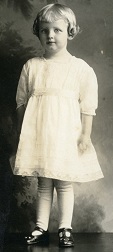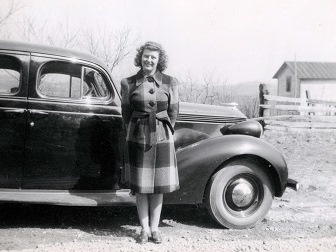 Madeline (Shough) Lemmon
Daughter Madeline "Madolyn" Shough (1920-2010) was born on Oct. 21, 1920 in Aleppo Township. She grew up enjoying the creativity of oil painting and attended Waynesburg College for two years, from 1940 to 1942. On Nov. 1, 1945, at the age of 25, she was joined in the bonds of marriage with Robert L. Lemmon ( ? - ? ) of Star Route in Holbrook, Greene County. The couple did not reproduce. They relocated to Jackson Township in the county in 1949, and remained there for good. The pair were members of the Centennial Church of God, where Madeline taught Sunday School. Later, she joined the Bethany United Methodist Church. She liked to knit, read and sew. Sadly, Robert passed into eternity on April 4, 2009, terminating their marriage which had endured for 63 years. Madeline's health failed during the last few years of her life. She became a resident of the Rolling Meadows Nursing Home in Waynesburg. There, she died at the age of 89 on Jan. 13, 2010. Rev. William Parker preached the funeral sermon, followed by burial in the Bethany Cemetery in Jackson Township.
~ Son Roscoe C. Mitchell ~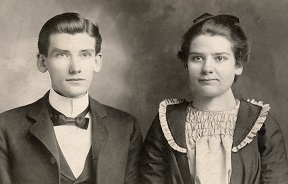 Roscoe and his sister Bertha Shough
Son Roscoe C. Mitchell (1881-1969) was born on April 7 or 8, 1881 in Aleppo, Greene County.
He never married, but pursued a long career as a public-school educator. He also labored on his father's farm to help make ends meet.
In 1900, at the age of 19, he was marked by the federal census enumerator as living with his parents and working as a school teacher in the Aleppo area. He went on to take classes at California State Normal School and in 1906 graduated from Waynesburg College. He then was employed for three years by the Pennsylvania Railroad and then enrolled at Penn State University where he graduated in 1916.
He taught at Aleppo Township High School and in 1912 was named its inaugural principal. Later, he worked in high schools in Monongahela City, Washington, East Washington and Braddock.
After Roscoe retired, he relocated to Kalamazoo, MI, where he spent two decades. In 1956, he returned to Waynesburg and was a member of the First Baptist Church.
Roscoe died on Aug. 22, 1969 at Washington Manor in Washington, Washington County, PA at the age of 88. His remains were returned to his native Greene County to be interred in Centennial Cemetery.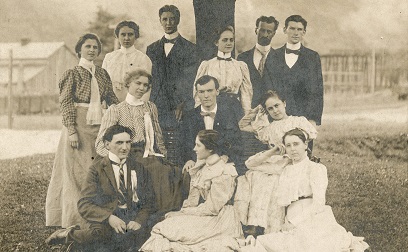 Roscoe stands at far right, 1898, perhaps with fellow college students.
~ Son Stanley Mitchell ~
Son Stanley Mitchell (1883-1929) was born on Nov. 1, 1883 in Aleppo, Greene County.
Born with mental deficiencies, he never married but stayed at home with his parents over the decades. There is no evidence on Stanley's paper trail to suggest that he was able to work in any sort of occupation.
Sadness blanketed the family when, at age 45 years, one month and one day, he succumbed to death on the second day of the new year in 1929. The cause of his passing was pneumonia.
His remains were lowered under the sod of the Centennial Church Cemetery.
Copyright © 2014-2018, 2020 Mark A. Miner
Photographs courtesy of Arlene Lantzer and Jennifer (Lantzer) Novak