Two years after their son Henry's death at war, Matilda passed away at the age of 61 on July 26, 1866, less than two years after the death of her soldier son. She was laid to rest in the Centennial Church Cemetery in Aleppo Township, Greene County.
Her grave marker -- with her name spelled as "Hannah M." and "Ullum" -- was still standing and legible when photographed by the founder of this website in May 1988.
Peter outlived Matilda by a remarkable 27 years. During that time, he remained a regular member of the local Baptist Church. He married twice more, first to Margaret Snyder (1826- ? ), a widow with several young children, among them James and Katharine R. Snyder (or "Snider"). Husband and wife were 14 years apart in age.
The federal census of 1870 lists Peter and Margaret and her two children residing near Aleppo, with their post office marked as Rogersville. His son David made his residence just a few doors away.
Peter received another emotional blow in late autumn 1879 when son Madison, living nearby with a wife and four children, contracted typhoid fever. His prospects for recovery were hopeless, and he succumbed to the Angel of Death at the age of 47 on Dec. 3, 1879.
The 1880 census shows Peter and Margaret together, with her suffering from rheumatism.
Red circles mark the farms of Peter Ullom and his sons Madison, Harrison and David, south of Aleppo (blue circle) and east of Windy Gap Church (green).
1875 Atlas of Greene County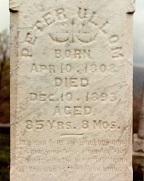 Peter's grave, 1893
Peter was named in a profile of his son David in the 1888 book History of Greene County, Pennsylvania, Illustrated, authored by Samuel P. Bates and published in Chicago by Nelson, Rishforth & Co. The profile said that Peter had "spent a long life as farmer, being now 80 years of age."
Later, he wed two more times. His third and last wife was Sarah Fellows Johnson (Jan. 10, 1830-1903). An immigrant from England, she also had been married twice before, first to Benjamin Fellows ( ? - ? ) and second to David Johnson ( ? - ? ).
Sarah was first married to Benjamin Fellows in England and had been a member of the Church of England. After Fellows' death, the widowed Sarah came to America and settled in White Cottage, Greene County, where she joined the Disciples of Christ Church. It was then that she wedded Johnson. Eventually she transferred her affiliation to the Church of the Brethren in Aleppo.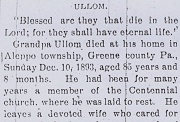 Peter's obituary, 1893
Peter suffered from heart problems and died on Dec. 10, 1893, at the age of 85. He joined his first wife in eternal rest in the Centennial Church graveyard near Aleppo. Obituaries were printed in the local newspapers including the Waynesburg Messenger, Waynesburg Democrat and Waynesburg Republican.
In one obituary, appearing in the Democrat, and penned by a granddaughter, Frankie Ullom, now living in Findlay, Ohio, wrote the following:
"Blessed are they that die in the Lord; for they shall have eternal life." Grandpa Ullom died at his home in Aleppo township, Greene county, Pa.... I cannot think it real that dear grandpa has passed away, and that no more his loving face I shall see and never more to be greeted by him when I go back to the scenes of my childhood home."
The Democrat observed that Peter "had been for many years a member of the Centennial church, where he was laid to rest. He leaves a devoted wife who cared for him tenderly through many months of affliction and administered to his every wants with kindness." On his tombstone was inscribed the following epitaph:
My own dear husband has gone
To mansions above yonder sky
To gaze on the beautiful throne
Of Him who is seated on high.
Epitaph on Peter's grave marker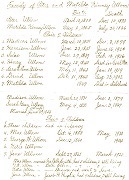 List of Peter's offspring
After two years as a widow, Sarah married again, circa 1895, to widower Rev. James A. Murray (March 17, 1820-1911), the son of Jacob G. and Mary (Miller) and a native of neighboring Fayette County, PA. He and his first wife Mary Miller (1818-1891) had borne a number of children -- Sarah Weimer, Jacob M. Murray, William Murray and George Miller Murray.
The Murray marriage lasted for eight years until cleaved apart by death. Suffering from a buildup of fluid in her lungs (congestive heart failure, or "dropsy"), and having borne the illness for 15 weeks, Sarah succumbed to death on Feb. 19, 1903, at the age of 73. Burial was in Mount Olive Cemetery in Wetzel County, WV. No obituary was printed in the New Martinsville Evening Dispatch, but ones appeared in the Waynesburg Democrat and Waynesburg Republican. The Democrat said that she "bore her affliction with great endurance and patience, often praying that the Lord should take her to rest." Her obituary went into detail about the logistics of her funeral and burial: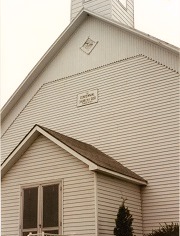 Centennial Church of God
Funeral services were held at their home Friday afternoon February 20. Saturday the 21st the body was taken by Henry Elbin, undertaker, to Cameron, W.Va., thence by railroad to Proctor, W.Va., where he was assisted by Mr. Singer, Undertaker, and the body was taken to Mr. Farr's, of Andy, and on Sunday morning another funeral service was held at the church near that place, after which the body was interred at the Mt. Olive cemetery by the side of her sister. At her request the funeral services were conducted by Rev. J.M. Murray.
The widowed James made his home in Aleppo. Suffering from years of chronic heart valve and kidney disease, he contracted lobar pneumonia at the age of 91 years and passed into eternity on April 9, 1911. His son Jacob M. Murray of Aleppo signed the death certificate. Interment of the remains was in the Brethren (Dunkard) Cemetery in Aleppo. His obituary was published in the Waynesburg Democrat.
In about 1961, a descendant wrote out a five-page list of offspring of Peter and Matilda, with beautiful penmanship. The writer may well have been their granddaughter Florence (Mitchell) Weimer, who at the time resided at 293 West High Street in Waynesburg. The list tracked five generations of the family. It was was mimeographed and distributed to interested family members. Among the recipients, circa April 1963, was Odger "Wayne" Miner, father of the founder of this website.
Peter and Matilda are mentioned in Ada Stoda Behrend's 1987 book My Pioneer Families of Vernon County, Wisconsin, volumes 3-4.
~ Son David Ullom ~
Son David Ullom (1845-1902) was born on Dec. 11, 1845 in Aleppo Township. Hew grew up on his parents' farm.
In 1869, at the age of 24, he married 16-year-old Mary Ellen King (1853- ? ), daughter of Jacob and Catharine (Huffman) King. The federal census enumeration of 1870 shows the newlywed Ulloms residing near David's father and stepmother near Aleppo, with David laboring as a farmer.
They had one known daughter, Frances D. "Frankie" Stocker.
David's profile, History of Greene County, Pennsylvania, Illustrated, 1888
In 1888, David was profiled in the book History of Greene County, Pennsylvania, Illustrated, authored by Samuel P. Bates and published in Chicago by Nelson, Rishforth & Co. The profile noted that in addition to being a farmer, David was a stock-grower and dealer in wool.
David Ullom is the youngest in a family of six children and was reared on the farm with his parents, receiving a common school education. He has spent his life as a farmer and has given a good deal of attention to the raising of fine stock. He has engaged in wool buying extensively and has been very successful. Mr. Ullom owns a fine farm of 200 acres, and is one of Aleppo's most prominent citizens.... The family are members of the church of God. Mr. Ullom is a trustee in the church and secretary and treasurer of the Sabbath-school. In politics he is a democrat.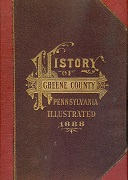 History of Greene County
David owned a red bull named Victoria's Duke which had been calved in 1882 by a breeder in Paris, Kentucky. The bull and its owner were listed in The American Shorthorn Herd Book by Lewis Falley Allen, a reference book containing pedigrees of short-horn cattle throughout the United States.
When gas reserves were discovered in great quantity in Greene County, David allowed a well to be drilled in the 1890s, but unfortunately it proved to be a "dry hole."
In about 1891, David and family relocated to Findlay, Hancock County, OH. There, he earned a living as a "commissioner merchant" and was considered "a good neighbor, a devoted husband and a loving father," said the Waynesburg Democrat. "As a citizen he was quiet and reserved."
He passed away on Aug. 23, 1902 at the age of 57, and is buried in the Maple Grove Cemetery in Findlay. A short news obituary was published in the Aug. 29, 1902 edition of the Waynesburg Democrat, followed by a longer, more descriptive one a week later. The latter obituary said that the "immediate cause of his death was collapse caused by being kicked on the stomach by a horse the day before. His death was a shock to the entire neighborhood."
Among the hymns sung at his funeral were "Abide with Me" - "Lead Kindly Light" - and "Some Sweet Day," all performed by a quartet comprised of Professors Ward and Smith and sisters of the Forncrook family. Rev. Charles T. Fox, of Findlay College, gave the funeral sermon, drawn from Old Testament scripture, Psalm 90:9, 12: "We bring our years to an end as a sign.... So teach us to number our days that we may get us a heart of wisdom." At the graveside, friends from the Pathfinders organization conducted a short service.
Daughter Frankie Ullom (1875- ? ) was born on Jan. 30, 1875 in Greene County. She migrated to Findlay, Hancock County, OH at the age of 16 in 1891. There, at the age of 25, she wed 26-year-old farmer Arthur H. Stocker (1874- ? ), son of D.R. and Mary (Strother) Stocker of Liberty Township. Rev. Charles T. Fox, of Findlay College, performed the nuptials.
Copyright © 2014-2018, 2020 Mark A. Miner
Select images courtesy of Arlene Lantzer and Jennifer (Lantzer) Novak