Jane (Young) Ullom
Silas Ullom was born on Dec. 27, 1837, two days after Christmas, in Greene County, PA, the son of Peter and Hannah "Matilda" (Kinney) Ullom.
He wed Jane Young (1820-1910), daughter of Thomas and Rebecca (Crain) Young. Jane was 17 years his senior.
They produced a family of six known children, Samuel Benton Ullom, Druscilla Ullom, Graham Ullom, Sherman Peter Ullom, Laura Matilda Ballinger and Silas S. Ullom.
As an adult, Silas and his family resided in Greene County; West Alexander, Washington County, PA; and in Wheeling, Ohio County, WV.
The federal census of 1860 shows the young family making its home in Center Township, Greene County, with Silas working as a farm laborer.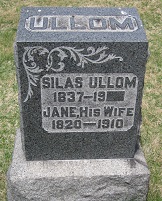 West Alexander Cemetery
On Dec. 27, 1867, when Silas was age 30, he purchased a Greene County farm which was to plague him with financial and legal problems for years. The seller, Henry Rom, agreed to transfer ownership in a deed that contained vague language, only with the names of adjoining owners, "but giving no courses or distances, nor marks," wrote an observer. The farm was said to comprise 178 acres at a cost of $19 per acre, payable in $500 installments. Silas made payments by the following April 24, 1869 totaling $762. A dispute between seller and buyer when the farm was surveyed and found to be 14 acres larger than believed. When Silas refused to pay the additional amount, Rom took him to court.
The case was first heard by the Washington County of Common Pleas (October and November Term 1874, Case No. 86). The judge instructed the jury that "The defendants also urge that they are only to pay for 178 acres of land, although it appears from the survey that the tract contains 192 68-100 acres. We do not agree with this construction, and say to the jury that defendants must pay for each and every acre contained in the farm." When the jury ruled against Silas, he appealed the case to the Supreme Court of Pennsylvania.
Jane died first, on March 9, 1910 in Wheeling, at the age of 90. While a search was made for her obituary in the Wheeling Intelligencer, on microfilm at the West Virginia Regional History Collection at West Virginia University, nothing was found.
Silas moved to Glover's Gap near Mannington, Marion County, WV -- where his son Sherman lived -- and was there in 1919.
He died in Glover's Gap of senility and prostate enlargement, at the age of 93, on Feb. 12, 1926. His remains were brought back to Pennsylvania for interment with his wife in West Alexander Cemetery in Washington County, PA. No obituary has been located in the Fairmont West Virginian.
~ Son Samuel Benton Ullum ~
Son Samuel Benton Ullum (1854-1932) was born on Feb. 22, 1854, in Greene County.
He married Eliza Matilda "Tillie" Dunlap (1854-1926), daughter of Samuel and Ruth (Curtis) Dunlap of West Virginia.
Their children were Zona May Exley, Bessie Dunlap Kinsey, Grace Edna Ullum, Clara Belle Ullom Smith, Amy Marie Ullom, Samuel Ray Ullum and Errett Myers Ullom.
They resided in Wheeling, Ohio County, WV, where Samuel was employed as a mill worker. Their home was at 309 Adams Avenue.
Eliza died of heart disease on March 8, 1926 in Wheeling, age 71. Her remains were returned to West Alexander for burial in the local cemetery.
Her widower survived her by six years. Afflicted with chronic nephritis and endocarditis (heart disease), Samuel passed away in Wheeling on April 22, 1932.
Son Samuel Ray Ullum (1894-1895) died at the age of one year, nine months on Dec. 14, 1895. After a funeral service at his parents' home, said the Wheeling Register, his remains were taken to West Alexander for a private burial.
West Alexander Cemetery
Son Errett Myers Ullum (1894- ? ) was born in 1894 in Wheeling. He spelled his name with two "u's." He married Mae Elizabeth Lovejoy (1903-1925), daughter of Harry Lovejoy of Neff, Ohio. Wed on April 3, 1923, they lived at 1518 Jacob Street in Wheeling. Tragically, on the fateful day of May 27, 1925, her heart broken by some unknown malady, Mae pointed a loaded gun at her chest and shot herself in the heart, dying instantly. She was only age 22, and was buried in the Ullom plot at West Alexander Cemetery. Errett is believed to have married a second time, unfortunately ending in divorce. Errett eventually began cohabitating in Elm Grove with Margaret Taylor (1920- ? ), a native of of Cleveland, OH, and in September 1928 she gave birth to a son, William Errett Ullum. They eventually legalized their union, when he was age 45 and she 22. The date of this third third marriage was April 11, 1942. Their son William married Evelyn Jean Shaw in Wheeling on Dec. 20, 1969.
Daughter Grace Edna Ullum (1884-1942) was born on April 28, 1884 in Ohio County. She lived in Wheeling and never married. Her address was 141 Springdale Avenue in Triadelphia. She was the informant on her father's death certificate in 1932. For many years she was employed as a sales lady in a local department store. She died of a cerebral hemorrhage, hypertension and nephritis at the age of 58 on Nov. 3, 1942. Her remains were brought to West Alexander for interment.
Daughter Zona May Ullum (1881- ? ) married Elmer C. Exley (1876- ? ) on June 23, 1904, at Edgington Lane, Wheeling. He was age 28, and she 23, at the time.
Daughter Bessie Dunlap Ullom (1883- ? ) married William Howard Kinsey (1882- ? ) on Oct. 15, 1905 at the Thomson parsonage. He was age 23, and she 22.
~ Son Sherman Peter Ullom ~
Son Sherman Peter Ullom (1860-1927) was born on May 21, 1860 in Greene County.
He was twice married. His first bride was Maggie Bell Glover (1870-1894), of Glover's Gap, Marion County, WV. He was age 33 and she 23 at the time. The date of their wedding was Dec. 16, 1893 at Moundsville. They moved into a home at 121 19th Street in Wheeling.
Heartache rocked Sherman when his bride, suffering from typhoid fever, died on July 11, 1894, at age 24, after just seven months of marriage. A short obituary in the Wheeling Register mis-named him as "Sheridan" Ullum and noted that Maggie's remains were sent to Glover's Gap for interment.
His second wife was Doris Madaline "Dora" Martin (1892- ? ) of Belmont County, OH. He was age 39, and she 18, at the time of marriage, and there was an age difference between them of more than 30 years. Their marriage took place on Aug. 17, 1910.
They resided in or around McMechen, near Wheeling, and had three known children, Raymond Ullom, Kathleen V. Ullom and Doris J. Ullom.
In 1910-1920, their home was on Fourth Street in Union Township, Marshall County, WV. Sherman and Doris eventually divorced.
Sherman was a longtime mill worker and foreman in Wheeling and was a member of the local Scottish Rite organization.
He died in Wheeling's Ohio Valley General Hospital on June 18, 1927, at the age of 67. Cause of death was ruled "acute exacerbation of chronic tuberculosis." Burial was in McMechen Cemetery.
Son Raymond Ullom was born in 1910.
~ Daughter Laura Matilda "Tillie" (Ullom) Ballinger ~
Daughter Laura Matilda "Tillie" Ullom (1862-1911) was born on Nov. 6, 1862 in Greene County.
In about 1892, she wedded John Nehemiah Ballinger (July 12, 1862-1941).
Sadly, at the age of 48, she died in Marion County, WV on April 22, 1911. Burial was in Mount Zion Cemetery in Wheeling.
John survived her by three decades. He died in Akron, Summit County, OH on New year's Eve 1941.
~ Son Silas S. Ullom ~
Son Silas S. Ullom (1882-1926) was born in 1882. He passed away in 1926.
Copyright © 2014-2018, 2020 Mark A. Miner
Image of Jane (Young) Ullom courtesy of Arlene Lantzer and Jennifer (Lantzer) Novak