George Younken
(1793-1875?)
George Younken (1793-1875?) was in about 1793 in or near Lovettsville, Loudoun County, VA. Other sources give his birth year as 1795.
He was the son of Somerset County pioneers Johannes "John" and Catharina (Dorscheimer) Younkin and the grandson of Johann Heinrich "Henry" and Catherine (Scherer) Junghen of Bucks County, PA.
When he was two-and-a-half months of age, the day after Christmas 1793, George was baptized in the family's place of worship, the German Reformed Church in or near Lovettsville. Mr. and Mrs. Jacob Adams were his sponsors. Performing the ritual was Rev. Heinrich Giese, said to have been a former Hessian soldier who fought alongside the British during the American Revolution, and was captured and imprisoned in the "Hessian Barracks" in Frederick, MD, and once the war ended, chose to stay and settle with other Germans in Maryland, Virginia and later Pennsylvania.
George's baptism is chronicled in the 1995 book, Early Church Records of Loudoun County, Virginia, 1745-1800, by Marty Hiatt, and also in St. James United Church of Christ Church Register, translated from German to English by Jerry and Tedi Jeen Mower and published in 1993. In the St. James records, the name of George's father is spelled "Johann Juncken." The Reformed congregation -- today's St. James Church -- seems to have had an affiliation with the New Jerusalem Lutheran Church in Lovesttsville, and may have shared a pastor.

George's 1793 baptismal record from the German Reformed Church, written in German.
Courtesy Cathy Graves and Edward Spannaus of the Lovettsville (VA) Historical Society.
The family migrated together to Turkeyfoot, Somerset County, where an uncle Jacob Younkin was already living, "being a hunter left Louden [sic] county to come north where game was plentiful and after many hardships reached Somerset county," said the Meyersdale Commercial.
As a young man, George wed Nancy Johnson (1797-1880), daughter of William and Mary Johnson (or "Johnston"). The two clans were close, and George's brother Charles wed Nancy's sister Jane. One source places Nancy's birthplace as New Jersey.
The couple had eight children -- Charles L. Younken, Nancy A. Younkin, Jane Showman, George A. Younkin, Freeman Younkin, Jeremiah Younkin, Samuel "Freeman" Younkin and Catherine Sleasman. In time, their grandchildren numbered 34.
They lived in 1850 in Springfield Township, Fayette County.
During the 1850s, the Younkins migrated from Fayette County to Greene County, PA. They lived in Wind Ridge, Richhill Township, just a few miles from the Virginia state line (later West Virginia). After the move, their name occasionally was spelled "Younken" and used that way by many of their offspring. Why the move was made is not known; the terrain was as equally hilly in the new locale as the old; but perhaps it was a fresh start or a better opportunity for reasons lost to us.
The federal census of 1860 shows George, Nancy and son Freeman residing together in Richhill Township, with George and son earning a living as farm laborers. Son Freeman, age 16 that year, attended school locally. George's son Charles and family lived next door. Their local post office was at Ryerson Station. At least seven of their grandsons or grandsons-in-law served in the Union Army during the Civil War (see table).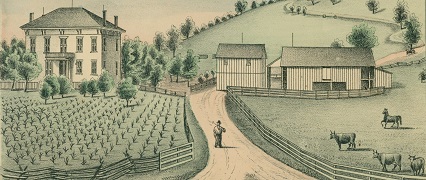 Typical hilly Richhill Township farm circa 1876, the type on which George and Nancy likely were tenant farmers, from the Atlas of Greene County.

When the federal census enumeration was made in 1870, George (age 75) and Nancy (72) resided on a farm in Wind Ridge next door to their married son and daughter in law, Charles and Nancy Younkin. Also moving to rural Greene County in the 1850s were George's married niece and her husband, Polly and Henry Minerd, who remained in the region for the rest of their lives.

George died in Richhill in about 1870 at the age of 77 (or 75), or possibly in 1875 at the age of 82. Details of his passing are not known. The family lore says that when he died, son Charles took possession of the body and buried it. When Charles' wife asked where the burial site was located, he refused to say. Thus the location seems to be lost to history.

Nancy outlived her husband and apparently moved back to Fayette County, where she spent the final five years of her life. She passed away at the age of 81 in April 1880. No physician was in attendance at her death. Her name was recorded in the Pennsylvania mortality census dated May 31, 1880, which stated that at the time of her death she had been living in Fayette County for five years. Her burial site is unknown.

In the fall of 1935, their great-grandson Charles Arthur Younkin, nicknamed "Charleroi Charley," traveled to Richhill to try to find Charles' final resting place. He was unsuccessful, but did locate the graves of their son Charles L. Younken and his wife Nancy. In a letter dated Nov. 20, 1935, cousin Nellie B. (Younkin) Wiley wrote that "Chas. is trying to find the farm where Chas. L. lived when he first went to Green [sic] County and maybe he can find Geo.'s grave in a cemetery near by." [See the actual letter.]

~ Daughter Nancy A. Younkin ~

Daughter Nancy A. Younkin (1832- ? ) was born in 1832.

Single at the age of 18, she lived with her parents in Springfield Township, Fayette County.

Nothing more is known.

~

Son Freeman Younkin ~

Son Freeman Younkin (1835- ? ) was born in 1835. He may have died young, as a younger brother later was given the middle name of "Freeman" at birth in 1844.

Nothing more is known.

~ Daughter Catherine (Younkin) Sleasman ~

Daughter Catherine Younkin ( ? - ? ) was born in (?).

She is reputed to have married (?) Sleasman (or "Sleisman"). Her fate is unknown.

Copyright © 2013-2017 Mark A. Miner

Research for this page graciously shared by Carl Hoge, the late Olive (Rowan) Duff, the late Donna (Younkin) Logan, Glen Swartz and Cathy (Kline) Graves.