Charles L. Younken
(1814-1872)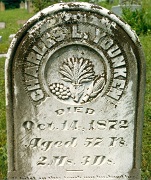 Charles' grave,
Lazear Cemetery
Charles L. Younken was born in 1814 in Turkeyfoot Township, Somerset County, the son of George and Nancy (Johnson) Younken.
He was united in holy matrimony with Nancy Henry (1812-1889), the daughter of John and Elizabeth (Imel) Henry, of near Scullton, Somerset County, and granddaughter of Henry Imel, an early pioneer of the region.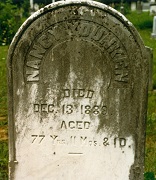 Nancy's grave
The couple resided in Somerset County early in their marriage, where several of their children were born. Lacking basic education, Nancy could not read or write as an adult.
Together, they produced a brood of nine children -- Daniel H. Younken, Elizabeth Bell, Jefferson Younken, William "Henry" Younkins Sr., Mary Dorsey, Eliza Finnegan, Thaddeus A. Younken, Hannah Henry and Nancy L. Barnett.
When the federal census was enumerated in 1850, the Younkins (spelled with the "i") made their home in Upper Turkeyfoot Township, near Kingwood.
The family relocated during the early 1850s to Greene County, PA, settling near the village of Graysville. After that time, their name generally was spelled with the "e." Charles and Nancy were baptized into membership of the South Fork of Wheeling Baptist Church in Richhill Township, Greene County on Jan. 20, 1857 in a ceremony performed by "Brother Charles Litten." Their daughter Eliza was baptized in the church in 1863 and son Thaddeus in 1873.
At the death of Nancy's father John Henry in Somerset County, she was to inherit assets from his estate. In a legal document, she appointed her husband to manage the share she was to receive, signed Aug. 8, 1860. The document was filed in Greene County Mortgage Book 1, page 176, and witnessed by Samuel Vanatta and James P. Vanatta.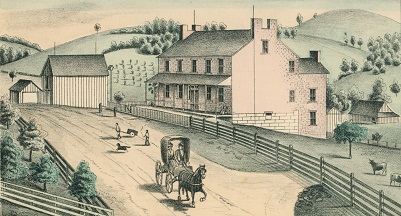 Typical farm in Ryerson Station. 1876 Atlas of Greene County
When the federal census was taken in 1860, the Younkens lived in Richhill Township, with their post office located at Ryerson Station. Charles' parents lived next door. He was marked as a farmer and son Jefferson as a farm laborer. Daughter Eliza (age 10) and son Thaddeus (8) attended school locally that year, while children Henry (14) and Mary (12) did not, perhaps reflecting a disdain for education in the family, or the lack of teachers for those secondary age groups.
Charles and Nancy kept a family Bible with the names of their children and dates of their births and deaths. The details of the Bible were printed in the Keyhole newsletter of the Genealogical Society of Southwestern Pennsylvania, in an article headlined "Younken and Rickey Family Bible."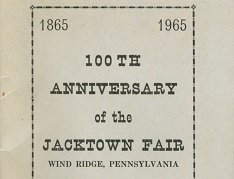 Anniversary booklet
In a foreshadowing of events to come, Charles in the early 1850s began a habit of drinking to excess. His consumption of liquor apparently increased, and he became violent and threatening to his family on his binges. Said the Washington (PA) Review, he "has time and again threatened to kill different members of his family; at one time shooting a hog that he mistook for his wife, after night. His neighbors and friends bear testimony that he was a kind friend, a good neighbor and an honest man, when not in liquor." Leaders of the South Fork of Wheeling Baptist Church went so far as to charge him with "intemperance" on May 8, 1858.
One of the high points of living in Wind Ridge/Ryerson in the years right after the Civil War was the annual Jacktown Fair. Formed in October 1866 by the Richhill Agricultural, Horticultural and Mechanical Society, the annual event quickly became what some have called a "cherished institution" in the region. It was held on land at one end of town, near where one George Ryerson had once conducted an Indian trading post. The fair included a horse trader's alley and horse racing along a quarter-mile track in the center of the grounds, at the top of the hill. "In many ways," said a history of the event, "the Jacktown Fair is unique."
It is a holdover from the time of the horse and buggy when every community of any size had a fairgrounds and set aside certain days each summer to bring in prize samples of their produce, livestock, and handiwork. And although concession stands, merry-go-rounds, and acrobats play a bit part in the annual festivities, it's still the pride in winning a blue ribbon and curiosity about who has won what prize which are the big attraction to local people. This close-knit community relationship is also the reason the fair has retained the flavor of an old-fashioned country reunion.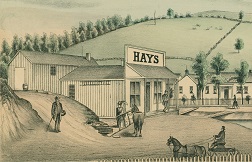 Hays Store in Graysville, circa 1876
The 1870 federal census shows Charles and Nancy and family living on a farm in Wind Ridge, with his aged parents residing in an adjacent dwelling. In Charles' home that year was 19-year-old farm hand William Hitchcock. Their residence was about a mile and a half from Jacksonville, also known as Jacktown, near Wind Ridge.
In the fall of 1872, Charles indulged in yet another alcohol-fueled binge. The Waynesburg Republican reported that he had attended the Jacksontown fair on Sept. 12-13:
...returning Friday evening to his home, drunk.... Mr. Younken threatened to kill his wife Friday night, but his son Thaddeus A. Younkin watched him all night and prevented him from so doing. Saturday morning he went off and procured a pint of liquor, returning home and again abused his family. In the after part of the day he went to the barn and lying down went to sleep. Thaddeus said to his mother, he would go and kill a squirrel; that his father was asleep and could not harm her until he came back. When he came back his father had been beating his mother with a dipper, and dropping the dipper he seized a poker and swore he would kill her inside of three minutes. Just then Thaddeus entered the door with a rifle in his hands, returning from hunting, raised it and shot him dead, the ball entering about two inches behinde [sic] the right ear, taking its course toward the left temple, remaining in his head. This is one story; and another is that the father was sitting in a chair sleeping when the boy returned, and he (Thaddeus) learning that his father had been beating his mother in his absence, deliberately shot the old man dead.

YFNB, Aug. 10, 1939
He expired on Oct. 14, 1872, at the age of 57 years, two months and three days. His remains were laid to rest in the Lazear Cemetery in Ryerson Station, also known as Crabapple, Greene County. This inscription was carved on his grave marker: "Whilst in this tomb my husband lies..." The son was cleared of all legal charges, but later moved to Kansas.
The son Thaddeus, the only of their children to be living at home at the time, gave himself up to local justice of the peace Francis Darke. A coroner's inquest was held, with Thaddeus identified as the shooter. The sensational news was printed in the Waynesburg newspaper as well as further across the country, such as the Cincinnati Daily Gazette.
Nancy outlived Charles by 17 years. After her church became indebted in the early 1880s, she donated one dollar to liquidate the debt in May 1883.
She passed into eternity just a month before her 78th birthday, on Dec. 13, 1889. She is interred beside her husband. In sharp contrast to her late husband, whose death generated sensational news headlines, her obituary in the Waynesburg Democrat was comprised of two simple lines: "Mrs. Younkin died on Friday morning at the home of of [sic] her son Jefferson Younkin. She was buried on Saturday."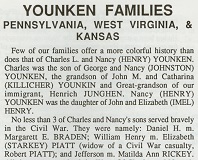 YFNB, Oct.-Nov.-Dec. 1990
Charles and Nancy were named in a profile of their son Daniel in the H.H. Hardesty book, Presidents, Soldiers, Statesmen, printed in 1894 (pages 587-588).
In the late 1930s, the Lazear burying ground was neglected and unkempt. Local residents including G.M. Baldwin, J.W. Gribben and Herbert Sherich formed an organization. An article in Aug. 10, 1939 edition of the Younkin Family News Bulletin said that these officers "hope to have a new fence placed around the grounds and other improvements made to the cemetery.... This is one of the oldest cemeteries in Western Greene County. The officers would appreciate any assistance that could be furnished from persons interested in the cemetery."
More history of this family was was published in an article entitled "Younken Families: Pennsylvania, West Virginia, & Kansas," appearing in the October-November-December 1990 issue of the Younkin Family News Bulletin -- and also in "History of the South Fork of Wheeling Baptist Church" in the YFNB (Jan. 1992).
~ For Further Reading ~
"150 Years On, Jacktown Fair Endures" - Pittsburgh Post-Gazette, July 14, 2015
Copyright © 2013-2017, 2020-2021 Mark A. Miner
Content for this page graciously shared by Carl Hoge and the late Donna (Younkin) Logan and the late Olive (Rowan) Duff.