Home

Daniel H. Younken
(1840-1913)

Daniel H. Younken
Daniel H. Younken (or "Younkin") was born on May 16, 1840 in Upper Turkeyfoot Township, Somerset County, the son of Charles L. and Nancy (Henry) Younken. After the family's move to Greene County, PA, the name generally was spelled "Younken."
As a young man, he stood six feet tall, and weighed 155 lbs., with a dark complexion, blue eyes and black hair. Before the war, recalled friend Maxwell Carroll, he was a "sound, healthy young man, active, robust and strong, and free from any disease." His father kept a family Bible in which were recorded the names and dates of birth of the children.
Daniel served in the Civil War as a member of the 1st West Virginia Cavalry, Company B. He traveled to Washington, PA on Aug. 6, 1861 to enlist in he regiment, which was commanded by Capt. Harvey Farabee. His term was to be three years of service. As a member of the 1st West Virginia, he served with a cousin once removed, also of Greene County, Chauncey "Chance" Minor, son of Henry and Mary "Polly" (Younkin) Minerd.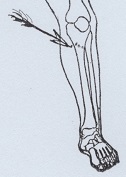 Doctor's sketch of
Daniel's injured leg
The 1st West Virginia was stationed at Romney, WV in the early part of January 1862. Wrote Carroll, who also was a member of the regiment:
The weather was cold and stormy, and we had no fires in our small tents, and suffered a great deal from the inclement weather. Younken and myself occupied the same tent and about this time he was taken down with the measles and removed to a vacant room in the town used temporarily for a hospital. In a few days I was taken with the measles and removed to the same room and there saw Younken. About a week after this, our command retreated from Romney to Patterson Creek. We had but limited transportation for the sick. myself and six others were hauled in an open wagon. Younken who had slightly recovered from the attack of measles, for lack of transportation was compelled to ride his horse an d march with his command,. It rained and snowed on us all the way. We left in the night & reached Patterson Creek the next night, wet, cold and badly used up. Younken caught cold and was taken down with a fever and sent at once to hospital at Cumberland, Md. I was in the hospital to see him, and I never saw a man so low with a fever get well again. He had to be fed with a spoon. I had no idea he would ever get well. His father was sent for to see him die. He finally rallied and went home and remained until about the 1st of April 1862 when he came back to us at Winchester, Va.
On Aug. 18, 1862, Daniel and the regiment were engaged in a picket fight at Raccoon Ford near Culpeper, VA. His horse fell along the river bank at Summerville Ford, crushing Daniel under its weight, and fracturing his kneecap and shin. In his own words, Daniel recalled the event:
About the 18" day of August 1862 the rebels made an attack -- Drove in the picket line and while [I] was in the act of crossing the Rapidan River [my] horse jumped over the river bank among the rocks and falling with him crushed [the] left leg at the knee, breaking the large bone of the lower leg and crushing the cap of the knee.
Union POWs kill time in a Richmond prison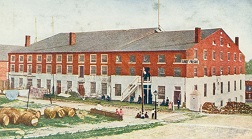 Libby Prison, along the filthy James River
Gangrene infected the injury, leading to permanent damage to the nerves, muscles and tendons. He was sent to a hospital at Washington, DC, and then moved to another hospital. Transferred again, he was treated at the U.S. Army General Hospital at Wests Buildings in Baltimore, under the care of Dr. Henry C. May. He was discharged on Dec. 20, 1862.
After his discharge, Daniel apparently returned home. But after a little more than a year as a civilian, he rejoined the army, as a member of the 6th West Virginia Cavalry, Company E. He did so at Wheeling, WV on Feb. 26, 1864. On Nov. 28, 1864, in battle at New Creek, VA, he was taken prisoner and taken to Richmond, where he was held for four months at the notorious Libby and Pemberton prisons before being paroled and exchanged.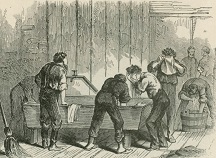 The only water available to hundreds
of Libby prisoners for washing
Late in January 1865, he became part of the 3rd West Virginia Mounted Infantry, which was consolidated into the 2nd West Virginia Infantry, creating the 6th West Virginia Cavalry. After the assassination of President Lincoln, in April 1865, Daniel's regiment was sent in search of the assassin John Wilkes Booth, but returned to Washington after his capture. At some point Daniel was ordered to Colorado where he worked as a detective for Gen. Shields in the town of Julesburg.
When the war ended, Daniel was sent to Kansas, where he spent time on duty at Fort Leavenworth. There, he "was in three pitched battles with the Indians," said the 1894 book Presidents, Soldiers, Statesmen (H.H. Hardesty, Vol. II). "He acted as special scout a short time against the Indians in Colo." He was discharged on May 22, 1866, having traveled to 18 states and several territories during his army journey.
At the age of 26, on Nov. 15, 1866, Daniel married 20-year-old Margarett E. "Marge" Braden (1846-1920). She was the daughter of Ezekiel Braden of Richhill Township. The wedding was held at her father's home in Richhill Township, with justice of the peace Francis "Frank" Drake officiating. Among the attendants at the ceremony was neighbor John Ferrell.
Margarett never really knew her own birthdate other than that it had been recorded in her father's family bible, which she noted in 1916 "is now lost and my mirage [marriage] record with the rest." She added that at the time of marriage, Squire Drake was a neighbor and "well acquainted with both our families and believes us to be 21 years of age and which I am certain we was at the [time] there was no church or public record of births that I ever heard of."

Red dots mark Daniel Younken's 8-acre farm at Vanatta's Mills east of Ryerson's Station, and "Younken's School House" further east, along the north fork of Wheeling Creek, on this page from the 1876 Atlas of Greene County.
They had no children, and made their home across the road from Vanatta Mills near Ryerson Station, Greene County in the 1870s and '80s. In fact, their eight-acre farm is marked in his name in the 1876 Atlas of Greene County, a short distance to the west of "Younken's School House." Friend Norman Turner noted that he worked for Daniel "in the mill business" for four years, from 1876 to 1880. During their time in Ryerson Station, Daniel served as commissioner of roads.
In January 1872, Daniel was awarded a federal pension as compensation for his wartime injuries or ailments. His friend Samuel Grim, a lieutenant with the 1st West Virginia, was among those who testified on his behalf, as were J.M. Dinsmore and Alex McCracken. When examined by military surgeons as a condition of continuing the pension arrangement, they noted a large scar three inches long by one-and-a-half inches wide where the break occurred below the kneecap. The required paperwork was burdensome, and at one point he wrote at the bottom of one page, "This is the 3rd Blank I have filled out & sent you. I hope you will now gave me a rest."

Stationery for the GAR post in Moundsville which Daniel commanded. Note his name printed in the upper right hand corner.
Daniel and Margaret moved in 1880 to Cameron, Marshall County, WV, and were there in 1890, when a special federal census of Civil War veterans was taken. Later, on April 1, 1892, they relocated again to Moundsville, Marshall County, moving into a home at 119 Jefferson Avenue. There, he was a contractor and superintendent of the Moundsville Mining and Manufacturing Company. He also was a member of the J.C. Caldwell Post of the Grand Army of the Republic in Moundsville and was elected commander of the local unit. They were members of the Methodist-Episcopal Church, and he belonged to the local order of Odd Fellows.
Despite his infirmities, Daniel was vigorously active in business and community service, and often was mentioned in local newspapers, including the Wheeling Daily Intelligencer. He was well-respected in commerce and in November 1894 was elected to the board of directors of the People's Building & Investment Company of Moundsville. Fellow directors included W.S. Powell, W.L. Brown. H.W. Conley, Thomas P. Walker, J.K. Graham and C.M. Croswell. He also ran his own construction and contracting firm, and once held a contract to grade and fill the earth around a school building in Moundsville. He and his partner David Levi held a large contract with the Benwood & Moundsville Railway Company to furnish lumber. In March 1897, he and others were appointed by the Moundsville City Council to a committee to "receive and entertain the officials of the contemplated Monongahela & Ohio River railroad when they arrive here to make an inspection of their route into our city," reported the Daily Intelligencer.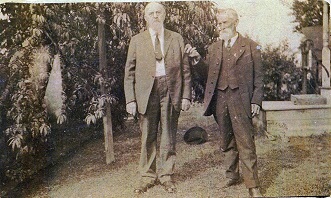 Younken brothers: Jefferson (left) and Daniel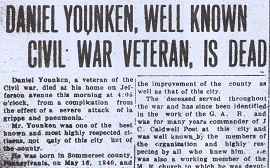 Moundsville Daily Echo, Feb. 18, 1913
Daniel was an advocate for veterans' rights as well as memorializing their accomplishments. He and H.T. Anshutz traveled to Indianapolis in September 1892 to attend the national G.A.R. encampment. Said the Daily Intelligencer, he promised to "also see the World's Fair before his return." In January 1897, he traveled to Canton, Ohio where he called upon President-elect William McKinley. He published an article in the Moundsville Echo on Feb. 19, 1910, headlined "A Experience with the Indians." Circa 1908, he was overseer of the Marshall County Poor House and wrote a letter to the editor of the Echo, printed April 18, 1908, on "Soldier and Pauper Funerals." As his G.A.R. colleagues died off, he attended their funerals.
From time to time, he and Margarett returned to Greene County for visits with relatives. His niece Daisy Barnett is know to have spent time visiting their home circa May 1896.
Circa 1905, Daniel wrote that he still suffered from pain and weakness in his left leg and foot. He testified that "My left leg and foot is cold all the time and I have slept with a heavy woolen sock on for over 20 years. I can't walk up hill or up a pair of stairs but a very few steps untill my left leg becomes weak and nervous. It effects my left groin and runs to the left hip joint, and the cuppling of my back and I then suffer great pain.... I have not in the last 35 or 38 years past one hour when working but what I suffered more or less pain in my left leg and hip...."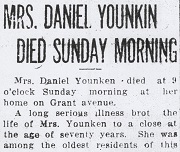 Moundsville Daily Echo
Afflicted with pneumonia during the winter of 1913, Daniel died at home in Moundsville at the age of 72 on Feb. 18, 1913. Burial was in the Mount Rose Cemetery, officiated by Rev. B.F. Rhoads and assisted by his friends in the Caldwell Post of the GAR.
In a prominent obituary, the Moundsville Daily Echo said he was:
...one of the best known and most highly respected citizens, not only of this city but of the county.... His life was that of an exemplary citizen and he had the confidence of all who knew him.... He was identified in the work that caused the rapid growth of this city. He served the county court as superintendent of the Infirmary for many years and not till ill health compelled him to do so did he cease taking active part in all the many good works that have been taken up in the improvement of the county as well as that of this city.
Margaret survived him by seven years, and in March 1913 began receiving a Civil War widow's pension. [Invalid App. #171337, Cert #118187; Widow App. #1003182, Cert No. 759425]
She passed into eternity on May 9, 1920 at age 74, of organic heart disease, which the Daily Echo called a "long serious illness." At age 70, the newspaper said, she "was among the oldest residents of this city." Funeral services were held at her home on Grant Avenue, led by Rev. C.C. Slater, followed by burial beside her husband. In her Daily Echo obituary, her married name was spelled "Younkin."
See more about Daniel on a website about the 1st West Virginia Cavalry presented by Linda Cunningham Fluharty and David L. Aeberli.
Copyright © 2013-2014 Mark A. Miner
Research for this page graciously shared by
Carl Hoge, the late Olive (Rowan) Duff and the late Donna (Younkin) Logan. Additional resources courtesy of the National Archives and the West Virginia Regional History Collection at West Virginia University.