Nancy Barnett
Nancy L. Younken was born on Jan. 23, 1854 near Ryerson Station, Greene County, the daughter of Charles L. and Nancy (Henry) Younken.
She grew up on the family farm near Wind Ridge.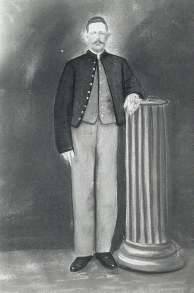 Jesse Barnett
Courtesy Carl Hoge/Virginia (Simms) Toney

She was united in the bonds of holy matrimony with Jesse Lazear (or "Lazier") Barnett (1839-1910), a native of Rock Lick, Greene County, and one of 11 children of John and Margaret (Stoughton) Barnett, and a grandson of Ezekiel Barnett. The ceremony was held at "Big Tree," Aleppo Township, Greene County on Oct. 30, 1870 by justice of the peace A.J. Hinerman. At the time of marriage, Nancy was age 16 and Jesse 31. The original marriage certificate today is in the National Archives in Washington, DC.

Immediately after the wedding ceremony concluded, the newlyweds traveled to the home of Nancy's sister Eliza Finnegan for their wedding reception, or "infare" as it was called at the time. Eliza's husband John later wrote, "They came to my house for their infare and staid over night at my house..."

Jesse stood five feet, nine inches tall and weighed 145 lbs. During the Civil War, he overcame two battle wounds to rise from the rank of private to become captain of Company B of the 7th West Virginia Infantry. A granddaughter later recalled that he "was said to have been one of the bravest men who ever shouldered a gun. He was severely wounded several times."

His first wound was at the Battle of Fredericksburg on Dec. 13, 1862. He and his regiment were involved in heavy fighting near the fairgrounds in the town streets before advancing toward the deadly enemy stronghold on Marye's Heights. Shrapnel from an exploding shell struck him in the right hand, breaking several bones.

While at Hatcher's Run, VA, on Oct. 27, 1864, Jesse received word that he had been commissioned as a second lieutenant of his regiment. But cruel fate intervened later in the day while in battle, when his right arm was hit with an enemy minié ball, below the elbow. He was sent for treatment to Fairfax Seminary near Alexandria, VA. Dr. W.P. Hicks, an assistant surgeon with the 7th West Virginia, recalled the treatment: "...the surgeon of said regiment, Dr. Isaac Scott was absent detached at said time; that in consequence of said injury it was necessary to remove about four inches of the ulnar producing partial or almost total loss of the arm."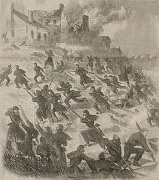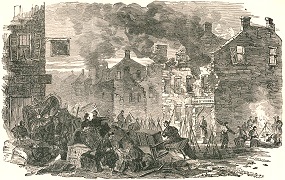 Left: the Union Army's uphill invasion of Fredericksburg. Right: soldiers camp in the devastation of ruins after the battle.


Actual surgeon's sketches of the entrance and
exit wound scars on both of Jesse's hands
Because of the timing of his wound at Hatcher's Run, Jesse never had a chance to be sworn in as lieutenant. Later, he was transferred from Fairfax Seminary to a hospital in Grafton, WV. But on Feb. 18, 1865, he was commissioned captain of Company B.
On May 19, 1865, despite the fact that the war was over, he enlisted again in the army at Munson's Hill, WV, as captain of the 7th West Virginia Veteran Infantry. He was discharged from that obligation a month and a half later, on July 1, 1865.
Jesse began receiving a federal pension for his disabilities just three months after the war's end in July 1865. Friends Richard Bingham and Samuel Kraus, members of the 7th West Virginia, provided supporting testimony on his behalf.
Five years after the end of the war, our Nancy married Jesse, in Greene County.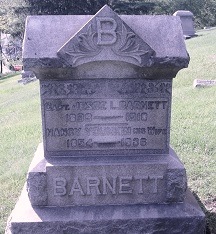 The Barnetts' grave, Cameron
The Barnetts had eight children -- John Barnett, Jane "Jessie" McCullough, Margaret Hughes, Daisy Bowers, Maude Carney, Ella Bushager, Orpha Mahan and Charles L. Barnett.
In May 1884, the family doctor was called when Jesse's hand and arm became completely paralyzed to the point where friend Maggie H. Fletcher had to care for him constantly. She wrote that he was not able to "feed or dress himself and for the last two years he has required assistance all the time in dressing and cutting of his meat ... owing to the loss of use of his right arme." Another friend, R.J. Booker, noted that Jesse was "not able to get on a Horse or in a wagon without assistance..." A government physician giving him a checkup wrote, "The right arm is almost completely paralyzed, there is slight motion in forearm and fingers. The right leg is also partially paralyzed."
Circa 1886, the Barnetts migrated to Cameron, Marshall County, WV, where their home was on Maple Avenue. Circa 1984, almost a century later, their house was "reported to be one of the oldest in Cameron and still standing," wrote a granddaughter.
A newspaper once said that Nancy was "one of Cameron's most prominent and highly esteemed women." The federal census of 1900 shows them in Cameron, with Jesse's occupation given as farmer.
Jesse's mind began to fail in his later years. He was admitted to the West Virginia Hospital for the Insane in Weston on April 25, 1910. He was treated there for nearly two months by Dr. C. Denham until death on June 22, 1910, at the age of 71. His remains were brought back to Cameron for burial in the municipal cemetery. Among the mourners who saw the body and attended the funeral were brother in law John Finnegan, neighbors A.W. Talbert and W.M. Newell as well as F.W. Baldwin, who had known both Nancy and Jesse since childhood. No obituary has been found in a search of the Moundsville Daily Echo.
Nancy began to receive his military pension payments. To support her claim as his lawful widow, she had to provide proof of their marriage, and sent their old marriage certificate, signed by Squire Hinerman, to the U.S. Pension Office in Washington, DC.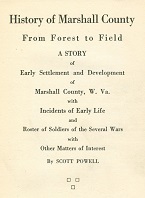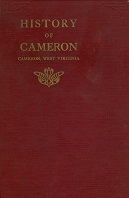 History of Marshall County (left) and History of Cameron
In 1925, Jesse was named a list of 6th West Virginia Infantry veterans in the book History of Marshall County From Forest to Field, authored by Scott Powell of Moundsville. Three years later, in 1928, Nancy was named in History of Cameron, West Virginia, published by the Educational Committee of the Women's Club, in a reference about her living along the boundaries of the city. From her home, the boundary proceeded "crossing Ramp Hollow six hundred feet to a stake in Henry Wendt's field..."
YFNB, 1937
Afflicted with senility and dementia in her final years, Nancy was unable to manage her affairs. Her daughter Jessie McCullough was appointed as her guardian in 1932 by the Marshall County Court. Jessie had to provide significant paperwork to the Pension Office in order to cash checks made out to her mother. When the Pension Office was slow in responding, she sent a letter, saying "Is an awful worry."
Nancy died in Cameron at the age of 85 on Dec. 30, 1936. Following a funeral in their home, she was laid to rest in the Cameron Cemetery. Her obituary was reprinted the following year in the inaugural issue of the Younkin Family News Bulletin.
Nearly five decades after Nancy's death, this family was featured in a chapter in the book History of Marshall County, West Virginia, 1984, published by the Marshall County Historical Society. The chapter, appearing on page 101, was authored by their granddaughter Mary L. (Carney) Null. In concluding that chapter, Mary wrote: "To my knowledge, there are no descendants of Jesse L. Barnett and his wife, Nancy, living in Marshall County at this time."
~ Son John Barnett Sr. ~
Son John Barnett (1872-1955) was born on March 20, 1872 in Greene County.
He married Cora M. Young (1874- ? ) in the day after Christmas 1896, when he was age 24 and she 22. The ceremony took place in Noble County, Ohio, led by J.M. Shafer.
They had three known children -- Clara F. Barnett, Charles S. Barnett and John J. Barnett. Circa 1910, their home was on Waynesburg Avenue in Cameron, Marshall County, WV. There, John earned a living as a traveling salesman for a dry goods firm.
John was employed circa 1930 as a "commercial traveler" (traveling salesman) for the Sun-Kist Flower Company.
Sometime after 1991, they moved to the village of Summerfield, Marion Township, Noble County, OH in 1930-1936. The federal census of 1930 shows that Cora's 67-year-old sister Sarah L. Young lived under their roof.
He died in Summerfield on March 17, 1955, at the age of 82.
Daughter Clara F. "Claire" Barnett (1906- ? ) was born on May 16, 1906 in Cameron. She was a teacher prior to marriage. At the age of 19, on June 20, 1925, she wed 19-year-old clerk Harold Knowlton (1906- ? ), son of Harvey and Bertha (Morrison) Knowlton of Marion County. Rev. John D. Keller officiated.
Son Charles S. Barnett (1908- ? ) was born in about 1908 in Cameron. He relocated to Noble County, OH with his parents and family. He married Molly Barnes (1912- ? ), a fellow resident of Summerfield. They returned to Moundsville, WV to secure their marriage license and to be wed. They were united in marriage on April 12, 1933, when he was age 25 and she 21, by the hand of Rev. Joseph C. Hoffman of the First Methodist Episcopal Church of Moundsville.
Son John J. Barnett (1911- ? ) was born in about 1911 in Cameron. Nothing more is known.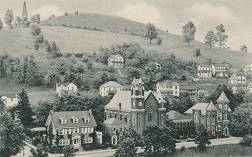 Steep hillside town of Cameron, WV
~ Daughter Margaret (Barnett) Hughes ~
Daughter Margaret "Maggie" Barnett (1874-1960) was born on March 26, 1874 at Rock Lick, Marshall County. She grew up attending the Presbyterian church and early in life began singing in its choir.
At the age of 24, on July 13, 1898, the 24-year-old Maggie wed 35-year-old George Valentine Hughes (1863- ? ). The son of James and Hattie Hughes, George was a native of Greene County, PA. The ceremony was held at the home of Rev. S.T. Montgomery, who performed the nuptials.
They resided in Cameron where George labored as a carpenter. They produced one son, Vernon Hughes Sr.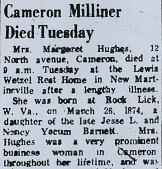 Moundsville Daily Echo
Tragedy rocked the young family 28 months into the marriage. In the fall of 1900, George suffered an abscess, and on Nov. 26, 1900, at Moundsville, he died at the age of 38.
Maggie survived her husband by more than six decades and went on to become "a very prominent business woman in Cameron throughout her lifetime," said the Moundsville Daily Echo. She "was a partner in the old Hughes and Carney Department store for many years. Since that time she has owned and operated the Margaret Hughes Hat Shoppe in Cameron until her final retirement in 1958. She was a highly skilled milliner and was perhaps the last member of her trade in Marshall county."
She also was busy in the community, as a member of the Cameron unit of the American Legion Auxiliary and as its honorary chaplain.
During World War II, Maggie's heart broke again when one of her two grandsons -- Vernon Hughes Jr. -- was killed in military service. The details are being researched. As such, she was considered a "Gold Star grandmother."
In 1959, she lost her only son Vernon Sr.
Maggie died on July 19, 1960 at the age of 86. The Daily Echo noted that she was survived by her grandson Richard Hughes and two great-grandchildren of Apollo, PA, in addition to four sisters. Interment was in Highland Cemetery. In her lengthy news obituary, the maiden name of Maggie's mother was misspelled as "Yocum."
Son Vernon Hughes died in 1958 or 1959.
~ Daughter Jessie (Barnett) McCollough ~
Daughter Jane "Jessie" Barnett (1876-1949) was born on Dec. 6, 1876 at Rock Lick, near Cameron, Marshall County.
She married Charles H. McCollough (1874-1958) in about 1906 and lived at 104 Maple Street in Cameron.
They had no known children.
Rebuilding Littleton, WV circa 1906
In 1910, when the federal census was enumerated, after four years of marriage, the McColloughs made their home in Littleton, Wetzel County, WV, where they operated a hotel. That year, they employed Lizzie Fox as a servant, and among their long-term residents were three English born stone cutters working at a local quarry. Littleton was a stop along the main branch of the Baltimore and Ohio Railroad, and at the time was enjoying a local oil boom with related need for pipeline construction. Only four years earlier the town had been swept by fire, but had since rebuilt.
By 1930, lured by the promise of the lucrative and flowing oil and gas fields of the region, Charles was a drilling contractor. The 1930 census shows him and Jessie living in Cameron, on Maple Avenue, with his widowed older sister Mollie Bral in the household.
Stricken with cancer of the ovaries for two years, she succumbed in Cameron on Sept. 19, 1949. Burial was in Highland Cemetery.
Charles survived her by nine years. He died in 1958.
~ Daughter Ella (Barnett) Bushager ~
Daughter Ella Barnett (1880-1968) was born on April 2, 1880 in or near Cameron, Marshall County.
Ella married Joseph Bushager (or "Bushyager") (1857-1938) of Harrison City, Westmoreland County, PA. She was age 17 at the time, and he was 40, a difference in their ages of 23 years. (Other sources give his birth year as 1855 and 1863.) The ceremony was held on Feb. 25, 1897 at the Barnett's home, led by Rev. S.T. Montgomery. Joseph's parents are thought to have been German immigrants.
They had three known children -- Harold Milton Bushager, Clarence Barnett Bushager and Wanda Bushager.
When the federal census was taken in 1910, the family lived in Cameron. That year, Joseph earned a living as an oil and gas driller. By 1930, with prospects for exporting his talents to the oil fields of Texas, the family relocated to Reagan County. That year, Joseph worked as an oilfield laborer, and they resided in Texon, Precinct 5.
They lived in Sinton, San Patricio County, TX in 1936.
Sadly, suffering from decomposition of his heart, and chronic arthritis, Joseph died in Sinton on May 23, 1938. Interment was in Del Rio.
Ella survived her husband by more than 30 years. She resided in Benton, TX in 1960. Ella passed away of bronchial pneumonia in the Sinton Nursing Home in San Patricio County, TX at the age of 88 on Aug. 19, 1968. Burial was in the Masonic Cemetery in Del Rio, TX.
Son Harold Milton Bushager (1900- ? ) was born on July 29, 1898 in West Virginia. As a young man he learned the trade of oil field drilling from his father. He married Oklahoma native Margaret (?) and lived in Oklahoma before moving to Texon, Precinct 5 of Reagan County. They had one known son, Cecil L. Bushager. In 1930, Harold was employed as an oil driller in and around Texon, and he remained in the oil business until retirement. In later years he resided in Shannon, Clay County, TX, a rural area about 22 miles north of Jacksboro, TX. At the age of 75, on Dec. 18, 1973, he died of acute cardio-respiratory failure in Jack County Hospital. Burial was in the Masonic Cemetery in Del Rio, TX.
Son Clarence Barnett Bushager (1902-1986) as born on Aug. 9, 1902 (or 1900). He wed Malinda Murrah (1906-1979) in about 1928. She was the daughter of Jake R. and Fannie (Horde) Murrah of San Angelo, TX. They made their home in Precinct 5, Val Verde County, TX in 1930, where Clarence labored as a ranchman handling livestock. In the 1970s, their residence was at 506 East Losoya in Del Rio, Val Verde County. Malinda died of cancer at the age of 74 on Nov. 5, 1979 at Val Verde Memorial Hospital. She was placed into eternal rest in Del Rio in the Masonic Cemetery. Clarence survived his wife by seven years. he died at age 84 in 1986.
Daughter Wanda Bushager (1906- ? ) was born in 1906. She migrated to Texas with her parents and was unmarried and living in Reagan County at the age of 24.
Carney graves, Cameron, WV
~ Daughter Maude (Barnett) Carney ~
Daughter Maude Barnett (1882-1972) was born on Aug. 27, 1882 in Rocklick near Cameron.
She eloped to Maryland to wed Frank Carney (1875-1916), son of Hiram and Helen Carney. The marriage took place in Oakland, MD on Nov. 23, 1907, when she was age 26 and he 33.
They had two daughters, Nancy Simms and Mary Null.
When the federal census was taken in 1910, the family dwelled on Main Street in Salem, Harrison County, WV. There, Frank earned a living as a druggist and retail merchant. He was a member of the National Association of Retail Druggists. A notice in 1911 appeared in the NARD Journal which said he had been succeeded by the Carney-Richards Drug Store.
He may also have sold insurance. He also was an investor in the Kinch Coal & Gas Company in Salem with fellow incorporators Luther C. Ash, Samuel A. Ash. H.H. King and W.S. Longabaugh. The company proclaimed its purpose to drill for oil and gas, develop coal and other mineral lands, and conduct a timber business with saw mills, said The Black Diamond trade publication in November 1909.
Sadly, the family's fortunes came crashing down when Frank was killed in an automobile accident in Salem at the age of 36 on July 20, 1916. The cause of his untimely passing is not yet known. He was laid to rest in St. Martin's Cemetery in Cameron. An obituary was published in the Salem Express on July 27, 1916. No death record has been found in West Virginia.

Section of the 1928 book History of Cameron, West Virginia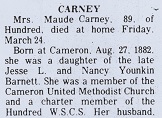 Wetzel Republican
Maude survived her husband by an extraordinary 56 years, more than half of a century. As a widow, she moved back to her hometown of Cameron. Circa 1918, she and her sister Margaret Hughes jointly purchased the stock of a dry goods and notions store from Charles H. Carpenter, located in the J.I. Spragg building on Main Street. Said the 1928 book History of Cameron, West Virginia, "The Hughes & Carney store is one of Cameron's leading stores and at present is doing a prosperous business."
Later in life, Maude is believed to have relocated to Hundred, Wetzel County. She was a member of the Cameron United Methodist Church. She also was a founding member of the Hundred chapter of the Woman's Society of Christian Service (WSCS).
She passed away at home on March 24, 1972, age 89. Burial was beside her husband in St. Martin Cemetery in Cameron, reunited with her husband, following a funeral service led by Rev. Sherman Davidson. At her death, said the Wetzel Republican, Maude was survived by seven grandchildren and 13 great-grandchildren.
Daughter Nancy Leanore Carney (1908-2002) was born on Oct. 12, 1908 in Salem, Harrison County. She was eight years old when her father was killed. At the age of 21, on June 14, 1926, at Moundsville, she was united in matrimony with 22-year-old Hubert Carlin Simms (1907-1978), the son of Melvin Porter and Anna (Carlin) Simms of Cameron. Rev. James E. Scott officiated. Hubert as a teen delivered newspapers for the Moundsville Daily Echo and in 1925 was captain of the Cameron High School football team. He also was a laborer helping to construct portions of Route 250 east of Moundsville and also the high school gymnasium in Cameron. In 1926, he began his career with Standard Oil of New Jersey, later becoming part of Exxon, working at sites in the field throughout the Mountain State. During the World War II years, he was assigned to war production plants in Charleston and Huntington. Later he became manager of industrial-consumer sales and relocated to Richmond, Henrico County, VA. He retired after 41 years with the company, in about 1967, with his last assignment for ESSO Pappas in Greece. They produced four children -- Kathryn Simms, Virginia Lee "Ginny" (Simms) Toney, Frank Simms and Nancy Simms. Frank died in August 1978 in Hampton, VA. As a widow, Nancy and their married daughter Ginny were active Younkin/Younken researchers and in the early 1980s corresponded with Carl Hoge and Joseph W. Thomas, and in the 1990s with Donna (Younkin) Logan, seeking information and proofs for ancient family connections. She published a 304-page book, The Reuter/Riter Family of Germany and Wetzel County, Virginia/West Virginia, in 1988. On Jan. 26, 2002, Nancy passed away in Richmond, at the age of 94.
History of Marshall Co.

Granddaughter Virginia Lee "Ginny" Simms (1927-2016) was born on Nov. 30, 1927 on Wheeling Island, Wheeling. As a girl, she moved with her family to Fairmont, Bluefield, Beckley, Huntington and Charleston in West Virginia. She attended West Virginia University, where she met her future husband, James William Warren "Bill" Toney (1924-1994), son of William Carl and Lura (Leffel) Toney. They produced six children -- James C. Toney and Jane E. Toney (who both died in infancy), Charles P. Toney, John S. Toney, Nancy Tanchak and Sandra Zauner. Bill was born in Holden, Logan County, WV but grew up in Huntington, WV. During World War II, he served in the U.S. Air Force and was stationed in the Pacific Theatre. After graduation from West Virginia University, Bill obtained employment with Ashland Chemical Company. The family relocated to Parkersburg, WV, chicago, Richmond, VA, High Point and Charlotte, NC and Ridgewood, NJ. While in Ridgewood, Ginny worked in the real estate field. They were transferred again in 1981 to a new position in Lubbock, TX, and Ginny gave up the realtor work. Said a newspaper, "Ginny served on the Ad Hoc committee to start the Clayton Library Friends which then led to serving as President and other jobs with the CLF. She was a member of Lady Washington DAR, Col John Alston Chapter of the Colonial Dames of the 17th Century, James Asbury Tait Chapter of Daughters of the War of 1812 and many historical groups." She shared her genealogical knowledge with cousins, among them Carl Hoge, Donna (Younkin) Logan and the founder of this website. At the age of 70, Bill was an independent marketing specialist with Ashland's Basic Resin Group. He also was a member of the Society of Plastic Engineers, Sons of the American Revolution, Disabled American Veterans, American Legion, West Virginia University Alumni Association, Clayton Library Friends and Houston Genealogical Forum. Bill passed away on Oct. 27, 1994 in Lubbock. Burial was in the Houston National Cemetery. At his death, Bill's obituary was published in the

Younkin Family News Bulletin

(Vol. 6, #1, Jan.-March 1995). Ginny died in Houston in August 2016. At the time of her passing, son Chuck lived in Paris, TX; son John in Stephenville, VA; daughter Sandra in Lubbock; and daughter Nancy in Ewing, NJ.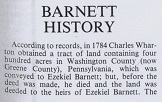 Mary Null's writings
Daughter Mary Louise Carney (1911- ? ) was born in about 1911 in Salem, Harrison County. She was age five when her father was swept away by the Grim Reaper. She wed D.A. Null ( ? - ? ). The couple resided in Hundred in the early 1970s. She authored a chapter entitled "Barnett History" in the book History of Marshall County, West Virginia, 1984.
~ Daughter Orpha (Barnett) Mahan ~
Daughter Orpha Barnett (1885-1971) was born on March 17, 1885 in Marshall County.
She wed Charles Ross Mahan Sr. (1878-1970) in about 1905, when she was age 20 and he 27. They had five known children -- Freda L. Murphy, Elva L. Mahan, Helen E. Mahan, Margery E. Mahan and Charles R. Mahan Jr.
In 1908, the Mahans made their home in Oklahoma, where their eldest daughter was born.
By 1910, they relocated to Hannibal, Marion County, MO where the rest of their offspring were born. They resided in Hannibal for the remainder of their lives. There, in 1910, Charles secured work as a bookkeeper for a newspaper. During the decade of the 1910s, he became a bookkeeper for a milling company.

Bird's-eye view of Hannibal, early 1900s, situated along the Mississippi River marking the eastern border of Missouri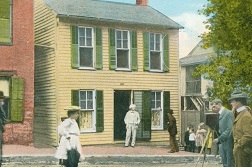 Mark Twain at his boyhood home in Hannibal
When the federal census was taken in 1930, Charles at age 52 had changed occupations and was employed by the United States Census Bureau as a distribution enumerator.
Heartache enveloped the family in the spring of 1948. Son Charles, age 19, served in the U.S. Armed Forces and is believed to have lost his life in some sort of military action on April 19, 1948. His remains were returned to Hannibal for burial.
Charles died in 1970 at the age of 92. he was buried in Grand View Burial Park in Hannibal, Ralls County, MO.
Orpha followed him to the grave a year later. She passed in 1971 and rests with her husband. [Find-a-Grave]
Daughter Freda L. Mahan (1908- ? ) was born in 1908 in Oklahoma. She married Charles W. Murphy (1904- ? ). Circa 1930, Charles was a manager with the Atlantic & Pacific (A. & P.) Tea Company, while Freda was a clerk with a local rubber plant.
Daughter Elva Louise Mahan (1910- ? ) was born in about 1910 in Hannibal.
Daughter Helen E. Mahan (1914- ? ) was born in 1914 in Hannibal. She never married. Helen is thought to have died on Jan. 21, 1991 in Cape Girardeau, Cape Girardeau County, MO.
Daughter Margery E. Mahan (1922- ? ) was born in 1922 in Hannibal.
Son Charles R. Mahan Jr. (1925- ? ) was born in about 1925 in Hannibal.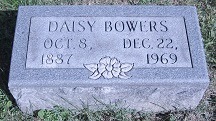 St. Martin Cemetery, Cameron, WV
~ Daughter Daisy (Barnett) Bowers ~
Daughter Daisy Barnett (1887-1969) was born on Oct. 8, 1887 in Marshall County.
On Nov. 27, 1907, at the age of 20, Daisy married 20-year-old Roy Bowers (1887- ? ). He was a native of Marshall County and resided in Cameron at the time. Rev. J.I. Gregory officiated.
When the federal census was made in 1920, 32-year-old Daisy and her nine-year-old son Jesse lived with Daisy's widowed mother on Howard Street in Cameron. Roy's whereabouts at that time are not known. The couple divorced during the decade of the 1920s.
Now a single parent, Daisy supported herself through employment as a servant for private families. In 1930, she worked in the Jacob Street household of steel mill packer Adam Rader in Wheeling, Ohio County.
She died in Cameron, at the age of 82, just three days before Christmas 1969. She rests in Cameron Cemetery. [Find-a-Grave]
Son Jesse Bowers (1911- ? ) was born in about 1911. Nothing more about him is known.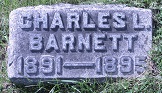 St. Martin Cemetery, Cameron, WV
~ Son Charles L. Barnett ~
Son Charles L. Barnett (1891-1895) was born in 1891 in Cameron.
He died at the age of four in 1895.
His remains were placed into eternal repose in the Barnett family plot in St. Martin Cemetery in Cameron.
No record of his passing or cause of death have been found.
Copyright © 2013-2016 Mark A. Miner
Research for this page graciously shared by Carl Hoge, Virginia (Simms) Toney and the late Donna (Younkin) Logan.