Home

Mary (Younken) Dorsey
(1847-1900)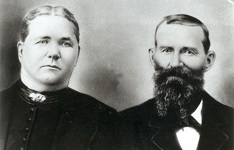 Mary and Cornelius "Neil" Dorsey
Mary (Younken) Dorsey was born on April 20, 1847 in Upper Turkeyfoot Township, Somerset County, the daughter of Charles L. and Nancy (Henry) Younken.
As a young girl she traveled with her parents and siblings when migrating to their new home in rural Greene County PA, near the villages of Graysville and Wind Ridge (Jacktown).
On March 29, 1866, at the age of 19, Mary married 25-year-old Civil War Cornelius "Neil" Dorsey (1841-1917), a native of Merrittsville, Frederick County, MD and the son of Irish immigrants Elisha and Ruth (Higgins) Dorsey. The ceremony took place at the home of Mary's parents in Greene County by the hand of justice of the peace Francis Drake. The date and place of the nuptials were recorded in writing in the family Bible.
Cornelius stood five feet, eight inches tall, had a light complexion, blue eyes and light hair. During the war, on the second day of battle at faraway Gettysburg, the 22-year-old Cornelius went to Beeler Station/Glen Easton, Marshall County to enlist in the Union Army. He was placed into the 4th West Virginia Cavalry, Company L, and was sent for further processing to Clarksburg, WV.
Very little is known about Cornelius' or his regiment's wartime service. Their primary duty seems to have been guarding Baltimore & Ohio Railroad lines in towns such as Clarksburg, Grafton, Parkersburg and New Creek in West Virginia. In January 1864, while escorting a supply train from New Creek, WV to Petersburg, VA, his regiment was engaged in action at Moorefield, WV. They may also have seen skirmishing at Salt Lick Bridge, WV.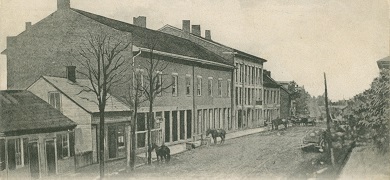 Clarksburg, WV during the Civil War
Cornelius eventually rose to the rank of corporal. At some point he contracted a case of diphtheria which caused a permanent discomfort in his throat and lungs. He received his honorable discharge at Wheeling, WV on March 10, 1864, and returned home.
The Dorseys were farmers and initially resided in Ryerson Station, Greene County, where they owned or occupied a 75-acre farm. The location of this farm along with Cornelius' name are shown in the map of Richhill Township in the 1876 Atlas of Greene County. They only lived about a mile or two from the West Virginia state line. While their primary home was in Pennsylvania, they would have received their postal mail across the state line in nearby Cameron, Marshall County, WV.
The Dorseys had 11 children -- Nancy Belle Dorsey, Susan Anna Dorsey, Caroline Virginia Woodruff, Margaret Eve Conner, John Gillian Dorsey, Lydia May Ealy, Perry Dorsey, Leota Moss, Mary Etta Lattimore, Elizabeth "Bessie" Hedge and Samuel Leslie Dorsey. The children were born over a 19-year timespan between 1867 and 1886.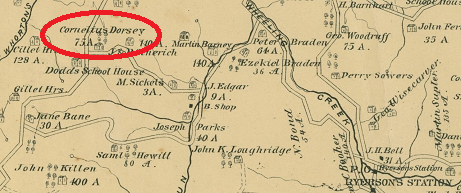 Atlas of Greene County, 1876, showing the Dorsey farm to the northwest of Ryerson Station, in between the Dunkard Fork of Wheeling Creek and Whorton's Run
Moundsville Echo, Feb. 16, 1917
Sadly, several of the Dorsey offspring died young, including the eldest two. Nancy Belle passed at age seven months in 1867; daughter Susanna at age two in 1871; and John Gillian at age seven in 1881. The first two children were placed into eternal rest at Crabapple near Ryerson Station, while the latter was buried in Lower Cemetery in Cameron, Marshall County.
In the fall of 1872, when her daughter Maggie was an infant, Mary learned the awful news of the shooting death of her father, by the hand of her brother Thaddeus. A jury found Thaddeus innocent of blame, saying the act was justified as self defense, as the father regularly was drunk and abusive and had threatened to kill members of the family.
Circa 1886, Mary's aged, widowed mother came to live in the Dorsey home, and remained for three years, seven months and 15 days. During that time, Mary provided room, board and care. Then, on Aug. 15, 1889, Mary's brother Jefferson took custody of their mother and brought her to his residence, where she stayed until death about four months later. Mary believed that she was entitled to a share of debts owed by Jefferson to their mother's estate, in IOU notes totaling $800. Although a resident of Marshall County at the time, she thus filed a claim in Greene County Orphans Court in February 1890, requesting that the court issue "letters of administration" to the estate so that the finances could be ironed out.
Over the years, the Dorseys dwelled in Cameron, WV; Burdette, PA; Plants, PA and Valley Grove, WV. In about 1895, they moved back into Pennsylvania for good.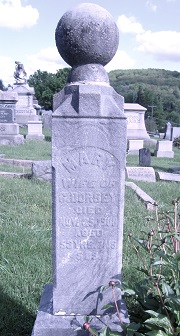 Mary's grave, Cameron
Mary preceded her husband in death. She passed away on Nov. 25, 1900, at the age of 53. Her remains were interred in St. Martin's Cemetery in Cameron.
As he aged, Cornelius began to suffer from hemorrhoids, chronic cystitis and an enlarged prostate. he learned that he was eligible for pension benefits from the U.S. Pension Bureau as compensation for his wartime service. On Oct. 1, 1889, he application was approved and he began receiving monthly payments. [Invalid Application #731.747 - Cert. #838.594]
In the opening decade of the 1900s, the widowed Cornelius dwelled with his married daughter and son in law, Bessie and Lee Hedge, on White Oak Alley in Claysville, Donegal Township, Washington County. Circa May 1912, he was in nearby West Alexander, PA. A physician who had treated Cornelius for 25 years wrote in June 1914 that because of the soldier's enlarged prostate, "he has to have his urine taken with a catheter each time he voids it, and has had to for fifteen years."
Stricken with cancer of the lip, Neil spent his final 16 months in the home of his married daughter Mary Etta Lattimore in Claysville. He died there on Feb. 11, 1917, four days after his 76th birthday. Daughter Bessie Hedge signed the Pennsylvania death certificate.
In a one-paragraph obituary, the Moundsville (WV) Echo said that he "was a former resident of this county and had many friends and acquaintances." His remains were transported by rail to Cameron for funeral services, which were held in the Christian Church, officiated by Rev. W.E. Pierce, followed by burial in the Cameron Cemetery.
As often happens in families, the Dorsey children apparently had a spat over who was going to pay an overdue $50 debt for undertaking services. Someone wrote an anonymous letter to the Commissioner of Pensions in Washington, DC, saying: "I understand Leslie Dorsey is a going to try and get his Father's pension.... He did not take care of him as he Cornelious Dorsey was with his daughter over 16 sixteen months before his death, Mrs. John Lattimore.... She paid all of his bills and has the receipts in her name and there is a bill of the undertaker Mr. H.H. Brownlee of Claysville.... If you wish write to Dr. E.J. Johnson of Claysville Pa. and he will tell you who took care of Cornelious Dorsey as he was his Dr." Son Leslie indeed made a claim to the government for reimbursement of $168.01 in physician and funeral charges, but these were rejected on the grounds that there were still sufficient funds in Cornelius' estate to cover these costs.
~ Daughter Caroline Virginia "Jenny" (Dorsey) Woodruff ~
Daughter Caroline Virginia "Jenny" Dorsey (1870-1936) was born on March 5, 1870 in Ryerson Station. Her birthplace also has been given as Marshall County, WV.
At a young age she joined the Church of Christ at Green Valley, Marshall County.

Moundsville Journal, 1934
When she was 21 years of age, on March 14, 1891, she wed 27-year-old William Alexander Woodruff (1864-1934), son of George and Elizabeth (Nuss) Woodruff.
They went on to produce eight children -- John Leslie Woodruff, Ella May Wise, Dorsey Woodruff, Charles Milton Woodruff, Edward Woodruff, Pearl Bernice Hicks, Rex Woodruff and Geraldine Frances Woodruff.
The Woodruffs were longtime farmers and lived in Clouston, a small town along Route 250 north of Cameron. This location sometimes was referred to as "Rock Lick." They were members of the Clouston Methodist-Episcopal Church.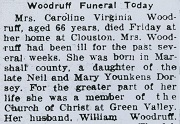 Moundsville Journal, 1936
When the federal census count was taken in 1930, the Woodruffs lived in Cameron, just a few doors away from their son and daughter in law, Edward and Gladys (Coffield) Woodruff.
William was stricken with a stroke of paralysis in about 1931, and he remained somewhat paralyzed for the remaining three years of his life. Thus incapacitated, he was forced to retire from his occupation of farming.
At the age of 66, William fell on June 4, 1934 and fractured his left hip. Pneumonia quickly ensued, added to his ongoing hypertension. He died just three days later on June 7, 1934. He was interred in Highland Cemetery, following funeral services held at the Clouston M.E. Church, officiated by Rev. C.E. Woodward. An obituary in the Moundsville Journal reported that "The deceased had been in failing health for the past three years ... Last week his condition became serious."
Caroline survived her husband by two years. On March 21, 1936, at the age of 66, Caroline died at home in Clouston. The examining physician gave the cause of death as chronic heart disease and hypertension. An obituary in the Moundsville Journal reported that she "had been ill for the past several weeks." Following a funeral at the Clouston church, led by Rev. C.E. Woodward and Rev. W.W. Beckley, her remains were laid to rest in Cameron's Highland Cemetery.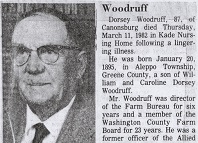 Waynesburg newspaper, 1982
Son John Woodruff lived in Claysville, Washington County, PA in 1934 and was mentioned in his father's newspaper obituary.
Son Dorsey Woodruff (1895-1982) was born on Jan. 20, 1895 in Aleppo Township, Greene County. He grew up over the state line in Cameron, Marshall County, WV, and his first name often was mis-used as "Dorothy." His first wife was Orenza May Bane (1902-1919) of Cameron. They were joined in holy matrimony on Aug. 5, 1918, when he was age 23 and she 16. They made their residence in Rock Lick, Marshall County. Tragedy struck this family twice, first on March 15, 1919, when Orenza died in Rock Lick of influenza. Just three years later, on July 4, 1922, their three-year-old daughter Orenza Maxine Woodruff succumbed from a tetanus infection. Dorsey did not remain a widower for long, and married again at age 28, to 18-year-old Wilma Bane (1905-2006). Their nuptials were held in or about December 1923. The Woodruffs lived in Pennsylvania in Taylorstown and then Eighty Four and Peters Township before settling for good in Canonsburg, Washington County. The couple produced four children -- Willadean Johnston, Frank R. Woodruff, Ada May Stimmel and Eileen Dobbin. During World War I, Dorsey served with the U.S. armed forces.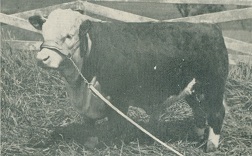 One of Dorsey's bulls, "Proud Mixer 28 WHR."
Then during his working career, they established Woodruff Farms along Route 19 in North Strabane Township. There, they raised beef cattle and trotters and cultivated hay and straw which they sold to other farmers and manufacturers. Their farm later became Woodruff Memorial Park Cemetery with the address of 2095 Washington Road, Canonsburg. The memorial park is operated by Beinhauer Family Funeral Homes & Cremation Services and includes traditional burial plots in addition to a community mausoleum and a "peaceful pastures" section for pets.
Said a local newspaper, Dorsey "was director of the Farm Bureau for six years and a member of the Washington County Farm Board for 23 years. He was a former officer of the Allied Pennsylvania Livestock Farm Show and an officer of the Greene County Pure Bred Breeders Association. He had served for a number of years on the board of directors of the Washington County Agricultural Fair..." Dorsey also belonged to the Pennsylvania Hereford Breeders Association, the Pennsylvania State Horse Racing Commission and the Pennsylvania Farmers Association. In 1951, he and Wilma were elected as Pennsylvania Master Farmers. She was active with the North Strabane Grange for seven decades and the Chartiers Hill Presbyterian Church. Dorsey passed away in Kade Nursing Home in Canonsburg on March 11, 1982, at the age of 87. He was survived by 11 grandchildren and three great-grandchildren. Burial was in Forest Lawn Gardens. Wilma survived her husband by several decades, and in 2005 celebrated her 100th birthday. A related story in the Washington Observer Reporter was headlined, "For Canton Woman, It's Time to Relax." She passed away the following year in Houston, Washington County on July 23, 2006.
Advertising postcard for Dorsey's farm along Route 19.

Granddaughter Willadean Woodruff (1924-1969) was born on Sept. 24, 1924. She married (?) Johnston. Sadly, she passed away in September 1969 at the age of 45.
Grandson Frank R. Woodruff (1927-2016) was born on Valentine's Day 1927 in Donegal Township, Washington County. On June 10, 1950, he was united in holy wedlock with Beulah H. ( ? -living), and they were together for an extraordinary 66 years. Their children were Gary D. Woodruff, Janet W. Ross and Donna W. Klink. They family lived in Canonsburg and were members of Chartiers Hill Presbyterian Church -- where Frank was an elder and trustee -- and later Faith United Presbyterian Church. Said the Washington Observer-Reporter: Frank "was a prominent figure in the agricultural business. He was engaged in farming on Woodruff Farms, Route 19, North Strabane Township, for 62 years cooperatively with his father, Dorsey Woodruff, until Dorsey's death, then with his son, Gary Woodruff, until the farm was sold in 1997. The farm was a dairy farm originally, then a beef operation plus a vendor business as dealers in hay and straw, servicing various farms in Ohio, Maryland and Pennsylvania and Meadows Racetrack. Mr. Woodruff received many certificates and plaques relating to the many organizations he was active in for promoting the advancement of agriculture. He was a member of Pennsylvania Farmer Bureau, Farmer and Legislative committee, Washington County Farm Bureau, Washington County Agricultural Fair Board, Agricultural Stabilization and Conservation Committee, seventh-degree member of Pennsylvania State Grange, Pomona Grange, 75-year member of North Strabane Grange and North Strabane and Eighty Four Area Chambers of Commerce. He was a cubmaster, 4-H leader, friend of 4-H and church youth group leader. He provided farm tours for church, the community and various groups. He served as a member or officer in all of these organizations. In 2012, he was recognized as Outstanding Fair Ambassador by Pennsylvania Department of Agriculture." Burdened with heart disease and diabetes, Frank died at home at the age of 89 on Nov. 25, 2016. Burial was in Woodruff Memorial Park in Canonsburg, with an obituary printed in the Observer-Reporter.
Granddaughter Eilleen Woodruff (1931-2002) was born on Nov. 16, 1931. She married Francis J. Dobbin ( ? - ? ). The couple had two daughters, Kathleen Heeschen and Lorraine Randolph. The Dobbins dwelled in Canonsburg, where Eilleen was a licensed real estate broker and active in local and state realtors' boards. Upon retirement, the couple relocated to Port Richey, FL. There, said the Pittsburgh Post-Gazette, Eilleen was president of the local chapter of the Steelworkers Organization of Active Retirees District Chairwoman for the Pasco County Democratic Party, the Democratic Womens's Club and the Democratic Executive Committee. Stricken with breast cancer, she died in Port Richey on Nov. 18, 2002, at the age of 71. Her remains were returned to Canonsburg for burial in Woodruff Memorial Park, with Rev. Clarejean Haury preaching the funeral service.
Son Charles Milton Woodruff (1897-1947) was born in 1897 in either Greene County or Marshall County. At age 22, he married 21-year-old Opal Virginia Hicks (1899-1969), daughter of Charles and Nettie (Buzzard) Hicks of Cameron. Their nuptials took place in Moundsville on June 28, 1919, led by Rev. Melson S. Hill of the Rosby's Rock Circuit. They had one son, Charles W. Woodruff. Charles worked as a bailing machine operator for the Manufacturing Light & Heat Company. He also was afflicted with asthma. Sadly, Charles contracted bronchial pneumonia and the flu in the late winter of 1947, and died from their effects at age 50 on March 18, 1947. Burial was in Highland Cemetery. Widowed at age 49, Opal outlived him by more than two decades, and was a member of the First Methodist Church of Cameron. In her final years, she moved to Richmond, VA to live with her son. She died in Richmond's Johnston Willis Hospital at age 70 on Sept. 17, 1969.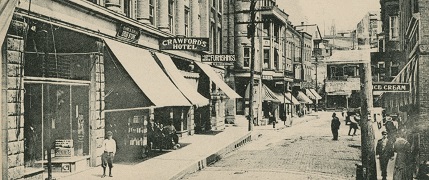 Cameron, WV -- looking eastward along Main Street
Son Rex Woodruff (1903-1980) was born on June 24, 1903 in Marshall County. He was a longtime farmer. Rex married Hazel Fay Buzzard (1906-1978), daughter of Clydie and Georgie (Fox) Buzzard of Marshall County. The date of the wedding was Sept. 3, 1924, at Moundsville, by Rev. James E. Scott. They lived in Cameron and were Protestants. Hazel was a longtime cook with the Marshall County Schools and was a member of the Clouston Methodist Church. Their four children were Dorothy Ward, Eldora Wendt, Norman Williams, Connie Brown and William "Bud" Woodruff. Hazel died in Ohio Valley General Hospital in Wheeling, at the age of 71, on June 29, 1978. Rex survived her by two years. He passed into eternity at the Reynolds Memorial Hospital in Glen Dale, WV on Oct. 4, 1980, at age 77. Surviving him were 11 grandchildren and two great-grandchildren.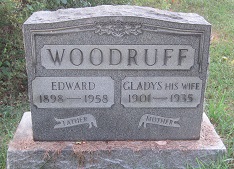 Highland Cemetery, Cameron
Son Edward Woodruff (1898-1958) was born in 1899 in Marshall County, and he grew to adulthood in Cameron. On Aug. 30, 1924, when Edward was age 25, he was united in matrimony with 23-year-old Gladys Coffield (1901-1935). She was the daughter of John D. and Jennie (Bonar) Coffield of Marshall County. Their nuptials ceremony was held in Cameron and officiated by Rev. W.E. Pierce. The Woodruffs spent their married lives in Cameron. Their only known son was David L. Woodruff. In 1930, the federal census shows the family residing just a few doors away from Edward's parents, with Edward working in building rigs for the oilfield industry. Sadly, in the spring of 1935, Gladys was diagnosed with fibroids of the uterus and intestinal obstruction. She underwent a hysterectomy in Ohio Valley General Hospital in Wheeling, but it was too late. She died two days after surgery on May 1, 1935, at the age of 33. An autopsy confirmed the cause of death. Edward outlived his ill-fated wife by 23 years. He died in 1958, at the age of 60. They rest together in Cameron's Highland Cemetery, with the words "Father" and "Mother" inscribed under their names. Their grave marker was photographed by the founder of this website in September 2015.
Grandson David L. Woodruff (1926- ? ) was born in about 1926 in or near Cameron. He was age nine when his mother died.
Daughter Ella Woodruff (1893- ? ) was born in about 1893. She grew up in Cameron. On April 10, 1915, she wed Fred G. Wise (1894- ? ) of Greene County. She was age 22, and he 21, at the time. Circa 1936, their home was in Cameron.
Daughter Pearl Bernice Woodruff (1900- ? ) was born in about 1900 in Cameron. When she was age 19, she wed 19-year-old Harry Hicks (1900- ? ). The ceremony was held five days before Christmas 1919 at Moundsville. They lived in Clouston/Cameron in 1934-1982.
Daughter Geraldine Frances Woodruff (1912- ? ) was born on May 23, 1912 in Cameron. She married Kermit Donovan Wood (1910- ? ), of Greene County. Rev. John E. Hanifan, of the Methodist Episcopal Church in Moundsville, led the nuptials on Dec. 12, 1936. She made her home in 1982 in Elm Grove, WV. They are believed to have had a son or grandson, Charles Donovan Wood, who provided family history information and photographs to Younkin Family News Bulletin publisher Donna (Younkin) Logan in 1990.
~ Daughter Margaret Eve "Maggie" (Dorsey) Conner ~
Daughter Margaret Eve "Maggie" Dorsey (1872-1957) was born on Feb. 26, 1872 in Ryerson Station or in Cameron. She grew up in and around Cameron.
At the age of 26, on April 27, 1898, at McMechen, Marshall County, Margaret wed 29-year-old Isaac Newton "Nuet" Conner (1869-1961), also of Marshall County. Rev. Spencer King officiated.
They had four children, of whom three are known -- Jessie L. Conner, Merle W. Conner and Darl Conner. One died young during the decade of the 1900s.
They first lived in Union, Marshall County where Isaac was a railroad brakeman. They migrated to Ohio between 1902 and 1907. When the federal census was taken in 1910, the Conners lived on Euclid Avenue in Barnesville, Belmont County, OH. There, he made a living as a laborer in a foundry.
They later resided in Bethesda, OH.
Margaret passed away at age 85 on June 9, 1957.
Isaac survived her by four years. He died in March 1961 at the age of 91.
~ Daughter Lydia May (Dorsey) Ealy ~
Daughter Lydia May Dorsey (1876-1921) was born on Jan. 31, 1876.
In about 1899, when she was age 23 and not married, Lydia gave birth to a son, whom she named Carl G. Dorsey. The child's father was William Stickler, of Wind Ridge (Jacktown), Greene County.
She later married George I. Ealy (1875-1918). They made their home in East Finley, Washington County, PA.
It's not known whether they reproduced.
George died at the untimely age of 43 in 1918.
Lydia followed him to the grave just three years later, in 1921, at age 44. She rests in Fairmont Methodist Church Cemetery in or near East Finley.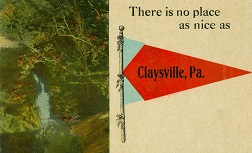 Son Carl G. Dorsey (1899- ? ) was born in 1899. He was a laborer and as a young man made his home in East Finley Township. Carl married Irene Sprowls (1899-1973), daughter of Robert and Margaret "Maggie" (Wright) Sprowls. The ceremony took place on Feb. 17, 1921, when he was age 22 and she 21, and not long after the death of his mother. The couple produced 11 children -- Lucille Bedilion, Hazel Lindley, Maxine Sprowls, Gaylord Dorsey, Leo Dorsey, Vance Dorsey, Paul Dorsey, Ralph E. Dorsey, Floyd Wayne Dorsey, Blaine Dorsey and Earl Dorsey who died young. They resided in East Finley Township, Washington County. The family belonged to the Fairmount United Methodist Church, where Irene was a Sunday School teacher for many years. At the age of 74, Irene died at home on Aug. 24, 1973. Her passing ended a marriage that had lasted for 52 years. At death, said the Observer-Reporter, she was survived by 37 grandchildren and 19 great-grandchildren.
Granddaughter Lucille Dorsey married Donald Bedilion and resided in Nineveh, Greene County.
Granddaughter Hazel Dorsey wed Dallas Lindley and made their home in West Finley Township. Later, she wed (?) Hillberry. In 2015, her home was in Claysville.
Granddaughter Maxine Dorsey was united in marriage with Blaine Sprowls. They lived in West Finley. She married a second time to (?) and made their home in Washington.
Grandson Gaylord Dorsey lived in West Finley.
Grandson Leo Dorsey resided in West Finley.
Grandson Vance Dorsey made his home in West Finley.
Grandson Paul Dorsey lived in West Finley.
Grandson Ralph Dorsey resided in Graysville, Greene County.
Grandson Floyd Dorsey made his residence in Prosperity, Washington County.
Grandson Blaine R. Dorsey (1930-2015) was born on Aug. 18, 1930 in Washington County. As a young man, he attended Valley Chapel Church, and served during the Korean War as an Army medic. He married Dolly E. Tobias ( ? - ? ) and had four children -- Blaine Dorsey Jr., Randall Lee Dorsey, Jeffrey Dorsey and Kandi Redd. They also raised a foster son, David Lichvar. The family relocated to Punxsutawney, PA. Blaine served as commander and quartermaster of the Veterans of Foreign Wars post and American Legion post in Punxy. He died at home at the age of 84 on July 2, 2015. An obituary was published in his old hometown newspaper, the Washington Observer-Reporter. Interment took place in the Lakelawn Memorial Park, with the American Legion and VFW posts participating.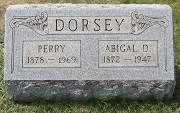 Claysville Cemetery
~ Son Perry Dorsey ~
Son Perry Dorsey (1878-1969) was born on Jan. 28, 1878 in or near Cameron, Marshall County, WV.
At the age of about 21, on June 25, 1899, he married 26-year-old Abigail Dorcas "Abbie" Lattimore (1872-1947), a native of Ohio County, WV. Rev. William H. Lester officiated at the nuptials, held in Ohio County. The bride was four years older than the groom.
They lived for many years in West Virginia before moving in about 1913 to Claysville, Washington County, PA, where Perry found employment as a laborer on the steam railroad. Their home was on McLain Street.
The couple had seven known children -- Mary Anna Ellison, William C. Dorsey, Harry A. Dorsey, Mary E. Hersey, Robert L. Dorsey, Albert E. Dorsey and Edith E. Dorsey. All but the two youngest children were born in West Virginia.
Abigail passed away at age 48 on June 30, 1947.
Perry outlived her by more than two decades, dying on Dec. 21, 1969, at age 91. They rest together in Claysville Cemetery.
Bird's eye view of Claysville, PA, where many of the Dorseys lived as adults
Daughter Mary Anna Dorsey (1901- ? ) was born in 1901. As a young adult she worked in a local restaurant in Claysville. At the age of 24, on June 16, 1924, she wed L.I. Ellison, son of G.V. and Cordelia (Mays) Ellison. Lee I. worked as an "agent" at the time of marriage. The marriage did not endure, and a divorce was granted on March 21, 1936. On March 30, 1936, at age 35, she married for a second time to 51-year-old butcher William E. McKinney, son of Abraham and Della (Hendershot) McKinney. William had been married and divorced once before, and his home was at 26 West Wheeling Street in Washington.
Son William C. Dorsey (1903- ? ) was born in 1903.
Son Harry A. Dorsey (1906- ? ) was born in 1906.
Daughter Mary E. Dorsey (1908- ? ) was born in 1908. On Dec. 4, 1926, at the age of 18, she married 32-year-old Addison Hersey (1894- ? ), the son of Nova Scotians Charles and Margaret Hersey. He was a native of Massachusetts and at the time earned a living as a mill worker in Canonsburg.
Son Robert L. Dorsey (1912- ? ) was born in 1912.
Son Albert E. Dorsey (1914- ? ) was born in 1914.
Daughter Edith E. Dorsey (1916- ? ) was born in about 1916.
~ Daughter Leota (Dorsey) Moss ~
Daughter Leota Dorsey (1880-1941) was born on Jan. 30, 1880. Her name also has been spelled as "Leodia."
She married Harry A. Moss (1878-1953), son of Cicero and Lizzie Moss of West Alexander.
The Mosses lived in Columbus, Franklin County, OH where Harry was employed as a railroad brakeman. Later, they returned to the area of R.D. #2 Claysville, Donegal Township, Washington County, PA.
Leota was stricken with a stroke at the age of 59 and died in Claysville on April 21, 1941. Burial was in West Alexander Cemetery.
Harry survived her by another dozen years. Having been diagnosed with cancer of the kidneys, adrenal glands, ureter and liver, he was treated at the Veterans Administration Hospital in Aspinwall, near Pittsburgh. He passed away in the VA Hospital at age 75 on Nov. 12, 1953.

Mary Etta and John Lattimore
~ Daughter Mary Etta (Dorsey) Lattimore ~
Daughter Mary Etta "Marietta" Dorsey (1882-1969) was born on March 20, 1882 in Pennsylvania. As a young woman, she made a home in McMechen, Marshall County, WV.
On July 24, 1901, when she was 19 years of age, Mary Etta was united in holy matrimony with 22-year-old John Leroy Lattimore (Aug. 1, 1878-1956), son of Robert and Mattie (Williams) Lattimore and a native of West Liberty, WV. The ceremony was held in Wheeling, WV, and performed by Rev. S.T. Westhafer, pastor of the Fourth Street Methodist Episcopal Church.
The couple produced at least five children -- among them Carl Herman Lattimore, Mary M. Lattimore, Alverta Campbell, John "Laverne" Lattimore and one who died young during the first decade of the 1900s.
The Lattimores' Claysville neighbors, Newell and Mime Johnston
John labored as a carpenter for many years. When the federal census enumeration was made in 1910, the family dwelled on White Oak Alley in Claysville, Washington County, with John employed as a puncher at a bridge works. Their next-door neighbors were Andrew Newland "Nuel" and Jemima "Mime" (Sampson) Johnston of the family of William Harrison and Elizabeth (Owen) Johnston and a few doors away from Mary Etta's aged father and sister and husband, Elizabeth and Lee Hedge.
The Lattimores have not yet been found in the 1920 U.S. Census. By 1925, their residence was at 114 Fayette Street in West Washington, Washington County. Living in the next block at 242 Fayette Street was Armena (Cain) Miner, the widow of one of Mary Etta's distant cousins.
When the census again was made in 1930, the Lattimores were still in Washington, now on Berthel Avenue, with John laboring as a house carpenter. During the decade of the 1930s and the Great Depression, John found work as a laborer for a city project in Washington, as shown in the 1940 census.
John eventually became employed as a laborer with Penn Manufacturing Corporation. Circa 1956, their address was 8 Walkers Row in Washington.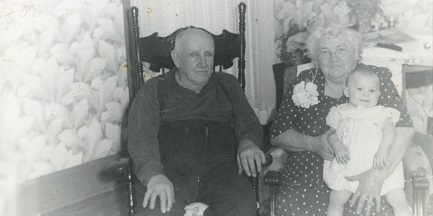 Above: John and Mary Etta with Etta Mae's baby. Below: Mary Etta and great-grandson Mark McCracken.
Courtesy Debby McCracken.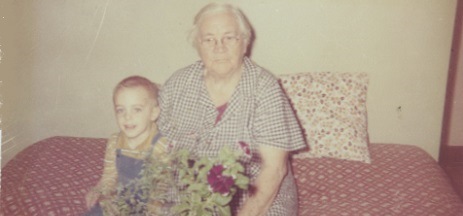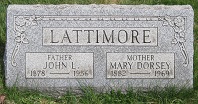 Claysville Cemetery
In about June 1956, John suffered a heart attack. He lingered for 54 days and finally succumbed in Washington Hospital on Aug. 25, 1956, at the age of 78. Daughter Laverne Lattimore, of South Connellsville, Fayette County, PA was the informant for the Pennsylvania certificate of death. His remains were placed into eternal repose in Claysville Cemetery.
Mary Etta survived her husband by more than a decade. She passed into eternity at the age of 87, on May 15, 1969, in Washington. Burial was with her spouse in Claysville.
Son Carl Herman Lattimore (1903-1960) was born on June 2, 1903 in Martins Ferry, OH or in West Virginia. He lived in Washington and was an agent for Metropolitan Life Insurance Company. On May 31, 1928, he married Evelyn Amanda Wilson (1907- ? ), daughter of George and Amanda (Guthrie) Wilson of Washington. The wedding was officiated By Rev. Dr. W.P. Aikin in the manse of the Chartiers Presbyterian Church. News of their marriage was published in the Canonsburg Daily Notes. In the 1930s, they relocated to Kane, PA and later by 1936 to Apollo, Armstrong County, PA, and eventually had an address of 307 North Pennsylvania Avenue. There, Carl was employed as a clerk with West Penn Power Company. At the age of 56, Carl suffered from heart problems and died on Jan. 15, 1960 in Allegheny Valley Hospital. Interment was in Oak Spring Cemetery in Canonsburg.
Daughter Mary "Margaret" Lattimore (1906- ? ) was born in 1906 in Valley Grove, WV. On June 19, 1924, at the age of 18, she married Stephen W. Billings ( ? - ? ) of Washington, PA. The wedding was held in Wheeling. They made a home in 1926 at 222 Berthel Street in Washington.
Daughter Alverta Lattimore (1907- ) was born in about 1907. She wed fellow glass worker Alfred L. Campbell (1903- ? ), son of E.D. and Emma (Houston) Campbell. Their nuptials took place on Aug. 19, 1925 when she was age 18 and he 22.
Son John "Laverne" Lattimore Jr. (1908-1981) was born in 1908. In 1949, he made a home in Washington. On Nov. 2, 1953, at the age of 45, he was united in matrimony with Caroline (Marone) Cinelli, daughter of Antonio and Marie (Carlebella) Marone of Chicago. She had been married once before to Eugene Cinelli and brought daughter Rosemarie Gilpin to the second marriage. Then by 1956, he moved to South Connellsville, Fayette County, PA and was named in his father's brief death notice in the Connellsville Daily Courier. He is believed to have died in Washington County at the age of 72 on March 11, 1981. Interment was in the Horn Cemetery in Marianna, Washington County. Caroline passed into eternity in Washington Hospital at the age of 93 on March 28, 2007.
~ Daughter Elizabeth "Bessie" (Dorsey) Hedge ~
Daughter Elizabeth "Bessie" Dorsey (1884-1978) was born on June 8, 1884.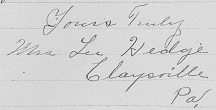 Bessie's signature
She wed Lee Hedge (1883-1968) on Sept. 6, 1905. They resided on White Oak Alley Claysville.
They had one known son, John Nelson Hedge, born in 1909.
Circa 1910-1920, Lee earned a living as a "layer out" for a bridge plant. In 1910, Bessie's widowed father resided in their home, and by 1920 Lee's 64-year-old maiden aunt, Jennie E. Hedge, lived under their roof.
Lee died at age 85 on May 3, 1968.
Bessie outlived him by a decade. She passed in Claysville on Oct. 31, 1978.
Son John Nelson Hedge (1909- ? ) was born in about 1909 in Pennsylvania.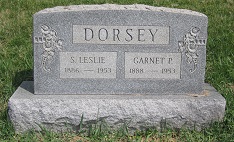 Claysville Cemetery
~ Son Samuel "Leslie" Dorsey ~
Son Samuel "Leslie" Dorsey (1886-1953) was born on Oct. 14, 1886 in or near Cameron, the youngest of 11 children.
He married Garnet Pauline Nahar (1888-1953), daughter of Jacob and Jennie (McHenry) Nahar of Washington County.
Their home for 50 years was in Claysville, where Leslie was employed as a stone setter for a monument company, possibly Simon White & Sons, a local fixture for decades.
Their six known children were Thelma I. Dorsey, Leota J. Dorsey, Wade N. Dorsey, Dolores S. Malone, Dorothy M. Dorsey and Samuel Leslie Dorsey Jr.
In 1917, a family controversy arose over unpaid medical bills in the last illness of Leslie's father, a Civil War veteran. Leslie apparently had provided nursing care for the elderly parent, while a sister Mary Etta Lattimore had housed and fed the father as well. After the father died, another of Leslie's sisters, Bessie Hedge, wrote to the U.S. Pension Commissioner, saying:
I am wrighting to you to see what you can do for me. As my Father Cornelius Dorsey died Feb.-11-17 with Cancer, and my brother who is In very poor Sircumstances and has 4 little children to support had to miss his work for 6 weeks a taking care of him, and of course when my father died he the brother had to borrow money to get clothes to wear, and his rent is back and he is back on his store bill. And He was a very faithful child to his father. And of course he needs the money to help him out.
Circa 1946, when listed in the marriage license application of one of their sons, Leslie was unemployed. Their address was 118 Main Street in Claysville.
Suffering from hypertension, Garnet died of a cerebral hemorrhage on Sept. 27, 1953, at the age of 64. Daughter Dolores signed her Pennsylvania death certificate.
Leslie only survived his wife by a month and a half. Also burdened with hypertension, added to hardening of the arteries, Leslie suffered a cerebral hemorrhage and died at the age of 67 on Nov. 10, 1953. Interment was in Claysville.
Daughter Thelma Irene Dorsey (1908- ? ) was born in 1908. She married laborer Robert Leslie Booze (1903- ? ), son of Uriah and Teresa (Wright) Booze, on April 25, 1927. At the time, she was age 19 and he 24.
Daughter Leota J. Dorsey (1910- ? ) was born in 1910.
Son Wade N. Dorsey (1912- ? ) was born in 1912.
Daughter Dolores S. Dorsey (1915- ? ) was born in 1915.
Daughter Dorothy M. Dorsey (1917- ? ) was born in 1917.
Son Samuel Leslie Dorsey Jr. (1919- ? ) was born in about 1919. He learned the trade of sawyer and at the age of 28 lived on Main Street in Claysville. On Aug. 16, 1946, he married 23-year-old Emma Dixon (1923- ? ), daughter of Bryan and Jennie (Lawson) Dixon.
Copyright © 2013-2019 Mark A. Miner
Research for this page graciously shared by Debby McCracken, Carl Hoge and the late Donna (Younkin) Logan. Dorsey obits courtesy of the West Virginia Regional History Center at West Virginia University.