Henry Younkin Jr.
(1768-1859)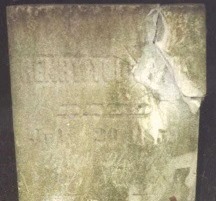 Henry's grave marker, 1859
Henry Younkin Jr. was born on Oct. 9, 1768 in Haycock Township, Bucks County, PA, the son of German immigrants Johann "Heinrich" and Catharina (Scherer) Junghen. Other sources give his birth year as 1773.
As was the tradition, a notation of his birth was added to the written record of the nearby St. Matthew's Lutheran and Reformed Church, a.k.a. Keller's Church. As well, following longstanding Pennsylvania-German practices, he was baptized by Rev. Rapp, and a colorfully decorated certificate of baptism ("taufschein") was inscribed with his name and details of his family and birth.
Among the many direct descendants of Henry and his wife Anna Mariah is a great-great-great-great grandson, Glenn Allen Youngkin, elected in 2021 as Governor of Virginia.
He was assessed taxes in Bucks County in 1786 and marked as "Henry Younkin, Jr." in published Pennsylvania Archives record books.
When his father died in 1787, the last will and testament said that "Henry is to learn a Trade likewise I give unto my Son Henry my land & improvement Situate in Bedminster Township County of Bucks containing eighty acres be the same more or less & fifteen acres more or less in Haycock Townshipo to be paid in manner following: Eight Pounds lawful Money to be paid in eight equal Payments, ten pounds lawful money to be paid after my wife's Decease as aforesaid & so on till Eighty Pounds is paid. The first Payment likewise to be after her Decease but my son Frederick & Henry are not to have Share with the rest of the money paid for the lands but only out of the Moveable Estate and said described Lands & Improvements to have & to hold unto Frederick & Henry their heirs & assigns for ever. Said land in Bedminster Township to be lett till Henry arrives to the age of Twenty one Years and the Rent to be added to the moveable Estate and my son John is to have five Shillings lawful money over and above his Share & Portion and no more."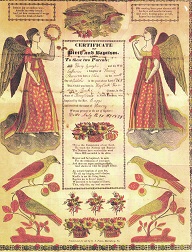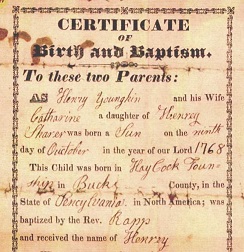 Detail of Henry's watercolor-decorated baptism certificate, 1768

Keller's Church record of Henry Jr.'s
birth, written in old German script
Henry was united in matrimony with Anna Mariah Overpeck (April 5, 1775-1837), daughter of Andrew and Anna Maria (Frankenfield) Overpeck.
Together, the couple produced a brood of eight offspring – David Youngkin, Catherine Youngkin, Sarah Esch, Charles Youngkin, Anna Mariah Herlinger, Reuben Younkin, Elizabeth Andre Teel/Diehl and Aaron Younkin.
In 1796, the Younkins dwelled in Loudoun County, VA, a fact recorded later in a deed at the Bucks County Courthouse. Several of Henry's brothers also moved to Loudon during this era although eventually all left for points west in Pennsylvania and Ohio.
The family is known to have migrated back to Pennsylvania and circa 1832 were in Easton, Northampton County.
Henry is known to have written letters in 1829 and 1832 that were preserved in the family. Circa 1936, more than a century later, they were shown by his great-grandson David Youngkin to Charles Arthur "Charleroi Charley" Younkin, publisher of the Younkin Family News Bulletin.
Sadly, Anna Mariah died in Kunkletown, Carbon County, PA on April 15, 1837 at the age of 62 years and 10 days. Burial of the remains was in St. Matthews Union Cemetery in Kunkletown, Monroe County, PA. Her grave marker was inscribed in German, with the family name spelled "Junken."
A year later, in 1838, the widowed Henry migrated to near Brush Valley, Indiana County, PA. According to descendant Barry Bee Brown, he arrived with a yoke of oxen. He is known to have purchased a farm in May 1841, for the price of $1,150 from sellers James and Julia Ann McKennan, comprised of 243.7 acres. Henry lived the remaining years of his life in Brush Valley
When the federal census enumeration was made in 1850, Henry resided in Brush Valley with his children Aaron, Mary, Reuben, Uriah, Catherine and Lucinda.
He succumbed to death on July 20, 1859. The remains were laid to rest in the Dutch Bethel graveyard, near Brush Valley.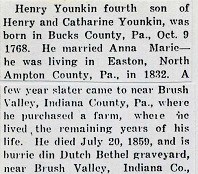 Article about Henry Jr., April 1938, Younkin Family News Bulletin
More than seven decades later, in the mid-1930s, there was renewed interest in Henry's life and legacy when the Younkin National Home-coming Reunion was formed in southwestern Pennsylvania, and with it a national newspaper, the Younkin Family News Bulletin. Reunion secretary and newspaper publisher Charles Arthur "Charleroi Charley" Younkin wrote a letter to reunion president Otto Roosevelt "Pete" Younkin on May 23, 1936:
Since our little meeting was wondering if you would want to make the trip to Indiana Co. Pa. as I was telling you of doing. Clair Younkin is going along. Have written him telling him that I would be along on Sat. May 30th 1936. I will be meeting them in Johnstown Pa...
Otto failed to accompany Charles on the trip, much to the latter's disappointment. Charles wrote again on June 7, 1936: "Yes I made my trip alone and had a great time, visited two old cemeteries in Indiana Co. near Homer City and Brush Valley, visited with an aunt of Clair and Clarence Younkin of Johnstown, Pa., Mrs. John Brown of Brush Valley."
At the 1937 Younkin homecoming reunion, Charles was approached by David Youngkin of Mountaindale, Cambria County, who brought vintage family documents. Charles wrote:
He turned over to me two old family letters one of 1829 the other of 1832 and were written by his great grand father and who do you think it was? Henry Younkin, brother of Jacob and Frederick, so at last the lost is found, and if you want to see for yourself, and learn of the connection in Bucks Co. it is here. It is the most valuable find that has been made for quite a while. I assure you it is the most enlightening news I have received lately.
Charles then devoted an article about Henry in the April 30, 1938 edition of the News Bulletin, and included a photograph portrait of Henry's granddaughter Elizabeth (Younkin) McNutt in the same issue.
The late Donna (Younkin) Logan corresponded and shared research findings on this family with Eleanor Harnley of Napa, CA and Barry Bee Brown. Barry was featured in an Indiana (PA) Gazette story on March 20, 1994 about the Henry Youngkin genealogy and migration to Brush Valley.
~ Daughter Catherine Younkin ~
Daughter Catherine Younkin (1802- ? ) was born on July 7, 1802.
At age four months, she received the rite of infant baptism on Nov. 5, 1802, held in the Lutheran wing of the Trinity Union Church in Hecktown, Nazareth Township, Northampton County. Her sponsors were John Hutchen and Catharine (?).
Nothing more is known.
~ Son Reuben Younkin ~
Son Reuben Younkin ( ? - ? ) – nothing more is known.
Researcher Donna (Younkin) Logan had no record in her extensive genealogy compilations except for his first name.
~ Daughter Elizabeth (Younkin) Andre Teel/Diehl ~
Daughter Elizabeth Younkin (1804-1878) was born on April 16, 1804 in the vicinity of Philadelphia.
She was wedded twice in her life.
Circa 1818, Elizabeth married her first spouse, Jacob Andre (1798-1835).
Sadly, Jacob died in 1835 at the age of 36 or 37.
Elizabeth spent about a year grieving and then in 1836 was joined in wedlock with Joseph S. Teel (Oct. 28, 1806-1883), also spelled "Diehl."
Their four known children were Elizabeth Teel, Franklin Teel, Joseph Teel and Philip Teel.
When the federal census enumeration was made in 1850, the Teels dwelled on a farm in Chestnuthill, Monroe County, PA.
The 1860 census lists the family in Ross Township, Monroe County, with Joseph working as a laborer, and having a personal estate of $50.
Joseph's occupation in 1870 was blacksmithing. At that time, the couple dwelled by themselves in Ross Township, Monroe County.
Elizabeth passed away on March 8, 1878 at the age of 73. Her remains are in eternal sleep in St. Matthews Union Cemetery in Kunkletown, Monroe County, PA. Her grave marker is inscribed with her name as "Elizabeth Teel, late Youngken."
Joseph outlived his bride by five years. He succumbed to the spectre of death in 1883.
Daughter Elizabeth Teel (1838- ? ) was born in about 1838.
Son Franklin Teel (1840- ? ) was born in about 1840.
Son Joseph Teel (1842-1909) was born two days after Christmas 1842. Circa 1870, laboring as a blacksmith, he lived under the roof of Samuel and Caroline Metzger in Eldred Township, Monroe County. Then during the decade of the 1870s, he was united in wedlock with Matilda Engler (Jan. 26, 1845-1915). They were the parents of John W. Teel. The United States Census of 1880 shows the couple in Eldred Township, Monroe County, with Joseph continuing his blacksmithing trade. They spent their adult years in Carbon County, PA. He was debilitated by a stroke of paralysis in September 1908 and lingered for months. Death swept him away at the age of 66 on March 31, 1909. Interment was in Kunkletown, PA.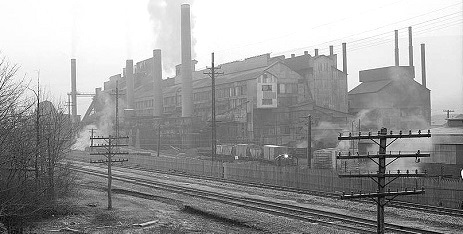 John Teel's workplace, New Jersey Zinc in Palmerton.

Library of Congress
Grandson John W. Teel (1877-1936) was born on Feb. 2, 1877. He entered into marriage with Ann C. Kern ( ? - ? ). Together they bore two children -- Matilda Brown and Francis C. Teel. John joined the employ of the New Jersey Zinc Company in October 1903, a company operating in Palmerton, Carbon County, PA. Palmerton was a model company town built to serve New Jersey Zinc employees, providing houses, banks, medical care facilities, parks, playgrounds and schools. It was intended as a counter-balance to the risks of working in the dangerous smelter. Many of the buildings still remain, including the community park and bandstand. He spent 33 years with the company as an electrician, and the couple made a home at the address of 841 Delaware Avenue in Palmerton. John was active in St. John's Reformed Church of Towamensing and was financial secretary of the congregation for a quarter of a century. He also spent 25 years as secretary of the Aquashicola Camp of the Odd Fellows and belonged to the Washington Camp of the Patriotic Order of the Son of America and the American Commandery of the Knights of Malta. John suffered a cerebral hemorrhage and paralysis on or about Feb. 1, 1936. He lingered for just under two weeks and died on Valentine's Day 1936, at the age of 59. Obituaries in the Allentown Morning Call and Mauch Chunk Times-News called him "one of Palmerton's highly respected citizens" and said death was due to "a nervous breakdown." The funeral service was conducted in the Teel residence and in the family church, led by Rev. R.E. Kutz.
Son Philip Teel (1845-1908) was born on Dec. 2, 1845. He earned a living as a laborer and resided in White Haven, Luzerne County, PA. Suffering from angina pectoris -- severe chest pain -- he died at age 63 on Feb. 6, 1908. His remains were lowered under the sod in White Haven.
Copyright © 2021-2022 Mark A. Miner