Virginia Governor
Glenn Allen Youngkin
Of the Pennsylvania German Immigrant Family of
Johann Heinrich "Henry" and Catharina (Sherer) Junghen
The Hon. Glenn Allen Youngkin, Governor of the Commonwealth of Virginia, descends from a long line of Pennsylvania German ancestors dating to immigrants Johann Heinrich "Henry" and Catharina (Scherer) Junghen.
The migration journey of Glenn's branch of Youngkin/Younkin through Americana spans 225+ years and includes a brief residence in Northern Virginia in the 1790s The path starts with Bucks County, PA → Loudoun County, VA (1796) → Carbon, Indiana, Clearfield and Cambria Counties, PA → Scott and Jasper Counties, IA → Boca Raton, FL → Winston-Salem, NC → Baltimore, MD → Richmond and Virginia Beach, VA → Governor's Mansion.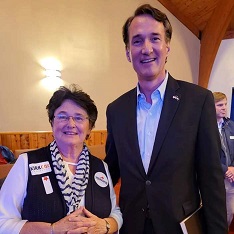 Gov. Youngkin meets a distant cousin at Life Church, Colonial Heights, VA in April 2021 -- Vickie Hester of the family of William Lincoln Younkin of Kingwood, Pennsylvania
Starting with his father Carroll Wayne "Yunk" Youngkin, Glenn's ancestry in reverse traces back six more generations to grandfather Glenn Youngkin → great-grandfather Ulysses "Grant" Youngkin → great-great-grandfather Joseph Youngkin → great-great-great-grandfather David Youngkin → great-great-great-great-grandfather Henry Younkin Jr. → and great-great-great-great-great-grandfather Johann Heinrich "Henry" Junghen.
Today, Glenn has many tens of thousands of cousins in the extended Youngkin-Younkin-Younken family across the nation and around the globe.
Glenn was born in 1966 in Richmond. In childhood he relocated with his family from Richmond to Virginia Beach, where he graduated from Norfolk Academy. He wed Suzanne ( ? -living). They have four children and are affiliated with the Holy Trinity Church in McLean, VA.
Glenn received his bachelors' degree in mechanical engineering and managerial studies in 1990 from Rice University in Houston, playing Division I basketball on a scholarship. He then spent several years working for the First Boston investment bank, assisting clients with mergers, acquisitions and capital market financings. He left the bank to earn a master's of business administration degree in 1994 from Harvard Business School, and then became employed by McKinsey & Company, the prestigious international management consulting firm.
In 1995, he was recruited to the Carlyle Group private equity firm in Washington, DC, again working as a dealmaker. In time he became interim chief financial officer, chief operating officer and co-president and co-chief executive officer. During his Carlyle career, he helped manage its initial public offering. Glenn resigned from Carlyle in 2020 with an eye toward state politics.
He ran for election in 2021 as governor and in November was elected on the Republican ticket, defeating Democrat Terry McAuliffe in a contentious battle between conservative and liberal values. Learn more on his "Youngkin for Governor" website. See these post-election stories in leading national conservative and liberal news media outlets:
"Who is Glenn Youngkin. the governor-elect in Virginia?" - Washington Post, Nov. 3, 2021
"Glenn Youngkin's Journey From the Heights of Finance to the Top Tier of G.O.P. Politics" - New York Times, Nov. 4, 2021
"Virginia moms and dads say Youngkin victory a win for parental rights" - Fox News, Nov. 3, 2021
"How Glenn Youngkin Kept Trump at Arm's Length" - Wall Street Journal, Nov. 4, 2021
"Glenn Youngkin wrote the GOP playbook to navigate the Trump factor" - CNN, Nov. 5, 2021
Are you on Facebook and of the Youngkin-Younkin-Younken family? Join our private

Younkin Reunion Pennsylvania

page to connect with hundreds of long-lost cousins coast to coast.
Copyright © 2021 Mark A. Miner. Image courtesy Office of te Governor.