Mary (Birch) Harrison
(1869- ? )
Mary A. (Birch) Harrison was born on Nov. 8, 1869 or in August 1875 in Greene County, PA, the daughter of Samuel and Susan (Miner) Birch.
Mary married New Jersey native John Harrison (1874- ? ) in about 1897. They had two children, but only one of them is known -- Edgar L. Harrison. The other died as a young child, sometime between 1897 and 1900.
The U.S. census of 1900 shows the family living on South Main Street in Washington, Washington County, PA. John labored that year in a glass factory. Also boarding under their roof that year were 10-year-old brother in law Arty Birch and lodger Frank Minderman.
Mary and John relocated to Alexandria, VA, at least as early as 1906. When the federal census was taken in 1910, they continued to make their home there on Cameron Street. John's occupation was listed as a glass blower in a local glass plant.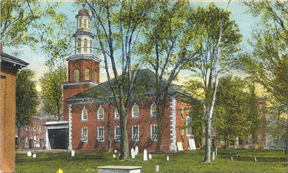 A local historical landmark in Alexandria -- Christ Church, where George Washington worshipped
In the summer of 1915, Mary's sister Cassie Weir and family drove from Washington, PA for a visit with the Harrisons. The results of the trip generated a story in a Washington newspaper.
The federal census of 1920 shows the family making its home on Cameron Street in Alexandria. That year, John was employed as a machinist in a U.S. torpedo plant, and 19-year-old son Edgar as an automobile machinist. Three men were roomers in their residence -- Thomas Calloway and William Moore of North Carolina, and Alfred S. Dooley of Virginia.
Sadly, John died sometime during the 1920s. The specific facts about his passing are unknown. As a widow, Mary continued to take in lodgers as a source of income. The 1930 census shows her still living on North Cameron Street in Alexandria, with son and daughter in law Edgar and Ruth C. Harrison in the household, along with roomers Edward Johnston and Edward Brown.
Mary was residing in Alexandria in 1935, at the time of the death of her brother John Wiley Birch in Washington, PA, and was mentioned in his newspaper obituary. Her fate after that is unknown.
Son Edgar Harrison (1901- ? ) married Ruth C. (1910- ? ) in about 1928. They lived with his mother in 1930 as shown on the federal census. That year, he worked as an electrical engineer for Western Electric, and she as a stenographer for the United States Department of Justice.
Copyright © 2001, 2005, 2008 Mark A. Miner