Catherine "Cassie" (Birch) Weir
(1872-1925)
Catherine Jane "Cassie" (Birch) Weir was born on April 27, 1872 or in July 1876 in Greene County, PA, the daughter of Samuel and Susan (Miner) Birch. Her husband was a "widely known" automobile garage owner in Washington, Washington County, PA.
When the federal census was taken in 1900, Cassie was employed as a private family servant by attorney Robert W. Irwin, who made his home with his wife Carrie and children on Highland Avenue in Washington.
When she was age 29, Cassie married Chester N. Weir (1874-1931), the son of John B. and Julia A. (Bane) Weir, in about 1901. She was two years older than her husband.
The Weirs immediately began living in Washington, in Ward 4.
They had one son, Holland D. Weir, born in 1902.
The Weirs were members of the Central Presbyterian Church in Washington. Chester also was a member of the local lodges of the Elks and Knights of Pythias.

Skyline of Washington in a rare, bird's-eye postcard
When the federal census was taken in 1910, Chester, Catherine and Holland made their home together in a residence on East Wheeling Street. Rooming under their roof were Harry and Elisabeth Brownlee.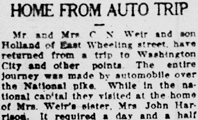 In the summer of 1915, the Weirs drove to Washington, DC to visit Cassie's sister Mary Harrison. Said the Observer: "The entire journey was made by automobile over the National pike…. It required a day and a half to make the journey each way. On going over one night was spent in Cumberland, Maryland, and on the return trip they were in Hancock, Maryland, also for a night. They were very much pleased with their trip."
Chester got his start in business as a livery man (stable keeper), and later ran his own garage at 87 West Wheeling Street. According to the Washington Observer:
He entered the livery business as an employe of the late Addison Bane, the stable being located at Wheeling and College streets. Later he went into business for himself, operating a livery stable in Shaffer avenue. He was one of the pioneers of the city in the garage business.
The census of 1920 shows that the Weirs had moved to Highland Avenue. Chester's occupation was shown as liveryman of a livery stable.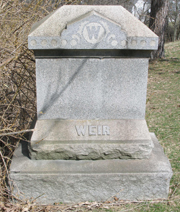 Cassie died at home on 119 Highland Avenue in Washington on Feb. 26, 1925, at the age of 53. She was buried in the Weir lot in Washington Cemetery, on the edge of the circle where the Civil War veterans' monument is located.
After Cassie's death, Chester waited about three years before marrying again. His second bride was Isabelle M. (1893- ? ), in 1928, a first marriage for her. They apparently lived in the Weir home on Highland Avenue.
In the 1930 census, Chester's occupation was given as "landlord - owns property."
Just before Thanksgiving 1931, Chester heard a loud sound in front of his home, and went outside to find that an automobile had crashed into the fence on his property. Afterward, after returning inside his home, he had a heart attack, and died suddenly. He is buried beside Cassie in the Washington Cemetery.
Son Holland D. Weir (1902- ? ) was born on March 27, 1902. He apparently attended and may have graduated from the University of Michigan, where he was a member of the Phi Delta Theta fraternity. Remaining to make a professional career in Detroit, he was a self-employed accountant. He passed away in Hamburg, Livingston County, MI on Aug. 1, 1981, at the age of 79.
Copyright © 2001-2002, 2008, 2010 Mark A. Miner