Her writings later in life provide a window into her family's pioneer experience in Oklahoma.
Laura was the first of the couple's children to be born in Iowa after the family had migrated away from Cardington, Morrow County, OH.
As a child, in 1877, she and her parents moved from DeSoto to Montezuma, Powshiek County, IA, remaining there two years. They pulled up stakes in 1879 and moved to Kansas, settling in Medicine Lodge, Barber County, KS.
Then in 1889, they relocated once more, traveling into the newly opened Oklahoma Territory, where they staked a claim near Kingfisher, Kingfisher County, OK. Laura and her father, brother and sister took part in the famed, wild and wooly Oklahoma Land Rush. Without her knowledge during the Rush, Laura's future husband was staking out a claim east of what would become the town of Banner in Excelsior Township, Kingfisher County.
On Feb. 17, 1896, at the age of 23, Laura entered into matrimony with 44-year-old Edward Allen Barnum (Dec. 16, 1851-1933) in Dover, OK, at the home of Rev. D.M. Pierce in Excelsior Township, in what was then Indian Territory. He was the son of New York State natives George G. and Melissa Reed (Bennett) Barnum who were 89'ers in their own right. Edward was 22 years older than his wife, having been born in Galena, IL.
A year prior to marriage, Edward filed a claim with the United States for 160 acres near Kingfisher, in the southeast quarter of Section 9, Township 17 North, Range 5 West. On Nov. 18, 1901, he purchased from widow Maude Riley a parcel of land in Columbia, OK for $80, in the southeast quarter of the southeast corner of Section 22, Township 18, north of Range 5.
The couple resided in California in the first year or two of their marriage, where their eldest son was born, but soonafter relocated back to Kingfisher, where they apparently had continued to own the farm. They religiously wrote the family birth, marriage and death records in a Holy Bible that had been published by Thomas Nelson & Sons in New York.
They had five children -- George Edward Barnum, Theresa "Gladys" Armstrong, James "Roy" Barnum, Ted Leon Barnum and Wilma Leona Kester.
The elder three of the Barnum children -- George, Roy and Gladys-- are seen here in a studio portrait, circa 1901.
Sadly, son George was born with a heart defect, and was never able to gain a full measure of health. He died at the age of 17 in Kingfisher County, and was buried at Banner Cemetery northeast of Kingfisher.
Laura was remembered by a granddaughter as "a beautiful woman, big boned and fleshy, with short silver hair." She was a talented journalist, and wrote a number of articles for the Kingfisher Free Press when it published special editions for its 60th and 75th anniversaries. As well, she was an expert dressmaker and made clothing for her great-grandchildren.
In 1897, the Barnums lived in Lakeside, CA, at the time their eldest son George was born. By 1898 they had moved back to Oklahoma, to the town of Nesbitt in Indian Territory.
A year or two later, they were in Columbia, OK, and in 1902 had moved on to Dover, OK. In 1908, they resided at Lovell, OK, and later settled on a more permanent basis in Dover near Kingfisher. In 1929, they moved to Enid and lived there 504 East Maple Street.
One of the families the Barnums would have known was Adaline Dalton, mother of 13 children, who migrated to northeast of Kingfisher in 1890. Unfortunately, one of her sons, Deputy U.S. Marshal Frank Dalton, was killed in a shooting and three of his brothers became the notorious members of the outlaw "Dalton Gang" known far and wide for robbing banks and trains -- Gratton, Bob and Emmett. Two of the sons were gunned down in a failed robbery in Kansas in 1892, ending their reign of crime. During the last 16 years of her life, from 1906 to 1925, Mrs. Dalton lived in a log cabin in the Blackjacks section near Dover. At her death in 1925, she was laid to rest in the Kingfisher Cemetery, and her cabin today is preserved on the campus of the Chisholm Trail Museum in Kingfisher.
Sadly, Edward endured hardening of the arteries for the last 13 years of his life, added to the affliction of "senile psychosis" for about three years before his death. As a patient at Western Oklahoma Hospital at Fort Supply, Woodward County, he succumbed at the age of 81 on July 18, 1933. His remains were brought back to Kingfisher County for interment in the Banner Cemetery.
Laura outlived him by 23 years, and maintained a home in Enid, although later in life she lived variously with her adult children. She passed away at the age of 82 on July 1, 1956 in a hospital in Enid. She joined her husband in eternal rest in the Banner Cemetery in the Dover community near Kingfisher.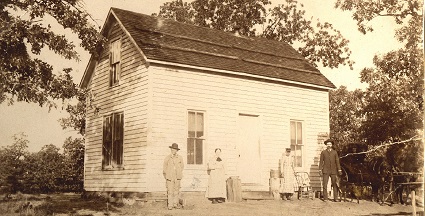 Barnum homestead, Excelsior, north of the Cimarron River. Below: location of the Barnum farm halfway between the town of Columbia and the Cimarron River, in the southeast quarter of Section 9.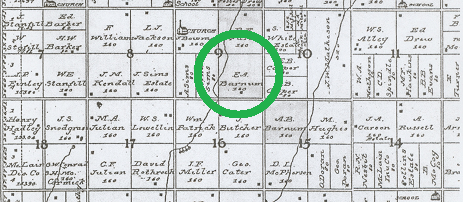 ~ Son George Edward Barnum ~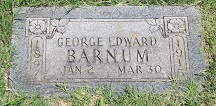 Banner Cemetery
Son George Edward Barnum (1897-1915) was born on Jan. 2, 1897 in Lakeside, San Diego County, CA.
As a very young boy he moved with his parents and siblings back to Oklahoma, settling in Kingfisher, Excelsior County. He and his sister Gladys attended the Excelsior School, taught by their future aunt, Nannie (Snyder) Brown.
Tragically, George was born with a heart defect, and was never able to gain a full measure of health.
He died on March 30, 1915, at the age of 17, in Kingfisher County, and was buried at Banner Cemetery northeast of Kingfisher.

One of his great-nephews has said his fatal ailment could have been surgically repaired today "in 15 minutes."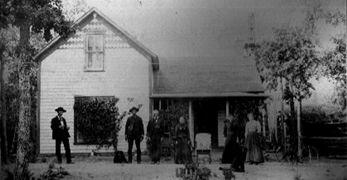 Barnum homestead's new addition, 1900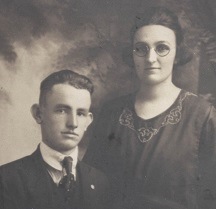 Gladys and Paul Armstrong
~ Daughter Theresa "Gladys" (Barnum) Armstrong ~
Theresa "Gladys" Armstrong (1898-1983) was born on Sept. 12 (or 13), 1898 in Nesbitt, Kingfisher County.
She and her husband have been called the " perfect couple, parents, grandparents and great-grandparents.
As a youth, Gladys and her brother George attended the Excelsior School, taught by Daisy March. Among the courses she took to receive her diploma were reading, orthography, penmanship, and English as well as grammar, arithmetic, geography and physiology. She also studied U.S. history, Oklahoma history, civics, vocal music, agriculture, horticultural, animal husbandry, stock feeding, forestry, road building and domestic science.
When Gladys expressed an interest in furthering her studies to become a teacher, her father objected. But her mother intervened, saying "I own half of this farm the same as you do. If we have to take another mortgage, she is going to do it."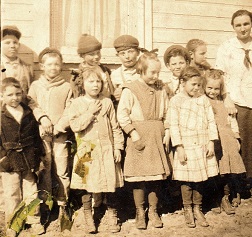 Gladys (right) and Banner School students, 1920
Gladys thus obtained her teaching certificate and became an early educator at Banner (OK) Rural School circa 1919-1920. Today several chairs from that early school are on display at the Chisholm Trail Museum in Kingfisher.
Circa 1920, Gladys' home was in Dover, Kingfisher County. On New Year's Eve 1920, at the age of 22, she was united in marriage with 21-year-old Paul Nathaniel Armstrong (1899-1976). The son of James Ervin and Eliza Jane (Evans) Armstrong, he was a native of West Plains, Howell County, MO. Rev. C. Werner, pastor of the Evangelical Association Zion Class of Dover, officiated at the event held in Dover, with J.T. Armstrong and Earl Armstrong serving as witnesses.
Paul was tall and of medium build, with light brown eyes and light brown hair. He had migrated to Oklahoma in 1903, when he was four years of age. After the United States entered World War I, he registered for the military draft, stating that he was a student at Central State Normal School in Edmond. At the time of marriage, Paul dwelled in Dover, OK.
They produced eight known children -- Edward Ervin Armstrong, Erma Alene Davis, Ardeth Louise Jensen, Eunice Juanita Fergason, Hazel Ruth McClung, Dorothy "Jewel" Felder and Marion Earl Armstrong.
Banner School where Gladys taught
Early in the marriage, the couple relocated to Morgan County in Colorado, where their eldest son Edward was born in 1922. By the following year, they returned to their old home roots of Oklahoma. Paul was employed by the railroad, and as such the family relocated often.
One of their daughters, born in Billing, OK in 1930, attended 14 different schools over the span of her 12 years of primary education. The railroad work was steady and kept Paul employed throughout the depths of the Great Depression.
When the federal census enumeration was made in 1930, the family lived in Billings, Noble County, OK. There, Paul was employed as a section foreman with a railroad company. Sometime between 1935 and 1940, still working as a section foreman, Paul was transferred to Elk, Beckham County, OK, with their home located at 413 West 7th Street.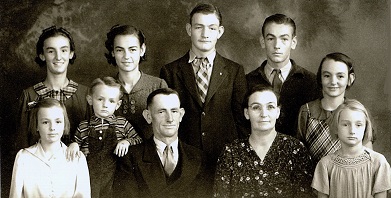 Gladys and Paul and family, circa 1940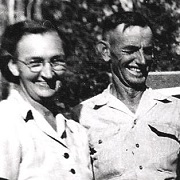 A hearty laugh, 1948
The Armstrongs were members of the First United Methodist Church of Kingfisher.
Paul was an avid follower of the St. Louis Cardinals baseball team during a period when the Cards teams featured such stars such as Dizzy Dean, Pepper Martin, Enos Slaughter, Red Schoendienst and Stan "The Man" Musial. To his delight, the team captured five World Series championships from 1931 to 1946, and two more in 1964 and 1967. He listened avidly to games broadcast on KMOX-AM radio. Once, when a grandson was graduating from high school, Paul sat in his car in the parking lot, listening to a game until he got a pre-arranged signal to come inside to watch the graduate receive his diploma. Paul then went right back to the car radio so he wouldn't miss any more action.
Paul also knew how to cuss and, a granddaughter once recalled, could squeeze 10 swear words into a single 12-word sentence.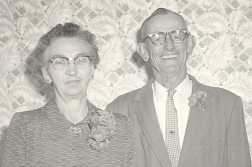 Gladys and Paul, 1960
Their home was always open for family and friends. In the days when telephone calling incurred long-distance charges, it was not unusual for one of Gladys' or Paul's married siblings to pull up in their automobile packed with children, and for a meal to be made ready.
Paul passed away on Feb. 13, 1976, at the age of 77. Burial was in the Banner Cemetery, following funeral services held in the family church, preached by Rev. W.D. Gilbert and Rev. Harold Himes. An obituary in the Kingfisher Free Press noted that he was survived by 28 grandchildren and 21 great-grandchildren.
Gladys survived him by more than seven years.

Ervin Armstrong
At the age of 85, she slipped into eternity on Oct. 21, 1983, in Okeene, Blaine County, OK, and rests beside her spouse.
Son Edward "Ervin" Armstrong (1922-1997) was born in on May 11, 1922 in Snyder, Morgan County, CO. As a baby, he returned to Oklahoma with his parents and remained there through his growing up years. In 1940, at age 17, he lived at home in Elk, Beckham County, OK. Born with mental disabilities, Ervin never married. Ervin earned a living in the late 1930s as a laborer in the camps of the Civilian Conservation Corps which furnished work for public projects. Later, he joined the Rock Island Railroad where he remained as a laborer for 35 years. At no time did he depend on any sort of government disability assistance. His mother, a former teacher who lived nearby, knew the importance to him of having structure in his adult life. He maintained the same habits and patterns of living for many years, including having lunch at the Cattleman's Hotel in Kingfisher every single day. He passed away at the age of 75 in Kingfisher on Sept. 24, 1997. He rests in the Banner Cemetery in Dover, OK.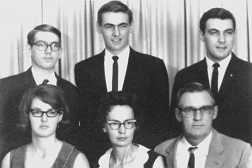 Erma & Buster Davis and family, 1966
Daughter Erma Alene Armstrong (1923-1992) was born on Aug. 24, 1923 in Kingfisher, the first of the family to be born after her parents returned from Colorado. As a teenager, she dated Glen David Fergason, but when he went off to serve in World War, II, she formed an attachment to Osmond Lee "Buster" Davis Sr. (1918-1990). At the time, Osmond was seervign in the Air Force. On Aug. 15, 1942, when she was age 18, Erma wed 24-year-old Buster, with the ceremony occurring in Enid, Garfield County. A native of Norman Park, GA, Buster was the son of Louie Lee and Gladys Elmore (Kitchens) Davis. Their five children were Osmond Lee "Butch" Davis Jr., Judge Robert Eugene Davis, Neila Joy Cundith, Beryl Ray Davis and James Calvin Davis. Tragically, son Butch drowned as an 11-year-old in Maysville, Garvin County, OK, when he and a friend were playing in a farm water tank on June 9, 1954, and he stepped into deep water, unable to swim. Erma and Buster never got over the shock and loss of their son, especially to such an awful cause that could and should have been avoided. During World War II, Buster served in the U.S. Army, attaining the rank of corporal. During his working career, he was a "city inspector for the City of Tulsa and a member of the First United Methodist Church in Mannford. The cople marked their 40th wedding anniversary on Aug. 15, 1982, with a family dinner held on the lawn of Erma's married sister Ardeth Jensen, north of Okmulgee, and reported by the Henryetta Daily Free-Lance. Buster died on July 23, 1990, at age 71, in Mannford, Creek County, OK. Burial was in the Kingfisher Municipal Cemetery, across the road from the farm which Erma's ancestors had claimed in the Run of 1889. The funeral was conducted by Rev. Dr. Ben Husted at the family church. A death notice was printed in the Tulsa World and a longer obituary in the Kingfisher Times & Free Press. Erma survived for another two years and was gathered in by the Grim Reaper on Feb. 11, 1992, in Mannford, at the age of 69. Her remains were brought back to Kingfisher for entombment, with Dr. Husted again officiating.
Grandson Robert E. Davis ( ? -living) - On Dec. 20, 1970, he married Kathy ( ? -living). The couple bore two children -- Whitney Alvarez and Eli Davis. An attorney for more than a quarter of a century, he received his undergraduate degree from East Central University and his law degree from Oklahoma City University School. Bob's first nine years as a lawyer were spent in a partnership in Kingfisher, then for 15 years as a solo practitioner in Okarche, and from 2001-2003 in a law office in Kingfisher. In May 2003, he was named a Special District Judge in Canadian County, OK. Said the Kingfisher Times, "His service will run the gamut of the cases heard by the district court - civil cases, criminal, family matters, juvenile, probate, small claims, wherever he is assigned." Eight years later, in 2011, he was elected an associate judge in Kingfisher County, his home region. A September 2013 article in the Kingfisher Times & Free Press said that he "recognizes the importance of faith in his professional as well as private life. He often meets with other state judges to discuss the presence of faith and prayer in their lives as judges." The family resides in Okarche,.
Grandson Beryl R. Davis married Dawna. He is retired as Assistant District Attorney in Henryetta, Okmulgee County. He has been a practicing lawyer since 1980. he received his bachelor's degree from Oklahoma State University and his law degree from the University of Oklahoma.
Granddaughter Neila Davis ( ? -living) was born in (?). She has been twice-wed. Her first spouse was (?) Whisenhunt ( ? - ? ). Then on Oct. 27, 1979, Neila wed 46-year-old Horace Edward Cundiff (Oct. 29, 1932-2004), a native of Sterling, KS and the son of John and Eula Ruth (Edwards) Cundith. News of their marriage license was printed in the Tulsa World. They were the parents of five -- Mark, Murry, Caryn Thurman, Maris Cundith and Dana Flagg. Horace was a star basketball player at Sterling High School and a U.S. Air Force veteran of the Korean War. He went on to a professional career as an accountant. The Cundiths resided in Tulsa where they operated Pik-Kwik neighborhood store at 1118 East Taft Street. Then in 2001 they relocated to Wichita, KS. Sadly, at the age of 71, Horace died in Harry Hynes Hospital on Sept. 11, 2004. His funeral service was held at the Sterling United Methodist Church, with burial following in Sterling Community Cemetery presided over by Rev. Nancy Goddard. A notice in the Wichita Eagle said that he was survived by a baker's dozen grandchildren.
Grandson James Calvin Davis was wedded to Connie Smith. They live in Norman, OK. In 2003, he received the Wiley Post Award as the top civilian manager at Tinker Air Force Base in Oklahoma City. In a special ceremony, he was presented with the award and a plaque from Major General Charles L. Johnson, Commanding Officer, Oklahoma City Air Logistics Center at Tinker. James also plays a mean guitar, a candy apple red Fender Telecaster. He and his band "Midlife Crysis" performed as the opening act for concerts at the University of Oklahoma by a popular Beatles tribute band.



The Davis brothers, L-R: Robert, Beryl, James
Norbert and Ardeth, 1970
Daughter Ardeth Louise Armstrong (1924-2002) was born on Dec. 17, 1924 in Nesbitt or Kingfisher, Kingfisher County. Three days before Christmas 1945, when she was 21 years of age, Ardeth wed 30-year-old Norbert Charles Jensen (1915-1979), the son of James Peter and Elizabeth (Scheulen) Jensen of Hennessey, Kingfisher County. The couple produced three children -- James Paul Jensen, Rhoda Smith and Teresa Louise "Terri" Allen. As a young man, Norbert worked on Lock #17 of the Arkansas River Navigation Project as an employee of the U.S. Army Corps of Engineers. They resided in Okmulgee, Okmulgee County, OK, a distance of about 145 driving miles from Kingfisher. There, in Okmulgee, Norbert also is said to have owned horses and operated the Appolossa Horse Farm. Norbert also was involved in uranium mining in Moab, UT during the 1950s.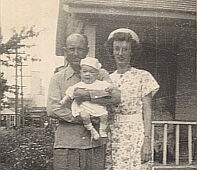 Norbert & Ardeth

On Dec. 22, 1970, the Jensens celebrated their 25th wedding anniversary. During the mid-1970s, Ardeth was contacted by one of her mother's first cousins, Alba Laura (McGirk) Christensen Peck, a family history buff of Lakewood, CA who was seeking family history information. In response, Ardeth sent her some memories in writing Alba then retyped and forwarded to their second cousin J. Blanche (Clark) Tarter of Raytown, MO for inclusion in a hoped-for-but-never-printed family history book. In 1976, when she was mentioned in the Kingfisher Free Press obituary of her father, Ardeth lived temporarily in Muskogee, OK. At the end of his career, Norbert was involved with the Kerr Lock and Dam in Muskogee. Sadly, Norbert passed away in Okmulgee on Nov. 13, 1979 at the age of 64. Ardeth outlived him by 23 years, and supported herself by working at Wal-Mart. She also took college classes in widowhood and was an active member of the Hennessey 89er Club. Ardeth died at the age of 77 on June 27, 2002, in Tulsa, with an obituary printed in the Tulsa World. At her funeral service, held at the First United Methodist Church, her nephews Robert and Beryl Davis officiated. Among the hymns were Rock of Ages, In the Garden and Amazing Grace. Her remains were placed into eternal rest in Okmulgee Cemetery. A portion of Ardeth's legacy remains today in the Minerd.com Archives in the typed version of her 1970s recollections:

I recall hearing my grandmother, Laura (she was a beautiful woman, big boned and fleshy, with short silver white hair) tell many stories concerning the "run" into Oklahoma in 1889. She was a girl of 16, and she would remain at the claim, west of Kingfisher, while her brother Frank, and her sister Nellie, took turns waiting in line in Kingfisher to file their claim on the land. Grandmother Laura wasn't old enough to file for a claim. At this time (unknown to Laura of course) my grandfather, Edward Allen Barnum, was staking his claim out east of the Banner area where a lot of these relatives are now buried. I don't recall at this time just how she met him. He was in his 40's when she met him and she was only 22 when they were married.
Ardeth's memories, mid-1970s, as typed by her cousin Alba (McGirk) Peck
Grandson James Paul Jensen (1947-2022) was born on Dec. 13, 1947 in Enid, OK. He grew to manhood in Okmulgee, attending Marion Academy before graduation from Okmulgee High School. During the Vietnam War, he served in the U.S. Marine Corps. He then went on to received his bachelor's degree from Northeastern State University. James was married and the fatheer of James "Jimmy" Jensen and stepfathr of Miki White-Emberling. His professional career included 26 years as director of residential life at Oklahoma State University's Institute of Technology in Okmulgee. In his free time, he spent time with horses and liked to camp, ride four-wheelers, play tennis and pool, and work with wood. Sadly, he died in Owasso, OK on July 28, 2022. Fr. Kenneth Harder led the funeral service. The Okmulgee Times published an obituary.
Great-grandson James "Jimmy" Jensen married Ashley. One daughter born to the pair is Kiera Jensen. Their home in 2022 was in Owasso, OK.

Step-great-granddaughter Miki White-Emberling is the mother of Justin White, Heather White and Dylan White.

Granddaughter Rhoda Jensen wed (?) Smith. Her home in 2022 was in Collinsville, OK.
Granddaughter Teresa Louise "Terri" Smith married (?) Allen. She has dwelled in Mangum, OK.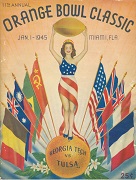 1945 Orange Bowl program
naming Nathan Armstrong

Nathan Armstrong
Son Nathan Eugene Armstrong Sr. (1926-1998) was born on May 23, 1926 in Kingfisher. He spent his early years in Billings, Noble County, OK and then lived as a teen in Hennessey. Nathan was a talented football player and lineman for the Tulsa Golden Hurricane, wearing uniform no. 41. As a freshman, he suited up for the Orange Bowl played on New Year's Day 1945 in a grudge match against the Georgia Tech Yellow Jackets. The year before, led by All-American end Phil Tinsley, Georgia Tech beat Tulsa 20-18. Then in the '45 Orange Bowl, Tulsa avenged its loss by whipping Georgia Tech 26-12. An original program book from the 1945 game -- naming Nathan -- today is preserved in the Minerd.com Archives. He studied engineering but apparently did not graduate. He went to work in government construction, among other things building launch silos in Roswell, NM for intercontinental ballistics missiles (ICBMs). When the Korean War erupted, he joined the Army on Sept. 1, 1950, was promoted to sergeant first class and was honorably discharged on May 10, 1952. Nathan was thrice married. His first bride was Mary Mae Jensen (1924-2013) in about 1946, after the close of the second world war. She was the sister of his brother in law Norbert Charles Jensen and the daughter of James Peter and Elizabeth (Scheulen) Jensen. The couple had two children -- Nathan Eugene Armstrong Guinn and Neatha Kay Armstrong Guinn. Sadly, the marriage only lasted a few years years. In 1949, he was united in marriage with Mary "Barbara" Burch (1927-1999) of Tulsa. The same year, his ex-wife Mary Mae remarried to Leo E. "Gene" Guinn ( ? - ? ), son of Wiley and Ethel Guinn, and who adopted her two children. Nathan and Barbara bore two children of their own -- Dean Burch Armstrong and Dale Armstrong-Yos. Barbara was an elementary educator and taught second grade at Del Norte Elementary School in Roswell, NM for 28 years and remedial reading, speech and writing for a decade at New Mexico Military Academy. The second marriage, too, ended in divorce, and Barbara remarried to Ben L Peek. Nathan was wedded in Mexico, to his third spouse, Janice Smith on Dec. 9, 1961. They had one son of their own, Gregory Armstrong, who sadly died young. Nathan died in Phoenix on Feb. 5, 1998 at the age of 72. His remains were placed into rest at the National Memorial Cemetery of Arizona. [Find-a-Grave]
Granddaughter Neatha "Kay" Armstrong ( ? - ? ) was adopted by her step-father Leo Eugene Guinn and took the surname "Guinn." She married Joseph Johnston ( ? - ? ) and resided in Salt Lake City. She is believed to be named in the book Maud, Oklahoma: 100 Years of History - 1896-1996.
Grandson Nathan Eugene "Gene" Armstrong Jr. (1946-2020) was born on Dec. 14, 1946 in Enid, OK. After his parents divorced, his mother remarried, and Eugene was adopted by his step-father Leo Eugene Guinn, with his name changed "Guinn." Eugene always considered Leo as his father. He received a degree from Utah State University. On June 30, 1967, in nuptials held in Vernal, UT, he entered into marriage with Mary Lou Cox ( ? - ? ), daughter of James MacArthur and Opal Pearl Cox. The couple made their home for years in Rock Springs, WY and together produced two offspring -- Edward Guinn and Angela Guinn.

Eugene

earned a living over the years with work including saddle-making, underground mining and a position with the State of Utah as an environmental health scientist. They belonged to the Roman Catholic Church. In his free time, Eugene liked to fish, hunt, raise cattle and watch sports. Said the

Vernal Express

, "Those who knew Gene can attest to his irreverent sense of humor, his love of life, and a firm understanding of what was important - the simplicity of living a life with those you love." Their final years were spent in Konawa, OK. Sadly, he passed away at home at the age of 73 on Feb. 25, 2020.
Grandson Dean Armstrong resided in Dallas.
Granddaughter Dale Armstrong married (?) Yos. Her home was in Grand Prairie, TX

.
Grandson Gregory Armstrong (?).

Paul, wearing no. 41, with his Tulsa Golden Hurricane teammates, ca. 1945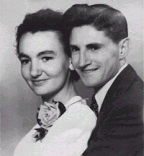 Eunice and Glen
Daughter Eunice Juanita Armstrong (1927-2020) was born on May 19, 1927 in Kingfisher. On April 20, 1946, when she was age 19, Eunice married 26-year-old Glen David Fergason (1920-2010), son of Henry Levi and Jenny Christina (Carlson) Fergason of Elk City, OK. The nuptials were celebrated in Hennessey, Kingfisher County. As the story goes, Glen first had dates Eunice's older sister Erma. But when he was away during World War II, she married someone else. During that time, Eunice's other sister Ardeth wrote to Glen several times a week. But when he came home after the war, she had begun a relationship with her future husband. So he asked Eunice herself out on a date, and they made a match. They went on to enjoy a marriage lasting 64 years, separated in the end only by death. During his college years, Glen wrestled under legendary coaches Edward C. Gallagher and Art Griffith at Oklahoma State University. Their five children were Thelma Jo Price, Edith Ann Tillson, David Glen Fergason Jr., Charles Edward Fergason and Lee Paul Fergason. They lived in Tulsa and then in about 1982 relocated to Antlers, OK.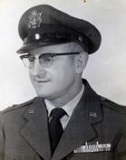 Glen
Reported a newspaper, "He served his country during World War II and the Korean War then retired as a Lieutenant Colonel of the United States Air Force. Glen was a member of the [Oklahoma State University] Alumni Association, VFW, and Antlers First United Methodist Church & Choir. He enjoyed reading, feeding wildlife, giving to church & charities, watching sports, watching and coaching wrestling and spending time with family & friends." Eunice enjoyed being of service to others and loved to bake and crochet. One of her specialties was peanut butter balls which she took to home football games of Kingfisher High School. Circa 1976, the Fergasons' home was in Richardson, TX. Glen passed away on Nov. 8, 2010, at the age of 90. His death terminated a marriage having spanned 64 years. The funeral was led by Rev. Robert Duran and held in the First United Methodist Church of Antlers. At his death, reported a newspaper, his survivors included 14 grandchildren and 18 great-grandchildren. Eunice outlived her husband by nine-plus years. The founder of this website had the privilege and pleasure of meeting her at the 2015 Barnum-Armstrong Reunion, held in Guthrie. Her final years were spent in Durant, OK. Grief blanketed her world in 2017 at the untimely death of one of her twin sons, Lee Paul Fergason. At the age of 92, she became unresponsive after a trip to the local emergency room and died on Jan. 20, 2020. Funeral services were held in the family church, with burial following in Finley (OK) Cemetery. An obituary reported that she was survived by14 grandchildren and "numerous" great-grandchildren and great-great grandchildren.
Granddaughter Thelma Jo Fergason married James Price and lived in Antlers, OK.
Grandson Charles Edward Fergason is a twin with his brother Lee. He was united in marriage with Heidi and dwells in Richardson, TX. Following in his father's footsteps, Charles was a college wrestler, and his name today is displayed at the National Wrestling Hall of Fame in Stillwater, OK.
Grandson Lee "Paul" Fergason ( ? -2017) is a twin with his brother Charles. On Aug. 4, 1973, he married Krista Jean. She has been employed as director of workers' compensation claims at the Texas Association of School Boards. The couple divorced in September 2010. He made his home in Burnet, TX while she resided in Austin, TX. Paul suffered a massive heart attack and died on Feb. 14, 2017.

Wheat harvest in Kingfisher

Hazel McClung
Hazel and Don McClung
Daughter Hazel Ruth Armstrong (1928-2017) was born on Aug. 1, 1928 in Kingfisher. She married Donald R. McClung (1928-2008), son of Omer Wilson and Effie Mae (Smith) McClung of near Okeene, Blaine County, OK. Their marriage took place on March 31, 1947, in Enid, Garfield County, OK, when both Hazel and Donald were age 18. Their longtime home was in Okeene. The couple produced three daughters -- Eliena Ruth McClung, Maria Donnette Nease and Geraldine Lynn "Gerri" Heidebrecht. The Enid News once reported that Don was a member of the U.S. Army during World War II and was a member of the VFW and Okeene Church of Christ. His employers over the years included Hahn Truck Lines, Southard and Texaco. Starting in 1967, the family also took over cultivating a farm which had been in continuous family ownership since 1897, and which by 2007 was considered a "Centennial Farm."
In April 2007, the couple celebrated their 60th wedding anniversary with a reception for friends and family and the Okeene Church of Christ. Donald died on July 12, 2008, at the age of 79. Funeral services were held in the Okeene Church of Christ, with Bob Rowley and George Mayfield officiating. His remains were lowered to eternal rest in the Collins Cemetery near Okeene. Heartache rocked the family again when the McClungs' 28-year-old granddaughter, Elizabeth Nicole Nowakowski-Nease, passed away on May 18, 2015. In July, Hazel and some of her family attended the annual Armstrong Reunion held at Guthrie, OK. She passed away at the age of 88 on Feb. 1, 2017. A death notice was published in the Enid News & Eagle.

Jewel Felder
Daughter Dorothy "Jewel" Armstrong (1931-living) was born on Oct. 2, 1930 in Billings, Noble County, OK. At the age of 19, on Aug. 10, 1949, in Hennessey, she wed 21-year-old Anthony J. Felder (1928-2021). He was the son of John David and Velma Elizabeth (Biggs) Felder. The couple's marriage endured for an extraordinary 72 years. Their six offspring are Gladys Elizabeth "Beth" Weber, Jane Ann Nusz, Joan Marie Geers, Laura Ruth Felder, Barbara Bernice Creps and Anthony John Felder Jr. His children summarized the highlights of Anthony's long life as follows:
He began helping with the Okeene Rattlesnake hunt, as a young boy with his dad and siblings. Later, Anthony and Jewel opened their home every year during the hunt, providing meals and housing for his snake hunting friends. Virgil Pugh, Joe Fasig, Jim Brown, Tim Hartley, Leonard Jardoe and many others became a brotherhood. Old Smokey brought him so much laughter. A grandchild remembers him making Grandma empty her purse to catch a rattlesnake while they were driving. Anthony and Jewel had a huge circle of friends who played bridge together. Norma & Percy Dobrinski, George & Carol Dobrinski, Joann & Morris Miller, Pat & Jerry Leach, and many more. Joan remembers that it seemed like 50 kids running around outside while they played. He was a member of Okeene Jaycees, State officer of Jaycees, Okeene School Board, and the Okeene Quarterback Club. Anthony worked at the U.S. Soil Conservation Service and retired in 1983. He was excited to open his own survey company and it was his delight when Tony joined him. He loved being a surveyor and was a member of Oklahoma Society of Land Surveyors - it was a piece of him – he was completely connected to the land and the soil. Surveying was a perfect fit for him. It was a combination of knowing the land and meeting people. However, Anthony never "met" anyone. He knew them. He truly never met a stranger. He needed to be around people. He was the ultimate people person. He loved farming (putting is grandkids in the wheat truck so wheat dumped on their heads), his cattle, hunting (having his grandkids clean the dove in the dark so they wouldn't see how disgusting it was), hunting trips and coffee with friends. He loved telling a story. Making someone laugh was his ultimate pleasure. He had a keen and intelligent sense of humor. He took great pleasure in his WW2 gun collection and coins and showing them to everyone who came in the door. It was his way of bonding with the new boyfriends and husbands in the family. He loved his grandchildren deeply and gave them awesome nicknames. Dawndy Dynamo, Treenie Weiny, Niki Noodle, Birdman, Bomb bine, Bubba and Meems were just a few. And let's not get started about how much he loved Vegas with friends and exposing his grandchildren to it on their 21st birthdays and teaching them to play craps. His grandkids remember him as always having an inside joke and staying up to date with their lives. He was always learning something new, but never let people know how powerfully intelligent he truly was.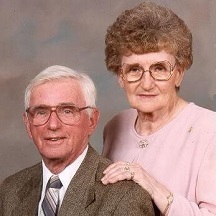 Anthony and Jewel
Many of Jewel's nephews worked on his farm during their summers. The Felders made their home in the Okeene area northwest of Oklahoma City and have been members of the St. Anthony of Padua Catholic Church. When the church produced a cookbook to celebrate its centennial anniversary, recipes were contributed by Jane Nusz, Niki Nusz Lipps, Barbara Creps, Ruth Boeckman, Gary Boeckman, Katrena Boeckman Winter and Keith Boeckman. Circa 1960, Anthony served as president of the Okeene Chamber of Commerce. He began catching rattlesnakes in the hills west of Okeene in about 1939 and, despite a few brushes with nearly deadly bites, has continued the practice for decades as part of Okeene's Rattlesnake Roundup. He has been interviewed by the Wall Street Journal ("Rounding Up Rattlers: A Town Tradition," July 7, 1987) and Sports Illustrated, and some have called it the oldest rattlesnake hunt in the nation. In 2008, Jewell and Anthony and their four daughters traveled to Pittsburgh for the very first time -- their branch having left the region for Ohio nearly 200 years earlier circa 1812 -- to help celebrate the city's milestone anniversary at our "Pittsburgh 250" national family reunion. The couple bore the heartbreak of the deaths of their son Tony in September 2016 and Jane in August 2020. Sadly, Anthony passed away on June 25, 2021. His Rosary was held in the family church, led by Rev. Fr. Jaroslaw Topolewski and Fr. Mason, followed by burial of the remains in Calvary Cemetery, Okeene.
Granddaughter Gladys Elizabeth "Beth" Felder married Henry Weber. They live in Victoria, TX.
Granddaughter Jane Felder (1951-2020) was born on Nov. 3, 1951. She was a 1973 graduate of Oklahoma State University, earning her bachelor's degree in education. She married (?) Nusz. They together bore three children - Nichole Lipps, John Nusz and A.J. Nusz. She taught in the Geary Public School system from 1974 to 1992, and after taking a year off, then became employed by Oklahoma State University, where she taught from 1993 to 1996. Jane returned to the public school system, this time in Okeene, and taught family and consumer sciences from 1996 to her death in 2020. She has received "Teacher of the Year" honors and other education-related awards. In March 2003, she was chosen by Phi Mu as Oklahoma City's Panhellenic Woman of the Year, based on her many contributions to her sorority and to the community. Among other activities, she currently serves as Acting State Treasurer of the Oklahoma Association of Mothers' Clubs. She and her sister Joan helped to plan and organize the 2015 Armstrong Reunion in Guthrie, attended by the founder of this website.

Her family once remembered:
Jane was passionate about education and throughout her 40 years in education, she loved her students like her own children. Jane's dedication to education extended well beyond the classroom, she was a role model and "second mom" to her students in school, those she reached through her role as a religious education teacher and to so many friends of her children. Jane received a number of awards and recognitions throughout her career. Most recently, she was named the 2019 Archbishop Paul S. Coakley Religious Educator of the Year. Jane was an avid community activist. Through her role as FCCLA sponsor, she organized the Okeene Secret Angel project each Christmas, providing much needed gifts to countless local families; and the annual Win-Win fundraiser for Stephenson Cancer Center. She found so much joy in organizing the annual Okeene Easter egg hunt, providing every child who attended a "prize" egg with a special gift. She was cheer sponsor for many years both in Geary and Okeene. She also served as a member of the Okeene Hospital Board. Jane found tremendous joy in giving to others and making the world a brighter place especially for children. Family was the most important and loved part of Jane's life. If you met her, you most certainly heard about her grandchildren within the first 2 minutes of conversation. She loved her family fiercely and would have done anything for them.
Sadly, during the coronavirus epidemic, Jane succumbed to death on Aug. 29, 2020. A funeral mass was sung in the St. Anthony Padua Catholic Church, Okeene. An obituary in the Oklahoma Newsbreak was headlined "Okeene mourns the loss of a local legend and icon." The family asked that any memorial donations be made to Catholic Charities or Win-Win.
Granddaughter Joan Marie Felder married Michael Geers. They have dwelled in Yukon, OK. She is a commercial real estate agent in Oklahoma. In 2008, she was quoted in a Pittsburgh Post-Gazette story, headlined "Getting to Know You" about our "Pittsburgh 250" national family reunion.
Granddaughter Barbara Felder married Richard "Dick" Creps. The couple has made a home in Okeene.
Granddaughter Laura "Ruth" Felder married Gary Boeckman and make their home in Enid.
Grandson Anthony J. "Tony" Felder Jr. ( ? -2016) was born in (?). He married Alice ( ? - ? ) and resided in Okeene.

Following in his father's footsteps, Tony started hunting rattlesnakes as a boy. The goal was to catch and sell them, and in adulthood, as a member of the Okeene Rattlesnake Roundup, he was familiar with the location of their dens. He also taught public awareness and safety programs regarding snakes. He was a second generation land surveyor and belonged to the Oklahoma Society of Land Surveyors. Tragically, in September 2016, he and a friend caught a 50-inch rattler and took it home in a bucket, only to be bitten on the hand when he removed the lid. Having been bitten three times earlier in his life, he was teated with antivenom at a local hospital. But his health continued to fail, and he was airlifted to Oklahoma City's St. Anthony Hospital, and from there was moved to Integris Baptist Medical Center. Death swept him away on Sept. 12, 2016, at the age of 48. His untimely passing made news all throughout the Enid and Oklahoma City areas.

Marion Armstrong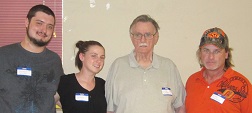 Marion and family, 2015
Son Marion Earl Armstrong (1936-living) was born on July 10, 1936 in Dover, Kingfisher County. On June 10, 1961, in Tulsa, when he was age 25, Marion was united in the bonds of holy matrimony with 20-year-old Mildred "Carol" Bright (1941-2013), daughter of John C. and Mildred Gladys (Hilton) Bright of Tulsa. Together, the pair bore two sons -- Brian Galen Armstrong and Darren Armstrong. Marion was a longtime draftsman. Circa 1976-2015, the family resided in Owasso and Collinsville, Tulsa County, OK. There, Marion spent more than 50 years as a structural steel checker in the construction industry. Sadly, Carol passed away in Collinsville on Oct. 21, 2013, at the age of 72. An obituary in the Tulsa World newspaper reported that she was survived by five grandchildren and one great-grandchild. Interment was in the Memorial Park Cemetery Chapel, officiated by Phil Bright. Marion survived his wife and attended the 2015 Armstrong Reunion held in Guthrie, OK, where he and the founder of this website had an opportunity to meet. Marion outlived his bride by a total of eight years. He succumbed to the spectre of death on Oct. 10, 2021.
Grandson Brian Galen Armstrong married Rebecca "Becky" and lives in Owasso.
Grandson Darren Armstrong was united in matrimony with Donna and resides in Tulsa.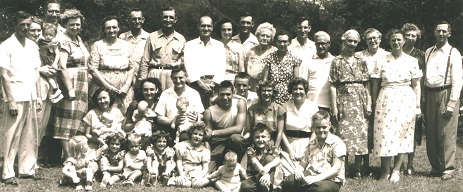 Armstrong family reunion, mid-1950s. Below, the 2015 reunion in Guthrie

~ Son James "Roy" Barnum ~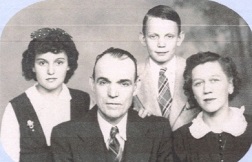 Roy, Emma and children
James "Roy" Barnum (1899-1970) was born on Nov. 7, 1899 in Columbia, Kingfisher County, in then what was considered Indian Territory.
He grew up in Columbia, near Crescent, and was a student at the Banner School, where his elder sister Gladys would someday teach. As a young man, he was of medium height and slender build, with brown eyes and hair.
In 1918, with World War I raging in Europe, he registered for the military draft. On the draft card, he disclosed that he worked for his father near Dover and that his nearest relative was his mother.
When he was 28 years of age, on Jan. 15, 1929, Roy married 20-year-old Emma Anna Yoder (1909-2004), a native of Illinois. The nuptials took place in Enid, with justice of the peace M.E. Shackley officiating. Emma was one of a dozen children of Pearl Elliott and Elizabeth (Uhlenhake) Yoder.

Roy at work
A few months into their marriage, in April 1929, on the eve of the Great Depression, the newlyweds moved to Kingfisher, where Roy found work as a farmer.
Later, they relocated in Enid, Garfield County, OK, where Roy was employed as a flour packer for many years by Pillsbury Mills, Inc.
They were members of the Olivet Baptist Church.

Kingfisher Free Press
Their two children were Norman "Keith" Barnum and Wilma Louise Maynard.
When the federal census enumeration was made in 1930, the Barnums dwelled on North Fifth Street in Enid.
By 1940, they had moved within Enid to a home on West Birch Street. That year, Roy's widowed mother lived under their roof.
After suffering from an illness for five months, Roy died in a hospital in Enid on Sept. 5, 1970, at the age of 70. He was entombed in the Banner Cemetery in Dover, Kingfisher County, following funeral services officiated by Rev. Jerry M. Chastain.
The headline of his obituary in the Kingfisher Free Press read: "Mrs. Armstrong's Brother Dies at Enid."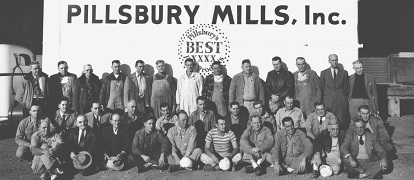 Roy, back row, 3rd from right, with his co-workers at Pillsbury Mills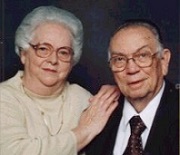 Keith and Betty Barnum
As a widow, Emma lived for another 34 years. She spent her final time on earth under the roof of her son Keith in Edmond, OK.
She passed away on Sept. 6, 2004. Burial was beside her husband.
Son Norman "Keith" Barnum (1929-2018) was born on July 16, 1929 in Kingfisher. On Jan. 17, 1954, in nuptials held in Enid, OK, Keith wed Betty Ann Pool (Nov. 30, 1929-2022), a native of Dover, OK and the daughter of Byron Albert and Carrie Rose (Zachgo) Poole, longtime farmers and residents of Crescent, Logan County. Their marriage endured for an extraordinary 64 years until the separation of death cleaved them apart. The Barnums produced four children, among them James "Michael" Barnum, Dennis William Barnum, Mark Alan Barnum and Sheri Kay Hartley. They lived for many years in Edmond, Oklahoma County, OK. Keith attended Enid Business College. During his career, he was an accountant -- in his words a "bean counter" -- for four different construction companies and a lumber yard but primarily for Robberson Steel, a metals fabricator. He finally retired in 1987. After raising her family, Betty worked in the nursery of First Baptist Church and the Adams Millis Hosiery plant in Edmond. In retirement, she went back to nurserycare at First Baptist, said to have been "her biggest passion."

For many years, Keith was devoted to preserving and promoting the heritage of his "Okie" ancestors, and assembled thick notebooks containing his research findings. Circa 2001, Keith found Minerd.com while surfing the web and offered his extensive archive of photographs and documents to freely be added to the website. In the early to mid-2000s, he hosted a website devoted to the Brown-Barnum branch of the family. He also maintained a separate private Barnum site hosted by MyFamily.com. In 2015, at a Barnum-Armstrong Reunion held in Guthrie, OK, he finally met the founder of this website after 14 years of email correspondence. Keith has generously shared his memories, photographs and historic documents of the pioneer Brown-Barnum family of Central Oklahoma, and Minerd.com wishes to extend its most profound gratitude. Keith and Betty relocated to the Lionwood Senior Living Center in Oklahoma City where he loved to paint, enjoy the arts and play bingo. While visiting his son Mark in the autumn of 2018, Keith became ill and died at the age of 89 on Nov. 8, 2018 in Leonardtown, MD. His remains were returned to his beloved Oklahoma for interment. Betty lived for another nearly four years. The angel of death carried her away on Aug. 18, 2022. Her funeral service was held in the family church in Edmond, with burial in Oakland Knowles Cemetery in Crescent.
Grandson James "Michael" Barnum (1954-living) was born in 1954. On March 19, 1977, in nuptials held in Meeker, OK, he married Karen Sue Davis (Nov. 5, 1958-2019), daughter of Edmond and Cora L. (Autrey) Davis and a native of Alameda, CA. Their marriage endured for 41 years. The couple made their lives in Huntington and Marion, IN. They produced three children -- Michael "Damon" Barnum, Justin Earl Barnum and Kianna Jo Montz. Karen Sue was employed by Owen's North in Huntington as a cashier for many years. In her free time she attended Faith Community Church of God and followed the Dallas Cowboys and Chicago Cubs. She also liked to camp and enjoyed Walt Disney experiences. Sadly, Karen passed away at home at the age of 60 on Feb. 7, 2019. A memorial service was held in their church, with Brother Mike Lewis preaching. Michael has remained in Huntington.
Great-grandson Michael "Damon" Barnum married Mandy. They dwell in Huntington, IN.
Great-grandson Justin Earl Barnum resides in Mercer Island, WA.
Great-granddaughter Kianna Jo "Annie" Barnum was joined in wedlock with Jeremy Montz. Their home is in Indianapolis, and their two children are Paige M. Montz and Kora Sue Montz.
Grandson Dennis William Barnum (1955-living) was born in 1955. He has resided for years in Huntington, IN.
Grandson Mark Alan Barnum (1960-living) was born in 1960. He was wedded to Beverly Ann Bobbitt ( ? -living). They made their home in Lexington Park, MD and bore three children -- Chrissy Dawn Merritt, Elizabeth Kay Kennedy and Kenneth Alan Barnum. By 2022, they had relocated toLaGrange, NC.

Great-granddaughter Chrissy Dawn Barnum married Sean Merritt.

Great-granddaughter Elizabeth Kay Barnum was joined in wedlock with (?) Kennedy.

Great-grandson Kenneth Alan Barnum wed Vanessa.

Granddaughter Sheri Kay Barnum (1968-living) was born in 1968 in Edmond, OK. She married Shad Hartley ( ? -living) and resides in Oklahoma City. Their two daughters are Melody Lee Hartley and Aubry Rose Hartley.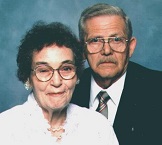 Wilma and Billy, 2001
Daughter Wilma Louise Barnum (1931-2011) was born on Jan. 12, 1931 in Enid, Garfield County, OK. When she was 19 years of age, on May 19, 1951, she wed B.T. "Billy" Maynard ( ? - ? ) in a ceremony held in Rockwall, TX. The Maynards went on to produce four children together -- Dorothy Louise Maynard, Jesse Thomas Maynard, Margaret Ann Brown and Virginia Lee Maynard. They resided in Richardson and McKinney, TX, where she was a Worthy Matron of the Order of the Eastern Star. She also served as president of the McKinney Assembly of the SOOB, a member of the American Legion Auxiliary and the Texas Society of the Order of Confederate Rose. Sadly, Wilma died on June 26, 2011 at the age of 80. Burial was in the Pecan Grove Cemetery in McKinney.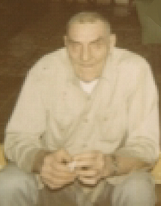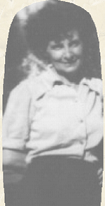 Ted and Zella Barnum
~ Son Ted Leon Barnum ~
Ted Leon Barnum was born on Feb. 8, 1902 in Columbia.
On June 1, 1920, in a ceremony held at the county courthouse in Guthrie, Logan County, OK, the 18-year-old Ted married 20-year-old Zella Fay Milford (1900-1992) of Crescent. Judge Bowler led the nuptials. She was a native of Cimarron City, OK.
They had four sons, among them Laverne Roy Barnum, Francis Barnum, Jerry Eugene Barnum and Merle G. Barnum.
Sadly, son Merle died on May 15, 1937, a few months shy of his 10th birthday. Burial was in Banner Cemetery in Dover, Kingfisher County, among the generations of his pioneer ancestors there who rest under the sod.
The family initially lived in Enid, Garfield County, OK.
By 1935, Ted migrated to Washington State, settling in McKenzie, Chelan County, while Zella and the young children remained behind temporarily. There, he earned a living as a farm laborer, and sent for his wife and children to join them. In nearby Wenatchee resided a distant double-cousin and apple-grower, Alfred Arthur Younkin.
The 1940 census shows the Barnums in McKenzie, with farm laborer Leslie Herrick boarding in their home.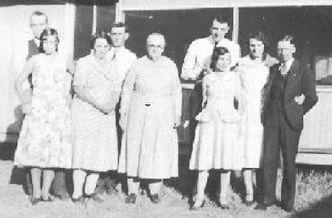 Ted's mother (center) with her children and spouses. Men, L-R: Roy, Paul Armstrong, Ted, Calvin Kester. Women, L-R: Emma, Gladys, Laura, Zella, Wilma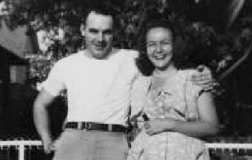 Francis Barnum and ?
Ted died in Wenatchee on Nov. 19, 1973, at the age of 71. He is buried in the Wenatchee Cemetery, where his son Laverne had been laid into rest some 13 years earlier. [Find-a-Grave]
Zella survived him by nearly two decades. She passed into eternity the day after Christmas on Dec. 26, 1992 in Yakima, Yakima County, WA. She is entombed near her husband and son in Wenatchee.
Son Roy "Laverne" Barnum (1920-1960) was born in 1920 in Oklahoma. He came to Washington State with his mother and brothers in the late 1930s. At the age of 19, in 1940, he worked as a laborer in a local lumber box mill. He may never have married. Laverne died at the age of 39 on May 7, 1960. He rests for eternity in the Wenatchee City Cemetery. [Find-a-Grave]
Son Francis Milford Barnum (1923- ? ) was born in 1922 in Kingfisher. He migrated to Washington State with his parents and brothers. In 1940, at the age of 17, he was employed as a warehouseman at a fruit packing plant in McKenzie, Chelan County, WA. He lived in California in the 1970s.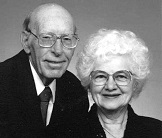 Jerry and later in life with Elsie
Son Jerry Eugene Barnum (1925-2001) was born on May 15, 1925 in Kingfisher. He served in the U.S. Navy with the Seventh Fleet in the Pacific Theatre during World War II. Later, he relocated to Washington State, where he "taught at Moses Lake Jr. High School and Ephrata Elementary School for a combined seven years before starting his own janitorial business and restaurant maintenance company," said the Yakima Herald-Republic. He also was a leader in the Boy Scouts and Eagle Scouts programs. He married Elsie Regehr (1926- ? ) in about 1946, when he would have been 21 years of age, and she 20. They resided in Yakima, WA and had six children -- Michele L. Cooper, Kathy J. Rodrigues, Wesley D. Barnum, Claudia D. Hendrickson, Daniel L. Barnum and Carolyn J. "Carrie" Hogue Combs. Jerry died on Aug. 4, 2001. His news obituary noted that he was survived by 10 grandchildren and 13 great-grandchildren.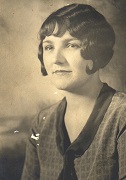 Wilma, age 30 in 1938
~ Daughter Wilma Leona (Barnum) Kester ~
Daughter Wilma Leona Barnum (1908-1996) was born on July 21, 1908 in Lovell, Logan County, OK.
She married Calvin Grover Kester (1892-1961), the son of Henry J. and Mary (Neidhart) Kester and a native of Flatrock near Napoleon, Henry County. OH. The ceremony was held on Aug. 12, 1931, when Wilma was age 23 and Calvin 39. Rev. D.L. Edwards, pastor of the Presbyterian Church of Enid, led the ceremony.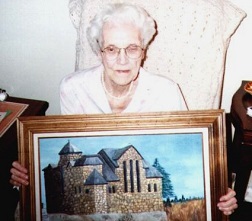 Wilma Kester, 1995
Calvin was of medium height and build, with blue eyes and light hair. At the time of marriage, he was a building carpenter in Enid, Garfield County, OK. He was a U.S. Army veteran of World War I, having lived at the time of enlistment in Buffalo, WY where he labored as a farmer.
They are not thought to have reproduced.
After their marriage sometime during the early 1930s, they relocated to West Longmont, Boulder County, CO. There, Calvin continued his longtime specialty as a carpenter.

In 1956, when named in the Kingfisher Weekly Free Press obituary of her mother, Wilma was reported to have resided in Denver.
Calvin passed away on May 22, 1961 at the age of 69. His remains were placed into rest in the Fort Logan National Cemetery in Denver.
Wilma remained in Longmont/Englewood for the remaining 35 years of her life. She died there on Jan. 12, 1996.



Laura (Brown) Barnum article published in the Kingfisher Free Press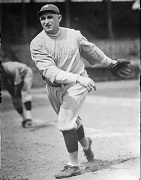 Carl Mays
Library of Congress
~ More on Kingfisher, Oklahoma ~
One of Kingfisher's more notable residents over the years was Carl Mays, who became a star Major League Baseball pitcher with a 207-126 lifetime record.
A native of Liberty, KY, Mays moved to Kingfisher with his mother at the age of 12, in about 1903, and lived there until signing a minor league contract in 1912 with an Idaho team.
Tragically, his career plummeted into infamy when, as a member of the New York Yankees, one of his "submarine" pitches in a 1920 game accidentally beaned and killed Cleveland Indians player Ben Chapman. Chapman is the only Major Leaguer to lose his life directly from an on-field incident.
Copyright © 2000-2003, 2008-2009, 2015-2017, 2021-2022 Mark A. Miner