Alfred Arthur Younkin
(1888-1965) and
Lillian Rhoads (1891-1983)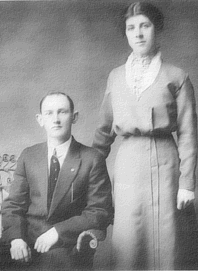 Alf and Lillian Younkin
Alfred Arthur Younkin was born on March 17, 1888 in Casselman, Somerset County, PA, the adopted son of Charles and Sarah (Artest) Younkin. He and his wife became pioneer apple growers in Washington State.
Alf married a cousin, Lillian Rhoads (1891-1983), the daughter of James and Minnie (Younkin) Rhoads.
The Younkins produced a family of three sons -- Leland Alfred Younkin, James Melvin Younkin Sr. and Harold "Raymond" Younkin.
Alf was a musician with the Casselman Cornet Band, and many years later he was pictured in the book Down the Road of Our Past.
In the early 1900s, Alf moved to North Dakota, where he may have worked for a railroad. The federal census of 1910 shows him boarding as a "hired man" in the home of W.E. and Blanche L. Kidder of Merricourt, Dickey County, ND.
Later, hearing from friends that the western apple industry was booming, he went back east and married his sweetheart Lillian. Then with his father Charles, the group of three (and perhaps others) migrated to Washington State with an eye toward settling in the town of Wenatchee. Their destination was located at the confluence of the Wenatchee and Columbia Rivers near the eastern foothills of the Cascade Mountain Range.


Walter Wilkins and son Scott
In Wenatchee, they were united with their longtime friends from Casselman, Walter and Mary Ann (Phillippi) Wilkins and their son Scott W. and his wife Lillian May Wilkins. In fact, Alf and Scott were best friends. Walter and Ann and their married daughter and husband Dora and H.O. Mickey had arrived in Wenatchee before the Younkins in March 1910, on the No. 1 train from Casselman. Reported the Wenatchee Daily World, they were "the guests of L.S. Phillippi. The new arrivals expect to locate here."
(In an interesting twist, Lillian's mother and Walter Wilkins were step-siblings, their parents having married each other later in life.)
Alf and Scott first tried planting apples at Hiawatha Valley west of Moses Lake, Grant County, WA. The soil there was dry and poor, and when that enterprise did not work out, Alf and Lillian moved to Wenatchee, Chelan County, WA, where they settled for good. Scott remained in the Moses Lake area.
In Wenatchee, the world of the Younkins became focused upon apples. Circa 1914, they planted an orchard of 20 acres of apple trees. In about 1928, to meet an expanding need, they founded an apple sorting warehouse. The warehouse remained in the family for some 65 years, until the late 1970s.

Above: orchard and valley in Wenatchee, early 1900s. Below left, L-R: Clarence Stewart, Alf Younkin, Scott Wilkins. Below right: the Younkins (far right) attend Scott Wilkins' 61st birthday party in July 1949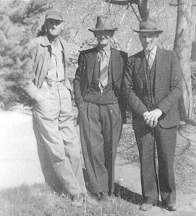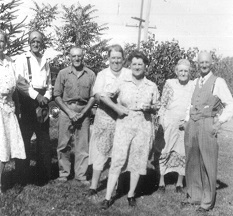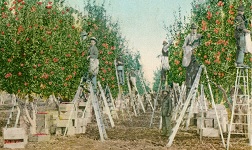 Apple pickers in Wenatchee
Alf is said to have been one of the first growers in the area to graft over some of his trees to Red Delicious, using tree branches sent from the eastern United States. He regularly sent crates of apples to his Younkin cousins in Pennsylvania at Christmastime, one of whom was John W. "Emory" Younkin in Rockwood, Somerset County, and whose daughter told the story many years later to the founder of this website.
When the federal census was taken in 1920, Alf, Lillian and their four-month-old son Leland were enumerated in Ohio in the home of Lilliam's parents in Deerfield, Portage County. The census taker recorded Alf's occupation as "apple orchard." The combined family dwelled on a farm along the Deerfield Yale Road in Deerfield.
In 1920, the Younkins received sad word of the passing of their 49-year-old longtime friend Mary Ann (Phillippi) Wilkins in Wenatchee. The cause was believed to have been influenza. Her husband Walter lived for another 19 years until October 1939, when his body found by a son in a shed where he lived in Hiawatha near Moses Lake.
Alf and Lillian celebrated their 50th wedding anniversary during the 1960s, attended by their children and grandchildren.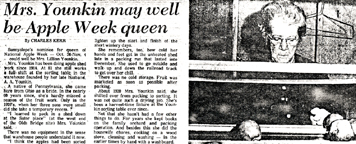 Above: Lillian in the Wenatchee Daily World, 1972. Below: 50th anniversary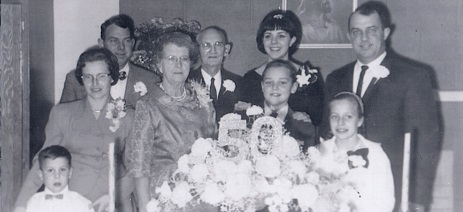 After a long life of hard, outdoor work, Alfred passed away in May 1965, at the age of 77.
Lillian outlived him by nearly two decades.
She died in Wenatchee in January 1983.
Alf with five of his grandchildren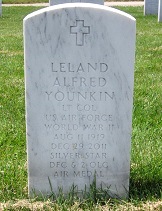 Arlington National Cemetery
~ Son Leland Alfred "Lee" Younkin ~
Son Leland Alfred "Lee" Younkin (1919-2011) was born on Aug. 11, 1919 in Washington State. As an infant, he and his parents returned for an extended stay with his mother's parents in Deerfield, Portage County, OH. They later returned to Washington.
During World War II, Leland served with the U.S. Air Force, earning the Silver Star and Air Medal.
Leland was united in marriage with Milliane Clarke ( ? - ? ) in about 1945.
In about 1961, he served as a lieutenant colonel and wing operations officer in the U.S. Air Force, stationed at Webb Air Force Base near what today is Big Spring in West Texas.
Later, Leland was wedded to Jane Ellen Phillips, (1937-2011), a native of Benton, IL and the daughter of James F. and Nellie (Alexander) Phillips and step-daughter of Ethel Alexander. They produced two sons -- Leland Alfred Younkin Jr. and James Younkin.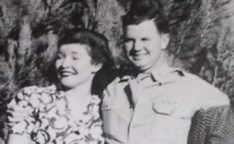 Milliane and Leland, World War II era
They made their home in 1999 in Danville, Contra Costa County, CA. They were members of the Community Presbyterian church, where Jane Ellen sang in the choir.
Jane Ellen died on Jan. 13, 2011. Burial was in Arlington National Cemetery. Reported the Contra Costa Times, "She was an amazing mother and friend to all who were blessed with knowing her. She had a warm heart and positive, loving spirit. Her hobbies included cooking, upholstery, traveling and spending time with her family.
Leland passed away 11 months later on Dec. 29, 2011. His remains were shipped east to Washington, DC for interment in Arlington National Cemetery. [Section 55, Grave 3044] Their marker, inscribed on front and back, was photographed by the founder of this website in July 2016.
Son Leland Alfred Younkin Jr. resided in Fairfield, CA.
Son James Younkin married Asha and lived in Sacramento.

Mel Younkin
Courtesy Sue Snow
~ Son James Melvin Younkin Sr. ~
Son James Melvin Younkin Sr. (1921-1999) was born on the Fourth of July 1921 in Wenatchee, Chelan County, Washington.
Melvin served in the U.S. Navy during World War II. He married Carrie "Valena" Hansen and had a family of children -- Diana Burnell Egan, James Melvin Younkin Jr., David Arthur Younkin and Mark Edward Younkin.
They belonged to the Church of Jesus Christ of Latter Day Saints.
Melvin took over the orchard business in about 1946 and operated it until 1987. He was pictured in front of the Younkin Warehouse in a 1965 article in the Wenatchee Daily World, seen here. Said a local newspaper, he "was a member of the American Legion, and was a past Grand Chef of du Washington 40 & 8. He was a past commander of Post 10, and a member of the VFW and was the Ninth District Commander. At the American Legion, Mel ran the Bingo for 16 years, and also one of his most enjoyable activities was serving as the Oratoracle Chairman for 20 years." He enjoyed Boy Scouts activity, fishing, traveling and woodworking.
Valena and the children relaxing at the ocean
He and Valena divorced in the late 1960s. He married again on May 15, 1971 to Sandy Leah (Draper) Tripp (1928-2014). She was the daughter of Zira and Elsie Draper and a native of Provo, UT. Sandy had been married before and brought two daughters to the marriage -- Elsie Fay Johnson and Martha "Marty" Stierlen.
Valena also married again to Robert Duvall (1924-2009), son of Guy and Frances (Nelson) Duvall of Everett, WA. Their nuptials were held on June 20, 1972 in the Los Angeles Temple of the LDS Church. He was a veteran of World War II and the Korean War, and a salesman for Goodyear Tires and Bowman Distribution. He had been married before and brought these children to the second union -- Rob Duvall of Edmonds, Jeannie Stockman, Kathy Smith, Connie Murray and Becky Shockley. They made their home in Wenatchee. Robert passed away at the age of 85 on Nov. 23, 2009. Valena outlived him by a decade and spent her final six years in Springville, UT to be near her son Jim. Valena was swept away by the Angel of Death on May 2, 2019.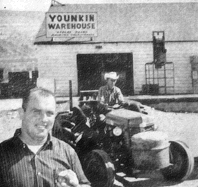 Mel Younkin
In 1998, Melvin's children and grandchildren printed his memoirs in a a family booklet, World War II Through a Porthole, which is republished on this website.
Mel died on Jan. 12, 1999, at the age of 78. Burial was in the Wenatchee Cemetery. [Find-a-Grave] He was survived by 14 grandchildren and six great-grandchildren.
Sandy survived her husband by 15 years. She passed away on Aug. 27, 2014 at Avalon Adult Care Home in East Wenatchee.
Daughter Diana (Younkin) Burnell Egan (1948-2006) was born on March 17, 1948 in Wenatchee. She was married several times and had these children -- Charles Anthony Fannan, Jeffrey Edward Burnell. Brandon Michael Burnell. Trisha Dawn Rutherford, Kelli Patrick Burnell, Ryan James Burnell and Elizabeth Ann Egan. The Egans resided in Salem, OR, and Diana was deeply interested in preserving the family's heritage. She was the chief organizer of the Younkin Reunion-West held in Turner, OR in 1996-1998 and 2000. She also attended the Younkin Reunion-East in 1992 and 1996 with her brother and daughter. Sadly, Diana passed away after a long illness on May 27, 2006. Interment was in the Campbell-Grier Cemetery in Stayton, Marion County, OR.


James Melvin Younkin Jr. and his
compressed natural gas fuel advertising
Son James Melvin Younkin Jr. ( ? -living) is a graduate of Ricks College in Resburg, ID. He has been married and with his first wife Eileen had a family of children, including Christopher Younkin, Kathy Ransom, Alex Younkin (Ashley Corinne). On Feb. 9, 2012, he wedded his second bride, Debbie ( ? -living). He has attended Younkin Reunions in Kingwood, Somerset County, PA and Salem, OR. With an adventurous spirit, he has been a mountain climber among other talents, and has displayed some of his photos on his own website and LinkedIn public profile. Jim is proprietor of Mapleton Automotive, and is a specialist in the maintenance of imported automobiles, with expertise in compressed natural gas (CNG) fuel systems. Visit his Younkin CNG site.
Son David Younkin married Glenna. He resided in Wenatchee in 1999 and in Cashmere, Chelan County in 2013.
Son Mark Younkin made his home in 1999 in Los Angeles and in 2013 in Simi Valley, CA.
~ Son Harold "Raymond" Younkin ~
Son Harold "Raymond" Younkin (1928-1995) was born on Feb. 19, 1928 in Wenatchee, Chelan County.
On Dec. 7, 1948, at the age of 20, he married Berdena Shell ( ? - ? ), a resident of Omak, WA. News of their marriage license application was published in the Spokane Spokesman-Review newspaper.
He is believed to have died in Cashmere, Chelan County on March 15, 1995, at the age of 67.
Nothing more is known.
Copyright © 2000-2001, 2005-2006, 2008-2009, 2016, 2019 Mark A. Miner