Minnie (Younkin) Rhoads
(1871-1938)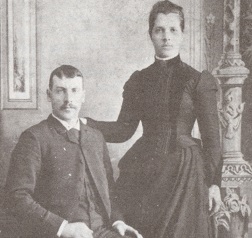 James and Minnie Rhoads
Minnie Elizabeth (Younkin) Rhoads was born on June 22, 1871, in Casselman, Somerset County, PA, the daughter of Josiah and Rachel (Phillippi) Younkin.
Her father died when Minnie was about five years old, and she grew up with a "significant other" step-father figure, Jack Hobson and later a full stepfather John Wilkins.
Minnie eloped to Cumberland, Allegany County, MD, to marry sweetheart James Rhoads (1867-1931), the son of Jonathan and Delilah (Weimer) Rhoads of Rockwood, Somerset County.
The couple is seen here in the wedding photo. The family name also has been spelled "Rhodes."
The Rhoadses produced three children -- Lillian Younkin, Alice Eno and James Quentin Rhoads.
Because her father had died at such a young age, Minnie apparently did not speak about him to her children. At Minnie's own death years later, when asked the names of her parents, one of Minnie's daughters did not know the father's name, but correctly cited the mother's name.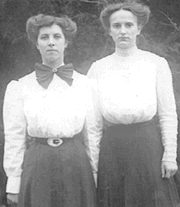 Sisters Lillian and Alice Rhoads
At some point in the late 1880s or early 1890s, James and Minnie made the decision to move west. Becoming pioneers of Nebraska , they settled near the town of Hardy, where their daughter Alice was born in September 1893.
But by 1898, just a few years later, the family moved back to Somerset County. James went on to serve on the Casselman School Board along with Minnie's uncle, Charles Younkin. His day job was as a sawmill laborer.
In 1910, the family moved to Yale, near Deerfield, Portage County, OH, where they stayed the remaining years of their lives.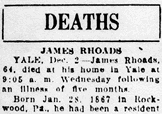 Obituary, 1931
When the federal census was taken in 1920, the family dwelled on a farm along the Deerfield Yale Road in Deerfield. Living under their roof were their son James Q. Rhoads, married daughter and son in law, Lillian and Alfred Younkin -- temporarily back from Washington State -- and the Younkins' infant son Leland.
James was afflicted with kidney failure and his health declined, forcing him to quit work in July 1931. Five months later, on Dec. 1, 1931 he went into a coma. He died the next day at the age of 64.
Minnie outlived her husband by six years. She suffered a stroke at age 67 in Atwater, Portage County, and died two weeks later, on Dec. 29, 1938. She and James are buried at the Atwater Cemetery, as are their daughter Alice and her husband, Clarence Eno.
In 1992, the Rhoades' wedding photograph was published on the front page of the Younkin Family News Bulletin, submitted by one of their offspring in California.

The railroad depot in Atwater
~ Daughter Lillian (Rhodes) Younkin ~
Daughter Lillian Rhodes married a cousin, Alfred A. Younkin, the adopted son of Charles and Sarah (Artest) Younkin. See their biography for more.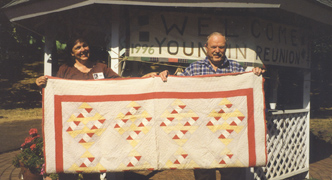 One of Minnie's quilts displayed by a great-granddaughter, Diana Younkin Egan, and Diana's cousin Merrill Younkin, at the 1998 Younkin Reunion-West in Salem, OR. Click for larger version of the image.
~ Daughter Alice (Rhodes) Eno ~

AliceEno
Daughter Alice (Rhodes) Eno (1893-1965) was born in September 1893 in Hardy, NE.
She married Clarence Eno (1894-1967), the foster child of John H. and Laura Grate. They were farmers and attended the Atwater Methodist Church, said the Ravenna (OH) Record-Courier, and resided in Atwater circa 1938.
The Enos had three sons -- Harold Eno, Paul Eno and Charles Franklin Eno.

Obituary, 1965
Later in life, they moved to Gainesville, Alachua County, FL. Alice passed away at age 71 in Gainesville on March 1, 1965, "following several months illness," said a newspaper.
Clarence outlived Alice by two years. He died in Gainesville on March 20, 1967, with his remains returned to Ohio for burial at Atwater Cemetery. Their son Harold Eno (1915-1959) also is interred in Atwater.
Son Charles Franklin Eno (1920-2007) was born on May 21, 1920. He served as an officer in the 10th Mountain Division during World War II. After the war's end, in 1948, at the age of 28, he married 31-year-old Fern Imler (1917-2009). Fern was the daughter of Guy R. and Mabel Ann (Ford) Imler and a native of Van Wert County, OH. A graduate of Ohio State University, Fern had served as an Army nurse during the war with the 140th General Hospital in England. In 1950, Charles and Fern moved to Gainesville, Alachua County, FL, where he was a professor and later head of soil sciences at the University of Florida, until retirement in about 1989. Fern "was a former member of the Gainesville Golf & Country Club, Gainesville Women's Club and University United Methodist Church, where she served as a Sunday school teacher," said a newspaper. She " served in numerous other organizations throughout her life, always willing to help others." They had two sons -- Charles F. Eno Jr. and Mark I. Eno. Charles passed away on June 6, 2007. Fern survived him by two years. She joined him in eternity on July 29, 2009. They rest side by side in Florida National Cemetery.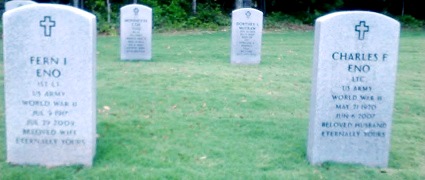 Eno graves, Florida National Cemetery
~ Son James Quentin Rhodes ~
Son James Quentin Rhodes ( ? - ? )
Copyright © 2000, 2003, 2005-2006, 2010 Mark A. Miner