Alice (Hall) Collins
(1878-1908)
Alice (Hall) Collins was born on Feb. 27, 1878, the daughter of Winfield S. and Mary (Hyatt) Hall and granddaughter of Joseph and Elizabeth Hall and stepson of Elizabeth (Rowan) Hall of Nicolay.
She was two years old when her mother died, and her father remarried to Josephine Minerd.
In about 1897, when Alice was age 18, she wed 22-year-old Amos H. Collins (1873-1944). He was the son of Milton S. and Mary Ann (Clark) Collins of Connellsville, Fayette County. Amos' mother was an emigrant from Scotland.
They had four known children -- Frank V. Collins, Stanton Milton Collins, Leander S. "Lee" Collins and Helen Collins.
The family resided in the Ohio Pyle area of Fayette County, PA. The federal census of 1900 shows them living there with Amos working as a carpenter. Alice enjoyed visits from her sister Stella Kemp of Bidwell, Fayette County.
Circa January 1904, Amos was nominated on the Republican ticket for judge of election for Ohiopyle. In the winter of 1905, he obtained work in Upper Middletown, near Uniontown, Fayette County, and lived there during the week, returning home on weekends.
Then in 1906, Amos served on the town council of Ohiopyle. He moved to Uniontown, Fayette County, in about 1914. He obtained employment with W.J. Rainey, Inc., a leading coke producer of the era, and remained there for a quarter of a century.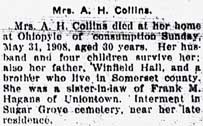 The Collinses' obituaries, 36 years apart
Tragedy rocked the family in the fall of 1907 when the 30-year-old Alice contracted tuberculosis (then known as "consumption"). She could not shake the grip of the illness, and after six months, died on May 31, 1908. The newspaper obituary said she was "a sister-in-law of Frank M. Hagans of Uniontown." She was interred in Ohiopyle.
Heartache was compounded the following year, in August 1909, when 20-month-old daughter Helen also died of TB at the Hagan home. Reported the Connellsville Daily Courier, "Since the death of its mother the child has made her home with Mr. and Mrs. Frank Hagan." The tender remains were sent for burial to Ohio Pyle via Connellsville on the Baltimore & Ohio Railroad.
Amos outlived her by 36 years. In 1910, he married again, to Jennie B. (Bittner) Lowery (1886- ? ). They were a dozen years apart in age. News of their marriage license application -- taken out in nearby Greensburg, Westmoreland County -- was front-page news in the Daily Courier.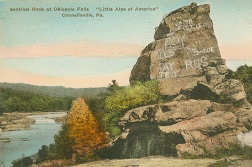 Graffiti-covered Sentinel Rock at
Ohio Pyle, a local landmark
The couple produced three more known children of their own -- Melvin Edward Collins, Ruth Getchell and Harry G. Collins. The 1910 census shows the newlyweds Amos and Jennie and the three children from the first marriage residing under the same roof in Ohio Pyle.
Amos was a member of the Masons, Knights Templar, Odd Fellows. In about 1924, he and Jennie moved into the city of Uniontown, making their residence at 35 Derrick Avenue.
A longtime sufferer from hypertension, Amos was felled by a stroke and died at home at the age of 67 on Dec. 2, 1944. The funeral was conducted at the Methodist Church in Ohiopyle, by Rev. J.W. Shell. Among those attending the funeral were Mr. and Mrs. Lewis Mason of Brownsville and Oliver Mason of West Newton, PA.
He and his first wife, our Alice, rest for eternity at Sugar Grove Cemetery near Ohiopyle.
Note -- Winfield Hall's half-nephew, Lloyd Jackson Hall, married Ollie Harbaugh and was a leader of the Harbaugh Reunions for many years.
~ Son Frank V. Collins ~
Son Frank V. Collins (1897-1916) was born in February 1897. Little is known of his short and tragic life.
In mid-November 1916, when he was 19 years of age and working as a butcher in Menallen Township, near Uniontown, he died in his sleep. The Connellsville Daily Courier reported that he "was found dead in bed. The body will be shipped [to Ohio Pyle] Sunday and interment made in the Sugar Grove cemetery."
A coroner investigating the case ruled "Accidental asphyxiation from fumes of gas stove."
~ Son Stanton Milton Collins ~
Son Stanton Milton Collins (1898-1971) was born on Nov. 25, 1898 in Ohiopyle.
He resided in Uniontown, and was tall with a medium build. He had blue eyes.
As a young man, he was employed as a mining engineer by the W.J. Rainey Co. He registered for the military draft during World War I, and listed his father as his next of kin.
After the war, he pursued a business career and became a partner in Uniontown Dental Laboratories.
On May 23, 1945, in nuptials held in the Jumonville Chapel, Stanton was joined in wedlock with Helen Graham ( ? - ? ), daughter of W.W. Graham of Uniontown. Rev. Dr. Francis E. Kearns, of the Asbury Methodist Church, officiated the nuptials. Their wedding was top headline news in the social page of the Uniontown Morning Herald, which reported that she wore "a suit of channel blue, with navy accessories and corsage of pink orchids." At the time of marriage, Helen was employed by the Union Supply Company as secretary to J.V. Brothers, general superintendent.
The couple did not reproduce.
He went on to work for 25 years as a dental technician in the offices of S.M. Collins Dental Lab. He was a member of the Great Bethel Baptist Church. For more than half a century, he belonged to the Fayette Lodge of the Masons. He was active with the Rotary Club of Uniontown and served as its secretary in 1952.
Stanton was named in the 1964 Connellsville Daily Courier obituary of his younger brother Lee.
At the age of 72, on April 22, 1971, Stanton passed away in Uniontown Hospital. Interment of the remains was in East Oak Grove Cemetery in Morgantown, WV. The Morning Herald published an obituary.
~ Son Leander S. "Lee" Collins ~
Son Leander S. "Lee" Collins (1902-1964) was born in 1902.
As a young adult, he operated the Corner Restaurant in Uniontown for a number of years. He also was a member of the Uniontown Elks Lodge and the Church of Unity.
Lee married Bess Gordon ( ? - ? ). They did not reproduce.
In 1944, he moved to Florida, where he made his home in Dania, FL. There, he was a member of various Masonic lodges.
Lee died at the age of 64, in Fort Lauderdale, on Oct. 6, 1964. An obituary was published in the Connellsville Daily Courier.
Copyright © 2000, 2002, 2006-2008, 2011, 2013-2014, 2020 Mark A. Miner