Stella (Hall) Kemp
(1876-1903)
Estella "Stella" (Hall) Kemp was born in January 1876, in or near Kingwood, Somerset County, PA, the daughter of Winfield S. and Mary Hall. She was five years old when her mother died, and her father remarried to Josephine Minerd.
Stella was joined in the bonds of wedlock with Orville "Ross" Kemp (Sept. 14, 1875-1952), the son of Lemuel T. and Sarah (Hyatt) Kemp. Ross had blue eyes and light brown hair, and was of small build and medium height.
They resided at Bidwell, Fayette County, where Ross was employed as a fireman at a sawmill circa 1900.
Their brief union resulted in two children -- Ira Lloyd Kemp and Lawrence W. Kemp.
Stella enjoyed visiting friends and relatives. Articles in the Connellsville Courier circa 1899-1901 mention her in connection with visits to Connellsville, Rockwood and Ohiopyle.

Early view of Confluence and its rivers
Tragically, suffering from tuberculosis, Stella died at home in Bidwell on Feb. 2, 1903, at the age of about 26. The details and her grave site are not yet known.
Ross remained in Bidwell as a widower and became employed in railroading. At the age of 27, on Feb. 15, 1904, he entered into marriage with his second wife, 23-year-old Bertha Thena Burnworth (April 15, 1880-1954), also of Bidwell, the daughter of James and Hila "Hily" (Daniels) Burnworth. Officiating was justice of the peace Josiah H. Pisel.
The Kemps dwelled in Confluence and went on to bear seven children of their own -- Clyde Kemp (born 1906), Arthur Kemp (1907), Lehman Kemp, Stella Kemp (1909), Helen Bower, Ann McClintock and Gertrude Shipley.
Sadly, their daughter Stella died at the age of nine, in 1918, following an operation at the Frantz Hospital for appendicitis. She was buried in the Maple Summit Church cemetery.
When Ross registered for the military draft during World War I, he reported he was a laborer with the Baltimore & Ohio Railroad. He remained with the railroad for many years with the occupational specialty of fireman.
Ross and Bertha spent their later years living on Williams Street in Confluence.
Suffering from obesity and hypertension, he was stricken with a heart attack and died within minutes at age 77 on Nov. 24, 1952. Interment was in Maple Summit Cemetery. Son Clyde, from the second marriage, signed the death certificate.
Bertha suffered from heart valve disease and arthritis and only outlived her husband by less than two years. After heart failure, she was admitted to Price Hospital in Confluence, where she passed away at the age of 74 on July 26, 1954. Burial was with Ross in Maple Summit.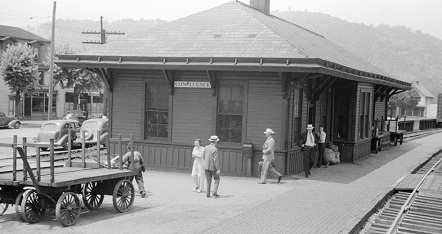 Railroad station in Confluence. Library of Congress.
~ Son Ira Lloyd Kemp ~

Obituary, 1981
Son Ira Lloyd Kemp (1899-1981) was born on May 28, 1899 in Markleton, Somerset County, PA.
He is believed to have been married twice. His first wife was Margaret (?) (1902-1931). They first resided in South Connellsville, and later moved to Champion, near the Fayette-Somerset County line. They had one son, Ira Lloyd Kemp Jr.
Ira's longtime employment was as a section foreman for the Baltimore & Ohio Railroad, and he was a member of the Brotherhood of Maintenance-of-Way.
Tragically, Margaret died at the age of 29, on March 10, 1931, after suffering from a tumor, leaving her widower and a young son. She was buried in Mill Run Cemetery.
Later, Ira married Arvada Flickinger and had nine more children -- Clyde Orville Kemp, Kenneth Ray Kemp, Ronald Calvin Kemp, Donald Arthur Kemp, Esther Mae Pope, Gladys Elizabeth Rooney, Carol Ruth Saville, Dianah Sharon Vance and Linda Sue Kemp.
He lived at Hyndman, Somerset County circa 1966. Ira died at Sacred Heart Hospital in Cumberland, Allegany County, MD on Feb. 22, 1961, at the age of 81. He was laid to rest in the Rest Lawn Memorial Gardens in Cumberland. At the time, said a newspaper, he was survived by 26 grandchildren and seven great-grandchildren.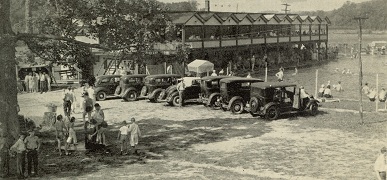 Maple Grove Park, a local landmark in Champion, Fayette County
~ Son Lawrence W. Kemp ~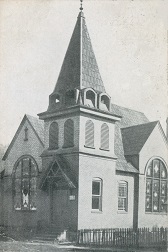 Confluence Christian Church
Son Lawrence W. Kemp (1901-1966) was born on Aug. 2, 1901 at Bidwell. He apparently did not marry until his early 40s, when he lived in Confluence, Somerset County. He was a veteran of World War II.
At the age of 44, on May 26, 1945, he married widow Eunice (Smith) Stewart (Oct. 4, 1910-2001). She was a millworker of McKeesport, near Pittsburgh, and was the daughter of Samuel and Mary Ann (Beresford) Smith of Shaner, PA. Robert C. Calhoun, an alderman of McKeesport, performed the wedding ceremony.
She had been married once before, in 1931, and endured the death of her first husband James R. Stewart on March 8, 1939. She thus brought young children to the marriage, among them Eunice Rosalind Stewart Wood, Grace Sheeley and Edith Waltman.
Lawrence and Eunice produced a son of their own -- Larry Wade Kemp.
The family lived in Confluence. Grace worked as a licensed practical nurse at Price Hospital in Confluence, Somerset Community Hospital and Spear Nursing Home in Markleysburg. They were members of the Confluence Christian Church, the Confluence Veterans of Foreign Wars and the Ursina American Legion and Auxiliary.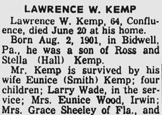 Obituary, 1966
He passed away at the age of 64 on June 20, 1966, with burial in the Maple Summit Church of God Cemetery.
Eunice survived her spouse by more than 35 years and dwelled in Confluence. She was admitted to Somerset Community Hospital where she died on Aug. 24, 2001 at the age of 90. Burial was in Maple Summit Cemetery, with Rev. Eugene Bonnell officiating. An obituary in the Somerset Daily American said that she was survived by 10 grandchildren, 11 great-grandchildren and one great-great grandson.
Stepdaughter Eunice Rosalind Stewart (1931-1995) was born on Oct. 1, 1931 in McKeesport, near Pittsburgh. Eunice graduated from Sewickley Township High School. She married Sherman J. Wood ( ? - ? ), and they were together for 44 years until the separation of death. They were the parents of Mary Ann Stewart, James R. Stewart, Sherman J. Wood Jr. and Arthur A. Wood. Sadly, daughter Mary Ann died in infancy. Over the years, Eunice earned a living as a licensed practical nurse with a number of health care providers and/or hospitals. Later, the couple relocated to Newport, NC. There, on July 16, 1995, Eunice died at the age of 63. Her remains were brought back to Pennsylvania for funeral services in West Newton, Westmoreland County, followed by interment in Mars Hill Cemetery in Rillton. The Somerset (PA) Daily American published an obituary.
Stepdaughter Grace Stewart married (?) Sheely. She lived in Margate, FL in 1995.
Stepdaughter Edith Stewart married (?) Waltman. Circa 1995, her home was in Wilmington, NC.
Son Larry Wade Kemp dwelled in 1995 in Hollywood, FL.
Copyright © 2000, 2002, 2006-2008, 2011, 2018 Mark A. Miner