Thomas Hinerman (1815-1900) and
Elizabeth Bush (1819-1891)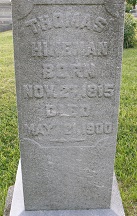 Windy Gap Church
Thomas Hinerman was born on Nov. 27, 1815 (or 1819) in Millsboro, Washington County, PA. It's possible that he was the son of George and Mary (McConnell) Hinerman Jr., with George born in 1796 in Maryland -- or of Jesse and Sarah (Shutterly) Hinerman, with Jesse born in Millsboro, Washington County, PA.
He is not to be confused with "Thomas Hinerman" (1834-1919), also of Greene County and the son of farmers Samuel and Hannah (Acklin) Hinerman.
He preferred the spelling "Hineman" and corrected those who used the othere. While a native of Pennsylvania, some thought Thomas had come from Germany. This suggests that he conversed in German and that a mixture of English and German would have been spoken in the household.
On March 28, 1839, the 23-year-old Thomas was joined in holy wedlock with 20-year-old Elizabeth Bush (1819-1891) in about 1839. The nuptials were held in Fredericktown, Washington County, PA, by the hand of justice of the peace Andrew Bowers.
Elizabeth was a native of Millsboro, Washington County. While her maiden name has been provided by several sources, another one -- the obituary of her eldest son -- gives it as "Shape."
Their nine known children were William Hinerman, Joseph Hinerman, Henry Hinerman, Jackson Hinerman, Thomas A. Hinerman, Nelson Hinerman, Albert Hinerman, Elizabeth "Lizzie" Knapp and Eliza Jane "Jennie" Yates.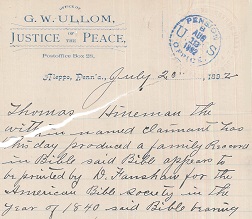 Friend G.W. Ullom's affidavit of birth data
found written in the Hinerman family Bible
Elizabeth received help in the births from friends who served as midwives. As each child were born, Thomas inscribed his and her names and dates in the family Bible. The book was published in New York in 1840 by the American Bible Society and became well-worn with use over the years.
One of the sons -- with evidence suggesting William -- was born with mental retardation, referred to in the 1890s terms as "not square on top of the head."
Upon her marriage, Elizabeth came to Aleppo to set up a life with her husband. The Waynesburg Republican reported that they "purchased a farm all uncleared and she worked out of doors, doing a man's work, for several years. She was a very industrious woman all her life but these early years of overwork ruined her health and she became old and feeble before her time." Said the Waynesburg Democrat, Elizabeth "was a very industrious woman and one of the early settlers there."
When the Civil War broke out, their son Henry yearned to enlist in the Union Army. At the age of 17, in 1862, he left home with a friend and traveled to a recruiting station in the county seat of Waynesburg. Mortified, Thomas came after him, and brought him home because he was not of legal age. The zealous son did not wait long before departing again. After reaching is 18th birthday in late August, he officially enlisted at Waynesburg on Sept. 4, 1862. There was nothing the parents could do to stop him, and Elizabeth became deeply worried and anxious about his safety.
The son was placed in the 18th Pennsylvania Cavalry, which spent its initial months in Virginia, guarding the outskirts of the District of Columbia. They wrote back and forth. At the time, although they resided within Pennsylvania, the Hinermans received their mail through a post office across the state line in Cameron, Marshall County, WV.
When he could, Henry sent money from his pay so that his parents could make payments on their farm debt. In one letter of Sept. 25, 1862, the son wrote:
I take my pencil in hand to inform you that I am well and hope that these lines will find you all well and a doing well. I received your letter last night and was glad hear from you. I have sent you three letters, two by mail and one by patrick grifin. I sent you 10 dolars in money and 30 in a treasury order. I want you to see to it and get the money and pay of as much deat as you can.... While am writing the thougt runs through my hed that you are are talking about me. I wat you to write to me all about how you ar getting along with your tobaco.... Tell Jackson and thomas that I want them to be good boys and dew all that there mother tells them. I want mother to not grieve about me eny more. tha see can help when I hear of hit. it maks mee feel bad.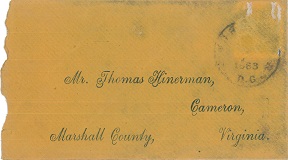 Pre-addressed, Civil War era envelope that their
son used to send home money from his soldier pay.
In an effort to add to their income, Thomas worked as a part-time postal carrier in the Aleppo area. Neighbor James A. Barnhart once recalled that "During the war this man occupied the most of his time carrying mail. P.O. were scarce and while Old Tommy was not a regular carrier he did so for the accommodation of the neighbors."
To the Hinermans' horror, they learned that Henry was wounded and captured at Chantilly near Fairfax Court House in the winter of 1863 and then was hospitalized for several months in Washington, DC. Then after release, he was captured again in action at Hanover, PA, the day before the Battle of Gettysburg began. He contracted typhoid fever around the time of the second capture. He was exchanged and secured a leave of absence, returning home to Aleppo on July 6, 1863.
He was treated by physician S.B. Stidger but was beyond help, becoming delirious at the end. At the age of 18 years, 10 months and 21 days, he died in their residence after just nine days on July 15. Neighbor Charles Stewart was present. The grieving parents had his remains buried in the yard of their church. When the government issued $100 in back pay to the parents, they used the money to buy and inscribe a marker at the grave.
Neighbor Peter C. Ullom once wrote that he did not believe there were more than 40 acres of cleared land in the Hinerman farm circa 1863. Every year until about 1884, Ullom helped the family clear more of the tract until about 75 acres were clear. He wrote that "Elizabeth Hinerman had no income during the above years only by he own labour and the help of her children and what marketing she had to sell."
The Hinermans' farm in the 1860s and 1870s era consisted of 100 acres of land. They kept two horses and a cow and in the later 1860s added more cows to their holdings. In 1877, Thomas added three more acres to his ownership. By 1884, they were down to one horse and one cow.
As she was entitled, Elizabeth petitioned the federal government for a military pension as compensation for her loss. This included dictating affidavits and securing written testimony from family and friends confirming that she was the soldier's mother and dependent on him for financial support. In one document, she claimed that her husband "has failed to suport me he never was able to suport me." Those signing affidavits included James A. Barnhart, John Cotterrel, J.T. Elbin, Azariah Evans, Jonathan Finch, James and Emily Spragg and Peter C. Ullom. Under the spelling "Hineman," the pension was awarded in 1881. [Mother's App. #281.998 - Cert. #243.386].
The family appears together on the federal census enumeration of 1870. At the time, they lived on the family farm at Aleppo. The Hinermans were members of the Church of God at Windy Gap.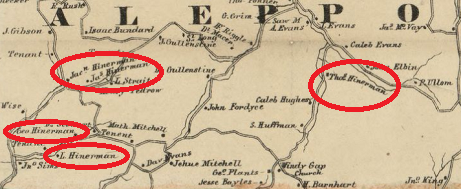 Aleppo Township map, 1860, showing Hinerman farms circled in red, with Thomas' at far right, north of the Windy Gap Church. Courtesy Library of Congress.

Thomas' rare signature
In 1880, the census shows Thomas and Elizabeth in Aleppo, next door to their married sons J.T. and Thomas A. Hinerman and their families of children. They continued to ply their lifelong skills as farmers on their 100-acre tract, raising corn, oats and wheat as well as hogs and calves. About half of the farm was a meadow, used as pasture land for the livestock, mostly hilly and, in the words of a neighbor, "unproductive."
At some point oil was discovered on the farm, and the Hinermans signed a lease with a driller, receiving a meaningful payment in return. If they were expecting additional payments as oil was produced, they were disappointed as the field proved to be a bust.
In 1884, a military physician examining Thomas wrote that "I believe him unable to provide his own subsistence by manual labor, chr[onic] rheumatic arthritis beign the principal disability. His joints are very much stiffened ... especially knee joints. He is unable to stoop or to stand fully erect. His right leg is 1/4 larger at the knee than left and he is unable to flex the leg."

At upper left are the farms of "A." and "T." Hinerman -- 100 acres and 97 acres, respectively, located south of Aleppo and east of New Freeport. Note the nearby Church of God, where Elizabeth's funeral was held in 1891.

Atlas of Greene County, 1875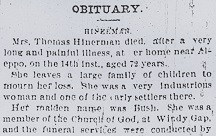 Waynesburg Democrat, 1891
Sadly, after more than a half century of marriage, Elizabeth died at the age of 72 in her home in Aleppo on Nov. 14, 1891. She had endured "a very long and painful illness," said the Democrat. "Owing to feeble health, for several years, she did not go away from home often. After 52 years of married life her husband is left to spend his last days companionless."
The Republican noted that "Her last sickness was long and attended with great suffering. She was very lovingly cared for by her children and died surrounded by all the comforts of a good home.... She died the death of a christian, looking gladly to a better world."
Elizabeth's funeral service was held in the Windy Gap Church of God, with Rev. Anderson preaching the sermon. She was laid to rest in the church cemetery, with a "large crowd of people assembled to pay a last tribute of respect to the aged mother who had lived so long in their midst," said the Democrat.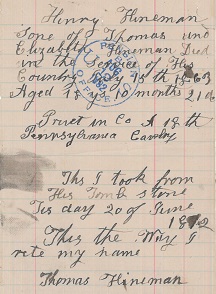 Thomas' record of the inscription
from his son Henry's grave
Thomas outlived his wife by nine years. He claimed that he was "old and feeble," physically unable to work on his own farm. As such, he rented sections to tenant farmers who paid him in the form of shared crops at year-end. When then sold on the open market, his livestock and portion of the crops fetched between $175 to $250 annually. His tenants included son Nelson, who raised corn and delivered 230 bushels as rent; L.R. Sammons, who produced a rent 61 bushels of oats valued at a net of $11.71; and son-in-law William H. Knapp, who raised 68 bushels of wheat with a net value of $43.13. Both Sammons and Knapp deducted a portion of their rent as compensation for their own expense of hauling and threshing the produce. Some years, Thomas had to buy wheat and hay to last until the harvests came in. In most years, everything he earned went to taxes, and he fell behind on repaying loans he owed.
Circa 1892, illness swept through the household, with a daughter and son brought low with illness but fortunately surviving. The medical bills cost some $500. The local postmaster in Aleppo observed that "the old man is not a good manager, if it had not been for a bonus he got on his land and a prtion his wife got before she died he could not of saved his place and is indebted yet and it does not give him a living."
He applied unsuccessfully to receive his spouse's Civil War pension [Father's App. #549.718]. In the attempt, he had to fill out a number of forms with proofs that he was married to his wife and was in such financial straits that he was dependent upon the monthly payments.For certain affidavits, he turned for help to George W. Ullom, a justice of the peace in Aleppo and the son of Daniel Thompson Ullom. He also received assistance in the form of supporting affidavits from neighbors James Courtwright of McCracken and Aleppo residents Lewis Parry, J.M. Houston, A.A. Jones, Dr. W.M. Parry, J.J. Sammons and William Tustin. Wrote Sammons: "[I] know that he has nothing to depend upon for his living and keeping of a partial helpless family." Wrote Tustin: "This man is a very temperate and entirely free from extravagancies of any kind."
Among the tasks he undertook was to visit his son's grave at Windy Gap and to transcribe the inscription onto paper to forward to the government. His handwritten page is preserved today in the National Archives with a scanned copy in the Minerd.com Archives.
Charles Hanback, a government investigator, was sent to Aleppo in 1895 to interview Thomas and verify his claims of poorness. In the interview, Thomas told Hanback that "Well you see my son was only 18 years old and the government took him from me and I was deprived of his aid..." Acknowledging that Thomas was "very respectable," Hanback wrote:
I called on him at his home and was never more surprized when I found this old applicant living in a very elegant house, a large two story frame with immense barn and graineries and instead of evidence of dependence I found every evidence of independence. he owns 209 acres of land and as a matter of fact there is not one in 10 taking the country over possessing anything like the comforts falling to the lot of this man... And he is now a hale old fellow able to do any work about the farm. He could not of course make a regular hand. He has a son who is an imbecile that he cares for. He ownes 200.00 and owns a farm assessed at $2456 this year and worth no doubt 3000.00 dollars.... The claim is entirely without merit and should be rejected.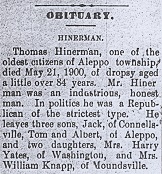 Waynesburg Democrat, 1900
Even as he aged, Thomas' mind remained active. He subscribed to the Commercial Gazette, a newspaper published in Pittsburgh. An article in the Greene County Democrat, dated Jan. 20, 1899, reported the following:
"Uncle Tommy" Hinerman who is our oldest citizen, is still able to make his almost daily trips to the post office that he may get the latest addition to his bible, the "Commercial Gazette." He is in his eighty-third year, and reads well without the aid of glasses. His political opinion is, that Quay is the best man in the United States and that he does all things as a clear conscience dictates.
Enduring a never-ending case of dropsy (fluid in the lungs), Thomas died at the age of 84 years on May 21, 1900. An obituary in the Democrat called him "one of the oldest citizens of Aleppo township [who] was an industrious, honest man. In politics he was a Republican of the strictest type."
He was interred in the Windy Gap Cemetery.
Thomas had dicated and signed a last will and testatment on Oct. 23, 1899, "being of sound mind, memory and understanding." He bequeathed to son Albert his farm of 110 acres along Wheeling Creek, bounded by the farms of the Evans, Simmons and Ullom families. He also charged Albert with providing "reasonable care" to son William Hinerman, living at home at the time, and to "furnish a decent burial ... and to erect tombstones at our graves." Son Thomas was to receive $300, son Jackson $200, and daughters Lizzie Knapp and Jennie Yates $100 each. In addition to William's maintenance on the home farm, he was to receive a token payment of $5.
~ Son William Hinerman ~
Son William Hinerman (1840-1922) was born in 1840 in Greene County. Evidence hints that he was born with mental disabilities and was cared for by his parents and youngest brother Albert during his long life.
William never married but was a well known farmer, "a member of the Windy Gap Church of God and was a highly respected citizen," said the Waynesburg Republican. At the death of their father in 1900, the father bequeathed the home farm to Williams' brother Albert, but charged him to provide William with "reasonable care" and to "furnish a decent burial ... and to erect tombstones at our graves." He also received a payout of $5 from the estate.
William made his home in 1900 with his bachelor brother Albert and motherless niece Maude Alice Hinerman.
Circa 1918, when mentioned in the Waynesburg Republican obituary of his brother Albert, William lived on the old Hinerman homestead in Aleppo Township.
In the late winter of 1922, William contracted a fatal case of influenza. he died at home on March 19, 1922, at the age of 82. He was laid to rest in the Windy Gap Cemetery, with funeral services led by Rev. Moyer.
William's name in the Republican obituary was spelled "Hineman."
~ Son Jackson Hinerman ~
Son Jackson "Jack" Hinerman (1847-1920) was born on March 12, 1847 in Greene County. His middle name may have been "Thomas."
In about 1872, when he was age 25, he married 19-year-old Clara Stewart (March 6, 1853-1923), daughter of John Stewart.
The couple produced seven children -- Mary E. Hinerman, Walter S. Hinerman, Thomas J. Hinerman, Franklin Pierce Hinerman, Oscar F. Hinerman, Cleveland Garard "Jack" Hinerman and Lawrence O. Hinerman.
Federal census records for 1880 show the family in Aleppo Township, with Jackson earning a living as a day laborer.
Circa 1900, he is known to have lived in Connellsville and Uniontown, Fayette County, PA. That year, he worked as a "gauger" for the government. At the death of his father in 1900, Jackson was named in the last will and testament and was bequeathed $200 cash.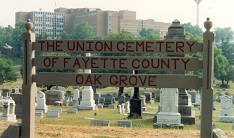 Uniontown's Oak Grove Cemetery
In 1918, when mentioned in the Waynesburg Republican obituary of his brother Albert, he made his home in Uniontown.
At the age of 73 and retired in the spring of 1920, Jackson was consumed over some unknown malady. Putting a gun to his head in the afternoon of April 15, 1920, he pulled the trigger and was instantly killed. Burial was in Oak Grove Cemetery in Uniontown. Son Laurence O. Hinerman was the informant for the official Pennsylvania death certificate.
Clara survived her husband by three years. Her address was 4 Craig Street in Uniontown. Interment was in Oak Grove Cemetery.
Suffering from endocarditis at the age of 70, on Oct. 16, 1923, she passed away.
Daughter Mary E. Hinerman (1871- ? ) was born in about 1871 in Aleppo.
Son Walter S. Hinerman (1874- ? ) was born in about 1874 in Aleppo.
Son Thomas J. "Tom" Hinerman (1876- ? ) was born in about 1876 in Aleppo.
Son Franklin Pierce Hinerman (1878- ? ) was born in about 1878 in Aleppo.
Son Oscar F. Hinerman (1880- ? ) was born in October 1880. He an oil driller. He lived and worked in Uniontown, until about 1954, when he moved to Tulsa, Oklahoma.
Son Cleveland Garard "Jack" Hinerman (Nov. 1883-1956) was born in 1883 and grew up in Uniontown. He moved to Amarillo, TX and "helped the area's oil development grow," reported the Amarillo Globe-Times. He "came west from Uniontown, Pa., and at the height of the boom here, he and his brother, Tom, drilled many early wells in the field for major oil companies. In 1929, Jack Hinerman formed a partnership with the Herrmann Brothers and continued drilling operations. He established a reputation for being one of the most careful contractors in the field. He also was a part owner of the Gunn-Hinerman Tire Company, now known as Gunn Brothers." Tragically, in December 1956, while driving in Amarillo, Jack was killed when the vehicle he was driving was struck by a moving railroad train.
Son Lawrence O. (or "Laurence") Hinerman (1891-1964) was born in Feb. 1891. he was a printer in the Uniontown area for the Fayette Publishing Company. He was married twice. His first wife, Bessie Echard, died at age 32 on July 13, 1919. After three years as a widower, he wed again in July 1922 to Nellie C. LaClair. His address in 1923 was 71 Dawson Avenue in Uniontown. He died in Tulsa on Feb. 6, 1964.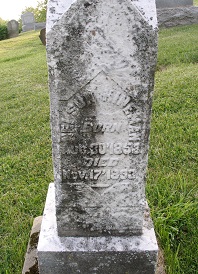 Windy Gap Church
~ Son Nelson Hinerman ~
Son Nelson Hinerman (1853-1893) was born on Aug. 30, 1853 in Greene County. His birth year also has been given as 1850.
He was a lifelong farmer who never married.
At age 25, in 1880, Nelson lived at home and worked with his father on their farm in Aleppo Township.
A local newspaper, the Waynesburg Republican, once said "He was much beloved, by all who knew him...."
He endured the death of his mother in 1881 and continued to dwell with or near his widowed father. Circa 1892, he rented a portion of the father's farm to raise corn, and after the harvest delivered 230 bushels of corn as rent, valued on the open market at $103.50.
He is known to have dictated and signed an affidavit in 1892 supporting his father's application to receive the late mother's Civil War pension.
In the late autumn of 1893, he was stricken with a severe case of gastritis. Despite receiving care from the best local physicians, he could not rally. He died on Nov. 17, 1893, at age 30. Said the Republican, "He leaves a father, brothers and sisters to mourn his loss."
His remains were laid to rest in Windy Gap Cemetery. His grave marker was legible when photographed in 2007.
A poem in his memory was published in the Republican by a writer known only as "E.B.A.":
May the dear ones now bereft,
Find comfort in the Word,
That the "Lord careth for the Soul."
~ Son Albert Hinerman ~
Son Albert Hinerman (1856-1918) was born on Sept. 30, 1856 (or 1858) in Aleppo, Greene County.
He remained single for many years as he focused on a life of farming. After the death of his sister in law Peoria (Grim) Hinerman in 1879, he took in her daughter Maud Alice Hinerman and raised her to adulthood. Circa 1900, when he was 43 and niece Maud 22, his unmarried, older brother William also lived in the residence.
At the death of his father in 1900, Albert was named in the last will and testament and was bequeathed the home farm of 110 acres along Wheeling Creek in Aleppo Township, bounded by the farms of the Evans, Sammons and Ullom families. He also was to administer the estate and to provide reasonable care for his unmarried older brother William, who was born with mental disabilities. He also was to give the father and brother a decent burial and to erect markers at their graves.
In 1905, when he was age 46, Albert married Mary Hannah Hall ( ? - ? ) of Benwood, Marshall County, WV.
They had two children, Albert Edward Hinerman and Anna Catharine Hinerman. Sadly, daughter Anna died in her third year of age, on May 25, 1914, due to a combination of bronchial pneumonia and whooping cough.
Albert dwelled in Aleppo for most of his life. Prior to marriage, said the Waynesburg Republican, he "was for a time engaged in the coal and coke business in Fayette county and later engaged in the oil business in Greene county." Following marriage, he:
...devoted his entire time ... to farming. He was a progressive farmer and took an active part in grange work and was a familiar figure among young and old at the various sales, etc., where the interests of the community were to be promoted. During the Red Cross Drives he conducted most of the sales, and his activity contributed largely to the success of these efforts. In politics he was a staunch Republican and took an active interest in the political affairs of his county.
He died after a stroke of paralysis on Nov. 23, 1918, at home. In an obituary, the Republican noted that "He had been ill but two weeks, and during his entire life had enjoyed unusually good health." Rev. Hamilton officiated at the funeral, followed by interment in Windy Gap Cemetery.
~ Daughter Elizabeth A. "Lizzie" (Hinerman) Knapp ~
Daughter Elizabeth "Lizzie" Hinerman (1860-1906?) was born on Jan. 21, 1860 in Greene County.
She married William H. Knapp (1858- ? ).
The couple bore two known children -- Rayma Knapp and Oma Knapp.
They first lived in Aleppo, Greene County, sharing a home with Lizzie's parents. In 1892, William rented a portion of his father-in-law's farm to raise wheat. At the harvest, William delivered his rent in the form of 68 bushels of wheat with a net value of $43.13. He deducted a portion of the rent as compensation for his own expense of hauling and threshing the produce. In 1895, William wrote of his father-in-law, "We bear eaquel expense of the house and he furnishes land and horses and seed and I am to have 1/3 for diong the work."
By 1900 had migrated to Moundsville, Marshall County, WV.
William was a house carpenter, working in and around Moundsville.
At the death of her father in 1900, Lizzie was named in the last will and testament and was bequeathed $100 cash. In addition, the will stated that in the event Lizzie died before her father, her daughters were to receive an equal share of $50 each.
Elizabeth is thought to have died on Sept. 27, 1906, in Moundsville, of meningitis of the brain. This needs to be confirmed.
Daughter Rayma Knapp was born in November 1882 in or near Greene County.
Daughter Oma Knapp was born on June 12, 1885. She is believed to have married Grover C. Archer (1887- ? ) of West Finley, Washington County. Their nuptials took place at the Moundsville residence of Rev. W.D. Reed of the Methodist Episcopal Church on Aug. 20, 1908.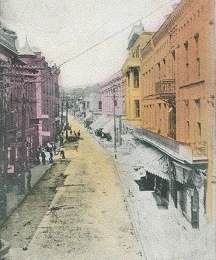 Main Street, Cameron, WV
~ Daughter Eliza Jane (Hinerman) Yates ~
Daughter Eliza Jane Hinerman (1863-1940) was born on April 8, 1863 in Aleppo, Greene County.
She married Harry Yates ( ? - ? ). They were members of the Aleppo Church of God.
The couple produced one son, Thomas Yates.
The Yateses lived in Washington, Washington County, PA in 1900. By 1918, when named in her brother Albert's newspaper obituary, she was in Cameron, Marshall County, WV. Her home in Cameron was on Maple Avenue.
Suffering from chronic heart disease, Eliza Jane passed away in Cameron just nine days after her 77th birthday, on April 17, 1940. Her remains were placed into rest in the Cameron Cemetery. Her granddaughter Edna Daugherty of Cameron was the informant on her official West Virginia death certificate.
Son Thomas Yates was married and had two children, Walter Yates and Edna Daugherty. He resided in Lancaster, Fairfield County, OH, and was mentioned by name in the Waynesburg Democrat obituary of his mother in 1940.
Copyright © 2014, 2017-2020 Mark A. Miner