Home

Lantz Hupp Ullom (1876-1950) and
Maud A. Hinerman (1879-1959)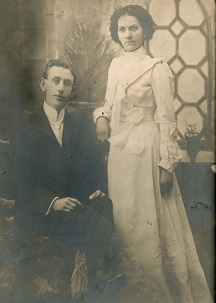 Wedding photo, July 1901
Lantz Hupp Ullom was born on April 3, 1876 near Aleppo, Greene County, PA, the son of Madison and Melissa Ann (Hupp) Ullom. He was named after his mother's brother Andrew "Lantz" Hupp, a prominent West Virginia physician, and went on to a career as a distinguished businessman and hardware store owner in Washington, Washington County, PA.
Maud Alice Hinerman was born on April 1, 1879, also near Aleppo, the daughter of Thomas A. and Experience "Peoria" (Grimm) Hinerman Jr.
Lantz and Maud shared much in common from childhood -- they grew up on adjacent farms, each lost a parent quite young, they had mixed families of brothers and sisters from several marriages, and they aspired to the better things of life.
Lantz's father passed away in 1879, when the boy was age three, and he was raised by his mother and a loving step-father, Christian Grim. Maud's mother died in childbirth with her in 1879, and the baby was taken into the home of a bachelor uncle, Albert Hinerman, in Aleppo. The uncle raised her there to adulthood. In 1900, census records for Aleppo show her sharing a home with Uncle Albert and another unmarried (and possibly mentally retarded) uncle, William Hinerman.
Growing up on a farm, Lantz suffered from asthma and found it difficult to labor on his mother and step-father's farm, breathing in dirt and dust from the hay and horses. He did not finish high school. As a 25-year-old bachelor, living in Aleppo circa 1900, he earned a living as a sales agent for a local tombstone company.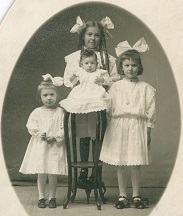 Ullom children, clockwise from top: Thelma, Mildred, Reynol, Monalea
In 1899, Lantz received the shocking news of the untimely death of the maternal uncle for whom he was named, Dr. Andrew "Lantz" Hupp, near Clarksburg, WV, from an infection caused by kidney stones.
At the age of 25, Lantz envisioned establishing a business network of distribution agents to sell household items and "quick-selling specialties." Based in Aleppo, he placed small classified advertisements in far-flung newspapers such as the Middlebury (VT) Record. In the ads, he asked that interested parties "Send stamp for catalog and terms to agents. Big money handling my goods."
On July 10, 1901, when he was age 25 and she 22, Lantz and Maud were joined in matrimony. The ceremony was held in nearby Moundsville, Marshall County, WV, officiated by Rev. James B. Smith.
The Ulloms produced four children -- Thelma Elwilda Riggs, Mildred Mardell Day, Monalea Eleanor Miner and Reynol Vermont Ullom. At least two of the daughters were born in Parkersburg, Wood County, WV -- Mildred in November 1904 and Monalea in June 1907, and possibly Thelma also, in January 1903.
Over the years, as she sought social standing, Maud was actively involved with her community, as a member of the First Christian Church and its Loyal Women's Sunday School Class. She also was active with the Washington Chapter of the Order of Eastern Star, Dames of Malta and Women's Benefit Association.
At some point in time, date not yet known, Lantz established his own general store at 58 West Chestnut Street. He sold hardware, paint, wall paper, "Congoleum" flooring and other household supplies. He also dealt in candy, and his daughters regularly would stop by on their way home from school to get their sugary "fix."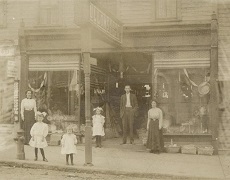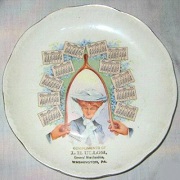 Ullom hardware store at 58 West Chestnut Street, and a giveaway plate.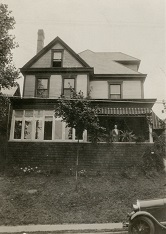 Ullom home, Franklin Street
The store provided Lantz and Maud with a comfortable income and allowed them to purchase a home on Franklin Street, and to travel extensively. He advertised in such publications as the Pittsburgh Christian Advocate and gave away decorative plates to store customers as premiums for making purchases.
On Jan. 8, 1911, the store was engulfed in what the Canonsburg (PA) Daily Notes said was the "most destructive fire that has preyed upon Washington within the past seven years [which] destroyed a large section of a West Chestnut street business block...." About $6,500 worth of merchandise was destroyed, and only covered one third by insurance.
To continue to build connections with prospective customers and vendors, Lantz in July 1915 traveled to Canonsburg for a "get acquainted" trip with local merchants there. In August 1917, he went to New York to look for sources of men's and boy's furnishings, and his name was printed in a registry in the New York Sun newspaper.
Circa the first week of November 1921, he went to see his sister Eliza Ann McCracken and family in Marysville, OH. After a short stay, he then left with Eliza's son Fred and wife on a trip to Mercedes, Hidalgo County, TX, where Fred had obtained work on a ranch. This may have been Lantz's first exposure to the investment possibilities in Hidalgo. News of the travels with the McCrackens was printed in the Marysville Journal-Tribune.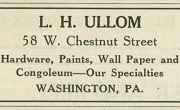 Pittsburgh Christian Advocate, 1924
Back home, the Ulloms hosted regular Sunday chicken dinners at their home, with their daughter Monalea Miner's family driving in from Aliquippa in nearby Beaver County. Maud would behead a chicken from the coop in their back yard, pluck the feathers and prepare it for cooking. Home made fudge was the specialty dessert served after every dinner. It's said that the women would prepare the meal, and that the men would clean up afterward. A favorite ritual in the family -- especially after Lantz's death in 1950 -- was to drive up into Washington Cemetery on Sunday afternoons to pay respects to family graves. Some bit of gallows humor always was involved in these outings.
Lantz and Maud also held Christmas gatherings for decades. Grandchildren recalled going to church on Christmas Eve, coming home with the doors to the parlor closed, being ushered right to bed, and sleeping in the cold attic with no heat.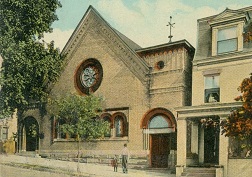 First Christian Church, Washington
The family church was located in the town of Washington. Rev. John Love, their pastor, was considered a good friend. In about 1946, a boiler in the basement exploded, killing the church pianist and causing significant damage. A new building was constructed circa 1961 at 615 East Beau Street in East Washington, where it continues to operate today. The new building was the victim of an arsonist in January 1997 but was rebuilt. Many family anniversary and funeral events have been held there over many years.
At some point, Lantz purchased a piece of property along the National Highway, today known as U.S. Route 40, where he kept a sizeable chicken farm. Later this site became the well known Club 40 Restaurant -- famed for its "broasted" chicken -- before eventually closing. He once described his holdings there as an "eight-room house. Housing for 1,500 hens and 3,000 chicks. Full equipped incubators; capacity 8,936 eggs. Brooders, fountains and feeders. Gas and electricity in all buildings. Two miles from city on Route 40; three-lane highway."
Lantz was caught up in controversy in June 1929 when a delivery boy for a customer paid for paint with an endorsed check above and beyond the purchase price. Lantz gave the boy the paint and change covering the difference. In looking over the check afterward, Lantz was a bit suspicious and took the paper to the local police station, to find to his dismay that it had been forged. Police notified him that similar cases had been seen in Donora, Charleroi and Monongahela. He had been fleeced out the paint and the change, with the story reported in the Monongahela Daily Republican.
But the prosperity was bound to end. In the grip of the Great Depression, at age 57 and with his business failing, Lantz decided to close his store. He did so the day before Thanksgiving 1933. Some of the inventory from the store was taken for storage into the garage building behind their home. He once gave an inexpensive pocket watch to his eldest grandson Odger "Wayne" Miner.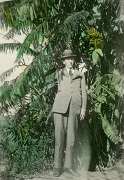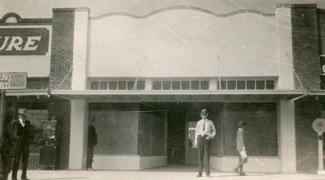 Above: Lantz in Weslaco, TX with his fruit trees (left) and in front of a store-room on Texas Boulevard. Below: Maud (right) and daughter Mildred (left) golfing with Mrs. Becker at the Mercedes Country Club in Texas in 1935.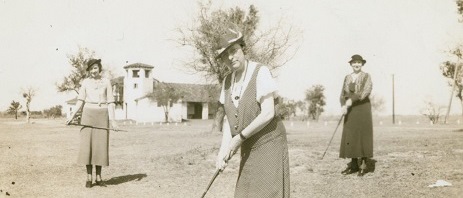 Obituary, 1950
Following retirement, Lantz then decided to invest in a 43-acre fruit farm in Weslaco, Hidalgo County, TX, and possibly to open another store there. He originally became interested in this venture, along with three or four friends including the mayor of Washington, after a group of Texas investors came to Washington promoting the opportunity. Much of the tract was swampy, and when traveling to Texas to inspect his purchase, the train intentionally was scheduled to pass through at night so he and the others would not see the problem. Another time, in daylight, an impromptu prayer meeting was held on the train so that the men's eyes would be closed at the time they passed.
He, Maud and daughter Mildred drove to Weslaco in January 1935 to view the property. Thereafter, he went to the farm each year from January through April, leaving Washington right after Christmas. He is said to have built a three-room house there for his Mexican-born overseer. He also purchased a store-room on Texas Boulevard opposite the Ritz Theatre, measuring 25 ft. wide by 90 ft. deep. In all, he owned the farm for 29 years, raising cotton, grapefruit and oranges, and tomatoes, each in its own growing season. The farm never really produced much of value, and Lantz sold the surface area before he died, although maintained the mineral rights. In 1978, with no oil and gas activity on the property, the heirs finally sold those rights as well.
He spent his winters at the Weslaco Hotel. In February 1940, in an attempt to find tenants for his store building. In a classified advertisement in the Brownsville (TX) Herald, he offered to rent the building for a year or longer. Also signing the ad was Y.P. Yarbrough of the Ritz Theatre Building. Back home, he also advertised in December 1941 that he was selling the poultry farm due to his age.
Lantz increasingly suffered from asthma in his later years. He often took breathing treatments in his bedroom, with his grandchildren never failing to smell the awful odor of his inhalant. Some thought he actually was breathing in marijuana smoke. Over the last four years of his life, the decline in his health also included kidney disease, hardening of the arteries and an enlarged prostate. With his urinary flow obstructed, he underwent "suprapubic cystostomy" surgery in 1947 to create an opening in the bladder.



Above, the Ullom daughters, L-R: Thelma, Mildred, Monalea. Below, son Reynol (back row, center) and daughter Monalea (next to him, right), and future son in law Odger Miner (seated, right) beside Mildred Ullom at summer classes at Bethany College, West Virginia, circa 1926.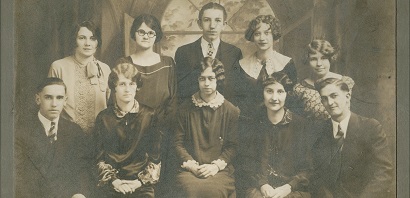 He passed away on April 8, 1950, just five days after his 74th birthday. Their longtime pastor Rev. John W. Love preached the funeral service, followed by interment in the Ullom plot in Washington Cemetery. Among those traveling a distance to attend the funeral, reported the Union County Journal of Marysville, OH, were his nephews and nieces Richard Hervey, Eva (McCracken) Wade, Mr. and Mrs. Joseph Hervey and Leo Moore, all of Westerville, OH.
Maud survived her husband by nine years. She remained active and enjoyed visits with her daughters and son, and her eight grandchildren.
During that time, however, tragedy struck when her son Reynol, who was married with two sons, and a public accountant in Delaware, Ohio, contracted cancer, and died at the age of 48, on Jan. 12, 1958.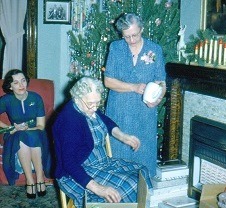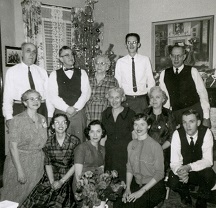 Maud's last Christmas, at home with family, 1958
At the age of 80, having suffered a heart attack after two decades of hypertension, Maud was admitted to Washington Hospital. She passed away there on Oct. 22, 1959. Following a funeral led by Rev. Peter M. Macko, she was laid to rest beside her husband in the Ullom plot in Washington Cemetery.
In the years following Maud's death, their unmarried daughter Mildred continued to remain in their home. She eventually married, to Raymond E. Day, and they hosted many family gatherings there until the house finally was sold out of the family in about 1978.
Copyright © 2014-2015, 2017, 2019-2020 Mark A. Miner