Etta May (Huston) Hemphill
(1873-1939)


Etta and John A. Hemphill
Etta May (Huston) Hemphill was born two days before Christmas 1873 in Spring Hill, Johnson County, KS, the daughter of Kansas pioneers Boyd W. and Clara (Barnhouse) Huston.
She arrived in the world just two years after her parents had migrated to Kansas from Fayette County, PA. Her husband was prominent in local farming circles of Johnson County.
At the age of five, in about 1878, Etta and her parents and siblings moved from Spring Hill to a farm near Olathe, in the Fairview School neighborhood of Oxford Township, Johnson County.
Early in adulthood, Etta taught school in Oxford Township near her parents' farm.
Olathe Mirror, 1898
On Feb. 14, 1894, the 21-year-old Etta was united in matrimony with 28-year-old John Alexander Hemphill (1866-1935), by the hand of Rev. A.V. Stout, pastor of the Presbyterian Church of Olathe. The ceremony took place seven miles east of Olathe, likely in the Huston home, according to Johnson County probate court records.
John was the son of Civil War veteran Matthew Reid and Eliza Ann (Edgar) Hemphill of Johnson County.
The Hemphills went on to bear a family of five children -- Boyd Elmer Hemphill, Maude Lowe, Margaret Dodds, Robert Wylie "Bert" Hemphill and Mary C. Tippin.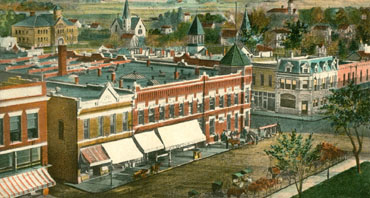 Bird's-eye view of Olathe, early 1900s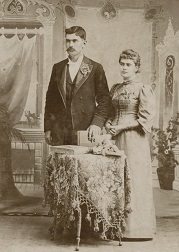 Wedding photo - 1894
In 1897, three years after their wedding, Etta and John moved to a farm near Morse, located five and one half miles southeast of Olathe, Johnson County. They made their home on this farm for three decades. They were members of the Reformed Presbyterian Church of Olathe, where John served in the role of elder for 22 years.
Tragically, in November 1898, their infant son Boyd -- named after his grandfather Boyd W. Huston -- began to suffer from whooping cough and pneumonia. The three-month-old boy could not recover, and died on Nov. 26, 1898. The Olathe Mirror carried a short notice of his death.
A woman of deep Christian faith, Etta was very active in her church for more than four decades. Said the Johnson County Democrat:
Especially was she interested in the work of Christ's Kingdom. She was a member of the Reformed Presbyterian church for many years. She served on the Executive Board of the Women's Missionary Society, and for some time acted as its corresponding secretary. She was always glad to have them meet at her home, and that was quite often done. She always welcomed the prayer meetings of the church and community to her home. she was interested in the Spiritual welfare of all around her.
Etta and John, 1934, her arthritic hands gnarled
The Democrat noted that John was "very active in the Farm Bureau and well known over the state for his work in the organization. He was past president of the Johnson Co. association, and a member of the board of the Farmers Union for 15 years." In another article about John, the Olathe Mirror said:
It is not necessary in this community to speak of Mr. Hemphill's life and character or of the high esteem with which his name is held. He lived simply and honorably, was direct and upright in all his dealings and lived a friend to everyone. His care of and devotion to his wife during the past ten years of her affliction is known to us all.
In about 1922, Etta became afflicted with crippling arthritis, and her hands were gnarled with the infliction. In reporting on her illness, the Democrat said that she "suffered intense pain during the early stages of the disease but this finally ended, leaving her to spend the remainder of her life in the wheel-chair. For an active woman that could not be a happy prospect. Yet through the long years she was resigned to her affliction and never complained. On the other hand she was always cheerful and interested in the activities of life about her."
John A. Hemphill
In about 1927, the Hemphills retired from farming, and moved to a home in the town of Olathe, located at 441 East Loula Street. John's hair remained dark even in his 60s.
John's health began to deteriorate as he passed his 65th birthday. In late January 1935, knowing he was dying, he wrote a will, witnessed by W. Edgar Moore and M.R. Jameson, both of Olathe. He named his wife and brother in law Frank Huston as executors of the estate.
He passed away at the age of 68 on Feb. 25, 1935. The funeral was held at the Reformed Presbyterian Church, led by Rev. M.R. Jameson, and assisted by Rev. Paul Coleman and Rev. W.W. Blough. With funeral arrangements handled by the Julien Mortuary, burial followed in the Hemphill family plot in the Olathe Cemetery.
Obituaries were published in both the Democrat and the Mirror. Eulogized the Mirror: "Although dead, his memory and example live on."
In addition to his wife and children, John was survived by sister Mary Redpath of Olathe and brothers Robert E. Hemphill of Santa Barbara, CA; Samuel R. Hemphill of Olathe; and M.E. "Elmer" Hemphill and William J. Hemphill of Wichita, KS.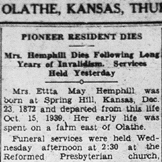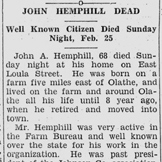 Obituaries for Etta (left) and John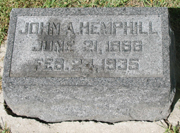 Olathe Cemetery
Etta outlived her husband by four years. In the middle of 1938, she was paralyzed by a stroke, which "left her even more helpless, being thereafter unable to read or converse," said the Democrat. "Yet she remained as cheerful as ever. During the past summer she enjoyed sitting in her wheel-chair on the front porch of her home and her friends always were greeted with a smile. Her life is a wonderful lesson of RESIGNATION to the will of God."
Olathe Cemetery
She died on Oct. 15, 1939, at the age of 66, freed from the constraints of her physical disabilities. Her funeral was led by Rev. D. Ray Wilcox of the Reformed Presbyterian Church, followed by burial beside her husband. She was eulogized with a poem in a local newspaper appearing below.
Because Etta did not leave a will, she was considered "intestate." That meant that her real and personal property assets automatically descended to her living siblings and the children of her deceased siblings. This primarily included the question of ownership rights in the old family farm.
The matter further was complicated by the fact that Etta herself was an heir of the estate of her late mother, who also had died intestate, and whose estate had never been properly administered and accounted for. To determine the correct descent of assets so they could be properly divided, Etta's brother Frank filed a petition in Probate Court, with a county judge making a final determination.
The Hemphill obituaries were found on microfilm during a September 2010 research visit to the Johnson County Central Resource Library in Overland Park.
"Her children rise up and call her blessed...
Give her of the fruit of her hands;
and let her own works praise her in the gates."
~ Daughter Eliza "Maude" (Hemphill) Lowe ~
Daughter Eliza "Maude" Hemphill (1895-1978) was born on Aug. 19, 1895 in Johnson County.
In about 1921, when Maude was age 25, she married 26-year-old William "Harper" Lowe (1894-1975). He is thought to have been the son of John W. and Mary B. Lowe of Johnson County.
The couple apparently did not reproduce.
By 1930, the couple migrated to Los Angeles. That year, the federal census shows them residing on Sylvan Street in Van Nuys, with Maude's brother Robert living under their roof.. Harper found work as a retail salesman at a feed store.
When Maude's father wrote his will in 1935, he stipulated that if Maude and Harper would make a home for her widowed mother, he would bequeath to them their home in Lot 3, Block 2, south of Loula Street, in the Hayes Addition of Olathe.
The Lowes resided in Van Nuys for the rest of their lives, at 14203 Sylvan Street.
They apparently returned home to Olathe from time to time, making the 1,500 mile driving trip on U.S. Route 66. The cross country highway reached fame in American popular culture in the 1940s when featured in the song "(Get Your Kicks on) Route 66" and later in the 1960s on the television show Route 66.

Famed U.S. Route 66, New Mexico - how the Lowes drove home to Kansas
Their nephew Stanley Dodds recalled this event involving Maude, Harper and her sister Mary Tippin circa 1949:
I did get a chance to visit the old farm southeast of Olathe when I was about 10 years old and Aunt Mary Tippin lived there. Uncle Harper and Aunt Maude (sister of Margaret and Mary) had invited Larry and I to ride with them to Olathe from California on Route 66. While there Larry and I were snooping around in the old barn and came across a four wheel horse buggy that just looked as if it needed to get out into the open air. So we talked Uncle Harper into hitching up the horse and taking us for a visit on the old dusty dirt road to a neighbor's farm and back. On the return trip Uncle Harper let Larry hold the reins while I rode in back. Suddenly the right rear wheel came off and rolled past the horse who bolted at the sight of the wheel passing him. Uncle Harper and I were thrown out the back into the road and the last thing we saw was the buggy bouncing with the wheel missing and Larry holding on to the reins for dear life. I was unhurt, but Uncle Harper broke his thumb. We started walking down the road to look for Larry and found him in the ditch almost unconscious with blood streaming from above one of his eyes. We helped him down the road for awhile until Aunt Mary came and picked us up in her car. The horse without the buggy came into a neighbor's yard and the neighbor called Aunt Mary when she recognized the horse. We drove into Olathe where they stitched up Larry and attended to Uncle Harper's broken thumb.

Olathe Daily News, 1978
Maude received a cash payout of $162.64 in 1948 as the residual value of her Huston family inheritance.
Harper died in Los Angeles five days before Christmas 1975, at the age of 81.
Maude outlived him by almost three years. On Sept. 11, 1978, she passed away in Los Angeles, at the age of 83. Funeral services were held at the Church of the Recessional in Los Angeles, with burial at Forest Lawn Cemetery. Her obituary was printed in her former hometown newspaper, the Olathe Daily News.

Bert Hemphill
~ Son Robert Wylie "Bert" Hemphill -- the "Dean of Travel" ~
Son Robert Wylie "Bert" Hemphill (1896-1976) was born on Oct. 21, 1896 in Olathe, Johnson County, KS.
He has been dubbed the "Dean of Travel" and as a "pioneer" in the luxury airline travel and tourism industry. Only one other individual, Arthur Frommer, has received this unofficial honor.
Bert was the longtime owner and chairman of the board of Hemphill Travel Service and Hemphill World Cruises of Los Angeles which after his death evolved into a new company, Hemphill Harris.
In manhood he stood 5 feet, 7 inches tall, weighed 160 lbs. and had grey eyes and brown hair.
During 1919, Bert joined the U.S. Navy and was deployed to Larnaca, Cyprus. Upon completion of his service, he settled in Southern California, where he boarded in the Van Nuys home of his sister and brother in law, Maude and Harper Lowe. In 1930, census records show that the 33-year-old unmarried Bert worked as a tour manager for a travel bureau.
When he was 41 years of age, in 1938, Bert married 38-year-old Dorothy Isabelle Cardin (1904- ? ), a resident of Los Angeles. News of their engagement was published in the Ventura County Star-Free Press.
Together, the couple produced two sons -- John Hemphill and James Hemphill.
They made their home in North Hollywood, CA in the World War II era at the address of 4837 Agnes Avenue, with a telephone number Sunset 2-1910. During the war, Dorothy appears to have served as registrar for the Van Nuys selective service board.
Later, they moved to Burbank, CA by the 1970s.
Air Lift, a trade journal, once said that Bert's "mark of distinction consists of a goatee, a beret and blue twinkling eyes and an ever-present smile." Another, Andean Air Mail & Peruvian Times, called him "one of the most peripatetic and widely known travel agents in the industry."
Having grown up in Olathe, Bert left to join the Navy in the 1920s and "later was a teacher in the mission field in Larnaca, Cyprus," reported the Olathe Daily News.
Moving to California in 1928, he managed excursions for a travel agency before founding his own agency. He was former international president of the American Society of Travel Agents, and was named in 1974 to the Travel Hall of Fame by that group. He also had been honored by the governments of India, the U.S.S.R., Spain and France, among other countries, as well as the Pacific Area Travel Association.
World Cruises logo
Circa 1947-1956, Bert made his home at 4837 Agnes Avenue in North Hollywood. He was named in the estate papers of his deceased grandmother, bachelor uncle Harry Huston and unmarried aunt Bertha Huston. As such, he received a cash payout of $162.64 in 1948 as the residual value of his Huston family inheritance.
Bert's office in Los Angeles was located at various sites, including 727 West 7th Street, and at 1201 West 4th Street. One of his primary traveling companions was Don Scariano of Beverly Hills.
In January 1948, in a "Travel Notes" column in the Guest Life tabloid magazine serving Southern California's "most exclusive hotels, apartment-hotels and resorts," Bert advertised the upcoming inaugural "Around the World Air Cruise." He wrote that participants would have:
...the unique opportunity of seeing the world and its people under new and changing conditions. Today is 1948 and this is the age of flight. The modern way to see the world comfortably and luxuriously is by air. The people of the world no longer look down but up. Symbolizing man's eternal effort to life himself above his surroundings and his aspiration towards higher things, a flight around the world offers an exaltation of spirit and visual.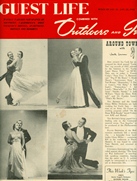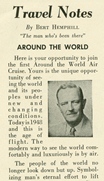 Bert's "Travel Notes" column and advertisement in the Jan. 21, 1948 edition of the Guest Life publication of Southern California.

Bert Hemphill
One such "Around the World" trip was to head westbound on March 30, 1948, to Hawaii, and thence to Japan, China, Manila, Siam, India, Syria, Turkey and Europe, finishing in New York. Another, a spring party, was to leave for Europe on April 2, 1948 for a two-month motor tour of Spain, South France, Italy and thence return via Paris and London. A summer tour, leaving June 7, 1948 for two months, was to visit England, Scandinavia, Holland, Belgium, France and Switzerland. In the Guest Life column and accompanying advertisement, Bert was labeled as "The man who's been there."
A travel book by Robert C. Allen, Creating Hawaii Tourism, says that Bert specialized "in the so-called carriage trade, or the upscale tourist. His groups were small but highly personalized, the tours mostly conducted by himself. Most of his people stayed at the Royal Hawaiian." Published in 2004 as a paperback, by Bess Press, Inc., this book describes the people and events that helped transform Hawaii from a small resort into a world-class tourist mecca.
Bert also is mentioned in James M. Robinson's 1969 book, Americanski Journalist, published by Westernlore Press, a memoir about Robinson's experiences traveling to the "more forbidden areas" of the Soviet Union in the 1960s. Robison wrote that Bert "was so competent and persistent in making the arrangements for my first trip..."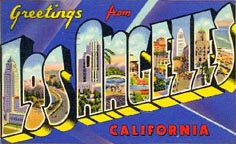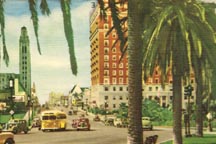 Bustling Los Angeles, 1940s
In the 1970 book Of Rivers and the Sea, author Herbert Eliot French writes of the Antipodes sections of Australia and New Zealand:
Maybe someday the World Wildlife Fund or some other such international life-saving foundation will se tout a new colony of fur seals there. I have never met any global traveler who has visited the Antipodes, or "point zero," for that matter. Perhaps Bert Hemphill or Lars-Eric Lindblad are contemplating tours to both places.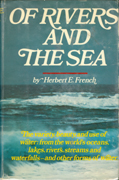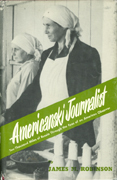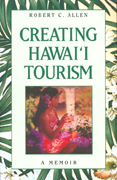 Books mentioning Bert Hemphill, L-R: Of Rivers and the Sea, by Herbert E. French (1970); Americanski Journalist, by James M. Robinson (1969); and Creating Hawai'i Tourism, by Robert C. Allen (2004).
In about 1954, Bert established the Travelers' Century Club, with exclusive membership only for those who had visited 100 countries or more. The group had a provisional membership for individuals who had toured 75 countries. The globe-trotting members, some 43 in number by 1960, were known as "Centurions." The TCC's newsletter also was named The Centurian. Unlike today, when air travel is easy and affordable, achieving the century designation would have been a major, expensive undertaking. Bert served as the initial president of the club, and tour director Russell Davidson as the secretary. In 1960, a press conference was held by the club after selecting the slogan "World Travel: The Passport to Peace Through Understanding."
Seen here are a number of Hemphill World Cruises brochures from 1950 to 1971. The 1961 brochure describes a 71-day "Unusual South Pacific Tour" departing July 13, 1961. In 1962, the tour featured a 72-day tour of the "Wonders of the Ancient World" departing Feb. 23, 1962. The brochure for 1963 touted two 68-day "Africa Safari" trips scheduled to leave on Jan. 18, 1963 and Sept. 27, 1963. The 1965 brochure promoted a 57-day tour of the "By-Ways of Europe" to commence Aug. 2, 1965.
1950
1951

1956

1956

1956

1957-1958
1958
1961
1961
1962
1963

1965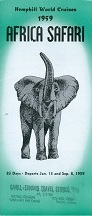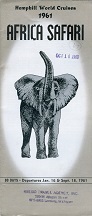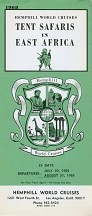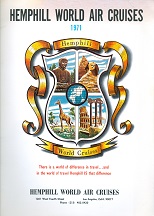 L-R: 1959 - 1961 - 1968 - 1971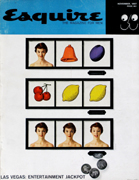 Bert pictured in Esquire, Nov. 1957
To maintain this high profile among higher net worth individuals, Bert sought publicity as widely as possible. He is known to have written a guest column in 1959 for the Los Angeles Times, entitled "Newest Shagri-La Awaits Tourists." (This later was reprinted in the Ex-CBI Roundup.)
In another article, in about 1962 (and reprinted by the Times on May 18, 1986 in "The World As a First-Class Spectable"), he was quoted addressing the fears of potential tourists in traveling to politically unstable places:
Should you put off traveling abroad? Admittedly the headlines have had an unsettling effect upon the world. As a result, many have postpone their travels until things are "back to normal." Unfortunately, such Utopian prospects may never be.
Taking his profile to a more national scale, Bert was pictured and quoted in the November 1957 edition of Esquire Magazine, in "Richard Joseph's Travel Notes." In the piece, Bert expressed his concerns with the airlines' proposed "plans for electronic reservation and ticket devices" and his uncertainty with how these new technologies would affect travel agents. An original copy of the publication is preserved in our family archives.
As joint heirs to their mother's old family farms back in Olathe, Bert and his sisters sold their legal interest in several of the tracts over the years -- to their uncle Jesse S. Huston in June 1948, for a token dollar, and again to their cousins Boyd E. and Glen T. Huston in September 1956.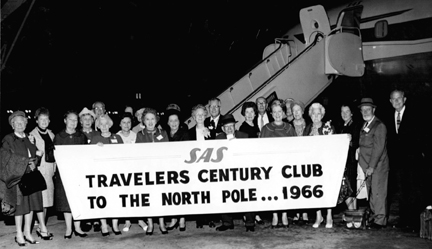 Bert, second from right, with fellow members of the exclusive "Travelers Century Club" about to board a Scandinavian Airline flight on July 8, 1966. Image courtesy of the Travelers Century Club.

Olathe Daily News, 1976
Bert died at the age of 79 on Aug. 3, 1976, in Burbank. In his obituary, the Olathe Daily News said he was "founder of one of the most successful independent travel agencies in the nation and one of the world's most traveled men... During his career, he logged more than 1,800 air flights, sailed on nearly 200 cruises, visited 232 countries and islands groups, and had flown, cruised, walked, bicycled and camel-backed at least five million miles."
The legacy of Bert Hemphill and his travel empire lived on. The Los Angeles Business Journal in 1990 called the firm "one of the most trusted names in the travel business..." When ASTA's Southern California chapter celebrated its 75th anniversary in 2010, the organization published a book which mention Bert on its pages.
Company logo, 1980s
Son John Hemphill succeeded Bert in 1975 at the travel agency, and joined forces with Ron Harris in a newly renamed venture, Hemphill Harris Travel Corporation, based in Encino, CA. The firm continued operations for 13 years until being sold in December 1988 to Westar Acquisitions Corporation. At one point, the firm employed 70 people, marketing its packages through a nationwide network of travel agents.
Some packages for two cost as much as $15,000. A full-page magazine advertisement in 1984, seen below right, advertised "Europe A La Carte," featuring a photograph of a European palace set on a light green page background. At the time, the company's offices were located at 18000 Ventura Boulevard in Encino.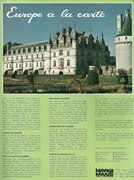 Magazine ad, 1984
A Nov. 5, 1989 New York Times article, "Practical Traveler; Left High and Dry on a Package Tour," said that the firm's volume for land packages that year was about 16,000 clients, who were spending $70 million, an average of $4,500 per person. The Times article said that "Since early in the year, travel publications have been reporting on turmoil resulting from the sale of Hemphill Harris: suits and countersuits, dismissals and resignations."
Travel Weekly, Travel Management Newsletter, Tour and Travel News and TravelAge West all followed the company's developments. After the sale to Westar, Mr. Hemphill and Mr. Harris stayed on, but eventually they left..." In 1990, John worked in another travel industry business.
Son John Hemphill ( ? - ? )
Son James Hemphill ( ? - ? )

Olathe Memorial Cemetery
~ Daughter Mary C. (Hemphill) Tippin ~
Daughter Mary C. Hemphill (1904-1994) was born on Nov. 30, 1904 in Olathe, Johnson County, KS.
On Oct. 27, 1925, at the age of 21, Mary married 32-year-old widower Dr. Joseph "Glenn" (or "J.G.") Tippin Sr. (1893?-1946).
Glenn had been wed once before, to Alice Kohr ( ? - ? ) (who died young of Hodgkin's Disease), and brought three children to the marriage, Charlotte Tippin Ball. Joseph "Glenn" Tippin Jr. and George "Kenneth" Tippin.
Mary and Glenn resided in Olathe, and bore one son of their own -- Robert Eldon Tippin. She considered all of her step-children as her own, and later, after her death, they inscribed this on her grave marker: "You always loved us."
Mary's husband was one of twin brothers born to William J. and Ida (Black) Tippin, with his brother Guy dying at the age of seven. Joseph attended Sterling College, and then taught school for several years. He then enrolled in Kansas City Dental College, and graduated in 1917. During World War I, he enlisted in the U.S. Army and served as a captain in the Dental Corps.

Independence, KS, looking north
Olathe Memorial Cemetery
Joseph established a dentistry practice in Olathe, and Mary assisted him as a bookkeeper and assistant. The Johnson County Democrat reported that he "soon became popular as a dentist and built up a big lasting practice. He united with the Reformed Presbyterian Church at an early age, and served the local church as a deacon many years. He has been very active in the community during his twenty-eight years here, lending his talents to the American Legion, the Olathe Chamber of Commerce, the Rotary Club, and the American Dental Association, besides serving many other civic and church affairs, whenever called upon."
Said the Olathe Daily News, she "was a member of the Reformed Presbyterian Church and the Covenanters Daughters, Olathe/Shawnee. She also was a member of the Olathe Medical Center Auxiliary Board, the Delphi club and the Home Extension Unit."
When the federal census was taken in 1930, the combined family resided in Olathe on East Londa Street.
By 1940, Glenn's widowed father, a native of Iowa, had moved under their roof. That year, farm laborer James Cochran boarded in their home.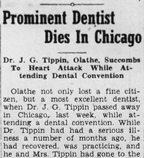 Olathe Democrat, 1946
Joseph suffered from heart disease, but continued practicing his profession nonetheless. In February 1946, he and Mary traveled to Chicago to attend a dental convention, "in high spirits, expecting to have a delightful time," said the Democrat. Tragically, while there, on Feb. 24, 1946, he suffered a massive heart attack and died. The news was a deep shock to the family and to the Olathe community, with the Democrat reporting, "Olathe not only lost a fine citizen, but a most excellent dentist..." His remains were brought back to Olathe for burial in the Olathe Memorial Cemetery. Pallbearers included Aaron Towner, Harvey McGee, Edgar Moore, Frank Redpath, James Redpath and Paul Schlagel. Honorary pallbearers were J. Arthur Robinson, John Burns, Dr. W.W. Jones, Dr. George Aiken, Herb Applebaugh, Sam Daniel, Tom Hall and E.L. Raines.
Mary received a cash payout of $162.64 in 1948 as the residual value of her Huston family inheritance. When her bachelor uncle Frank Huston died in 1956, she received an additional $10,664 in cash, and also purchased 224.9 shares of his Investors Mutual stock.

Olathe news obituary
Later in life Mary moved to Canton, McPherson County, north of Wichita. She died in the Shiloh Manor in Canton, at the age of 89, on Aug. 4, 1994. Her remains were brought back to Olathe for burial beside her husband.
Son Robert Eldon Tippin (1928-2008) was born on Sept. 18, 1928 in Olathe, Johnson County, KS. On Nov. 28, 1947, he was joined in marriage with his first bride, Euleta June "Le" (Cannon) Scott (June 10, 1928-1998), a native of Hume, Bates County, MO and the daughter of Ernest Roswell and Thelma Cleone (Provence) Cannon and widow of Walter E. Scott Jr. They were the parents of Susan Tippin, R.J. Tippin and Richard "Dick" Tippin. Later, he wedded Lorenne (?). The Tippins made their home circa 1994 in Newton, KS. Sadly, Euleta passed away on Feb. 19, 1998. Robert outlived his wife by a decade and may have married again. Circa 2008, he lived in Wichita. Robert succumbed to death in Wichita on Sept. 11, 2008. His body was transported to Sterling, Rice County to sleep for all time beside Euleta in Sterling Cemetery. Inscribed on their grave marker -- shaped like a granite bench -- is the New Testament scripture from John 14: 27 -- "My peace I give to you."
Stepdaughter Charlotte Louise Tippin (1919- ? ) was born in about 1919 in Texas. She married Ralph Ball ( ? - ? ). Together, the couple bore these known children -- Bill Ball and Charlene Wilson. Charlotte The family resided for decades in Sterling, Rice County, KS.
Step-grandson Bill Ball (1945-2013) was born on May 21, 1945 in Sterling, Rice County, KS. He received a teaching degree in 1967 from Sterling County. He went on to teach and coach in Alden High School. When he was 19 years of age, on Oct. 17, 1964, Bill was united in the bonds of wedlock with Mona Fisher ( ? - ? ), with the nuptials held in Sterling. Their three children were Monte Ball, Brian Ball and Tami Hosman. The family maintained a home in Sterling. He also was a ranch farmer and belonged to the Farmers Coop Union, where he served a term as president. In 2009, he won the Kansas Master Farmer Award. The family belonged to the local congregation of the United Presbyterian Church. Bill held a seat on the board of directors of First National Bank and was a member of the Sterling Literary Club. Sadly, he passed into eternity at the age of 67 on Feb. 13, 2013. Funeral services were held in the family church, led by Rev. Seth Svaty. Interment of the remains followed in Sterling Community Cemetery.
Stepson Joseph "Glenn" Tippin Jr. (1921- ? ), nicknamed "Junior," was born in about 1921 in Kansas. He served in World War II, as a lieutenant in the U.S. Navy, in the Pacific Theatre of War.
Stepson George "Kenneth" Tippin (1924-2008) was born in 1924 in Kansas. He lost his mother when he was in infancy, and was raised by his step-mother Mary (Hemphill) Tippin as though he were her own child. He resided in Kansas City, where he worked as a social worker in Russell County, KS. He also served for two summers with the Mennonite Central Committee as a hospital intern for the mentally ill. Later, starting in 1958, he was employed for more than three decades as a laboratory technologist for Bendix-Allied Signal. He "served others and the Lord throughout his life by his active involvement with several churches," said the Kansas City Star. These included the Reformed Presbyterian Church of Olathe, Reformation Lutheran Church and Hillcrest Covenant Church, and the prison ministry of the Christian Business Men's Committee. He married Lucy Bieber on June 10, 1956, and had two children -- Stanley Tippin and Timothy Tippin. Ken died after a long battle with cancer on March 25, 2008.
~ Daughter Margaret Marie (Hemphill) Dodds ~
Daughter Margaret Marie Hemphill (1911-1985) was born on Oct. 2, 1911 in Johnson County, KS.
She married Robert Archibald "Archie" Dodds (1913-1991), a native Californian. Archie earned a living as a carpenter constructing buildings. Not long after marriage, they established a residence in Los Angeles County, CA.
The couple produced four children -- Carol Marie McGee, Lawrence "Larry" Dodds M.D., Stanley Dodds and June Lattin.
Their home circa 1935 was in Van Nuys, Los Angeles County and by 1939 was in the El Monte suburb of Los Angeles. When the U.S. Census was taken in 1940, they dwelled on Bartlett Street in El Monte.
In 1947, they made their residence at 1225 East Santa Clara, Ventura. By 1956, they had moved to 122 South Jordan in Ventura.
Margaret received a cash payout of $162.64 in 1948 as the residual value of her Huston family inheritance in Kansas.
During the 1970s, the Doddses continued to resided in Ventura, CA.
Margaret passed away on Jan. 9, 1985, in Ventura.
Archie outlived her by six years. He married again to Clarabel Emma (Wright) Oglesby (1909-1998), a native of Deer Flat, ID. Clarabel was a longtime elementary school teacher in Oxnard, San Jose and Ventura, Los Angeles County. Reported the Medford (OR) Mail Tribune, "She was devoted to child evangelism and enjoyed Bible study and teaching Sunday school." She had been married once before, to Barney Oglesby ( ? -1984), who died in 1984.
Archie passed away on Oct. 26, 1991.
Clarabel survived her husband by seven years, and moved in 1991 to Gold Hill, OR. Her final time on earth was spent at Three Fountains Nursing Center in Medford, OR. She died on Aug. 18, 1998 at the age of 89. She was laid to rest in Memorial Hardens in Grants Pass, with Pastor Dick Bodem, of the Applegate Christian Fellowship, leading the services.
Daughter Carol Marie Dodds ( ? - ? ) was born in (?). After graduation from high school in 1959, she attended Ventura College and then enrolled in Westmont College to study elementary education. Circa Dec. 1963, she was joined in marriage with Donald Bruce McGee (March 21, 1938-2016), son of Donald and Florence McGee of Santa Barbara. She was pictured in the Ventura County Star-Free Press in a story announcing their engagement. The nuptials were held in Bible Fellowship Church in Montalvo, led by Rev. James Maxson. Said the Star-Free Press, which ran a photo of the couple cutting the cake, she wore "a floor-length white satin gown with a scalloped neckline finished in Alencon lace, seed pearls and bugle beads. her belled skirt flowed into a chapel train extending from a satin empire bow. Her shoulder-length bouffant veil was held by a pearl crown tipped with aurora borealis crystals." At the time of marriage, Donald was serving in the U.S. Army at Fort Hood, TX, having attended Santa Barbara City College and then working for Shell Oil Company. They made their home in Goleta, Santa Barbara County. Sadly, Donald passed into the realm of eternity at the age of 78 on May 16, 2016.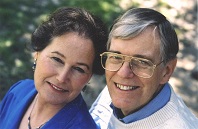 Lawrence and Lois Dodds
Courtesy Lois Anita (Santerre) Dodds
Son Lawrence Edwin "Larry" Dodds, M.D. M.P.H. (1937-2008) was born on April 5, 1937 in Banning, Los Angeles County, CA. He obtained a bachelor's degree in zoology in 1959 from Wheaton College and his medical degree in 1963 from the University of Southern California. During the Vietnam War, he served as a U.S. Army flight surgeon from 1964 to 1967, including with President Lyndon Johnson's helicopter detachment at Fort Belvoir, VA. After his military discharge, he was chief resident at Ventura County Hospital for two years and then was its first full-time emergency room physician. In from 1971 to 1983 operated a family and general medicine practice in the jungles of Peru with the Summer Institute of Linguistics and Wycliffe Bible Translators. Upon returning to the United States in 1983, he was a medical coordinator with Ventura County Public Health Services until 1986, when he was named director and also county health officer. On Feb. 1, 1960, at the age of 23, Lawrence married Lois Anita Santerre, Ph.D. (Aug. 5, 1940-living). Lois is an accomplished counselor in her own right, obtaining degrees at Ventura College and Westmont College in Southern California in addition to master's and doctorate degrees from the University of California at Santa Barbara. During her career, she logged more than 20,000 hours of counseling experience within the framework of Christian ministry and cross-cultural experiences in 50 countries. In September 1995, to make a presentation at the American Association of Christian Counselors, she became one of the first members of the Huston-Hemphill-Dodds family to return to the family's ancestral region of Pittsburgh. Lawrence and Lois had three children -- David Dodds, Ph.D., Kathryn Moore and Michael Dodd, Ph.D. Together, in 1992, Lawrence and Lois founded Heartstream Resources based in Liverpool, PA. Heartstream Resources is engaged in the care of cross-cultural workers as an inter-denominational, multi-disciplinary Christian organization in the areas of medicine, psychology, pastoral care, personnel, candidate selection and training, administration and leadership training. Lawrence and his brother Stanley were interested in their Dodds-Huston family history. At a reunion of the Dodds family in 2007, several of the grandchildren generation full time in missions, and that summer eight of the great-grandchildren had been on summer mission trips. Sadly, Lawrence died on June 9, 2008, at the age of 71. On his grave marker is this inscription from Psalm 90: "...from generation to generation you have been our dwelling place..."
Grandson David Dodds David completed a Ph.D. in anthropology at UCLA after conducting research on native land use in the biosphere of Honduras. He completed a two year post-doctoral fellowship in demography at UCBerkley plus a three year post-doctoral fellowship at the University of Indiana, researching population and biospheres. He has received awards from Rand Corporation, National Science Foundation, the Inter-American Foundation and the Rockefeller Institute. He also holds an M.PH. from U.C. Berkley. David is a researcher and epidemiologist for the State of California, analyzing the outcomes of welfare reform on children and other topics.
Son Stanley Dodds (1939- ? ) was born in 1939 in Los Angeles County. He wedded Elaine and resides in Littleton, Colorado.
Daughter June Dodds ( ? - ? ) was born in (?). She married William Lattin ( ? - ? ). The pair bore two known children, Julie Thomas and Jason A. Lattin. Their home for years has been in Portland, OR. William is believed to have been an early employee of Motorola and Intel. He was named president and CEO of startup firm Logic Automation in 1986. The company later was acquired by Synopsys. Circa 2000, the couple established the "William and June Lattin Fellowship in Electrical and Computer Engineering" at the Oregon Graduate Institute of Science and Technology, with proceeds to be awarded to graduate students entering the program.
Grandson Jason A. Lattin, M.D. ( ? - ? ) was born in (?). In young manhood, he received three degrees from the University of Washington -- a bachelor of science, bachelor's degree in electrical engineering and a doctorate of medicine. On June 7, 2003, in nuptials held at the Temple Bible Church of Temple, TX, he was united in matrimony with Anna Marie Gilkerson ( ? - ? ), daughter of Gregory and Pamela Gilkerson of Temple. Co-officiating the ceremony were Rev. Gary DeSalvo and Rev. Jim McGuire. The bride "wore a white strapless A-line gown with all-over beaded, corded lace," reported the Temple Daily Telegram. At the time of their marriage, Jason was about to begin in a general surgery residency in Portland, and Anna Marie was in her fourth year of medical school at Texas A&M University. In time, while in residency at Oregon Health & Science University, he was named the first surgery resident at OHSU to receive approval from the Accreditation Council for Graduate Medical Education for training in rural surgery. The couple then relocated to Alaska to practice general surgery in the rural town of Soldotna, with an affiliation to the Central Peninsula Hospital and South Peninsula Hospital. The Lattins appear to be active with Moses Lake Christian Church.
Copyright © 2010-2012, 2015, 2017, 2019, 2021 Mark A. Miner