Home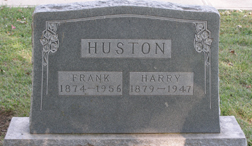 Grave of Frank and his brother Harry
Frank Huston was born in 1874 in Spring Hill, Johnson County, KS, the son of Boyd W. and Clara (Barnhouse) Huston.
When he was a young boy, in about 1878, Frank and his parents and siblings moved to a farm in the Fairview School section of Olathe, Johnson County, some 20 miles to the southwest of Kansas City. His mother and father had been pioneer settlers of Kansas in 1871, some three years before Frank was born.
Frank was a lifetime bachelor. In 1920, when the federal census was taken, Frank lived near Olathe, in Oxford Township, Johnson County, making a home for his widowed mother, and unmarried siblings Bertha and Harry. The farm was located seven miles northeast of Olathe.
Frank was active in the spiritual and agricultural life of community in which he spent all of his years. Said the Johnson County Democrat:
He was a life-long resident of Johnson County and had spent most of his life on the same farm. He was a charter member of the First Presbyterian church and recently turned the first shovel of earth in the groundbreaking ceremony for the new Presbyterian church, in southwest Olathe. Mr. Huston was a member of the board of directors of the Pleasant Valley Cemetery association and a member of the Johnson County Farm Bureau.
The three unmarried siblings were a tight-knit unit for decades. Bertha was the first to pass, in 1944. Brother Harry then was next, slipping away in 1947. Frank and Harry jointly added to their holdings of land with the purchase of 80 acres in October 1919 from Mary M. Riley. The tract's location was a portion of Section 24, Township 13, Range 24.
To protect the value of his home and farms, Frank joined the local grange, allowing him to purchase fire, lightning, tornado and hail insurance through the Patrons Mutual Insurance Association of Olathe. He also was a shareholder of the Farmers Cooperative Union Live Stock Commission Company of Kansas City, MO as well as shares in the Farmers Union Cooperative Company of Olathe, Investors Mutual of Minneapolis and the First National Bank of Olathe. Frank kept a few old coins in his safety deposit box as collectibles -- a three cent piece dated 1853; a half dime dated 1855 and a dime dated 1840 -- as well as a round, gold one-dollar U.S. coin and an octagonal California fractional gold dollar. It's not known if his parents had carried these coins with them during their pioneering 1871 voyage to Kansas from Western Pennsylvania.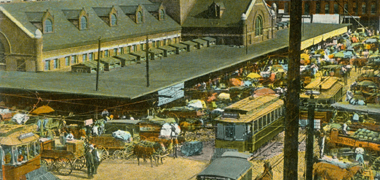 City market in Kansas City, a landmark Frank would have known and where his farm produce may have been sold
Frank's mother died in 1935 without leaving a will, and thus she was considered "intestate." That meant that her real and personal property assets automatically descended to Frank and his other siblings. This included the family farm as well as income and savings certificates of the First Federal Savings and Loan Association of Olathe. The estate was not administered in Johnson County Probate Court for another 13 years, until 1948. By that time, Frank's sisters Etta Hemphill and Bertha Huston also were deceased, further complicating the picture, as Etta's rights of inheritance had passed to her four children, R.W. "Bert" Hemphill, Maude Lowe, Mary Tippin and Margaret Dodds. To determine the correct descent of assets so they could be properly divided, Frank filed a petition in Probate Court, with a county judge making a final determination. When the estate finally was settled, Frank and his brother Jesse both received equal cash payouts of $825.16 with the remainder equally divided among their Hemphill nephew and nieces.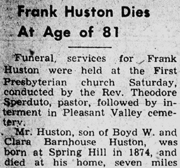 Johnson County Democrat, 1956
Frank occasionally loaned funds to family and friends. In 1950 he lent to A.B. Spears several thousand dollars in mortgage and loans. He later forgave $2,000 of the mortgage note amount, but at the time of his death was still owed $5,000 for the loan. Others included niece Margaret Dodds and her husband Archie ($4,000) in 1953, R.E. and Dora G. Redpath ($2,000) in 1954 and F.M. and Annie Adaline Redpath ($5,000) in 1955.
Just before Christmas 1955, Frank made a $5,000 pledge to the building fund of his longtime church, the First Presbyterian Church of Olathe. He also made an initial down payment of $1,000 toward that pledge.
As he entered his elderly years, Frank was cared for by his nephew and wife, Boyd E. and Mildred Huston, who made their home on a neighboring farm. On the wintry morning of March 6, 1956, Mildred saw the 82-year-old Frank outside, shoveling snow in front of his home. Later that day, when she went for a visit, she discovered him dead in bed.
In a lengthy obituary, the Democrat surmised that Frank "suffered a heart attack and died a short time later." Johnson County Coroner Dr. David S. Long Jr. investigated, and came to a similar conclusion -- that Frank's death was due to heart disease (myocardial degeneration) due to hardening of the arteries (arteriosclerosis).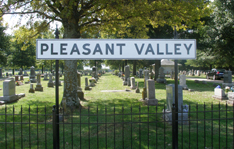 Final resting place for the Hustons
Burial was at Pleasant Valley Cemetery, where Frank had served on the board for years, in a grave next to his brother Harry. The Democrat obituary reported that the funeral service was held at the First Presbyterian Church in Olathe, led by Rev. Theodore Sperduto. Mrs. H.P. Thomas, accompanied by June Walker, performed the songs Crossing the Bar and The Lord's Prayer. Pallbears were Tom R. Benton, Leon Kennedy, Harvey McGee, Perry Palmer, Aaron Towner and Harry Zimmerman. Funeral arrangements were handled by Julien Funeral Home of Olathe.
Despite having had to deal extensively with the court system, in administering estates of his mother and siblings who died intestate, Frank too passed without leaving a will behind. Immediately following his death, his niece Mary Tippin -- the only legal heir still living locally -- filed a petition in court to appoint a special administrator to divide Frank's assets (valued at $95,000) and to provide care for and sell the livestock remaining on Frank's farm. The stock included a shorthorn bull, 17 stock cows, 29 ewes, seven lambs, two mares and 91 chickens. His grain and hay totaled 950 bushels of oats, corn and milo as well as 400 bales of prairie and alfalfa hay. Equipment on the farm ranged from a cream separator, water tanks and fanning mill to a wood saw, hedge posts, used lumber and forks, shovels, harnesses and collars. Other farm machinery included John Deere mower and manure spreader, harrow, sultry rake, corn planter, horse-drawn cultivators, walking plows, McCormick-Deering grain binders, John Deere stalk cutter, and a grain wagon and spring wagon. Frank's four-door, 1941 Plymouth automobile, with a recently reconditioned motor, also was part of the state.
Among the claims on the estate were a veterinarian's bill "in treating 3 cows for lumpjaw and docking 7 lambs..." as well as past due bill from Frank's auto mechanic at Morse Garage. Other bills due were for utility service from Southwestern Bell Telephone Company and Kansas City Power & Light Company. Frank's church also filed a petition, asking that the balance due on Frank's $5,000 pledge be honored with funds from the estate.
An auction was held in March 1956 to dispose of the personal property items, and raised $4,835. As well, Frank's legal heirs -- his Huston and Hemphill nieces and nephews -- each signed their consent for the estate to pay the full amount pledged to the church building fund, with the order granted by Probate Judge James B. Pearson. The farm, valued at more than $100,000, was sold in late 1956 or early '57, with cash from this sale paid out to his Hemphill nephew and nieces, after taxes, at $10,664 each, and his Huston nephews at $14,219 each.
Copyright © 2010, 2017 Mark A. Miner