Jesse S. Huston
(1881-1952)
Jesse S. Huston was born on Feb. 10, 1881 on the family farm, seven miles northeast of Olathe, Johnson County, KS, the son of Boyd W. and Clara (Barnhouse) Huston. He may have been named for a favorite uncle, Jesse Stoner, but this is not yet confirmed.
Jesse married Abbie M. Towner (1892-1938) in 1914, when he was age 33, and she was age 22. Jesse was 11 years older than his bride.
They produced three sons together -- Ralph Edward Huston, Boyd E. Huston and Glen T. Huston.
Said the Johnson County Democrat, Jesse "lived all his life in the vicinity of his home. He was a member of the Johnson County Bureau during his active years in the farming industry. He was a life-long member of the First Presbyterian Church, Olathe."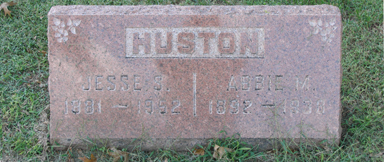 The Hustons' grave at Pleasant Valley Cemetery near Stanley, KS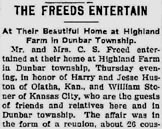 Connellsville (PA) Daily
Courier article naming Jesse
In January 1906, right after the new year's holiday, Jesse and his brother Harry and their cousin William Stoner of Kansas City traveled back to their parents' home region of Vanderbilt, Fayette County, PA for a reunion party hosted by their aunt and uncle, Esther and Christian Freed. In a story headlined "Freeds Entertain," the Connellsville (PA) Courier reported that the men were "the guests of friends and relatives here and in Dunbar township. The affair was in the form of a reunion, about 26 cousins and other relatives being present. Music and games were the amusements of the evening until a late hour, when an elegant luncheon was served." Among the guests at the event were Simon Bute of Grand Ridge, IL; David, Bessie and Harriet Huston of Dawson; Belle Sovereigns of Dawson; Mrs. and Mrs. Cyrus Stoner and daughters of New Haven; Harry, Ella and Elizabeth Workman of Connellsville; Albert and Emma Long of Connellsville, Edward Himmelwright and Oliver Silcox of Connellsville; Francis Galley and Ken Collins of Vanderbilt; John Stoner of East Liberty; and Samuel and Grace Hair of Dunbar Township.
Remaining in Vanderbilt for more than a month, the brothers were entertained in the home of Bessie Fairchild at Dawson, Fayette County, in early February 1906. The brothers were referred to as "of Kansas City."
When the federal census was taken in 1920, the family lived on a farm in Oxford Township, and as next-door neighbors to his mother and siblings. The legal description of the farm's location was all of the southeast quarter of the southwest quarter of Section 24, Township 13, Range 24 in Johnson County.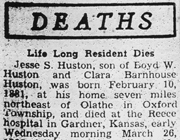 Johnson County Democrat, 1952
Sadly, Abbie passed away at the age of 46 in 1938. The cause of her passing is not yet known. She was laid to eternal rest at Pleasant Valley Cemetery, near Stanley, Johnson County.
In about 1943, Jesse began suffering from an illness that eventually took his life. He may have had cancer, although this is not yet known.
Jesse received a cash payment of $825.16 in 1948 as the settlement of a very complicated family estate. Because his mother and sisters Etta Hemphill and Bertha Huston all had died without leaving a will, they were considered "intestate." That meant that Jesse automatically became an heir of some but not all of the residual, collective real and personal property assets. This primarily included the question of ownership rights in the old family farm. To determine the correct descent of assets so they could be properly divided, Etta's brother Frank filed a petition in Probate Court, with a county judge making a final determination.
In 1952, after suffering for nine years, he was treated at the Reece Hospital in Gardner, KS, and died there, at the age of 71, on March 26, 1952. Following a funeral service at his home church in Olathe, conducted by Rev. Rice Lardner, he was buried beside his wife, ending a separation of 14 years. At the time of his passing, said the Democrat, he had four grandchildren.
~ Son Boyd E. Huston ~
Obituary, 1990
Son Boyd E. Huston (1916-1990) was born on April 21, 1916, in Lenexa, Johnson County. He was named for his grandfather, Boyd W. Huston.
Boyd married Mildred M. Nelson (1926-1998) on June 10, 1942. He was age 26 at the time, and she 16.
They had three daughters -- Joyce O'Connor, Jeanie Rankin and Janice Miller.
Boyd spent his entire life in Johnson County. Said the Kansas City Times, he "was a farmer before he retired. He also worked for the Gardner-Edgerton School District for 13 years, retiring as head custodian in 1980... He was an Army veteran."
In 1956, Boyd and Mildred purchased outright their 40-acre farm from Boyd's siblings and cousins. It was considered the northeast quarter of the southeast quarter of Section 23, Township 13 and Range 24. Four years later, they sold the tract to Ida Freshman, in return for a one-dollar payment "and other valuable consideration."
The Hustons made their home in retirement at 603 South Hickory in Gardner, KS.
Afflicted with heart ailments, Boyd died at age 73, on Feb. 18, 1990, at the Olathe Medical Center. Funeral services were held in the Bruce Chapel in Gardner, followed by burial in the Pleasant Valley Cemetery. He was survived by eight grandchildren and two step-grandchildren.
Mildred outlived Boyd by nine years. She passed away two days before Christmas 1998.
The Hustons' red grave marker at Pleasant Valley Cemetery near Stanley, KS
~ Son Glen T. Huston ~
Son Glen T. Huston (1917- ? ) was born in 1917.
He married Katherine (?) (1919- ? ).
In 1952-1956, Glen resided at 7800 Marty in Overland Park, Johnson County. When his bachelor uncle Frank Huston died in 1956, he received an $10,664 in cash as an heir, and also purchased his uncle's old 1910 Elgin Silverode pocket watch.
He was last known to be alive in 2000, in Gardner, KS, at the death of his brother Ralph.
~ Son Ralph E. Huston ~

Pleasant Valley Cemetery
Son Ralph Edward Huston (1914-2000) was born on Oct. 8 1914, in Olathe.
He married Lucille E. (?) (1914-1997). They had two daughters -- Loretta Burtnett and Linda Frew.
Ralph was a U.S. Army veteran of World War II and a longtime electrician. In the early 1950s, he made his home in Shawnee, KS. Later, by 1956, he and Lucille retired to Tucson, Pima County, AZ, where their married daughter Loretta was residing, and where they made a home at 4901 East 18th Street.
Lucille passed away at the age of 82 on April 14, 1997.
Ralph outlived her by three years. He died at age 85 on Aug. 24, 2000, in Payson, Gila County. Arrangements were made by the Messinger Payson Funeral Home in Payson. Ralph's old home town newspaper, the Olathe Daily News, carried his obituary, which said that he was survived by four grandchildren and six great-grandchildren.
Copyright © 2010, 2017 Mark A. Miner