Harry B. Huston
(1879-1947)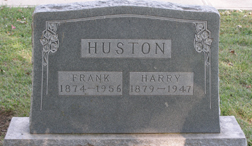 Grave of Harry and his brother Frank
Harry B. Huston was born on May 28, 1879 in Spring Hill, Johnson County, KS, the son of Boyd W. and Clara (Barnhouse) Huston.
He appears to have been named for his grandfather, Harrison Barnhouse.
Harry's birth occurred either immediately before or after his parents and siblings moved to a farm in the Fairview School section of Olathe, Oxford Township, Johnson County, some 20 miles to the southwest of Kansas City. His parents had been pioneer settlers of Kansas in 1871, about eight years before Harry was born.
Said the Johnson County Democrat:
He has been a farmer all his life, which was spent in the community where he was born. He attended the schools of the county, was a member of the Johnson County Farm Bureau and has been a member of the Olathe Presbyterian church since childhood. He was always present at church services when his health and the weather permitted. He never married.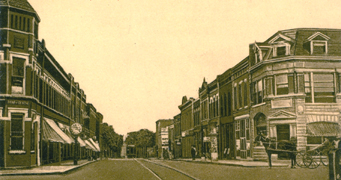 Park Street in Olathe, early 1900s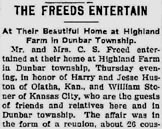 Pennsylvania news story about
Harry's visit with grandparents
In January 1906, right after the new year's holiday, Harry and his brother Jesse and their cousin William Stoner of Kansas City traveled back to their parents' home region of Vanderbilt, Fayette County, PA for a reunion party hosted by their aunt and uncle, Esther and Christian Freed. In a story headlined "Freeds Entertain," the Connellsville (PA) Courier reported that the men were "the guests of friends and relatives here and in Dunbar township. The affair was in the form of a reunion, about 26 cousins and other relatives being present. Music and games were the amusements of the evening until a late hour, when an elegant luncheon was served." Among the guests at the event were Simon Bute of Grand Ridge, IL; David, Bessie and Harriet Huston of Dawson; Belle Sovereigns of Dawson; Mrs. and Mrs. Cyrus Stoner and daughters of New Haven; Harry, Ella and Elizabeth Workman of Connellsville; Albert and Emma Long of Connellsville, Edward Himmelwright and Oliver Silcox of Connellsville; Francis Galley and Ken Collins of Vanderbilt; John Stoner of East Liberty; and Samuel and Grace Hair of Dunbar Township.
Remaining in Vanderbilt for more than a month, the brothers were entertained in the home of Bessie Fairchild at Dawson, Fayette County, in early February 1906. The brothers were referred to as "of Kansas City."
Harry appears on the 1920 census as single at age 41 and making his home with his widowed mother and unmarried adult siblings Bertha and Frank. The three unmarried siblings were a tight-knit unit for decades, until Bertha was the first to pass, in 1944.
Harry remained on the home farm, situated about six miles northeast of Olathe. He died there at the age of 68 on Jan. 13, 1947.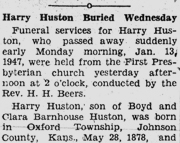 Johnson County Democrat, 1947
His funeral was held in the First Presbyterian Church in Olathe, with the service conducted by Rev. H.H. Beers. In a lengthy obituary, the Democrat reported that music was furnished by Mr. and Mrs. Dean Lorimer, Mrs. H.E. Julien and Ralph Ott, accompanied by Harry Buchholtz. Pallbearers included Walter Dunn, Samuel Hemphill, Leon Kennedy, Frank Redpath, Fred Sitterman and Harry Sterrett. Burial followed at Pleasant Valley Cemetery near Stanley, Johnson County.
Harry died without leaving a will, meaning he was "intestate." His real estate was estimated at a value of $7,400 and his personal property at $6,000. His livestock was inventoried to include seven horses, one colt, four steers, a bull and seven heifers, 11 milk cows, a sow and pig and 35 sheep. He also owned a McCormick wheat binder and corn binder, gang plow, harrow, manure spreader, sulky rake, bull rake, walking plow, alfalfa drill and two wagons. Among his financial assets were four shares of common stock each in the First National Bank of Olathe and the Farmers' Union Co-Op Company of Olathe.
The assets were sold to generate cash to distribute among heirs. The sum was divided equally between his brothers Frank and Jesse, nephew Bert Hemphill and nieces Mary Tippin and Margaret Dodds.
Brother Frank joined him in death, and in their shared grave, in 1956.
Copyright © 2010, 2017 Mark A. Miner