Daniel Johnston (1764-1855) and
Sarah Anne Kirkpatrick (1764-1838)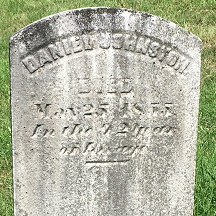 The Johnston graves at Prosperity, PA
Daniel Johnston was born on April 25, 1764 in Elizabeth, Morris County, NJ, the son of James and Jennette (Gaston) Johnston.
Sarah Anne Kirkpatrick, his wife, was born in 1764 in Mine Brook, Morris County, NJ, the daughter of Andrew M. and Margaret (Gaston) Kirkpatrick Sr., the father a native of Dumfries, Scotland who later moved to Belfast, Ireland before emigrating to America.
Given that both of their mothers had the same "Gaston" maiden name, Daniel and Sarah Anne may have been a cousins.
Together, they produced a family of children, among the known names Andrew Johnston, Sarah Ann Johnston, Daniel Johnston, Caroline Tucker and Lavenia Strean.
Sometime after 1787, when their son Andrew was born, the Johnstons migrated from New Jersey to southwestern Pennsylvania. They settled in or near the village of Prosperity, Washington County, PA.
Little more of their lives is known.
Sarah Anne passed away in Prosperity on Nov. 25, 1838. On her grave marker, the inscription referred to her as her husband's "consort" (wife) and said she was "in the 75th year of her age."
Daniel outlived his wife by 17 years. When the federal census enumeration was made in 1850, the widowed, 86-year-old made a home with his married daughter Louvenia Strean and family in Canton Township, Washington County. He had no occupation that year.
He died in Prosperity on May 25, 1855, at the age of about 81. On the face of his grave marker, the inscription read that he was "in the 92nd year of his age."
They sleep for all time in a row of graves, including with their daughter Sarah Ann, in Upper Tenmile Presbyterian Church Cemetery in Prosperity.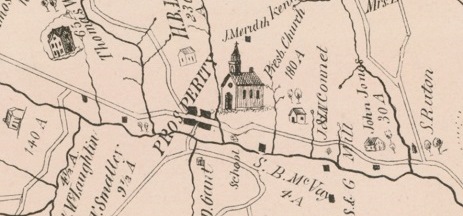 Sketch of the village of Prosperity, as published in Caldwell's Illustrated Historical Centennial Atlas of Washington Co., Pennsylvania. Condit, OH: J.A. Caldwell, 1876.
~ Daughter Lavenia (Johnston) Strean ~
Daughter Lavenia Johnston (1800-1878) was born on May 1, 1800 in Pennsylvania. She grew up in the Ten Mile section of Washington County.
In young womanhood, Lavenia entered into marriage with James G. Strean (1799-1882), a native of Virginia.
They together bore a brood of seven children, among the known names Robert Strean, Sarah Strean, Margaret Strean, Eliza Jane Strean and Mary Strean.
When the federal census enumeration was made in 1850, the family shared a home with Lavenia's aged father in Canton Township, Washington County. James' occupation was marked as a farmer, and 30-year-old laborer John Helt boarded in their residence that year.
By 1860, now in Franklin Township, Washington County, a census-taker marked the value of James' real estate as $20,000 and personal estate as $10,000.
Still in Franklin in 1870, the household included his son Robert's five children, all under the age of 13 -- Herbert (age 12), James G. (10), Helen D. (8), Elizabeth (6) and Maria J. (3). That year, the census-taker spelled the family surname as "Strain," perhaps reflecting how it was pronounced. The value of James' real estate holdings in 1870 had grown to $50,000.
The Waynesburg Republican said that James was:
...a hard-working, industrious and enterprising man and in a long business career accumulated a handsome fortune. In early life he was among the foremost in promoting the raising of fine wooled sheep inthe county. He was an exhibitor at the World's Fair in England, and received a medal for growing the finest wool in the world. He also gave his influence to the various public improvements agitated during is active life. He was in every sense a useful citizen.
Sadly, Lavinia passed away on Dec. 9, 1878. Burial was in Washington Cemetery.
James outlived his bride by four years and maintained a home in Franklin Township. He died at home on Aug. 9, 1882 at the age of 83. Eulogized the Republican, "In his death the community has lost a valuable member." An obituary in the Washington Reporter noted that James' brother-in-law was Andrew Johnston "who died a few years ago five miles [from] Waynesburg."
Son Robert Strean (1829- ? ) wes born in about 1829. In 1850, at the age of 21, he was a student living at home in Canton Township, Washington County. By 1860, census records suggest he had married Anna M. (1835- ? ), a Massachusetts native. At that time, he was working as an editor in the county seat of Washington. Their two known offspring were Herbert H. Strean and James G. Strean.
Grandson

Herbert G. Strean (1857- ? ) was born in about 1857. At the age of 12, in 1870, he and his four younger siblings lived with their grandparents in Franklin Township, Washington County.
Grandson James G. Strean (1859- ? ) was born in about 1859.
Granddaughter Helen D. Strean (1862- ? ) was born in about 1862.
Granddaughter Elizabeth Strean (1864- ? ) was born in about 1864.
Granddaughter Maria J. Strean (1867- ? ) was born in about 1867.
Daughter Sarah Strean (1833- ? ) was born in about 1833. Unmarried at the age of 32, she lived with her parents in 1860 in Franklin Township, Washington County.
Daughter Margaret Strean (1834- ? ) was born in about 1834. She was still single in 1860, at age 24, and resided at home.
Daughter Eliza Jane Strean (1842- ? ) was born in about 1842.
Daughter Mary Strean (1844- ? ) was born in about 1844.
~ Daughter Saran Ann Johnston ~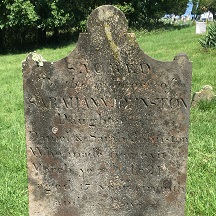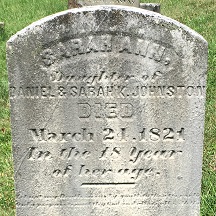 Both of Sarah Ann's grave markers, in the same plot, in Prosperity
Daughter Saran Ann Johnston (1804-1821) was born in about February 1804.
She did not live to fully reach adulthood.
Her family was plunged into grief when on on March 21, 1821 she was killed in a freak accident. Reported a newspaper, she died from "the accidental discharge of a rifle gun, loaded with a ball, while her brother was in the act of putting the gun away. We are unable to give a particular account of this melancholy accident [and] learn that the gun was subject to going off at half cock."
Her age at deagh was 17 years, one month and 28 days. Her remains were laid to tender rest in the Prosperity Cemetery.
A sandstone marker first was erected at the site of her grave. The epitaph reads:
Let not my Death in early youth
To the [illegible] be
Only prepare to meet thy God
And all is well with thee.
While the original marker is still legible today, another marker was added in later years with a slightly different and simplified inscription on the face. The reason for two markers is a mystery.
~ Son Daniel Johnston Jr. ~
Son Daniel Johnston Jr. (1806-1836) was born in 1806 in Washington County, PA.
He migrated to Illinois and dwelled in Warren County, IL.
The angel of death cut him away at age 29 or 30 on July 12, 1836. In her diary, his sister Caroline recorded that typhus fever was the cause of death and that the body had been interred on his farm.
Then in January 1846, the remains were re-interred after nine-and-a-half years and relocated to Monmouth Cemetery in Warren County.
~ Daughter Caroline (Johnston) Tucker ~
Daughter Caroline Johnston (1809-1888) was born on July 9, 1809 in Washington County.
She was united in matrimony with widower James Tucker (May 14, 1807-1890), also of the county.
At age 27, James "came to Illinois on a prospecting tour in 1834, and the next year settled on the place in Swan township known for years as the Tucker farm," said a newspaper. He stayed in Roseville, Warren County, IL for the remaining 55 years of his long life.
James and his first wife, Abigail Long (1817-1838, were wed on May 19, 1836 in Warren County. During their brief marriage, they were the parents of one daughter, Elizabeth Coghill. Sadly, Abigail died in 1838.
Together, Caroline and James produced four more sons of their own -- Daniel Tucker, James M. Tucker, John Tucker and George Tucker.
In 1846, James was elected to the Illinois state legislature and served for one term. He was a founding member of the local Baptist Church in Roseville and served for years as its clerk.
The Tuckers accumulated 1,400 acres of property, worth $80,000 at his death.
Caroline succumbed to death at the age of 79 on Nov. 22, 1888. Burial was in the soil of Roseville Cemetery.
James' final years were spent in the home of his son James. He died at age 82 on March 26, 1890.
Stepdaughter Elizabeth Tucker (1837-1910) married John Walter Coghill ( ? - ? ). They dwelled in Beaucoup, IL and bore seven children. One of the sons married Muriel Anderson on Sept. 13, 1900.
Son Daniel J. Tucker (1841-1862) was born on Aug. 20, 1841 in Warren County. He served in the Union Army during the Civil War as a member of the 1st Regiment, Illinois Cavalry, Company G. He died in the Army while in Lexington, MO, at the age of only 21, on Sept. 22, 1862. No evidence has been found to suggest that his mother or dependent filed to receive a military pension.
Son James McLean Tucker (1844-1924)
Son John Tucker (1846-1891)
Son George Tucker (1849-1929) resided on the Tucker farm in Swan Township. In 1873, he wedded Addie Johnson (1849- ? ), daughter of Edwin Clarke and Harriett W. (Coe) Johnson.
Granddaughter Harriette May Tucker was born in Monmouth, IL and was a recognized member of the Daughters of the American Revolution (member #89238). Circa 1921, she was a founding board director of the Chief Shaubena Chapter of the DAR in Roseville.
Book about Prosperity
~ More About Prosperity, PA ~
Many of the families chronicled on this website lived in or near the small village of Prosperity, PA, with the ashes of their bones asleep in the sacred soil of the Upper Tenmile Presbyterian Church Cemetery, otherwise known as Prosperity Cemetery.
Andrew Jackson and Mary Louise (Johnston) Miner, great-great grandparents of the founder of this website, were married there in 1875 and an image from the cemetery was the Minerd.com "Photo of the Month" for February 2006.
Among some of the older burials are of Capt. John J. and Elizabeth Phoebe) Mills Conklin, Harvey and Permelia (Headley) Grim and Samuel and Susan (Miner) Birch,
The town took on a national persona as the title subject of the 2019 Pulitzer Prize-winning book Amity and Prosperity, authored by Eliza Griswold. It tells a gripping story of the impact of the Marcellus Shale boom on local farm families circa 2010 and one nurse's experience from a struggling single mother to "an unlikely activist." (Farrar, Straus and Giroux, 2018).
Copyright © 2021 Mark A. Miner
Generous assistance has been provided by David Shaw.