Mary 'Doris' (Krick) Hertel
(1875-1973)
Mary "Doris" (Krick) Hertel (or "Hurdle" or "Hertle") was born on March 11, 1875 or near Monroeville, Allen County, IN, the daughter of Emanuel and Sarah Elizabeth "Betsy" (Minerd) Krick.
In about 1893, when Doris was age 17, she 21-year-old married Joseph Clinton "J.C." Hertel (1871-1933), the son of Joseph and Mary (Lampe) Hertel of Van Wert County, OH.
The Hertels had at least three children -- Wilma H. Sponseller, Viola Faith Kline and Richard F. Hertel, born between 1896 and 1900.
When the federal census was taken in 1900, the Hertels lived on Griffin Street in Toledo, Lucas County, OH. Joseph's occupation was marked as "day laborer."
By 1910, according to the census, they had moved to a farm near Scott, Van Wert County. The observant census-taker recorded that their residence was along the "improved road."
During the 1910s, Joseph and Doris moved again into the city of Van Wert, on South Harrison Street. Joseph had obtained employment as a grocery salesman, a position that probably produced more steady income than farming. During the 1920s, he bought or otherwise became manager of a Van Wert restaurant, and was marked as such in the 1930 census. In 1930, their home was on North Jefferson Street in Van Wert.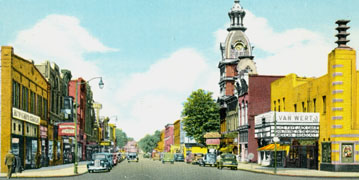 Van Wert's Main Street. Note the county courthouse tower.
Later still, they made their home at 233 West First Street in Van Wert. In all, Joseph worked as a farmer for 20 years, and as the proprietor of a grocery business for 18 years.
Joseph passed away after suffering from endocarditis on June 10, 1933, at the age of 60. He was laid to eternal rest in Van Wert's historic Woodland Union Cemetery. On his official Ohio death certificate, daughter Wilma Sponseller served as the informant.
Circa 1947-1967, Doris made her home in Van Wert. Her residence was on 224 North Second Street. At the death of her sister Eva Jane Plumley in 1967, Doris became the sole surviving sibling of the eight original Kricks.
She entered eternity -- after 40 years as a widow -- on Dec. 15, 1973 in Convoy, Van Wert County. [Find-a-Grave]
~ Daughter Wilma H. (Hertel) Sponseller ~
Daughter Wilma H. Hertel (1895- ? ) was born on Dec. 15, 1895 in or near Convoy, Tully Township, Van Wert County.
On Sept. 2, 1914, when she was 18 years of age, Wilma married 20-year-old Walter R. Sponseller (1893- ? ), son of Samuel G. and Alice (Van Horn) Sponseller of Tully Township, and grandson of G.C. Van Horn. Van Wert Mayor A.C. Gilpin officiated at the ceremony.
They went on to produce three known children -- Velana M. Sponseller, Marcell Sponseller and Samuel C. Sponseller.
Walter was employed in 1920 as a house carpenter in Convoy and by 1930 as an electrician with an electrical firm.
Near tragedy visited the family on Jan. 10, 1918, when Wilma was nearly burned to death in a freak accident. Reported the Fort Wayne Sentinel, she was:
...in a serious condition from the results of terrible burns caused by the exploding of a can of kerosene. The unfortunate woman attempted to rekindle a fire by pouring the oil on glowing coals. An immediate explosion occurred. A member of the family perceived her plight and, carrying her into the yard, rolled her in the snow, quickly extinguishing the flames.
When the federal census was taken in 1920, the Sponsellers resided under his parents' roof along Sponseller Road in Tully Township. They eventually relocated to a new home across the state line on the Peter Shie farm in Flat Rock, Allen County, IN. The farm was located in the southeast part of Monroe Township along the Indiana-Ohio line. During the Fall Festival and Home Coming in Monroeville in September 1924, Wilma brought an old copy of the Monroeville Breeze newspaper from 1898 containing the obituary of her great-grandfather, John Minerd Jr.
The marriage appears to have ended, with Walter in 1930 living with his sister and brother in law Iris and Ray D. Speakman in Fort Wayne. The census taker recorded his marital status as "single." He is believed to have married again to Elsa A. (1895- ? ). He died in 1945, with burial in Fort Wayne's Lindenwood Cemetery.
Wilma remarried again at the age of 38. Her second spouse was 51-year-old Donald A. Harris (1882- ? ), son of J.E. and Jennie (Keltner) Harris of Van Wert. Their nuptials were held on July 25, 1934 by William A. Thomas. At the time, Donald was employed as an engineer in Kalamazoo, MI.
The couple made their home in Kalamazoo, and are shown there, on East Chestnut Street, in the 1940 census count. Donald was employed as a fireman with the city schools.
Daughter Velana M. Sponseller (1915- ? ) was born in about October 1915.
Daughter Marcella Irene Sponseller (1917- ? ), also spelled "Sponseler," was born on Oct. 1, 1917 in Convoy. At the age of 22 in 1940, unmarried, she lived with her mother and stepfather in Kalamazoo, where she earned a living as a laborer in a machine manufacturing company. On June 6, 1941, in Kalamazoo, the 24-year-old Marcella was joined in wedlock with 26-year-old Nelson John Bushouse (1914-1985), son of Garrett and Jennie (Vanpeenan) Bushouse. Nelson is believed to have died Otsego, Allegan County, MI in February 1985, at the age of 70, with burial in Riverside Cemetery in Kalamazoo. Marcella lived as a widow for another 15 years. She died in Kalamazoo on Nov. 23, 2000.
Son Samuel C. Sponseller (1919- ? ) was born in about April 1919 in Tully Township. Nothing more is known.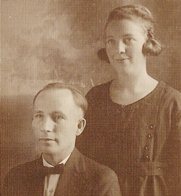 Lawrence and Faith Kline
~ Daughter Viola "Faith" (Hertel) Kline ~
Daughter Viola "Faith" Hertel (1898-1966) was born in about 1898.
At the age of 18 or 19, she wed 30-year-old Lawrence W. Kline (1887- ? ) in about 1917. The couple produced two children -- Kathryn "Kate" Kline and Dale Richard Kline.
In 1930, the family made its home along Columbia Street in Rockford, Mercer County, OH. Lawrence worked as an overseer at a bakery.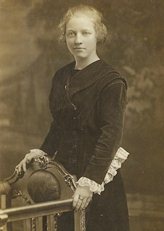 Faith Kline
They moved to Ohio City, Van Wert County and were there in 1935-1940 as marked in the 1940 federal census enumeration. That year, Lawrence earned a living as a laborer with a road construction company.
Faith passed away in 1966 at the age of 68.
Lawrence's fate is not yet known.
Daughter Kathryn "Kate" Kline (1919- ? ) was born in about 1919.
Son Richard Dale Kline (1921-1979) was born in about 1921 in Ohio. At the age of 18, on May 9, 1939, he married 19-year-old Christine L. Painter (1919-2003), a native of Willshire, OH and the daughter of LeRoy and Mary A. (Kline) Painter. They had three children -- Kay Nichols, Daniel J. Kline and Kim Elaine Kline. Sadly, daughter Kim died when she was just the tender age of three. Christine helped earn income for the family by working at Van Wert Cigar Company and also at Kohn's Korner in Ohio City. They were members of St. John's Lutheran Church in Ohio City, and Christine belonged to the Order of Eastern Star. Sadly, Dale died on Sept. 25, 1979 at the age of 58. Christine survived for another 24 years in her home at 106 North Shane Street in Ohio City. She was swept away by the Grim Reaper at the age of 84 on Dec. 17, 2003, at Van Wert County Hospital. Pastor Denise Brown officiated at the funeral, followed by interment in Woodlawn Union Cemetery.
~ Son Richard Hertel ~
Son Richard Hertel (1900- ? ) was born in about 1900.
He married (?).
In September 1932, when his uncle John W. Krick tragically was killed in an automobile accident, Richard and his wife traveled to Paulding, Paulding County, OH for the funeral, according to a short article in the Van Wert Daily Bulletin.
Copyright © 2009, 2016 Mark A. Miner