Joseph Henry Mills Jr.
(1895-1938)

Joseph H. Mills Jr.
Joseph Henry Mills Jr. was born in 1895 in Fayette County, PA, the son of Joseph Henry and Flora (Minerd) Mills Sr.
When he was age 22, Joseph was united in holy matrimony with 17-year-old Sylvia "Marie" Gray (1900- ? ). She was a native of Oliphant, PA and the daughter of William and Alice (Smith) Gray. Both fathers of the couple were immigrants from England.
They produced a family of two sons -- James "Robert" Mills and Joseph William Mills.
During World War I, Joseph served as a private with the U.S. Army, assigned to the 47th Infantry, Company I. Using the jargon of the day, he was a "doughboy." A full length photograph of him in uniform is seen here. (Click to see the list of all known Minerd-Minard-Miner-Minor cousins who served in the U.S. armed forces during World War I.)
In later years, he was a "prominent member" of the local American Legion in Fayette County.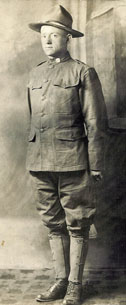 Joseph, World War I
When the federal census was taken in 1930, Joseph and Marie and their family lived on "Brick Road" in the small coal mining patch town of Republic, Redstone Township. His employment is listed as "laborer" in the local "coal mine."
After the war, Joseph and Sylvia continued to dwell in Republic. During the Millses' years there, the town was a center of unrest in the coal mining organized labor movement. In fact, Joseph's cousin Wilbert "Patsy" Minerd, also of Republic, helped broker the settlement of a coal strike in 1933 by traveling to Washington, DC to personally meet with President Franklin Delano Roosevelt.
Sadly, Joseph in about 1935 became afflicted with cancer of the sigmoid (colon). After two-and-a-half years of enduring the illness, including a colostomy procedure, he passed away at home at the young age of 43, on Feb. 21, 1938. He had suffered from a "lingering illness [of] complications," said the Uniontown Morning Standard, and he was "ill at home for a number of months" before his death. Burial was in Sylvan Heights Cemetery.
Sylvia Marie was left as a single mother at the age of 34 with two teenage sons.
In time she married again to World War I veteran Ellsworth Dick (Sept. 16, 1894-1974), son of Apollos and Sarah (Seneff) Dick of Mount Pleasant, Westmoreland County. The couple resided in Republic on 414 Vesta Street. Ellsworth was employed by the U.S. Postal Service as a letter carrier. He held a membership in the First Christian Church of Republic, Sulgrave lodge of the Masons and American Legion post in Youngstown, OH and the National Association of Letter Carriers.
As Ellsworth's health declined, he was admitted to the Veterans Administration Hospital in Pittsburgh. He died there at the age of 79 on March 21, 1974. Burial initially was planned for Green Lick Valley Cemetery near Mount Pleasant, but plans were changed and the remains were lowered into repose in Lafayette Memorial Park in Brier Hill. Rev. Roger V. Mize is believed to have officiated.
Marie outlived her second husband by 18 years. She moved to Wellsboro, PA and became a resident of Broad Acres Nursing Home. Death swept her away at the age of 92 on Sept. 29, 1992. An obituary was printed in the Elmira (NY) Star-Gazette. Her remains were shipped to Uniontown, with Rev. Thomas Logston leading the funeral service. She rests for all time in Sylvan Heights Cemetery.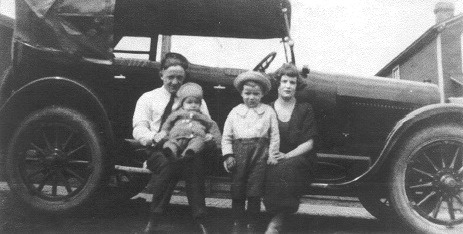 Above: the Millses on the sideboard of their roadster, 1920s. Below: Joseph with grandsons James Robert and Joseph William Mills. Courtesy Penny Mills Swope.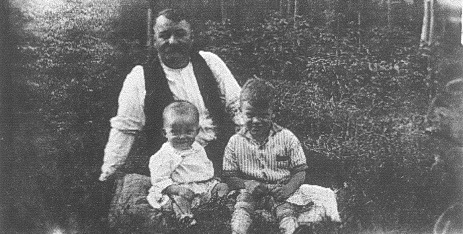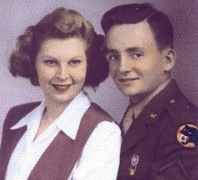 Greta and Robert
~ Son James "Robert" Mills ~
Son James "Robert" Mills (1923-1999) was born on April 2, 1923 in Republic, Fayette County.
Robert served in the U.S. Army during World War II and trained with the Engineer Battalion in Florida. He was assigned to the 266th Engineers and was deployed to Northern France.
In about 1943, when he would have been 20 years of age and still in training in the Army, he was united in matrimony with 19-year-old Greta Lyons (April 20, 1924-2000), a native of Gains, PA and the daughter of Carl James and Beatrice (Morris) Lyons. Their marital union endured for a remarkable 56 years.
News of the marriage was announced in the Uniontown Morning Herald, with Greta's wedding portrait accompanying the story. She was an alumna of Katherine Gibbs Secretarial School in New York City and, at the time of marriage, was employed in Pittsburgh by United States Steel Corporation.
The Millses resided in Belle Vernon, Fayette County and produced two offspring -- Penny Swope and Randall L. Mills.
In the years after the war, Robert was employed by Pittsburgh Steel and retired in 1981. Greta earned a living as a secretary in Belle Vernon and joined the ranks of retirement in 1978.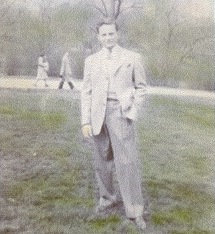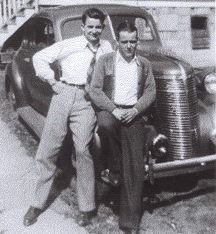 Left: Robert in Central Park, New York, and with brother Joseph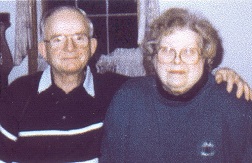 In later years
In retirement, the Millses relocated to Blossburg, Tioga County, PA. Their address was 306 Granger Street, and the couple held a membership in the Blossburg United Methodist Church. Robert enjoyed spending time working with wood.
Sadly, Robert died at the age of 75 on Feb. 11, 1999 as a patient in Robert Packer Hospital in nearby Sayre. His obituary was printed in the Elmira (NY) Star-Gazette. Rev. Archie Cruikshank preached the funeral sermon, with interment of the remains following in Arbon Cemetery in Blossburg.
Greta outlived her husband by about a year-and-a-half. Burdened with diabetes, she succumbed to death in Packer Hospital on Aug. 27, 2000, at the age of 76. Rev. Allen Huslander officiated the funeral service.
Daughter Penny Mills married William Swope. They are the parents of Kevin Swope. Their home over the years has been in Blossburg, Tioga County. For 35 years, Penny was a school teacher and retired in January 2008. Penny initially made contact with the founder of this website just three weeks after it first went online in 2000. She graciously has shared extensive content for this biography, and with Bill attended the national Minerd-Minard-Miner-Minor Reunions in 2005 and 2008.
Son Randall L. Mills married Maxine. They bore a daughter, Kimberly Ann Mills. The Millses resided circa 1992 in Wellsboro, PA and 1999 in Morris, Tioga County.
Granddaughter

Kimberly Ann Mills

was in Huntersville, NC in 2000.
~ Son Joseph William Mills ~

Joseph W. Mills
Son Joseph William Mills ( ? -1983) was born in (?).
Joseph was joined in the bonds of wedlock with Jean Cover ( ? - ? ), daughter of John I. and Essie P. (Johnson) Cover.
The couple bore one son, Kenneth Mills.
The family made a home in Republic, Fayette County.
In late August 1940, Jean received a shower at the home of her mother in law, an event reported in the Uniontown Morning Herald. "Mrs. Mills received many beautiful and useful gifts," said the article. Among those attending were Mrs. Ernest Lewis, Mrs. Charles Lewis, Mrs. Fred Gray, Mrs. Margaret Harshman, Mrs. Joseph Pendergast, Mrs. Beatrice Dunlevy, Mrs. Clark Paull, Mrs. John Cover, Mrs. Roy Sharpnack, Mrs. George Gabler, Mrs. J.C. Cover, Mrs. Rex Cooke, Mrs. Joseph Zoretic, Mrs. James Cover, Mrs. Charles Mitchell, Sr., Mrs. Nick Verbanic, Mrs. Mary Zemz, Mrs. Jesse Wyatt, Mrs. Edith Burkey, Mrs. Edward McCluckey, Mrs. Joseph Wilson, Mrs. John Flanigan, Mrs. Charles Hopkinson, Mrs. Nelle Hopkinson, Mrs. Joseph Tressa, Miss Beryl Gray, Miss Fay Zoretic, Mrs. Joseph Mills Sr., and the honored guest, Mrs. Joseph Mills, Jr.
Joseph passed away in 1983.
Son Kenneth Mills ( ? - ? ) made a home in Republic, Fayette County in 1992.
Copyright © 2001-2002, 2008, 2011, 2020 Mark A. Miner