Electa Ann 'Licty'
(Minard) Walker
(1848- ? )
Electa Ann "Licty" (Minard) Walker was born in March 1848 in Goshen Township, Tuscarawas County, OH, the daughter of Solomon and Rebecca (Metzler) Minard. She and her husband were pioneers of Iowa.
As a young girl, Licty moved with her parents and siblings to Knox County, OH.
On May 28, 1868, in Knox County, Electa married William "Crawford" Walker (1847- ? ), a native of West Virginia. The ceremony was performed by Rev. J.H. Hamilton, who also oversaw the weddings of Licty's sisters Margaret Smale and Elizabeth Shook.
The Walkers had four known children -- Mamie Rice, Marion Walker, Ellet Walker and Angie Oliver.
Crawford was a farm laborer. Within one year of marriage, the Walkers migrated to Iowa, where they resided near Millersburg, Green Township, Iowa County as shown on the U.S. census of 1870. There, their daughter Mamie Rice was born in August 1869. Later, their daughter Angela Oliver was born in 1877.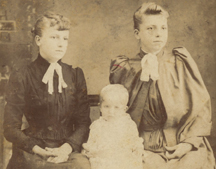 Daughters Mamie and Angie
At some point, Electa sent a photographic portrait of Mamie and Angie, posed with Mamie's young daughter, to her brother Albert, who was residing in Iowa. The photograph is seen here and today is in the collection of one of Albert's descendants.
Daughter Angela Walker (1877- ? ) married (?) Oliver, a Kentucky native, in 1898. They made their home in Missouri. Tragedy struck when Mr. Oliver died within a year or two, leaving Angie with a young son Oley Oliver. Grief-stricken, Angie moved back into her mother's home, and they remained together for decades.
In 1900, when the federal census again was taken, Electa was listed as widowed, and residing in Kirksville, Adair County, MO. Heading the household was her widowed, 23-year-old daughter Angie Oliver, who was a nurse. Their home was on McPherson Street. Also living under their roof that year was 16-year-old boarder Minnie Porter.
Electa, Angie and Oley remained in Kirksville for at least a decade, and are shown on the 1910 census of Adair County. The 33-year-old Angie is listed as married, for 18 years, and no longer working as a nurse but rather as a farm manager. Oley, age 17, labored on the farm. Electa, age 68, is listed as widowed.
By 1920, Electa and Angie were living together on Smith Street in Brookfield, Linn County, MO. At the time, Angie (shown as a widow) was employed as a laborer in a shoe factory.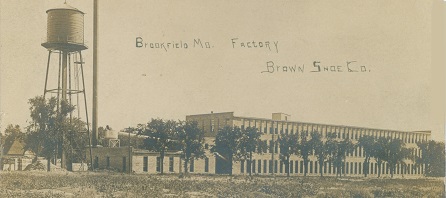 Brookfield's Brown Shoe Company, where Angie worked in 1920
Electa's fate is unknown. In September 2009, family researchers traveled to Missouri to try to ascertain more of her story. They scoured records at the Brookfield Library in Linn County, and the Chillicothe Library in Livingston County, to see if either Electa or Angie had married again, or died there leaving a paper trail of estate administration. Nothing was found. They were advised that Linn County probate records are maintained by the State of Missouri Archives in Jefferson City.
At some point, Angie also is believed to have resided in Chillicothe, Livingston County, MO.
Copyright © 2002, 2005, 2009, 2011, 2017 Mark A. Miner